Transistor Outline (TO) Packages
TO packages consist of a TO header and a TO cap. While the TO header forms the basis of the encapsulated components and provides them with power, the cap enables smooth optical signal transmission. These two components form a hermetically sealed package that protects sensitive semiconductor components.
TO packages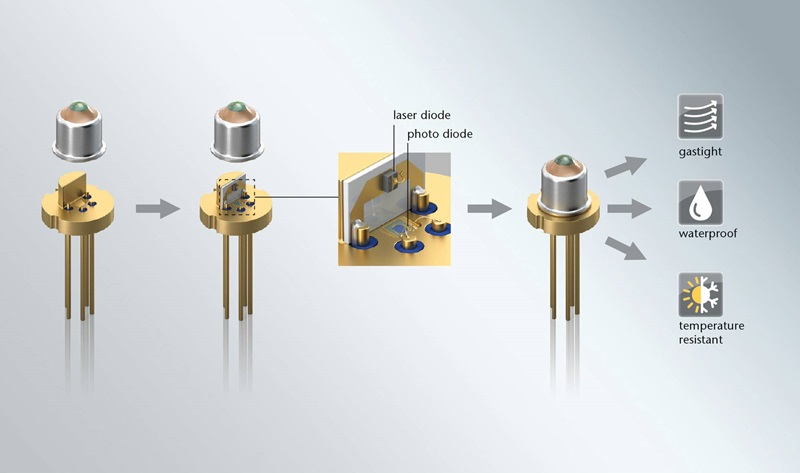 Quality requirements

Why is hermetic packaging so important for high-speed data communication?

In the context of microelectronics, the term 'hermeticity' refers to a vacuum-tight seal that prevents moisture and harmful gases from penetrating a sealed package. The moisture content allowed inside a hermetic cavity package usually must not exceed 5000 PPM water vapor over the lifetime of the device. Therefore, only packages made from glasses, metals, and ceramics are considered hermetic.

How does moisture affect the device?

Hydrogen and water vapor inside a package compromise the performance and reliability of the sensitive encapsulated components. This can lead to:
Chemical corrosion, causing damage to the metal interconnects
Electrical leakage across the pins
Electrical shorts due to dendritic growth of silver and gold
Change in transmission line impedance
Light scattering or wavelength drift in photonic components


Glass-to-metal sealed TO cans – the choice for reliable hermeticity
Glass-to-metal sealing has been the technology of choice for decades to manufacture vacuum-sealed hermetic packages. The key advantages of hermetic sealing with glass in comparison to non- or quasi-hermetic polymer packaging are:
No outgassing: Glass-to-metal sealed packages do not contain any organic substances and therefore do not outgas over time (proven with Residual Gas Analysis Tests).
Permeability close to zero: Glass-to-metal sealed packages experience virtually no gas permeation.


Advantages of SCHOTT TO packages

While glass-to-metal sealing is the most proven technology to produce hermetic packages, the art of permanently connecting glass with metal has only been mastered by a few. Moreover, high-performance TO packages with vacuum-tight hermetic seals can only be produced with headers and caps that meet the most strict durability requirements.

Built on a foundation of more than 50 years of experience in the TO field, SCHOTT's focus is on providing the most stable in-spec quality that allows excellent processability in our customers' production to enable high throughput and superior performance – especially in applications that require high-speed transmission or the reception of optical signals.
Perfectly-matching TO headers and caps, as well as extensive customization possibilities, enable our customers to develop high-performance optical assemblies for next-generation high-speed infrastructure.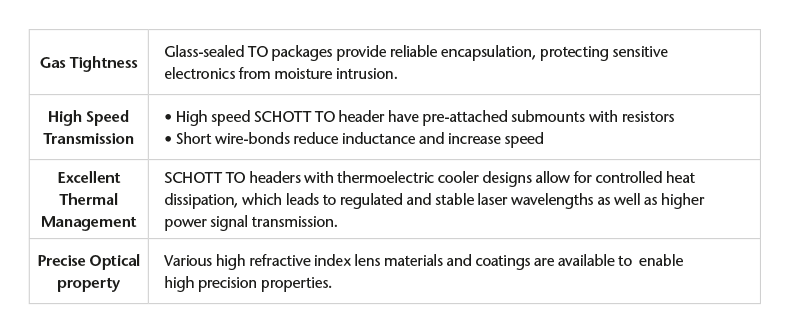 TO headers
Function
TO headers provide a mechanical basis for the installation of electronic and optical components, such as semiconductors, laser diodes, and simple electronic circuits.
TO headers simultaneously deliver power to the encapsulated components with the aid of feedthrough pins.
Glass-sealed TO headers provide reliable and permanent protection for the encapsulated components against damage from the environment. Humidity in particular can cause semiconductor elements to corrode rapidly, leading to failure of the entire component.
TO header types
A variety of header outlines are available to accommodate differing amounts of available space, chip size, I/Os, and other variable requirements. SCHOTT can manufacture all standard TO header designs and matching caps with a multitude of customization options.
In general, there are three different types of TO headers which are distinguished by the production technology used in their manufacture:
Shelled TO headers consist of a metal foil that is shaped using thermoforming. The pins are fixed using glass.
Stamped TO headers come with raised heads (Stamp A) or flat heads (Stamp B).

Specification

The table below shows the established range of international standards and package combinations

Material

TO caps
Function
TO Caps reliably and permanently protect the optical components in transmission and receiving functions.
TO Caps also enable the transmission of optical signals by acting as an optical interface. The optical properties of the windows or lenses installed into the TO caps must fulfill extremely high requirements.


TO Cap types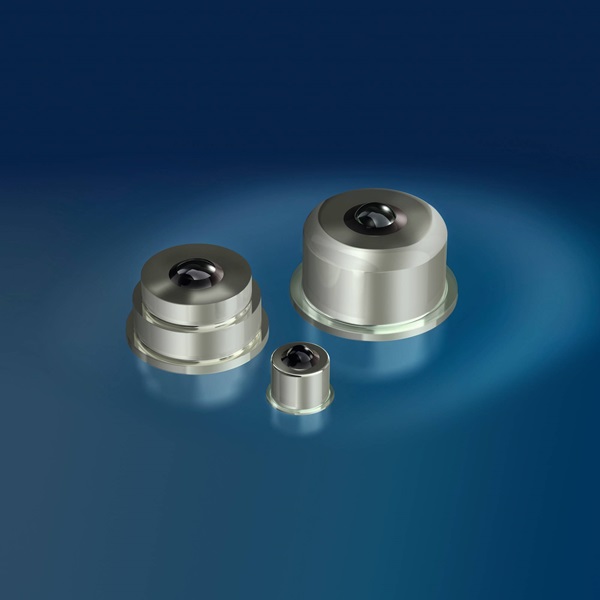 These caps were specially developed for collimation and point-to-point imaging in laser diode to fiber coupling applications. SCHOTT can develop custom-made glass types to suit individual coupling efficiency specifications, such as refractive indices and ball lens diameters. Our ball lens caps are optimized for high stability of the focal point. Stable optical properties are achieved through the first-class quality of the ball lens roundness and close control of the ball lens position for welding purposes.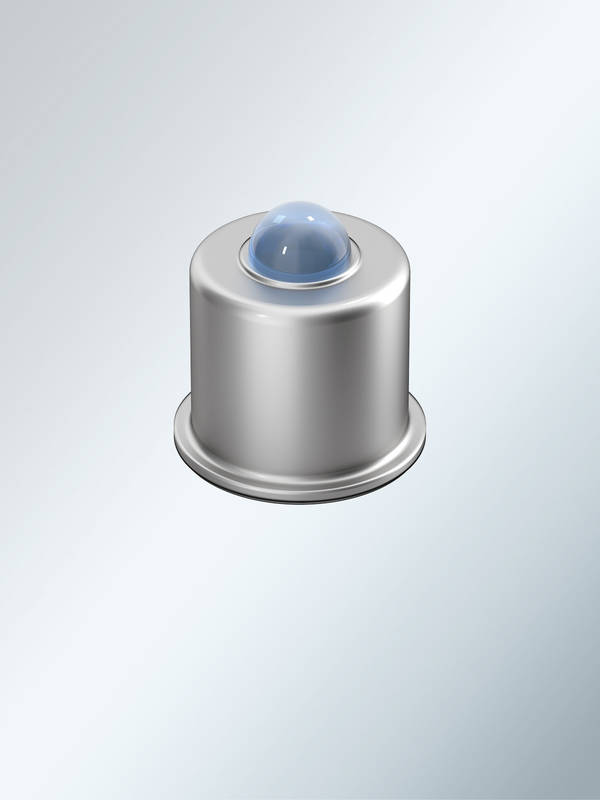 SCHOTT mini lens caps provide a high level of safety and reliably retain their optical properties over the years. Mini lenses are particularly suitable for use with integrated sensors, for example for light intensity measurements (motion sensors, infrared temperature measurement, etc.), and can be used for encapsulating photodiodes for use as receivers in data communication.

Ultra-high-precision window caps are manufactured to provide the highest levels of light transmission, further enhanced through AR coatings and the use of high-precision optical glass discs. These TO caps can be made in a variety of different geometric shapes.
Specification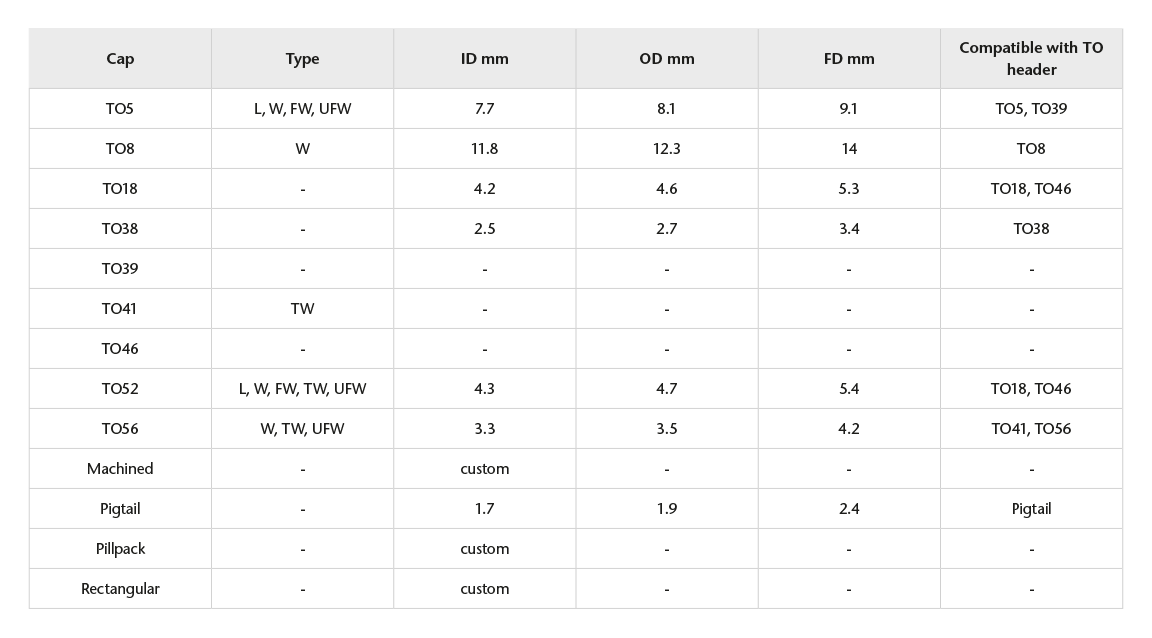 L = Lens, W = Window, BL = Ball Lens, FW = Filter Window, TW = Tilted Window, WW = Wedge Window, UFW = Ultra Flat Window

Materials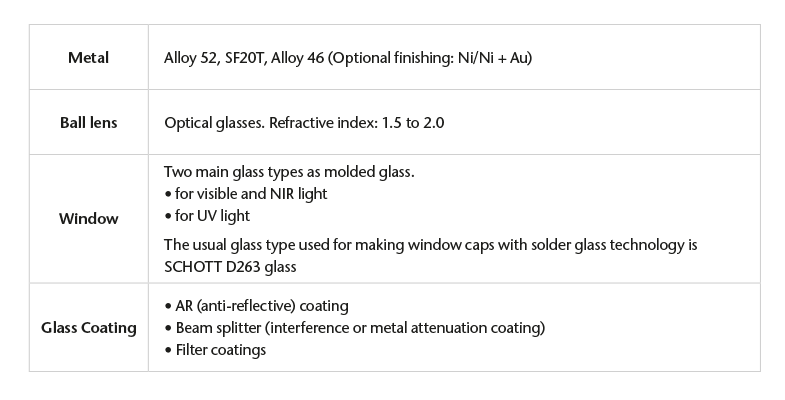 SCHOTT as a supplier
R&D capability
RF Simulation

Mechanical and Thermal Simulation

Optical Simulation
We innovate for you
SCHOTT's launch of the first ever 10 Gbit/TO PLUS® header marked one of the most significant breakthroughs in the history of high-speed design. Since then, SCHOTT has proactively supported the requirement for continuously increasing data rates by developing the next generation of high-speed products before the market demands it.

Platform developments – made to be customized
Our R&D specialists utilize their experience and market knowledge to anticipate future customer challenges and develop solutions for these potential problems before they occur. All of SCHOTT's high-performance TO header platforms are made to be modified to suit customer specifications. Typical modifications include size alterations, pin number, pin positioning and special material requirements.

We innovate with you
You can count on complete and comprehensive support from SCHOTT in your product design and development process. By working closely together, we can make sure your desired functionality and performance specifications are met. SCHOTT can help make customer designs a reality thanks to a broad base of available tools.
Local application support

We strongly believe in consulting with our customers on the best possible solutions that perfectly fit their individual requirements. As a member of the SCHOTT Group, we benefit from a large range of in-house process know-how, including glass development, melting, and processing. Our Electronic Packaging business is built on the additional knowledge of metal processing, plating and finishing. SCHOTT's TO specialists aim to utilize our international set-up and technological expertise to provide customers with the best application support and consult with you with regards to product customization requirements.

Sales support worldwide

"If you have a headache, you can call us around the corner." This is the motto that applies to all of our sales experts around the world. Our dedicated Electronic Packaging competence centers in Asia, Europe, and the US enable us to provide our customers with fast, local, and competent customer service. The SCHOTT Group as a whole offers global customer support through its production locations and sales offices in 35 countries.
Our innovation track record - The basis for current and next generation high-speed designs.
Recognized as a world leader in glass science and processing, SCHOTT's development of specialty glasses for the permanent sealing of glass and metal dates back to the 1930s. The first generation of today's high-speed TO PLUS® headers were introduced in 1964. With more than 50 years of research and applied knowledge in the TO field, SCHOTT continues to be a leading force in designing and manufacturing innovative high-speed designs that support next-generation data and telecom infrastructure.
2018 50G: Breakthrough in Transistor Outline Technology. SCHOTT Introduces 50G TO PLUS® for unprecedented speed in datacom applications.

2017 Overcoming all distances with high-speed TO solutions. High-performance TO headers and caps from SCHOTT can replace box packages in long-, middle-, and even short-range data transmission.

2016 Replacing box packages with SCHOTT 10G DML TEC TOs. Realizing new high-speed optical component designs with high-performance TO PLUS® headers and caps. SCHOTT introduces miniature TO38 and TO33 header outlines for QSFP transceivers to support 4x10 Gbit/s.

2015 Thinking outside the box: the new SCHOTT® TEC TO package. Ideal for 10Gbit/s cooled devices.

2013 A quantum leap in high-speed designs: 28G TO PLUS® headers. 28G TO PLUS® headers are the first and only glass-to-metal sealed TO headers that enable data transmission rates of 28 GBit/s.

2012 Improved SCHOTT TO56 Ball Lens Caps. With the introduction of further improved TO56 Ball Lens Caps, SCHOTT offers an optimized, high-performance product specially developed for the Fiber-To-The-Home (FTTH) market.

2008 A quantum leap in high-speed designs. Development of the 14 Gbit/s TO PLUS® header for next-generation fiber channel.

2006 TO headers with superior heat conductivity. SCHOTT launches its TO38, TO39, and TO56 headers with copper heatsink for high heat conductivity products.

2002 First High-Speed TO Header for 10 Gbit/s. The 2002 introduction of the first high-speed TO PLUS® header for data rates of 10 Gbit/s marks a milestone in the history of SCHOTT's high-speed track record.

2000 High-Precision Angled Window Caps for VCSEL With increasing requirements for speed and optical accuracy, SCHOTT introduces high-precision Angled Window Caps for VCSEL applications to provide defined back reflection for monitoring.

1990 The triumph of fiber optic network deployment leads to TO headers and caps becoming standard equipment used to protect laser and photo diode chips. SCHOTT supports the need for increasing data rates by developing the next generation of high-speed products ahead of market demand.

1980 TO Can packages become more sophisticated when their main application switches to optoelectronics. Using in-house competency in optical glasses, SCHOTT begins to offer TO window and lens caps that are now required to transmit optical signals.

1964 Origins of high-volume transistor package production: SCHOTT EP is there from the beginning with the start of production of first hermetic TO headers based on glass-to-metal sealing.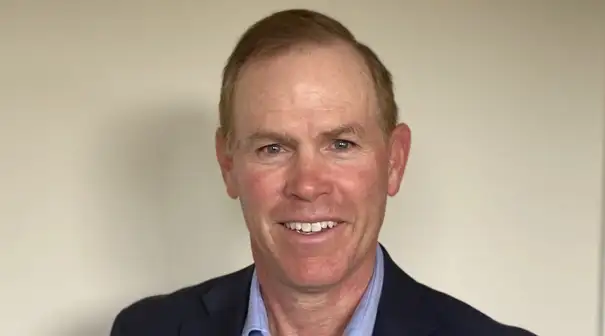 Paul Ludgate
Senior Sales Manager