ROBAX®
SCHOTT's family of ROBAX® fire-viewing panels covers every situation – wood, gas and pellet fireplaces and stoves for inside and out – and a large variety of designs: flat, curved and angular bent, coloured, coated and decorated. This selection opens up an impressive range of possibilities.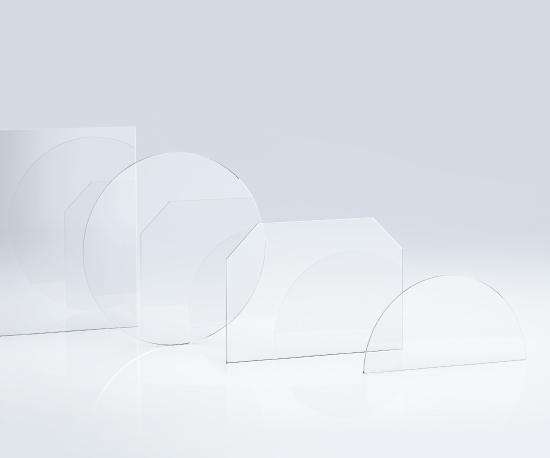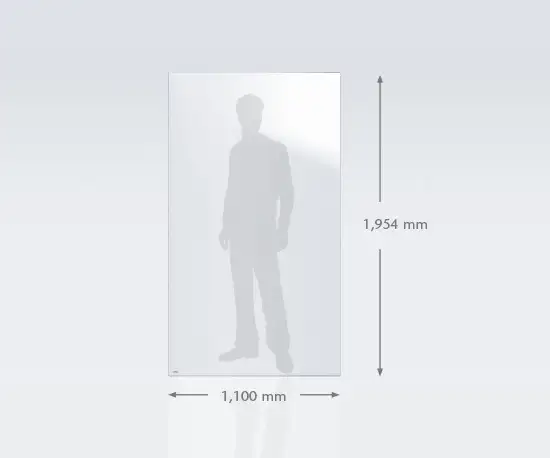 Flat ROBAX® panels
Clear views of a real fire are the trademark feature of ROBAX® panels, and the flat model is no exception. This glass-ceramic is supremely transparent, with very little residual natural coloring thanks to SCHOTT's precise production process.
CHARACTERISTICS

With a robust construction and exceptional clarity, flat ROBAX® panels offer clear views and a long product life. These are available as random sheets or cut-to-size panels. Random sheets are 1,954 x 1,100 mm in size with 4 mm or 5 mm thickness, and serve as base material for cut-to-size panels. Cut-to-size panels are available in a wide range of sizes in thicknesses of 4 mm or 5 mm. They are finished according to your wishes, come with edge processing, and may have decoration or other specialties depending on your requirements. The clean, simple style of flat ROBAX® panels delivers increased functionality.


YOUR ADVANTAGES
High-quality silky matt appearance.
Minimal natural coloring enhances view of the fire.
Many different formats available, such as round cut-to-size panels.
Special treatments also available, including decoration to hide construction elements or for design reasons.
We can also provide boreholes, as well as inner and outer cut-outs.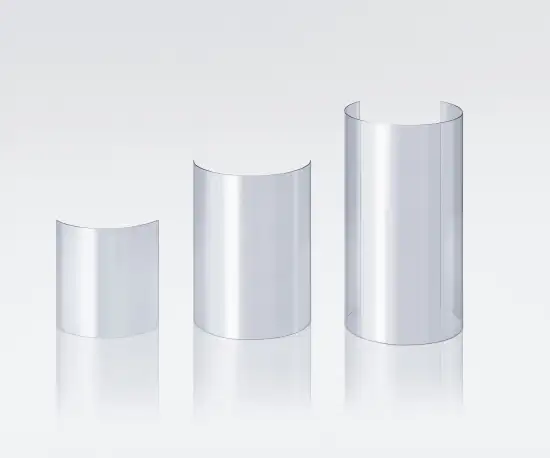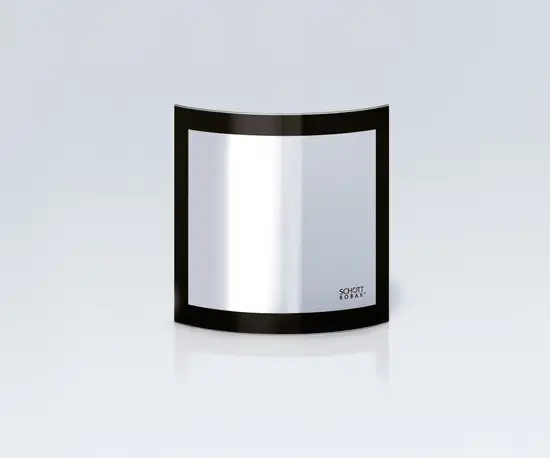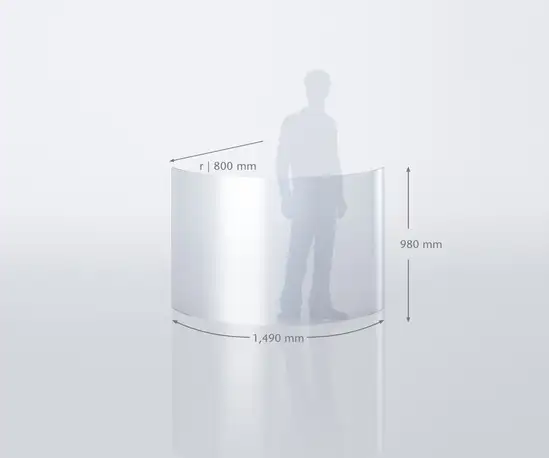 Curved ROBAX® panels
These 3D panels make a fireplace or stove the centerpiece of any room, the shape offering those gathered around unobstructed views of the comforting flames. The variety of shapes, from sweeping curves to waves and cylinders (270 °), always create intriguing visual effects, while offering individual designs.
CHARACTERISTICS

Providing exceptional views of the fire from all sides, curved ROBAX® panels are available in various geometries and thicknesses of 4 or 5 mm. A wide and customizable choice of dimensions are possible, with unlimited bending radii from 225 mm, arc lengths from 210 to 1,100 mm, and standard panel heights from 100 to 800 mm. Curved ROBAX® panels are finished according to your requirements and come with edge processing. Decoration and other specialties are also available depending on your design.


YOUR ADVANTAGES
Countless styles possible thanks to excellent choice of bending radii, including multi-radial, and opening angles.
More than 10 decorative colors available.
Complex shapes with innovative geometries available on request.
Imposing showcase sizes, such as the 'Giant', the largest producible curved ROBAX® panel, which measures 1,490 mm (arc length) x 980 mm (height).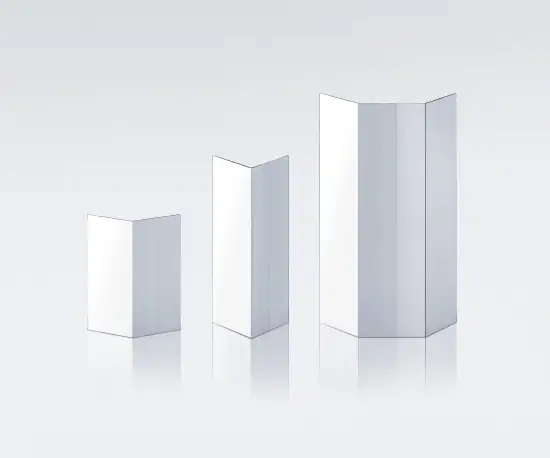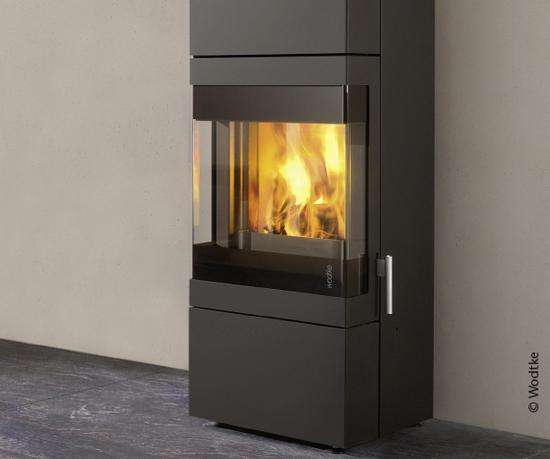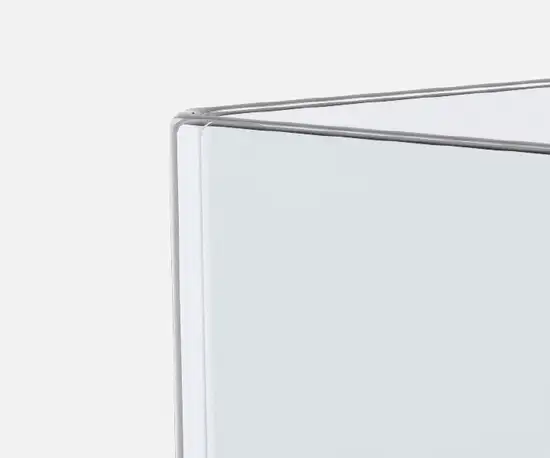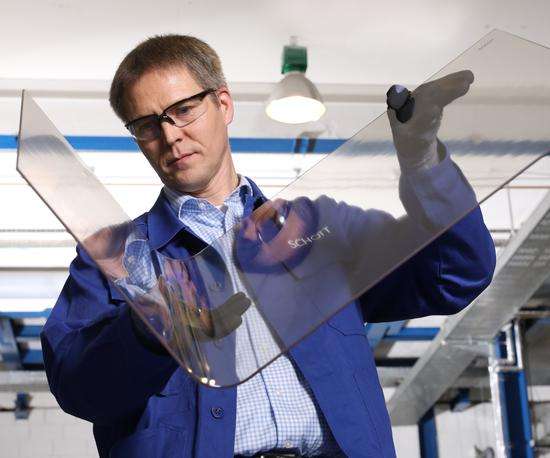 $name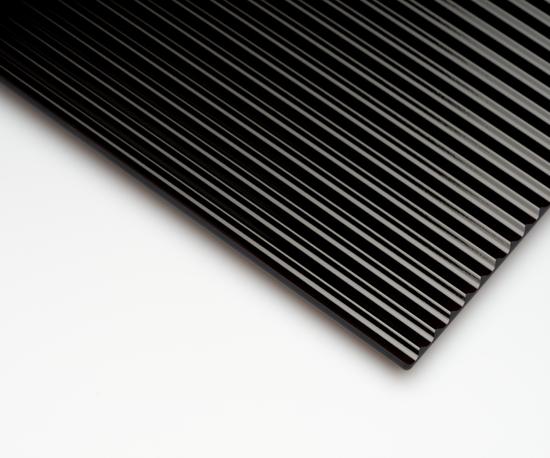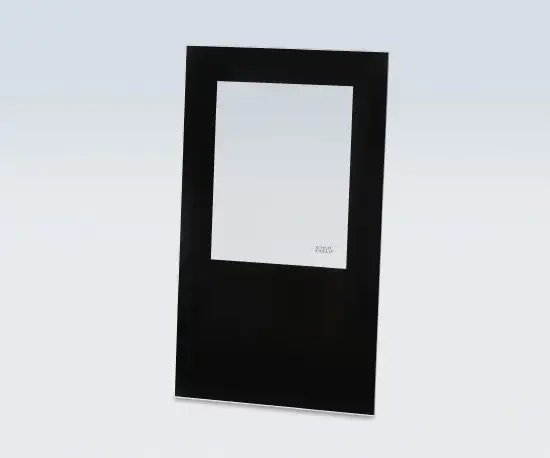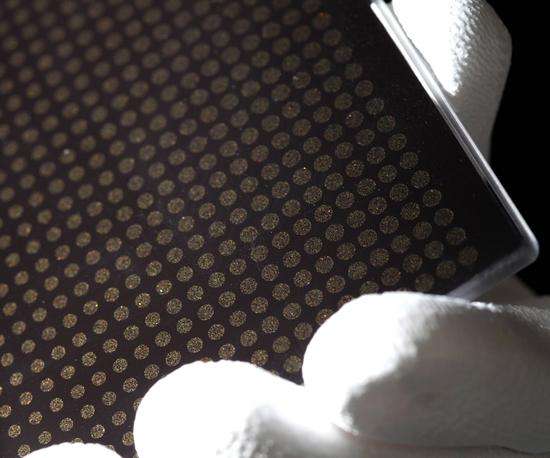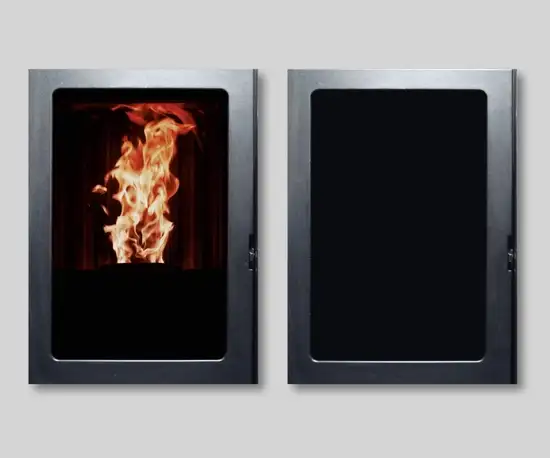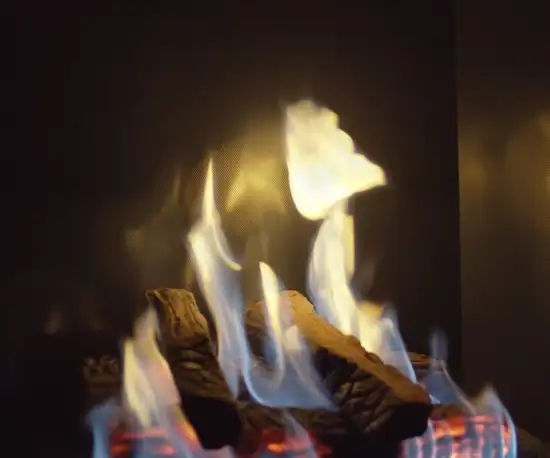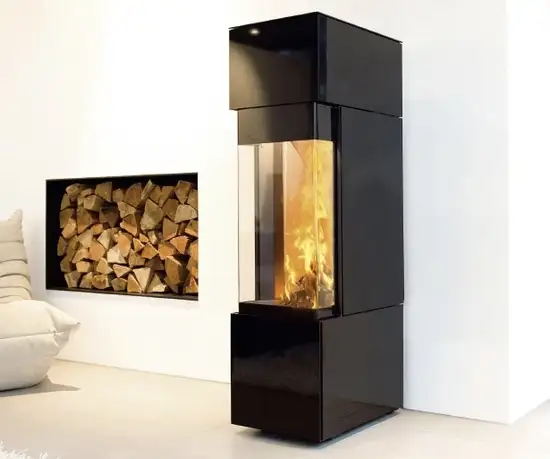 Decorative ROBAX® panels
With its range of decorative panes, both transparent fire viewing panes and solid colored panes, SCHOTT is a front runner when it comes to fireplace aesthetics. Decorative ROBAX® panels are available in a range of stunning colors and enhanced by decoration in a variety of colors and patterns.
CHARACTERISTICS

ROBAX® fire-viewing panels can be decorated in a choice of over 10 colors, as well as two-color decoration with METALLIC Design Effects. The ROBAX® range of decorative panels includes ROBAX® NightView tinted fire-viewing panels, which are specially designed for pellet stoves, and ROBAX® Magic with Signature Impressions for interior paneling of gas fireplaces. These are available in a wide range of material colors (black, grey, blue-grey, white), surfaces, decoration colors and patterns. ROBAX® Ambience exterior glass-ceramic panels are offered in different shapes and material colors.


YOUR ADVANTAGES
All decorations can help to hide construction elements and support differentation.
ROBAX® NightView dampens the sometimes bright color of pellet fires, makes the flames appear calmer and hides the interior when the fire is not burning.
ROBAX® Magic with Signature Impressions reflects gas flames to make the fire look larger.
ROBAX® Ambience gives today's fireplaces and stoves a strong contemporary look.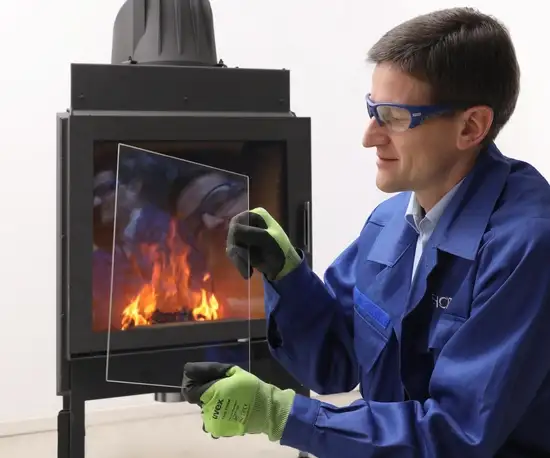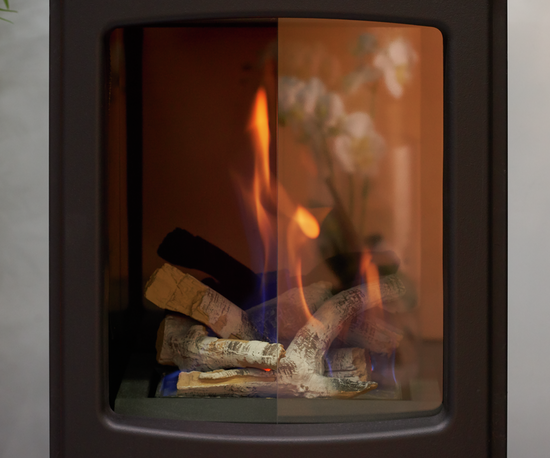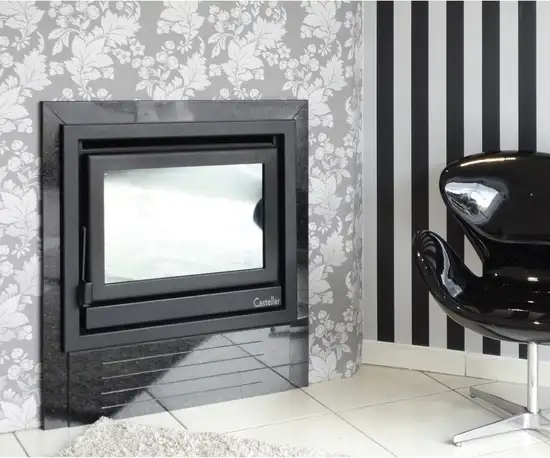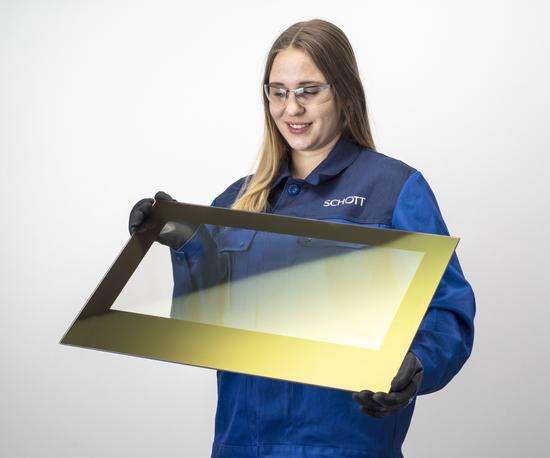 Functional ROBAX® panels
Functional ROBAX® panels comprise four coatings to heighten your fireplace experience. Usually applied on the outside of the panel, the special features of these coatings can be recognized by their slight color.
CHARACTERISTICS
ROBAX® IR Max reflects heat back into the combustion chamber (the panel should be installed with the coating facing away from the fire). It produces powerful and effective heating. ROBAX® IR SuperMax is our next development step for heat reflective coatings. Both are available with decoration. ROBAX® TrueView is an anti-reflective optical coating on both sides of the panel and is suitable for gas fireplaces. It creates the impression that there's no glass at all. ROBAX® Mirror is a reflective coating, with the mirror effect working with the coating on the outside of the panel.

YOUR ADVANTAGES
ROBAX® IR SuperMax is our most efficient heat-reflective coating with a pyrolisis-like effect for less soot and less cleaning.
Also ROBAX® IR Max reduces the amount of heat outside the fireplace, providing a pleasant room temperature, increasing overall efficiency and reducing emissions.
By eliminating reflections, ROBAX® TrueView offers a clear view of the flames.
ROBAX® Mirror turns the panel into a mirror when the fire is out, but presents a superb view when it's burning.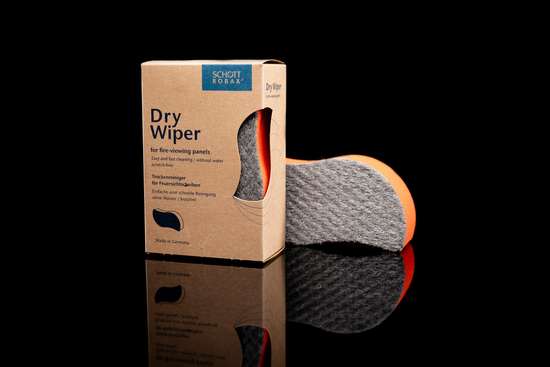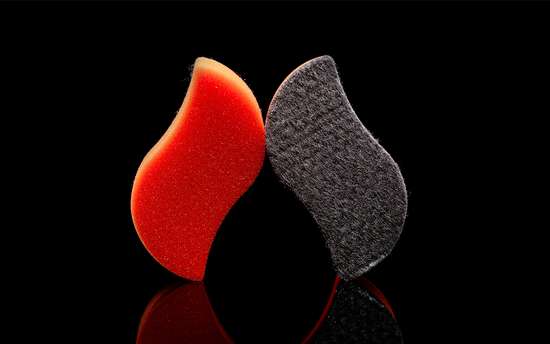 ROBAX® Dry Wiper
We all enjoy the brightness and beauty of a fire when it's blazing, but scrubbing a sooty viewing panel after the flames die away isn't as enjoyable. To address this problem, SCHOTT developed the ROBAX® Dry Wiper, which makes cleaning a fireplace or stove quick and easy, leaving no smears or scratches.
CHARACTERISTICS

The ROBAX® Dry Wiper was developed by SCHOTT experts specifically for cleaning fire-viewing panels. Ideal for wiping non-coated fire-viewing windows, the Dry Wiper must not be used with water or a cleaning agent. Using the Dry Wiper, simply wipe sooty surfaces with the active grey side when the fire is out and the panel is cold.


YOUR ADVANTAGES
Cleaning dirty fire-viewing panels using the Dry Wiper is quick and simple.
The Dry Wiper is gentle, leaving no scratches on the non-coated glass surface.
No rinsing required – the Dry Wiper eliminates smears.
Simply shake the Dry Wiper to free it of soot then place back in its packaging – no need to wash.
James Davis
Sales Manager ROBAX®