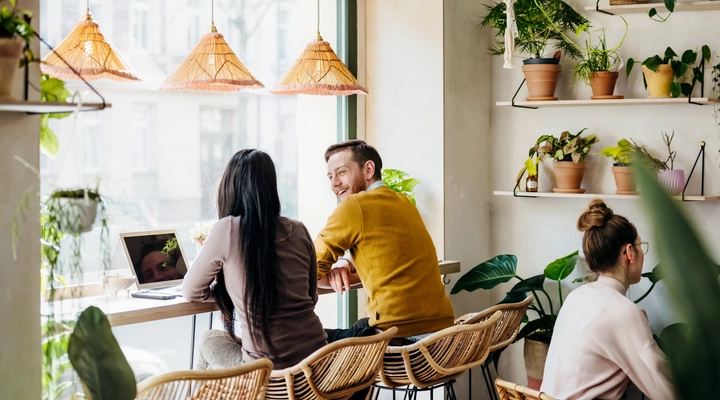 SCHOTT International Graduate Program
The International Graduate Program is your perfect job entry point to discover SCHOTT - and to discover yourself! From day one, you will be employed on a permanent basis with different training opportunities. With other international graduates, you will make a difference at SCHOTT, establishing a truly global network to serve you well, now and in the future.
What we offer
For graduates, tailor-made milestones of the program give you the chance to shape your entire career! Challenge yourself in project management, excel in a business simulation, and enlarge your network by interacting with international colleagues during the whole program. Our program includes:
• Assignments in different teams
• Mentoring program
• International assignments
• Business simulation projects
• International graduate event
• And much more…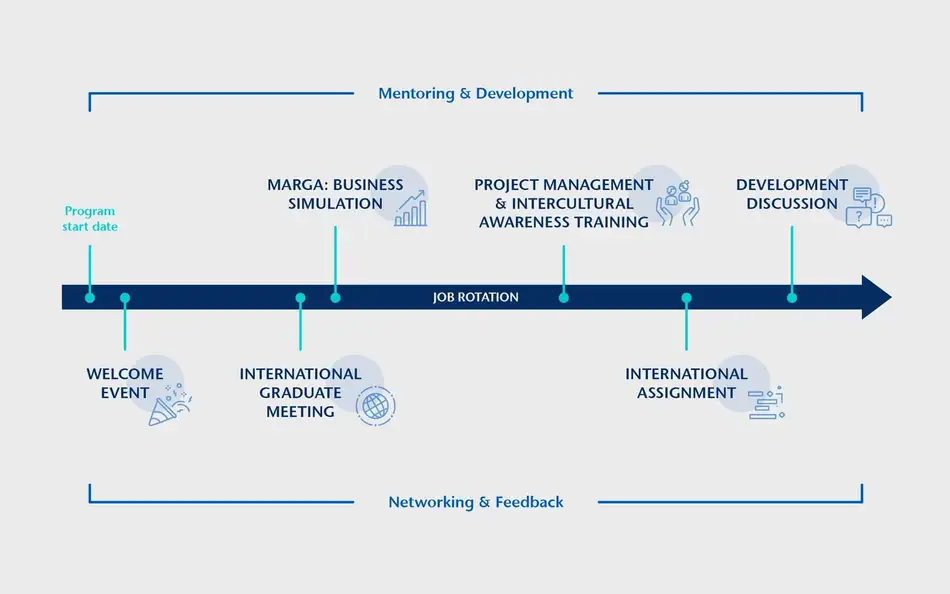 Your way into the program
The Program is a great place for recent graduates (Bachelor or higher, above-average grades), e.g. in Engineering, Supply Chain Management, Product Management, Chemistry, Physics, Sales, or Business Administration. Additionally required/helpful is some work experience (internship/on-the-job), ideally in an international context.
The program starts several times a year.
Please check our job offers for graduates on the SCHOTT Job Board regularly or set a digital Job-Alert to be informed as soon as future graduate positions are published.
Please apply online with the cover letter, your CV, transcripts of your university diploma and other related working experience documents, as well as an international experience report (optional).
After a successful first interview, you will be invited to a second interview at the respective location. If this second interview turns out to be as successful as your previous studies, we will be happy to offer you a full-time employment contract as Graduate. We hope to welcome you soon!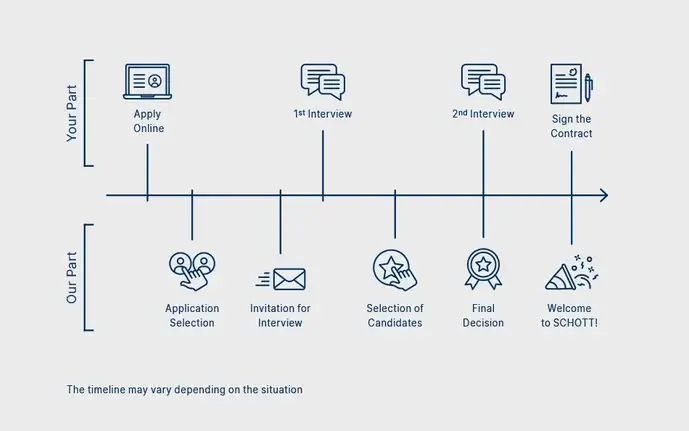 Full-time employment
Enjoy the benefits of being a full-time employee at the start of your career.
International assignment
At least three months working abroad to connect with different areas of a global foundation company.
Mentoring
An experienced manager will guide you in your personal and professional development.
Career development
Seminars on a range of subjects such as intercultural communication and project management with other members of the graduate program.
Networking
Become part of a strong graduate and alumni network around the world.
Development talk
A personal conversation with your manager and HR about your future career at the end of the program.
What our graduates say
A career start filled with learning
"Originally, I applied for the SCHOTT International Graduate Program because after studying finance in London, I was hooked on international studies. In the International Graduate Program, you get to know other graduates from all over the world, and that's such an amazing experience.
Right now, I'm working as a Graduate Sales in Sales Development. In November, I coordinated SCHOTT's first e-commerce venture on Amazon that spotlighted the SCHOTT Contact Shield to help businesses keep moving forward during the COVID-19 pandemic. I finished project management training, and I also spent time in various other departments.
Currently, I'm also learning Spanish through SCHOTT's Rosetta Stone partnership. It truly has been a year filled with learning and personal development: with the foundation of the graduate program, I feel prepared to take on whatever may arise at work.
The next step in the program would be an international assignment."

Emma Conn, Graduate Sales
Sweetwater, Tennessee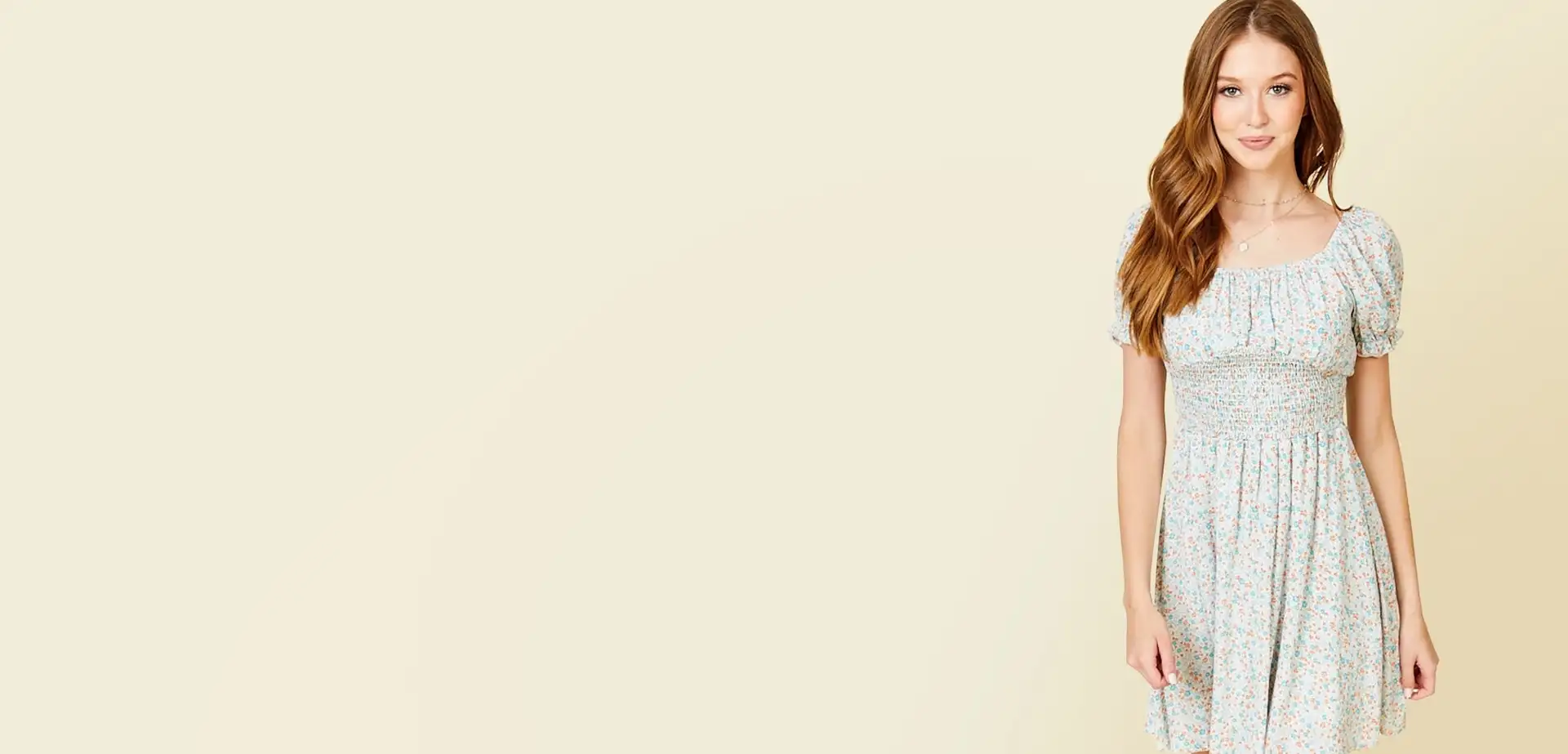 What we are looking for
We are looking for graduates who are motivated to be part of an open-minded intercultural team and can meet the high standards of a technologically advanced job. For a successful start at SCHOTT you should have the following qualifications:
Bachelor degree
or higher degree with above-average grades.
Professional experience
through various internships and/or job training.
International experience
through previous work experience, internships, or time spent abroad.
Very good command of English
and knowledge of another foreign language preferred.
Motivation
for continuous personal and professional development.
Global thinking
and geographical flexibility as well as the ability to work effectively across cultures.
Communication skills
and strong teamworking skills.