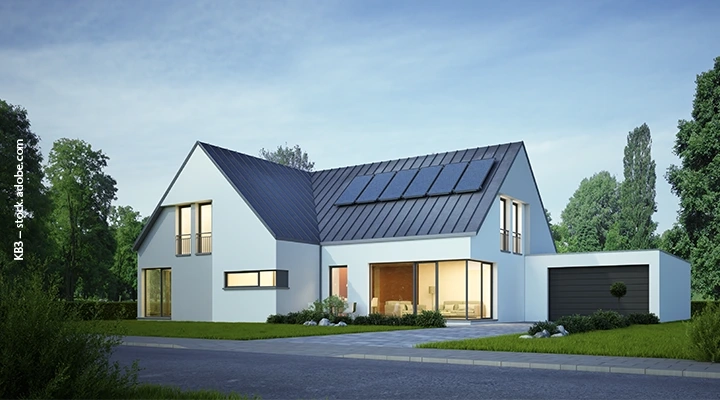 Recovering energy intelligently
Domestic heating is one of the world's largest sources of carbon emissions and energy consumption, but a German company is aiming to increase home heating efficiency by upgrading existing boiler technology. Discover how they can achieve this and the key role of DURAN® glass tubes.
Turn old into new
Reducing energy consumption is a key objective of modern building refurbishment. However, if a low-temperature boiler has already been operating in a single-family home for 10-15 years, the typical energy consultant would recommend replacing it with a condensing or combi boiler, perhaps including solar support, to increase energy efficiency. For Guido Jobst, Managing Director of ATEC Abgas-Techno­logie, this simply isn't good enough.

"The decision should include factors such as efficiency, conserving resources, and the overall energy balance of a measure," he explains. "What they don't consider is that boilers that are replaced are generally high-quality products that would do the job for up to another 15 years."
ATEC developed new solution for small boilers
Having been active in the flue gas technology industry for over 25 years, Guido Jobst decided to tackle this problem by adapting a method taken from industrial boiler technology. In industrial plants, condensing gas boilers are suspended behind the large boilers within the flue gas outlet to use the high flue gas temperatures to generate energy. This upgrading of condensing boiler technology results in the continuing use of the existing boiler.

Up until now, this technology was not available for small boilers. However, ATEC developed a solution in which a heat exchanger condenses the water vapor around the special glass tubes without escaping through the chimney. Since the tubes contain exhaust gases of up to 270 ºC, the heat generated through condensation then raises the temperature of the water flowing through the tubes.
The role of DURAN® glass tubing
DURAN® borosilicate glass tubes serve as key components of this system. As well as being extremely strong, they are highly resistant to sulfuric acid and other combustion residues that result from this process. "Neither metal or plastic could be used in these components," explains Jobst. "And because we wanted to offer a high-quality product, we were looking for a premium supplier of glass solutions with experience in systems engineering."

SCHOTT's decades of experience as a supplier to the heat exchange industry, including large brewery plants, convinced Jobst of its suitability for the task. The global technical glass company also provides precise and solid tube-end finishing, which makes the system's much needed tightness and performance possible. "That's a must for flawless operation and the product guarantees that are given to customers," adds Jobst.
The bottom line for costs
According to ATEC, the glass tube heat exchanger for retrofitting is the first of its kind that's suitable for nearly all types of heating systems, and has received approval for use. Making this possible is a vacuum blower for the active transport of flue gases to the outside, which allows the heat exchanger to be connected to a boiler with a forced air burner for natural gas or fuel oil.

In addition, the investment required to install this innovative product is less than half the cost of exchanging a low-temperature boiler with a condensing model. The bottom line is that, based on calculations for homes, the installation of a heat exchanger pays for itself within 4-9 years. Money is also saved during operation. For example, an annual consumption of 2,000 liters of oil can be reduced by 150-300 liters.
Reducing the impact on climate change
Guido Jobst also emphasizes the positive effect on the environment. "According to chimney sweepers' statistics, there are approximately 1.75 million fan-driven heating systems in Germany that are up to 15 years old and capable of supplying 25-80 kW," he says. "If we were to retrofit only 500,000 of them, the environment would be positively affected by an annual reduction of 600,000 tons of CO2."

To explore this market even further, ATEC now offers new systems comprised of a combination of a heat exchanger and CHP (­co-generator). For the future, Guido Jobst plans to retrofit the heat exchanger so it can be used with pellet boilers. "The potential is there," he states.

DURAN® is a registered trademark of the DWK Life Sciences GmbH.
Used materials and similar products
DURAN® borosilicate glass is the ideal material for heat exchange systems thanks to its combination of mechanical strength, efficient heat transmission, and high stability in corrosive environments. Its ability to withstand high temperatures and temperature fluctuations are also key advantages.