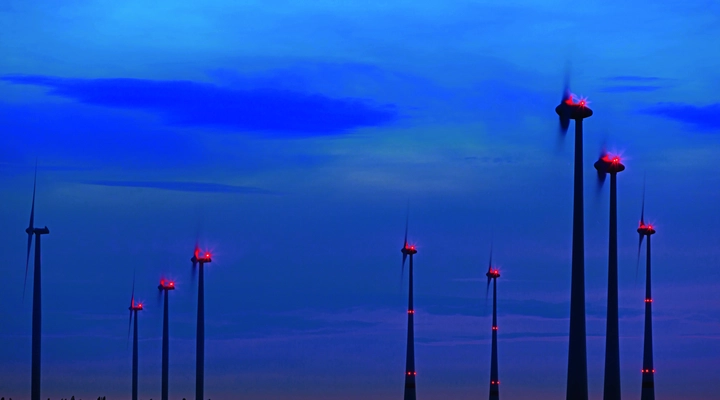 Glass tubing for LED signal lights
In an industry flooded with plastics, Finnish beacon light innovator Obelux sees a bright future with DURAN® glass tubes in its long-life LED devices. In the harshest environments, they help light the way for the aviation, wind, and marine industries.
Glass is the only option
As one of the first companies in the world to focus solely on LED technology, Obelux has built a reputation for quality. It is one of the only major players in the industry to secure its luminous devices with glass rather than plastic, which is cheaper and lighter.

So why did they choose glass? Tapio Kallonen, Director of Sales and Marketing at the Helsinki-based company, explains the innovation was hardly a choice. "We decided at the very beginning of our journey that glass was the only option. The costs would be worth the result."

His customers agree. "Our products are on skyscrapers, wind turbines, bridges, even out at sea," says Tapio. "These places are hard to reach, very hard to clean, and very hard to service with maintenance or repair."
It's all about the optics
Aviation signal lights are designed to last upwards of 20 years, and must offer a consistency of performance that satisfies strict regulations from various industries and authorities. Devices with plastic covers absorb a fraction more light than glass, producing slightly less luminous output. "It's all about the optics," says Tapio. "We get more light through glass."

DURAN® borosilicate glass meets these optical requirements, as well as protecting the LED lights perfectly. "Let's imagine a typical example, like an offshore wind farm. You've got salt spray, cold wind, and many other factors which affect a device. After two or three years in these conditions, a plastic cover is damaged on a completely different scale compared to one made from DURAN® borosilicate glass. By then, the plastic cover may no longer be compliant with industrial guidelines. Yet after 10, 15, even 20 years, that glass beacon shines as brightly as on day one."
A reliable global partner
As a pioneer of LED technology, Obelux has never used a traditional light source in one of its products. Despite the diverse regional regulations of the aviation industry, its commitment to sustainable quality has seen its products certified across the world, even in the highly domestic market of Japan.

I couldn't possibly overstate the importance of having an outstanding partner. Not only can I not imagine another glass producer that could make such specific glass tubes in such large dimensions, but whenever the irregular demands of the industries we serve force us into urgent action, SCHOTT is always there to meet our timeframe.
As the demand for sustainability grows, Kallonen sees the advantages of DURAN® glass tubes leaving clients with the same realization that Obelux reached long ago. For these two innovators of light and glass, the future is looking bright.
Used materials & similar products
DURAN® borosilicate glass is the ideal material for LED beacons thanks to its combination of mechanical strength, high light transmission, and exceptional stability in demanding environments. Its ability to withstand high temperatures and temperature fluctuations are also key advantages. DURAN® is a registered trademark of the DWK Life Sciences GmbH.