More sustainable heating – with ROBAX® IR SuperMax
Tuesday, September 7, 2021 , Germany , Mainz
New coating for fire-viewing panels makes heating more efficient
SCHOTT presents innovative glass-ceramic products for sustainable and chic fireplace designs at Expobiomasa 2021
To help reduce green gas emissions, fireplace manufacturers are working tirelessly to make their products even more efficient. The fire-viewing panel is a major factor in this effort: Thanks to the new ROBAX® IR SuperMax infrared coating from SCHOTT, considerably more heat is reflected back into the combustion chamber than is the case with uncoated panels, which means that the wood burns more efficiently and emissions can be reduced. The glass-ceramic expert will be showing what is technically behind this and what other design innovations are available for stoves for the first time at the Expobiomasa trade show in Valladolid, Spain (September 21 - 23, Hall 2, Booth 271).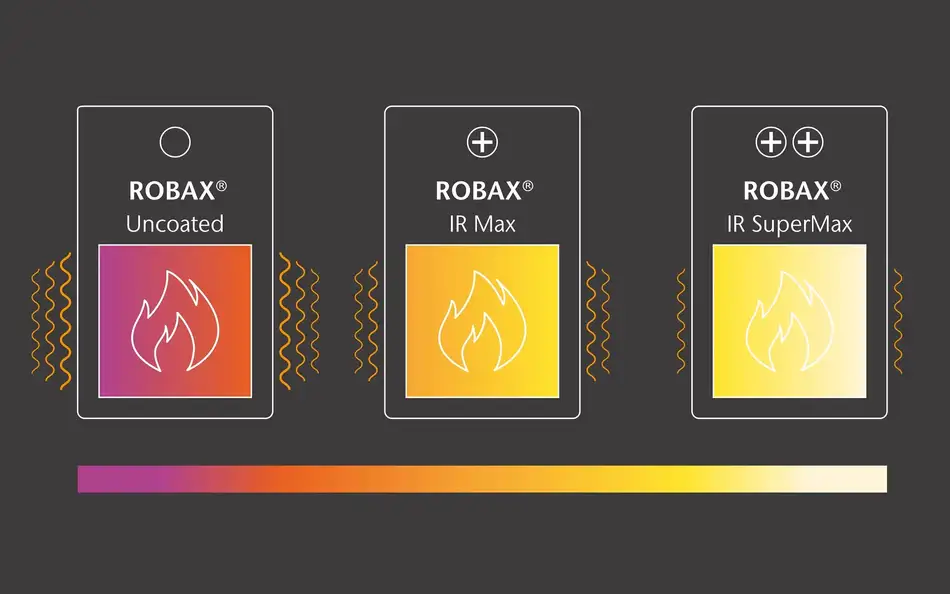 Winner of the German Innovation Award 2021, ROBAX® IR SuperMax allows significantly less of the infrared radiation generated by fire and embers to penetrate to the outside. Instead, the coating reflects a large portion of the heat back into the combustion chamber. As a result, the temperature rises and combustion is more efficient. Similarly, in energy-efficient fireplaces (depending on their design) also larger viewing panels can be installed while maintaining or even decreasing temperature radiation to the outside. At the same time, the increased heat reflection can help reduce emissions and significantly improve the effectiveness of a catalytic converter in the fireplace.
The performance of the coating remains the same over almost the entire life cycle of the fireplace when treated as directed. And, what especially pleases fireplace owners is that it can help compensate for certain user misbehavior, such as incorrect air setting or fuel quantity. In addition, the pyrolysis-like effect of the coating keeps the fireplace viewing panel cleaner, making it easier to clean. This leaves more time to enjoy and relax in front of the fireplace – especially if you spend a lot of time at home, as you do at the moment.
Sustainability meets design
When it comes to design, the fireplace panels from SCHOTT also open up exciting design options for fireplace manufacturers – and these options are in greater demand than ever before: "We have been able to clearly feel the so-called cocooning effect, especially during the past few months. People are spending more time at home and want to make their surroundings more comfortable. And where better to do that than, in front of the fireplace?" says Martin Endres, Vice President Marketing & Sales at SCHOTT ROBAX® since summer 2021.
Glass-ceramics offer countless possibilities for fireplaces to create a cozy atmosphere. One example is ROBAX® NightView, which also makes pellet stoves "more suitable for living rooms." The black-tinted glass-ceramic viewing pane lends a softer and darker touch to the otherwise somewhat garish and unsettled flame image. When the stove is off, the glass-ceramic appears black and conceals the sooty interior. The dark glossy surface blends harmoniously into any room image. In the "Amika" model from the manufacturer La Nordica-Extraflame, the solution from SCHOTT even won the German Design Award last year.
"Currently, we are experiencing a great demand for our solutions," adds Endres. "We are very happy that we can consistently supply our customers even in times of tight markets and shortages of materials such as wood or lithium." At Expobiomasa 2021, SCHOTT will therefore also be focusing on personal communication. "We are looking forward to finally being able to exchange ideas with our customers and visitors in person again. With sufficient space and hygiene precautions, there is nothing standing in the way of an exciting conversation," Matthias Gries, Director Sales Europe SCHOTT ROBAX®, is pleased to say.
Links:
SCHOTT ROBAX® is a registered trademark of SCHOTT AG.
Pioneering – responsibly – together
These attributes characterize SCHOTT as a manufacturer of high-tech materials based on specialty glass. Founder Otto Schott is considered its inventor and became the pioneer of an entire industry. Always opening up new markets and applications with a pioneering spirit and passion – this is what has driven the #glasslovers at SCHOTT for more than 130 years. Represented in 34 countries, the company is a highly skilled partner for high-tech industries: Healthcare, Home Appliances & Living, Consumer Electronics, Semiconductors & Datacom, Optics, Industry & Energy, Automotive, Astronomy, and Aerospace. In the fiscal year 2020, its 16,500 employees generated sales of 2.24 billion euros. With the best teams, supported by the best digital tools, the group intends to continue to grow. SCHOTT AG is owned by the Carl Zeiss Foundation, one of the oldest foundations in Germany. It uses the Group's dividends to promote science. As a foundation company, SCHOTT has anchored responsibility for employees, society and the environment deeply in its DNA. The goal is to become a climate-neutral company by 2030.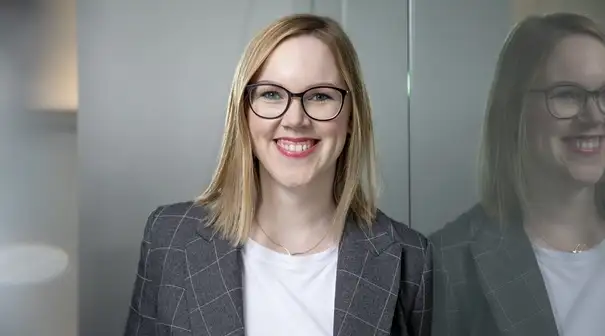 Lea Kaiser
PR & Communications Manager