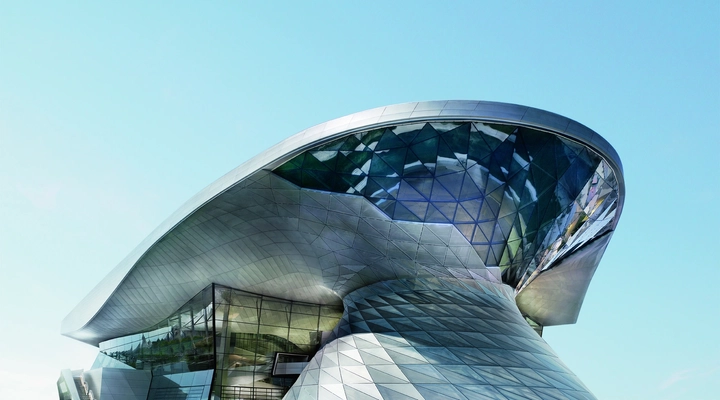 BMW Welt
When the global car brand BMW were planning a communication center for its operations, they wanted a real statement structure that evoked elemental forces and interacted with its surroundings. The innovative use of SCHOTT PYRAN® fire-rated glazing helped to achieve that goal.
900
different glass elements required for the spectacular double-cone exterior.
11
columns required to support the 16,000 m2 roof, enhancing the appearance of a 'floating cloud'.
5.5 m
is the side length of the triangular glass units used to create the cone unit.
30 minutes
is the length of time PYRAN® fire-resistant glass remains self-supporting for.
Background
In 2000, the BMW Group launched an open architectural competition for the design of its new communication and brand center in Munich, Germany. After a long selection procedure, Coop Himmelb(l)au were chosen for their vision of streamlined, free-flowing movement and transparent communication with the outside world. At the head of the building would be two cone-shaped glass and steel structures, which created a tornado-like effect. To realize this vision, they partnered with SCHOTT to combine these eye-catching ideas with advanced safety characteristics, fire-resistant features and energy saving properties.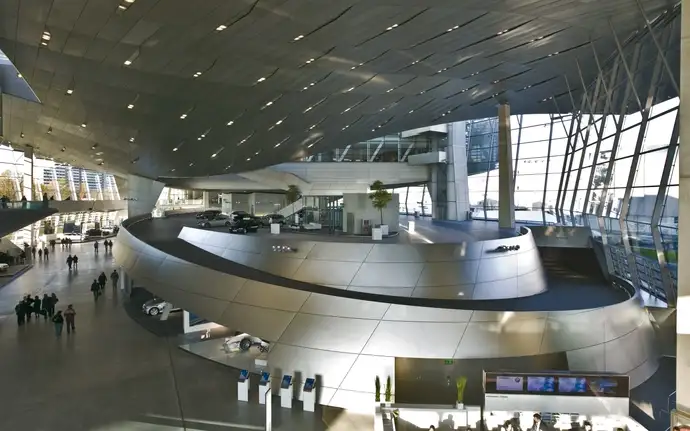 Task
The ambitious double-cone unit of the structure required 900 different glass elements, including large-format triangular panes with a side length of 5.5 meters. While these panes created an esthetically stunning space, they also needed to be combined with interior glass features that enhanced the flow of light, as well as achieving optimum safety and energy efficiency standards.
Solution
The glass and steel structure of BMW Welt needed to combine beautiful esthetics and seamless functionality with unobtrusive safety characteristics. The use of SCHOTT PYRAN® fire-rated glazing provides an essential barrier against fire and smoke spreading through the building, while maintaining the important uninterrupted flow of light – transparency that's retained in the event of a fire.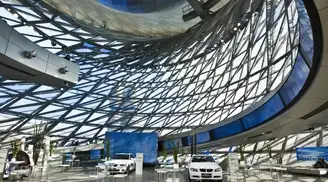 1/3
BMW commissioned a stunning double-cone structure with interior glass features for an increased feeling of space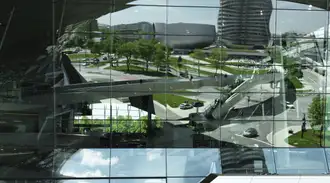 2/3
The construction of BMW Welt required over 900 different glass elements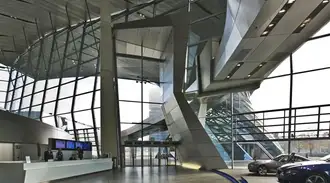 3/3
SCHOTT PYRAN® fire-rated glazing was used to add fire protection to transparency for safety and light flow
Strength and protection in a stunning structure
SCHOTT's acclaimed PYRAN® fire-rated glazing provides unobtrusive, transparent protection against the spread of fire and smoke, while maintaining the essential light flow that's essential to the building's expansive feel. Among the many other innovations employed in the construction, a heating and cooling system in the form of water-bearing steel profiles was integrated into the glass facades. This prevented cold air losses through the glass walls in the winter, while guarding against overheating in the summer and the formation of condensation.
A testament to driving and communication
The twin-cone structure of BMW Welt is a genuinely awe-inspiring feat of architecture and engineering that's made the building one of the most visited tourist attractions in Bavaria. Its free-flowing combination of glass and steel evokes the spirit of driving and communication, as well as a technical elegance that complements the Munich Olympiapark, its equally impressive neighboring structure.
"The building weaves together the detritus of a post-war industrial landscape, imbuing it with a more inclusive spirit. Its undulating steel forms, suggesting the magical qualities of liquid mercury, may be the closest yet that architecture has come to alchemy."
Used materials & similar products
This monolithic thermally tempered borosilicate glass not only provides an effective barrier against fire and smoke, but also remains transparent under severe stress. Barely noticeable joints enable seamless integration into clean, modern commercial spaces.
"All of the necessary features were realized successfully according to a low-tech concept. The interrelations of daylight and artificial light with ambient climate and acoustics influence people's feeling of wellbeing in the Hall. The concept for the technological building systems takes up these relationships and integrates them in an interdependent manner."
Global experts team up to create a European landmark
Given the size of the project, BMW Welt involved a huge number of companies, all combining their expertise to create one of Europe's most dramatic modern structures. Taking four years to construct, it required close collaboration between SCHOTT, the architects Coop Himmelb(l)au, glass processor Josef Gartner GmbH, and a large number of other firms and consultants.


Glass made by
SCHOTT


Architects
Coop Himmelb(l)au, Austria


Glass processor
Josef Gartner GmbH, Germany


Façade consultant
Emmer Pfenninger + Partner AG, Switzerland