Enabled by SCHOTT: vivo X Fold 2 and vivo X Flip feature cutting-edge specialty glass
Monday, April 24, 2023 , Mainz , Germany
The external displays of both models are protected by SCHOTT's most drop-resistant cover glass Xensation® α, while Xensation® cover glass protects the imaging system co-engineered by vivo and ZEISS, the sister company of SCHOTT.
vivo's first flip phone model, vivo X Flip, features cutting-edge ultra-thin glass of the SCHOTT UTG®
The two foldable phones continue the partnership between the smartphone manufacturer vivo and the sister companies ZEISS and SCHOTT.
vivo's new foldable flagship phones feature extensive glass innovations from SCHOTT: ultra-thin glass from SCHOTT (SCHOTT UTG®) enables the foldable display of vivo X Flip, while high-performance cover glass of the Xensation® series protect the external display and camera optics.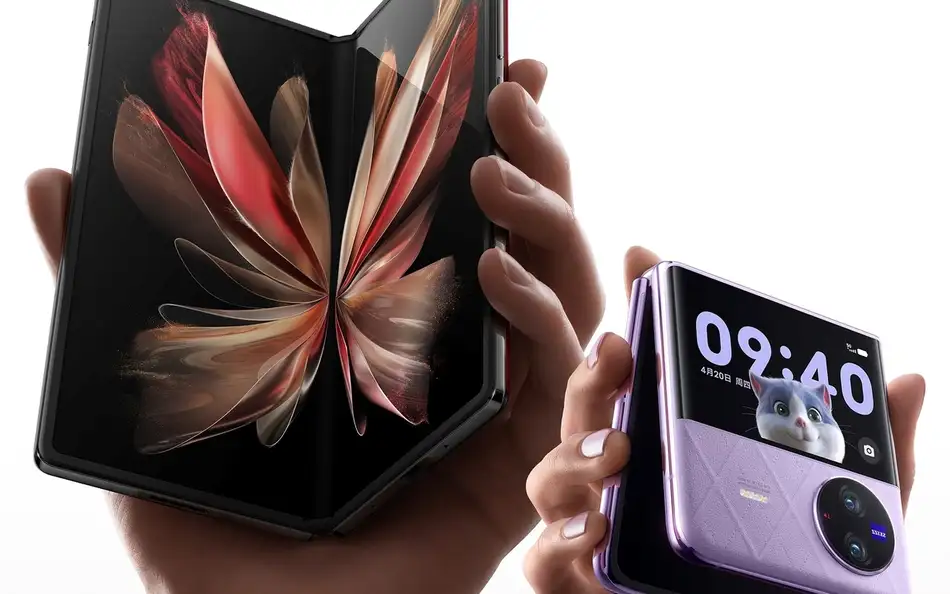 vivo's new flagship phones vivo X Flip and vivo X Fold 2 are fully packed with glass innovations from SCHOTT, whose founder Otto Schott invented specialty glass. The vivo X Flip is the first foldable phone to be certified by TÜV Rheinland to withstand over 500,000 folds, and this model features SCHOTT UTG®, a flexible glass that's thinner than a human hair with an outstanding bending strength after processing. In addition, both models feature external displays that are protected by SCHOTT's most drop-resistant cover glass Xensation® α (Alpha). The imaging system vivo co-engineered with ZEISS are protected by high-performance Xensation® Up. cover glass tailored for camera modules.
SCHOTT UTG®: The flexible glass revolution
Ultra-thin glass, "UTG", has become the industry standard for foldable displays. With about 60 years' experience in producing thin glasses with the innovative down-draw technology, SCHOTT has won a 1992 Guinness World Record for developing the thinnest glass on Earth and developed even thinner glass of 16 μm in the laboratory. Also, SCHOTT has been the first company to mass produce UTG that can be chemically strengthened. This special member of the SCHOTT UTG® portfolio can achieve an extremely small bending radius after processing and has the potential to bend hundreds of thousands of times.

SCHOTT UTG® has enabled over a dozen innovative foldable models from leading smartphone manufacturers and help open new design possibilities in consumer electronics.
Xensation® high-performance glass: maximum protection for high-end mobile devices
The imaging system is co-engineered by vivo and ZEISS, SCHOTT's sister company, and are protected by SCHOTT high-performance cover glass Xensation® Up. Designed for camera module geometries, Xensation® Up. cover glass is exceptionally thin yet durable to protect the internal optics components.

The external displays of the new models are protected by Xensation® α, SCHOTT's most drop-resistant cover glass made from the robust lithium-alumino-borosilicate (LABS) glass. This glass type combines the chemical strengthening potential of lithium-alumino-silicate glass with the scratch resistance of borosilicate glass as well as the stability similar to glass-ceramics. Xensation® α offers 100 % improvement in drop resistance on rough and uneven surfaces compared to other premium cover glass and is more scratch resistant than conventional LAS glass as shown in the Knoop scratch test. These outstanding glass properties are the result of SCHOTT's longstanding expertise.
A fruitful and long-term partnership
This launch continues the long-term partnership between the leading Chinese smartphone manufacturer and the German sister companies under the Carl Zeiss Foundation – ZEISS and SCHOTT. vivo has been the first smartphone manufacturer to feature SCHOTT's latest high-performance cover glass Xensation® α. vivo's first foldable model, vivo X Fold, also came loaded with SCHOTT specialty glass innovations, including foldable ultra-thin glass from SCHOTT UTG® series and high-performance cover glass from the SCHOTT Xensation® series.

"We are very pleased to be a trusted partner for our customer," says Dr. Feng He, Head of Global Product Management and Application of UTG Cover at SCHOTT. "As a pioneer in UTG and cover glass, SCHOTT has a wealth of knowledge gained over the past decades. We are excited to take part in shaping the future of foldable devices."


Trademarks: SCHOTT UTG®, Xensation® Up., Xensation® α
Pioneering. Responsibly. Together.
These attributes characterize SCHOTT as a manufacturer of high-tech materials based on specialty glass. Founder Otto Schott is considered its inventor and became the pioneer of an entire industry. Always opening up new markets and applications with a pioneering spirit and passion – this is what has driven the #glasslovers at SCHOTT for almost 140 years. Represented in over 30 countries, the company is a highly skilled partner for high-tech industries: Healthcare, Home Appliances & Living, Consumer Electronics, Semiconductors & Datacom, Optics, Industry & Energy, Automotive, Astronomy & Aerospace. In the fiscal year 2022, its 17,200 employees generated sales of 2.8 billion euros. SCHOTT AG is owned by the Carl Zeiss Foundation, one of the oldest foundations in Germany. It uses the Group's dividends to promote science. As a foundation company, SCHOTT has anchored responsibility for employees, society and the environment deeply in its DNA. The goal is to become a climate-neutral company by 2030.