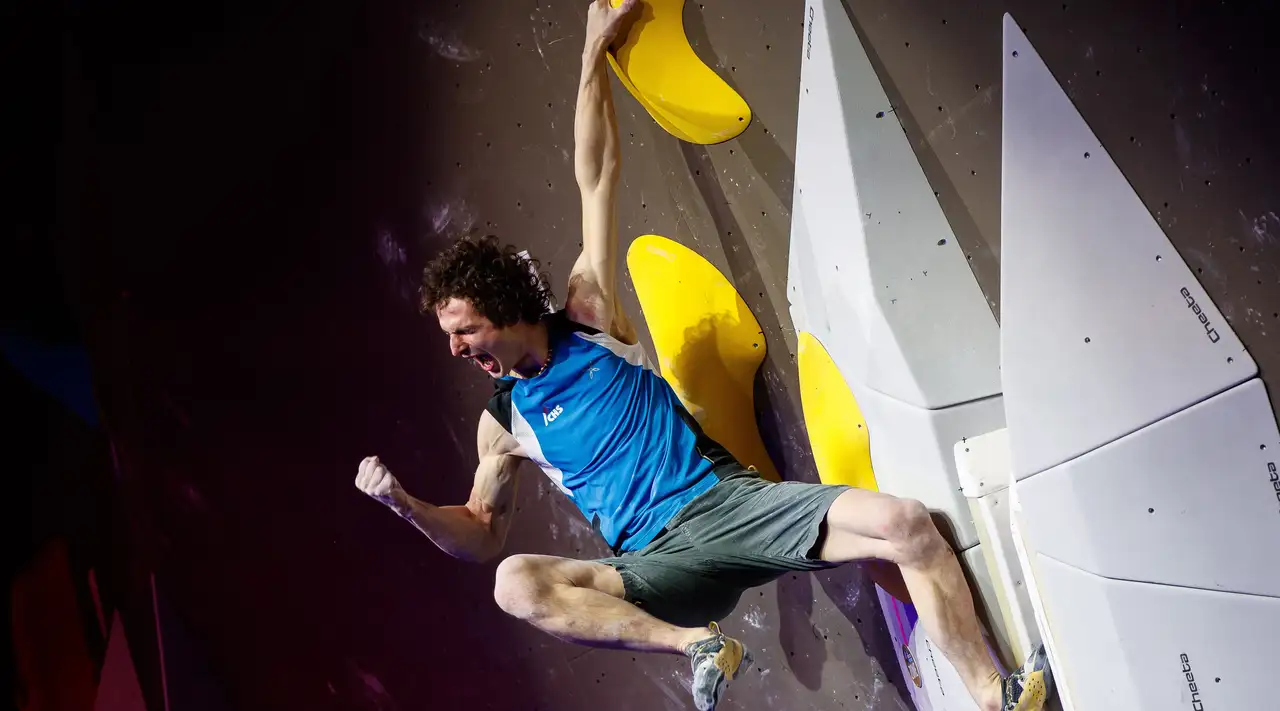 Pushing the limits of possibility
If it is not man himself who pushes the limits of what is possible, then it is research and material development. One material that goes to the extremes is ultra-thin, flexible glass. Thinner than a human hair, it already features a bending radius of less than one millimeter.
On September 3, 2017, Adam Ondra turned the climbing world upside down. In a cave near Flatander in Norway, the Czech completed an extremely difficult overhanging rock route. Exhausted, he let himself fall into the rope at the end, overcome by his emotions. The entire climbing world took a bow. The "master of the impossible" had surpassed himself. For the first time, someone had climbed a route with the French difficulty grade 9c, a classification that did not even exist until that day. Ondra himself proposed it afterwards. What he had accomplished pushed the limits of what is possible. Ondra calls the route "Silence," with good reason. Normally, the climber shouts with joy at the summit. After this super hard route, even he was speechless.

Beyond the borders there are no rules, and no objective rating scales either. Only amazement, respect, and recognition for achievements that are beyond most people's imagination. But what is 9c exactly? It's a series of difficult climbs on very steep, sometimes overhanging rock faces. Ondra seemingly outsmarted gravity in the process, leaving the viewer puzzled. How is such a feat possible?

"What really motivates me to climb harder and harder is not necessarily that I want to push my limits, be happy about it, or show the others who is the best," Ondra said in an interview with the German TV channel Deutsche Welle. "It's more that it's somehow more fun to climb harder and harder routes. The harder they are, the more interesting the climbing becomes and the more crazy moves you have to come up with."
Bend but do not break
Above all, Ondra must be able to rely on his body. Conditioning, strength, and technique can be trained. If you want to systematically push boundaries, you use other adjusting screws, with new materials opening doors that were previously closed. In no other discipline, for example, is the athlete as dependent on their equipment as in the pole vault.
The poles differ in length and degree of hardness. Bending but not breaking is the key to success, along with courage and confidence in the material. Over the decades, wood became bamboo, which became metal, with today's athletes vaulting with high-grade poles made of carbon fiber. And with each material adaptation, the flights go up. Between 1941 and 1961, the men's record was improved by just four centimeters, from 4.77 to 4.81 meters. But with poles made of glass-fiber-reinforced epoxy resin, which allows for greater rod bending, the record skyrocketed to 5.41 meters by 1968. The current record is held by Sweden's Armand Duplantis, who vaulted a staggering 6.21 meters on July 24, 2022.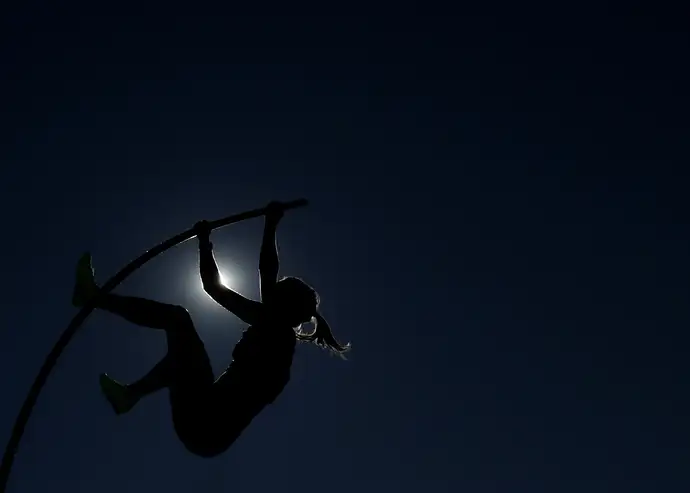 The composition of the high-tech poles is kept strictly secret by the leading manufacturers. Since the directional structure of the poles is crucial, the differences lie in how the glass fiber threads are wound around the plastic core. The goal is to produce a pole that is as light and thin as possible. "When you reach the limits, you realize how possible the next stage is," says Duplantis, who already announced new flights of fancy after the record.
When you hit the limits, you realize how possible the next level is.
Since limits that are known have already been overcome, the pursuit of improvement ensures that boundaries are always just snapshots. Whether in climbing, pole vaulting, or materials development, technological innovations are usually accompanied by improvements in materials. They form the basis for the next goal: to become thinner, lighter, and more flexible – in other words, more powerful.

In almost all areas, the hunt for the superlative is a roundabout affair. If a record is broken, the race starts all over again. In the area of international solar research, for example, a race has recently broken out with a number of companies competing to develop the thinnest, lightest, and most flexible cell. Researchers at Stanford University have succeeded in producing ultra-thin and ultra-light solar cells, which are so delicate that they can even be used on portable devices, clothing, and lightweight aircraft.
Ultra-thin glass offers an extreme bending radius
A similar race has started in the field of flexible displays. After Apple launched the iPhone in 2007 as the first smartphone with a display protected by glass, the material became the focus of many developers and designers. Now the attention of consumer electronics is very much focused on flexible ultra-thin glass (UTG).

"We have been manufacturing ultra-thin glass for more than 30 years," says Dr. Mathias Mydlak, Business Development Manager for UTG Cover at SCHOTT. "Based on this experience, we are very pleased to be able to actively shape the future of foldable smartphones with this stunning material."

As he finishes his sentence, Mydlak reaches for a pair of goggles, puts them on and shows the impressive bending radius of ultra-thin glass. "The UTG can be rolled around my finger," he says. "That looks impressive, but it's far from all it can do. In flexible screens, it has to withstand bending radii of less than one millimeter. My fingers aren't that thin!"
The history of smartphones
Anyone who wanted to use a smartphone in 1994 needed strong arms. The IBM Simon ushered in a new era, but it weighed more than half a kilogram, had a display resolution of 160 x 293 pixels, and 1 MB of memory. With this device, it was possible to install apps and email for the first time. In comparison, the Samsung Galaxy S20 (2020) weighs 163 grams and has a resolution of 1,440 x 3,200 pixels. In 2019, Samsung launched the Galaxy Fold, the first smartphone with a foldable display, followed two years later by the Samsung Galaxy Z Flip, which has now sold over 13.6 million units worldwide.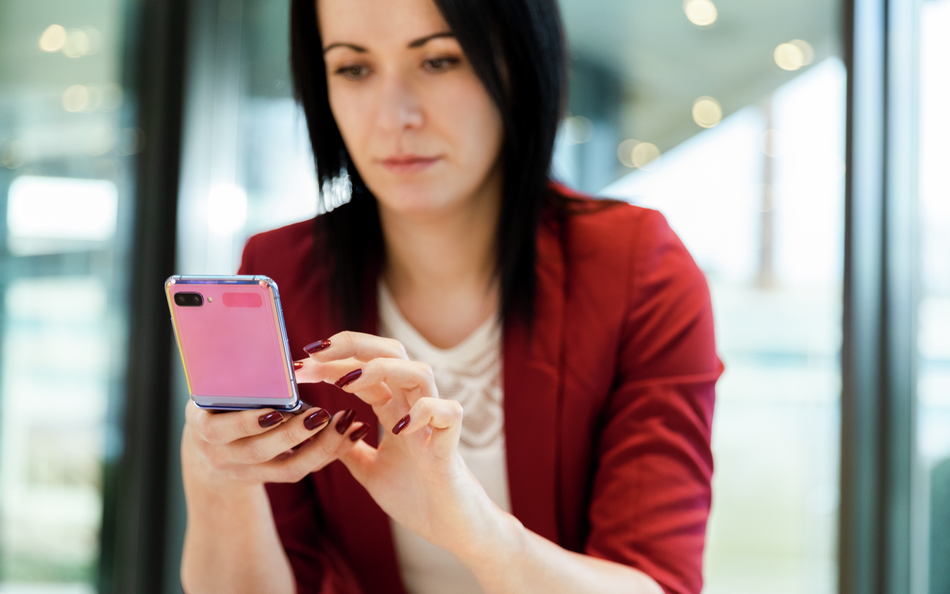 One millimeter is impressive. In comparison, a matchstick has a square cross-section with an edge length of one millimeter. The prospect of producing ultra-thin glass with a bending radius smaller than one millimeter and thinner than human hair has already inspired smartphone manufacturers to develop foldable devices with glass in the display unit. To be able to bend glass at all, regardless of thickness, a chemical tempering process is required. The ultra-thin glasses from SCHOTT are capable of doing just that, enabling such visionary devices in real life.
How cover glass is chemically toughened
The specialty glass manufacturer draws on its knowledge of the cover glass sector. SCHOTT has been present in the smartphone market with its cover glass since as early as 2010 and was the first glassmaker to develop a lithium aluminosilicate glass, today's standard type for cover glasses. "Foldable displays are a soft revolution of the smartphone market," says Mydlak.

As a technical supplier of special solutions, SCHOTT has worked intensively with customers and developed customized solutions for each one. A decisive advantage, Mydlak says, is the multi-layered know-how within the company. The company has been producing a wide variety of ultra-thin glasses using the down-draw process since the 1990s. With continuous further development, an ultra-thin glass thickness of 16 μm has already been achieved in the laboratory. For comparison, a red blood cell is 8 μm thick!
300,000 folds and counting
So how does the glass become not only thin, but also flexible? The solution is simple yet challenging. "If you have a rigid, solid material, you basically just have to make it extremely thin to make it flexible," says Mydlak. Sounds simple, but in practice it is difficult.

The example of aluminum shows how it can be done. Rolled out thinly – as aluminum foil, for example – the metal is extremely malleable. The situation is similar with specialty glass, with the most important components being silicon oxide, aluminum, and metal ions. What is then added is secret. "It is our very special, magic dust," Mydlak says with a grin. The rest is taken care of by the down-draw process.
The down-draw process
In the down-draw process, a glass ribbon is drawn down through the cooling section over various rollers. The faster the glass ribbon is drawn, the thinner the end product – and the more challenging the production process. In addition to seamless thickness adjustment, the process has the advantage that the glass does not have to be made even thinner in downstream and environmentally harmful etching processes. Glass produced using the down draw process also shines with a low variation in thickness and a flawless surface.
However, glass thickness is not the only thing that counts. Even thinner UTG is not required for display applications. Properties such as flexibility and robustness, on the other hand, are coming into focus. To make them as flexible and robust as possible despite limited material thickness, the key here lies in the material composition and the chemical tempering process.

Foldable displays for smartphones have long been ready for series production. This is underlined not least by the Chinese smartphone manufacturer vivo. The foldable main display of the vivo X Fold relies on flexible glass that can be bent hundreds of thousands of times after refinement without breaking. In 2022, vivo set a new Guinness record, where a vivo X Fold smartphone achieved 300,000 folds. Flexible ultra-thin glass played an important role.
The new foldable revolution
According to a forecast by the data company Statista, 50.1 million foldable smartphones will be sold worldwide in 2024. And with tablets and laptops also set to become foldable, the outlook is promising. While the first models were introduced to the market as prototypes as early as 2020, the software systems needed for optimal use are still lagging behind. The glass material, on the other hand, is ready today. "We can make glass ultra-thin and we know which types of glass we can use," says Mydlak. "We can combine our experience in both areas to find the best solution for customers."

The race has started. The next stage? Raising the superlative, again. But it's not just technological innovations that redefine boundaries. The human body also surprises time and again. "I have shown that there is no limit if you only want to," said Eliud Kipchoge after his unofficial marathon record run. The Kenyan mastered 42.195 kilometers in 1:59.40 hours under "laboratory conditions" in Vienna on October 12, 2017. For the first time, someone ran the marathon under the magical two-hour mark. And it's only a matter of time until the next record is set – in materials as well as sports.