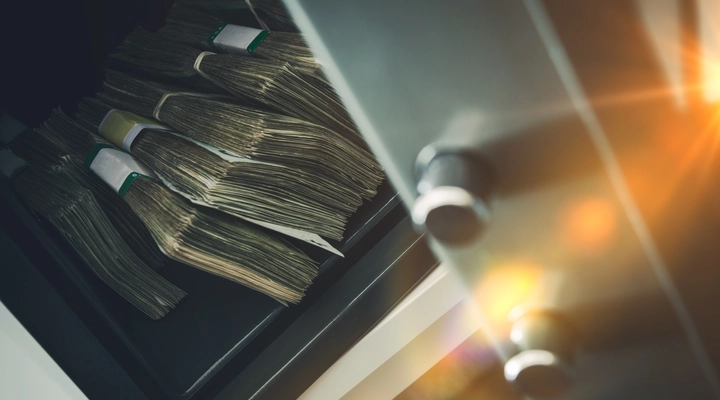 Cash protection from the inside out
Bank robbers are in big trouble thanks to glass cartridges for ink made with SCHOTT CONTURAX® Pro.
Cash security
"Cash is king" is still in most people's mind; including criminals who are looking to "earn a little extra money" by robbing banks, retailers, cash machines (ATM) or cash-in-transit companies. But, thanks to state-of-the-art cash carrying boxes, their life is becoming more and more difficult. These boxes are not just impossible to crack, they are also equipped with intelligent security systems. A highly sophisticated cash protection solution has been constantly further developed in France over the last 20 years. As of today, Oberthur Cash Protection, which is part of the Oberthur Technologies Group from Dijon, France, has supplied more than 50,000 safety boxes for the protection of cash to customers all over the world. Many cash-in-transit companies all across Europe currently use these secure containers. Their reliable security technology has been designed to scare off robbers even more efficiently than any armored money transport.
How to keep it safe
These cash boxes are equipped with time locks, multiple ­sensors and Radio Frequency Identification (RFID). All non-expected events – i. e. forced entry, abnormal temperature variations, electromagnetic fields or electrostatic discharges, gas or liquid presence – will trigger a loud siren, accompanied by dense red smoke and positioning with the aid of GPS-GPRS locating signals. But that's not enough. Rectangular shaped ink cartridges made of CONTURAX® Pro glass from SCHOTT are at the heart of this security system. If the system that can be controlled electronically causes them to burst by activating a detonator, purple colored indelible ink will immediately saturate the bank notes and thus make them completely worthless. Easy come, easy go, as they say.
For us, quality means security based on reliability.
Complete protection for cash transportation
"Our products, the components and technologies we are using must meet the highest standards. This is the only way to guarantee our customers one hundred percent protection in the critical phase of money transportation." Oberthur Technologies receives the prefilled ink cartridges from Société SAV, a company based in Joinville le Pont, near Paris, that specializes in chemicals and laboratory devices. SAV segments the glass tubing supplied by SCHOTT, molds it into containers and then fills them with dyes. The high chemical stability of the borosilicate glass ensures that the properties of the permanent ink are preserved lastingly.
"In order to be able to manufacture glass cartridges, we require glass tubing that has a rectangular shape and uniform thin side walls," explains Jean Luc Beutler, General Manager of SAV. "CONTURAX® Pro is the only product that meets these specifications. It has the ideal chemical and mechanical properties and can be processed extremely accurately, in addition to its good machinability," he adds.
A variety of shapes for optimal processing
SCHOTT manufactures seamless CONTURAX® Pro profiled tubes in a wide variety of shapes, including triangular, rectangular, hexagonal, and lots of others, with the help of a patented continuous drawing process. This allows processors to avoid costly conversion processes. The tubes are available in lengths of up to almost 4 meters and wall thicknesses of between 0.2 and 5 millimeters. Tubes with a wall thickness of 1.75 millimeters and extremely low tolerance of +/– 0.15 millimeters are needed to produce these ink containers made of glass. The rectangular shape of the ink cartridges allows for space-saving integration into the cash box. At the same time, the square shaped profile tube breaks more easily and evenly than a round tube when the trigger is pulled inside this security application.
"It's quite exciting and inspiring to enable new applications that meet such high requirements," says Hermann Tietze, Regional Sales Director EMEA for Technical Tubing at SCHOTT AG. "Normally, our glass needs to be as durable and strong as possible. With these ink cartridges, however, our tubes are expected to break quickly and evenly, without getting damaged during manufacturing or while they are being transported."
So far, this intelligent cash protection system from Oberthur has been introduced mainly in Western Europe. Now, the company is expecting expansion of its customer base to include other regions of the world. "Simply knowing that these glass ink containers make stolen bank notes unusable for criminals acts as a deterrent and could well prevent acts of violence," adds Hermann Tietze from SCHOTT. "We are pleased to be able to contribute to this," he concludes.
Used materials
As the profiled version of SCHOTT CONTURAX® glass tubing, CONTURAX® Pro is available in a range of shapes, from triangle and ellipse to octagon and star. High transparency and chemical resistance combined with strong resistance to thermal shock opens up a variety of industrial, architectural and lighting opportunities.