Tough, Elegant Glass Tubing for Architecture
Tuesday, 16 August 2022 , Mainz , Germany
New CONTURAX® Tough and DURAN® Tough product line combines aesthetics, high strength, and safety thanks to a robust polymer coating.
Wide range of creative applications for architects and designers from façades and glass partitions to furniture.
On display at the world's first Google Store in New York and the glasstec 2022 trade fair in Düsseldorf, Germany.
Architects and interior designers are always looking for materials that combine aesthetic qualities with high safety standards. Such demands are met by a new product line of proven glass tubing types from SCHOTT: CONTURAX® Tough and DURAN® Tough, which offer outstanding strength and resistance thanks to a stabilizing polymer coating on the inside.
These new products, which will be presented to the public for the first time at glasstec 2022 in Düsseldorf, can be used for façades, glass partitions, installations, and even furniture and light features in modern buildings. One example of a successful project with SCHOTT glass tubing is the world's first Google store in New York.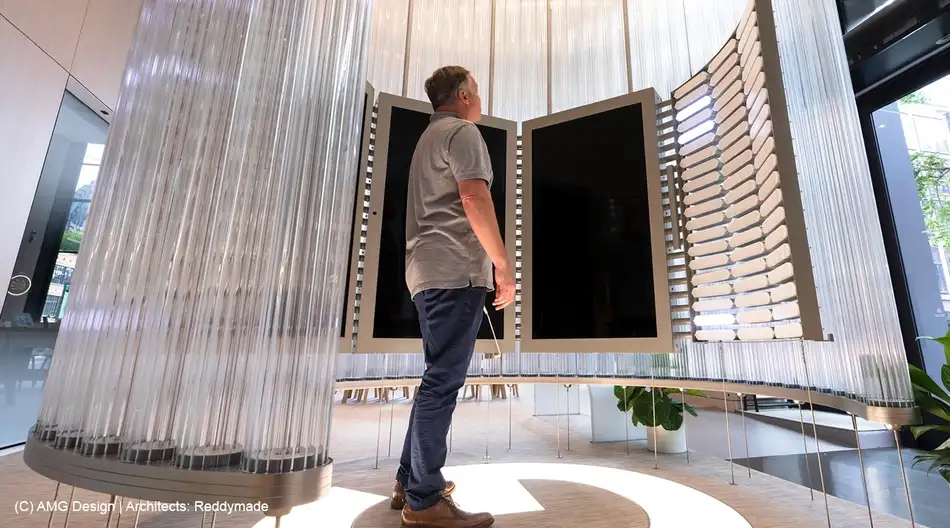 At four meters tall, the installation at the world's first Google Store, which opened in New York in May 2021, makes a real statement. Arranged in an open circle, 50 glass tubes with a 120-millimeter outer diameter and a length of four meters form an impressive backdrop for monumental information panels. With a design that emulates a floating balloon, the architects chose CONTURAX® Tough because of the unique light distribution in the fluted tubes, giving the piece a sense of delicacy.

This weightless elegance and transparency are complemented by the highest physical and chemical robustness. Both CONTURAX® Tough and DURAN® Tough get their long-lasting durability from a special polymer coating applied to the inside of the glass. This ensures that the shape and integrity of the profiled tubing are maintained in the event of breakage. This protects against glass splinters and shards, minimizing the risk of injury and enabling its use in public areas and industrial environments.

"We developed this technology together with a renowned film specialist that works with very safety-oriented clients," explains Klaas Roelfsema, Regional Sales and Business Development Director at SCHOTT Tubing.

The polymer coating is highly stable and protected from decomposition by UV radiation thanks to the strong UV absorption of the glass tubing. SCHOTT CONTURAX® and DURAN® borosilicate glass tubing also offer high chemical resistance and temperature resistance, enabling their use for interior and exterior design.

"We have already convinced the German Innovation Award jury with our products this year," says Peter Scherer, Vice President, Marketing and Sales of SCHOTT Tubing. "We are excited to see which fascinating furniture and interior designs will feature our sturdy glass tubing next."
Creative palette for exclusive designs
When it comes to using SCHOTT glass tubing, there are no creative limits for the architects and designers of façades and installations for residential, commercial, and retail spaces. Ideal applications include glass partitions, which can create an inviting environment for employees and visitors in offices or new buildings, as well as providing an open yet private atmosphere to confined spaces. The tubing is also particularly impressive in entrance areas, such as the entrance to the Victoria & Albert Museum in London, where it guides visitors from the door to the reception area.

In addition, CONTURAX® Tough and DURAN® Tough are ideal for furniture such as reception counters and lighting features. Even toilets – such as those designed by the French sanitary designer Trone – can be eye-catching with the help of glass tubing.

These solutions are made possible by SCHOTT glass tubing thanks to its precise geometric tolerances, which ensure that the designs fit perfectly. CONTURAX® Tough is available in fluted form with diameters of 100 or 120 mm, while DURAN® Tough is available in smooth form with an outer diameter of 120 mm. Lengths from 1,500 to 4,000 mm (59 to 156 in.) are possible for all variants.

You can find out more about SCHOTT glass tubing at the glasstec trade fair from September 20 to 23, 2022 in Düsseldorf (Hall 11/Stand A22).


Learn more about our tough glass tubing:
DURAN®
CONTURAX® und CONTURAX® Pro
Glass Partitions
Inspirational decorative light design with glass
CONTURAX® is a registered trademark of SCHOTT AG. DURAN® is a registered trademark of DWK Life Sciences GmbH.
Pioneering – responsibly – together
These attributes characterize SCHOTT as a manufacturer of high-tech materials based on specialty glass. Founder Otto Schott is considered its inventor and became the pioneer of an entire industry. Always opening up new markets and applications with a pioneering spirit and passion – this is what has driven the #glasslovers at SCHOTT for more than 130 years. Represented in 34 countries, the company is a highly skilled partner for high-tech industries: Healthcare, Home Appliances & Living, Consumer Electronics, Semiconductors & Datacom, Optics, Industry & Energy, Automotive, Astronomy & Aerospace. In the fiscal year 2021, its 17,300 employees generated sales of 2.5 billion euros. SCHOTT AG is owned by the Carl Zeiss Foundation, one of the oldest foundations in Germany. It uses the Group's dividends to promote science. As a foundation company, SCHOTT has anchored responsibility for employees, society and the environment deeply in its DNA. The goal is to become a climate-neutral company by 2030.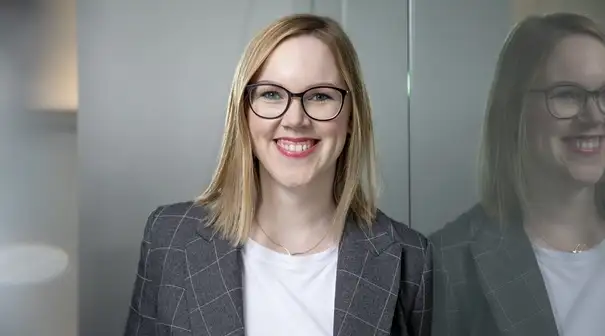 Lea Kaiser
PR & Communications Manager