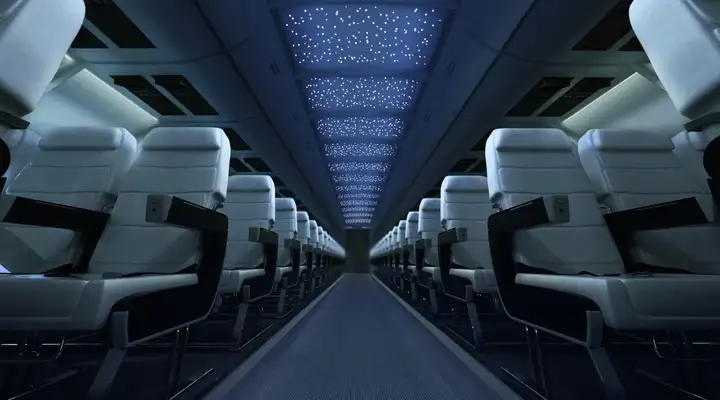 Star Ceiling
The wonder of a star-filled sky is brought to life by the SCHOTT Star Ceiling aircraft cabin lighting system. A combination of SCHOTT
®
HelioFlex fiber optics and LED technology adds starlight to the cabin ceiling, giving passengers a memorable experience of the galaxies from the comfort of their own seat.
High performance with low maintenance
The flexible, multi-fiber SCHOTT® HelioFlex harness provides inspiring design solutions even when space is restricted. One harness consisting of a large number of fiber optic light guides creates up to 30 light dots, which are powered by a single LED light source. This combination results in a high MTBF (mean time between failure) while reducing installation and maintenance times.
Electrically safe
For worry-free performance in wet and dry environments.
Safe to the touch
No EMI, heat or humidity issues at light output.
Quality assured
The HelioFlex harness is compliant with FAR 25-853 and ABD0031 standards regarding flammability, smoke and toxicity.
Proven performance
SCHOTT® HelioFlex critical parts are already qualified by major aircraft manufacturers.
Stars in your eyes
Stars in your eyes

The light fantastic