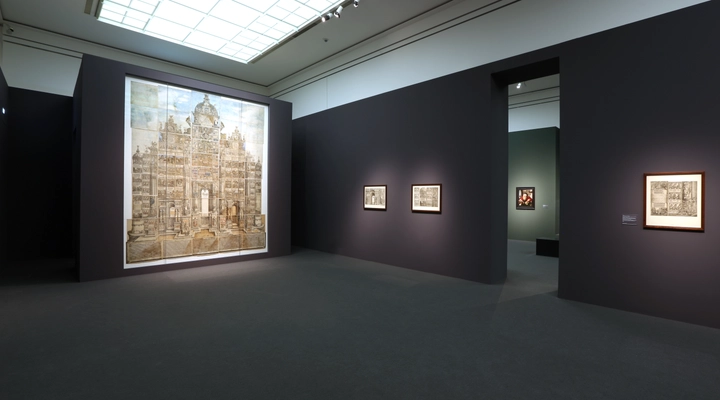 Städel Museum, Germany
When display glass was required for an invaluable ancient wood print at Frankfurt's Städel Museum, it needed to provide an unobstructed, reflection-free view of a visually breathtaking artefact, as well as protect a fragile masterpiece. SCHOTT AMIRAN® provided an elegant solution to a complex challenge.
3.5 m
is the height of Albrecht Dürer's Triumphal Arch of Holy Roman Emperor Maximilian I artwork.
1518
was the year Dürer's famous wood print was completed.
195
wooden blocks make up the work of art.
17.5 mm
thick panels of SCHOTT AMIRAN® glass were used to protect the precious work of art.
Background
In 1518, painter and graphic artist Albrecht Dürer completed a giant woodcut print commissioned by the Holy Roman Emperor Maximilian I. This monumental print was designed to highlight the Emperor's military achievements and generosity, and stood nearly 12 feet tall upon completion. For a Dürer exhibition at the Städel Museum in Frankfurt am Main in Germany, an exceptionally rare first edition of the wood print was presented behind double-sided non-reflecting glass.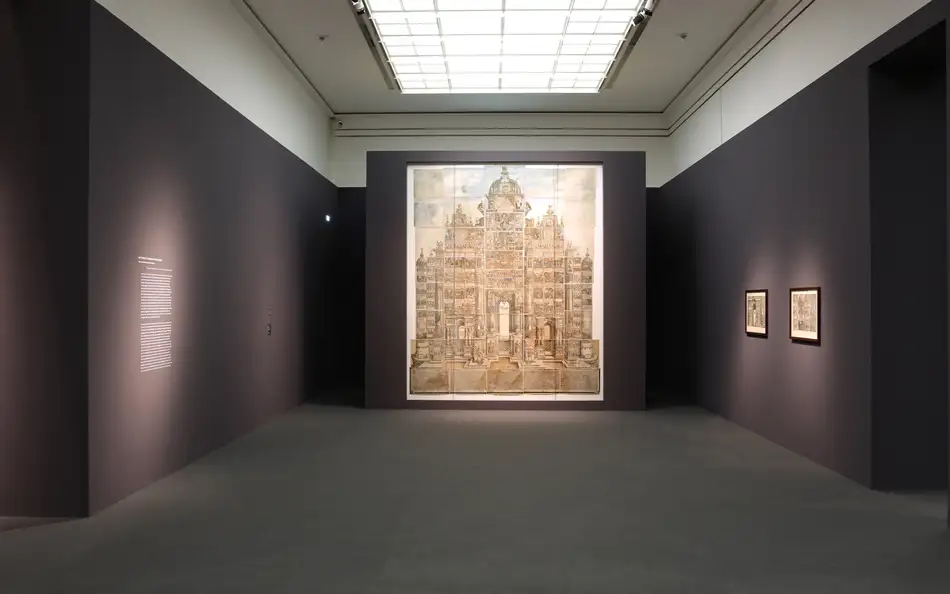 Task
The Städel Museum had two key requirements for its Dürer woodcut display in the exhibition. Not only did the glass have to offer very high security, it had to be large and clear enough to provide visitors with a clear view of the monumental print from all angles, without frames or reflections getting in the way. The centuries-old, fragile wood print also needed robust protection against vandalism or accidental impact, while any scratches or dirt on the display would of course impair the view.

Solution
The expert glass cabinet builders chose SCHOTT AMIRAN® for its high security and low reflectance. An advanced coating reduces reflections to less than 1 % (compared to 8 % with conventional float glass) and allows 98 % of light to pass through it. Once commissioned, the construction team fitted three AMIRAN® panels, which were 3.75 meters in height with a thickness of 17.5 mm. Each one consisted of two panels of single-side coated AMIRAN® with a PVB film sandwiched between them to ensure maximum stability and exceptional impact resistance. A high-tech scratch-proof coating also guarded against blemishes and physical damage to the display.
Low reflectance and high clarity thanks to SCHOTT innovation
The incredible clarity and robust mechanical strength of SCHOTT AMIRAN® is achieved thanks to SCHOTT's groundbreaking processing techniques. The sol-gel dipping process sees the glass dipped in various metal oxide solutions, which form coating layers after being burned in at very high temperatures. These layers produce interference to light transmission, which helps to prevent reflection. The process also enhances the mechanical and chemical resistance properties of the glass, while also enabling it to be processed into a variety of shapes and sizes.
More than meets the eye
Glass for display cases works best when it can barely be seen. SCHOTT AMIRAN® reduces light reflection, even when there's a significant difference in light levels on either side of the glass, with display frames, light refraction and blemishes on the glass surface reduced to almost nothing. It also enables improved photography of the item, which often isn't possible with conventional glass. Meanwhile, the ornate details of the print are clear to see from all angles, providing the best possible appreciation of this historic masterpiece.
Used materials & similar products
The reflection-free and almost invisible SCHOTT AMIRAN® can be found working its magic in museums, galleries, retail displays, office facades, high-end restaurants, and entertainment venues around the world. All benefit from its powerful combination of outstanding transparency and robust security.

In the same Dürer exhibition, 16 panes of SCHOTT MIROGARD® Protect were used to display smaller works from the artist. This glass also reduces reflections to under 1 %, while also offering excellent color rendering and an integrated protective layer to guard exhibits from harmful UV light rays.
Expert partners for long-term protection
Protecting one of the world's most valuable wood prints requires a lot more than simple glass processing. It demands close cooperation with an architectural firm, as well as an installation company, to ensure the artwork is both highly secure and highly visible for long-term use. SCHOTT experts worked closely with the architects and installers every step of the way for a stunning result.

Glass made by
SCHOTT

Installed by
Glas Hetterich GmbH

Planned by
Bach Dolder Architekten