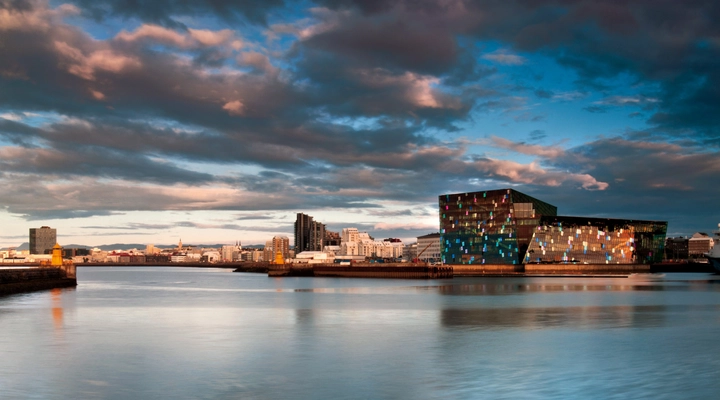 Harpa Concert Hall Reykjavik
A new concert hall and conference center in the Icelandic capital, Reykjavik, was conceived as a major new landmark for the city. A creative collaboration between an artist, an architect, and SCHOTT channeled the meeting of sea, sky and city on a distinctive volcanic island.
28,000 m²
area of the building covered in glass.
960
three-dimensional hexagonal bricks arranged to create a stunning visual effect.
3 %
of the glass consists of SCHOTT NARIMA® to deliver a kaleidoscopic effect.
6
NARIMA® color variations can create a world of esthetic possibilities.
Background
When work began on Reykjavik's Harpa Concert Hall and Conference Center in 2005, it was designed to incorporate four halls, each representing one of the four forces of nature: earth, fire, water, and light. Its most impressive feature was to be a south-facing façade conceived by the acclaimed Berlin artist Olafur Eliasson. Eliasson's vision was inspired by the stunning Icelandic landscape, in particular its crystallized basalt columns. Keen to work the curious geometric shapes of Icelandic nature into the structure and reflect the building's surroundings, he called upon the unique properties of SCHOTT NARIMA® color effect glass.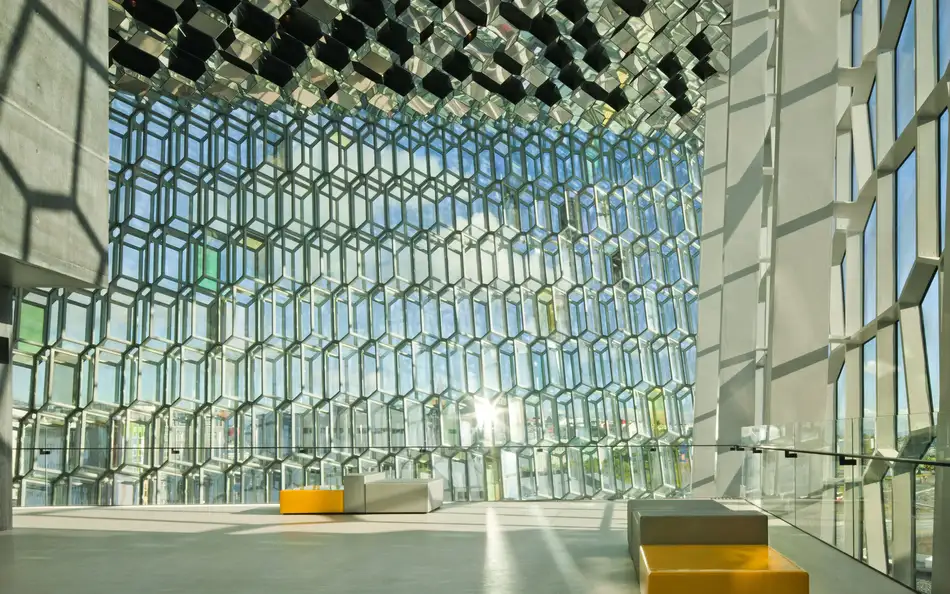 Task
For the structure, the artist wanted to imitate aspects of the stunning Icelandic volcanic landscape, as well as channel the ever-changing colors of nature in the awe-inspiring façade. To achieve this, 960 three-dimensional, polyhedron 'quasi-bricks' were arranged in collaboration with geometry specialist and architect Einar Thorsteinn, so that the façade stuck out at angles, despite sometimes appearing to be flat. A combination of reflective color-effect glass and transparent, anti-reflective glass was needed to achieve the full effect, which required the unique properties of SCHOTT NARIMA® and AMIRAN® glass panels.
Solution
The shapes of the bricks give the building's façade an irregular quality in the way it reflects light. This is enhanced by the use of SCHOTT NARIMA® color effect glass, which reflects certain colors while allowing others to pass through. The resulting effect means a constantly evolving combination of different colors and reflections can be seen on the façade throughout the day and night, with LED lighting enhancing the effect for the viewer. Meanwhile, to ensure a view inside the building as well as a reflection on its exterior, SCHOTT AMIRAN® anti-reflective glass was also used.
Innovative features to add clarity to color
As well as NARIMA® color effect glass, the structure was built with more than 1,000 additional, five- and six-sided glass elements, each varying in shape and technical properties. These elements included laminated panes of SCHOTT AMIRAN®, which enables the viewer to see inside the building at certain points and heightens the color-reflective effect of the NARIMA® panels.
A kaleidoscopic effect
Since construction was completed in 2011, onlookers have been struck by the way the colors dance across the south-facing façade, varying according to the angle they view it from. Warm golden colors of glowing volcanic lava can be seen at some points and icy, glacier-like blues at others, each reminiscent of the extremes found in Iceland. At night, individually controlled LED lights illuminate the façade, helping it glow red, green and blue. Harpa Hall interacts with its surrounding environment to make this city become a magnetic focal point for the entire island.
Used materials & similar products
SCHOTT NARIMA® is a dichroic glass that reflects some colors and lets others pass through. The eye-catching potential of this glass has made it popular with architects, artists and designers around the world for use in facades and interior wall glazing, as well as statement structures such as Harpa Hall.

The anti-reflective SCHOTT AMIRAN® glass was also used for this project in the form of a laminated glass. Its high transparency prevents its own reflections from interfering with the visual effect.
SCHOTT forms part of an award-winning team
Artist Olafur Eliasson collaborated with Henning Larsen Architects and local firm Batteriid Architects to bring this awe-inspiring project to life. They partnered with SCHOTT and Prinz Optics to develop the glass solution that really makes the Harpa shine.

Glass by
SCHOTT, Prinz Optics

Artist
Olafur Eliasson

Architects
Henning Larsen, Batteriid Architects