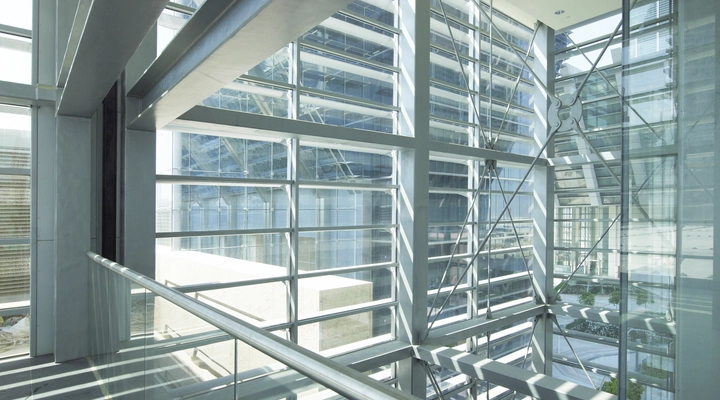 Financial Car Park Abu Dhabi
Can a car park catch the eye? It seems unlikely for such an apparently everyday, functional building, but the structure at the Abu Dhabi Financial Center does just that. Built with 6,000 m2 of AMIRAN® anti-reflective glass, this home for 5,200 vehicles blends in seamlessly with the surrounding offices.
6,000 m²
of SCHOTT AMIRAN® anti-reflective glass used in the project.
5,200
vehicle capacity for the gigantic car park.
98 %
light transmission with AMIRAN® glass with just 1 % reflectance.
3,500 x 1,500 mm
panels of SCHOTT AMIRAN® possible for large-format projects.
Background
Known as the "Abu Dhabi Global Market" or ADGM, Abu Dhabi's Financial Center aims to create a business hub for the entire United Arab Emirates region and internationally. Its eye-catching architecture reflects the city's ambition to become one of the Middle East's commercial focal points in the 21st century. That ambition even carries through to its less glamorous structures, such as its car parks, which required SCHOTT glass to combine sleek style with robust security and reliable functionality.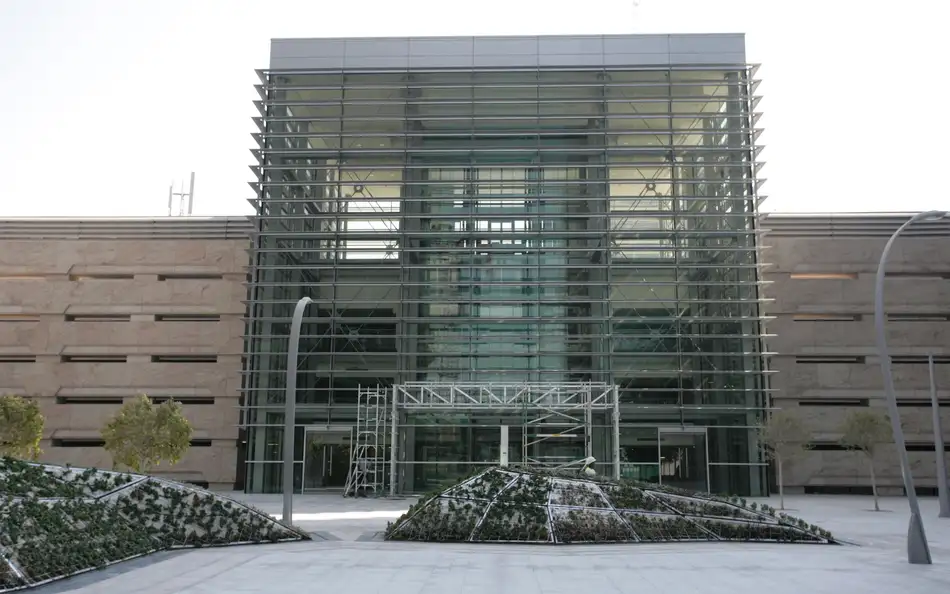 Task
When architects drew up plans for a car park to serve Abu Dhabi's ambitious new Financial Center region, they wanted a clear view through an adjacent office tower as well as its adjoining car parks, to give a feeling of the buildings flowing into one another. At the same time, strong insulation was required to ensure that the heat of the UEA sun didn't affect the air-conditioned space within – a fact that had been taken into careful consideration during construction of the building's interior.
Solution
Architects for the project chose SCHOTT AMIRAN® insulating glass, which combines thermally toughened safety glass and laminated safety glass. With its highly anti-reflective properties, the glass provided a clear view through the structure, while its very strong UV protection guarded against damage to vehicles or long-term erosion of the structure itself. The outstanding insulation properties of SCHOTT AMIRAN® also resulted in the air-conditioned environment being efficiently maintained.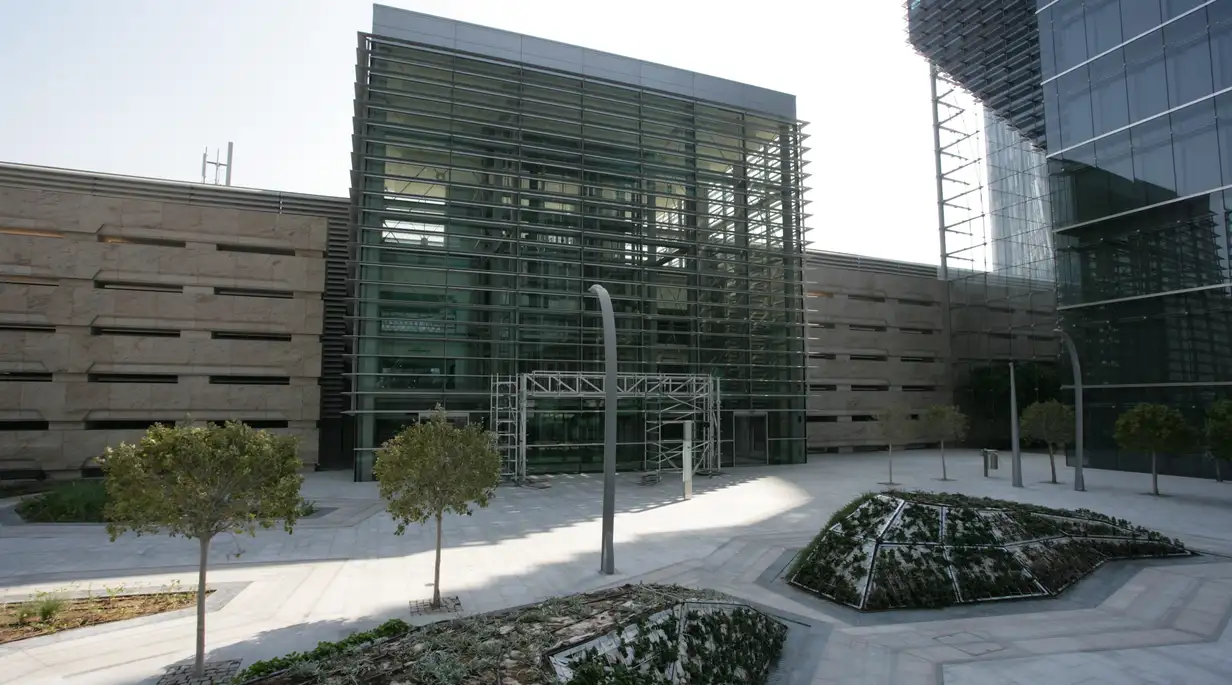 1/3
SCHOTT AMIRAN® glass was chosen for the project for its anti-reflective and UV protection properties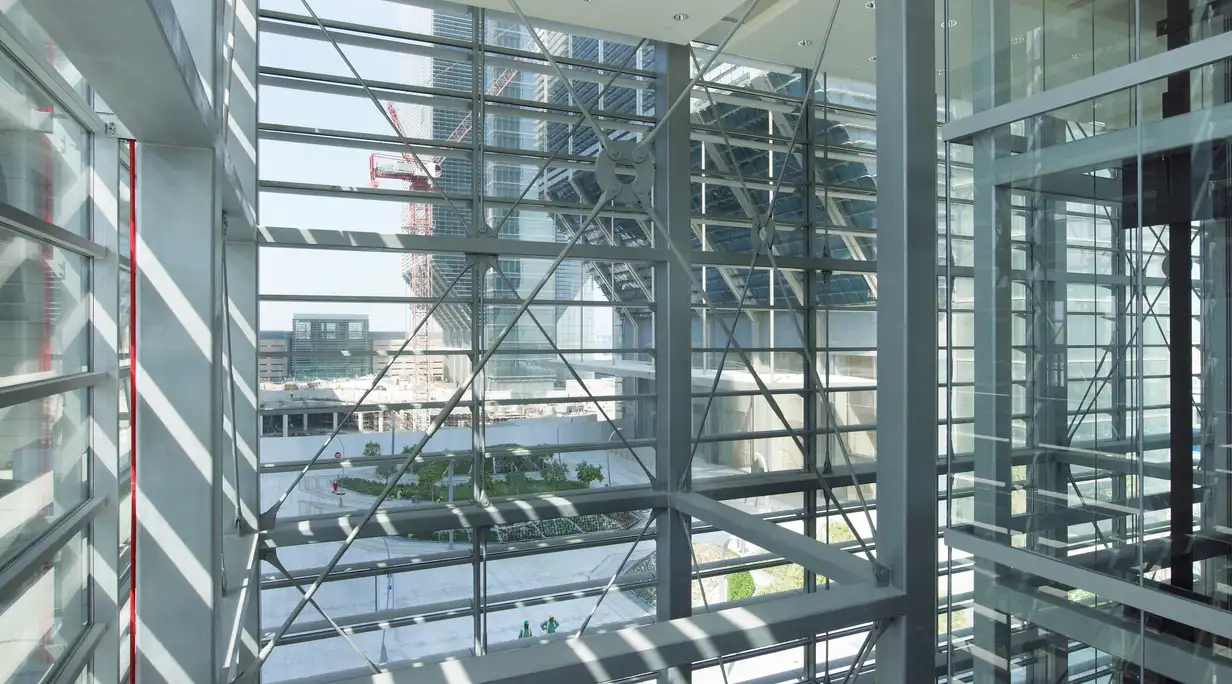 2/3
The Financial Center's car parks needed to deliver strong light flow as well as heat insulation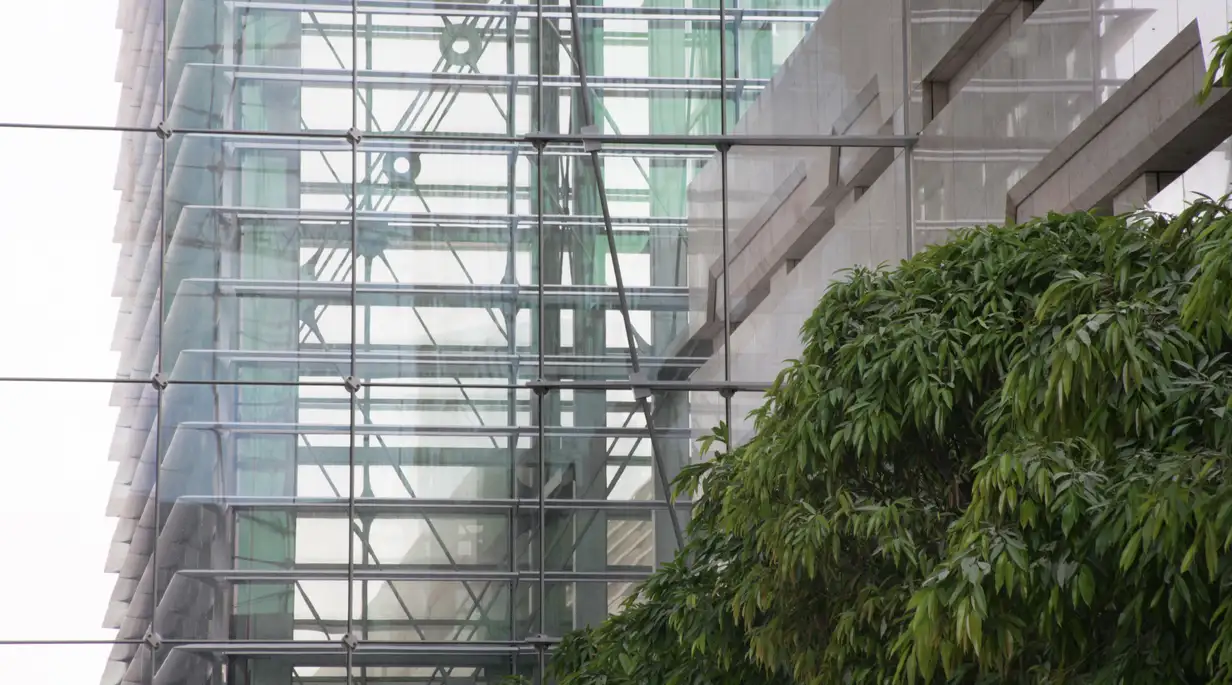 3/3
SCHOTT AMIRAN® offers 1 % light reflection with 98 % transmission
The technology behind the innovation
The key to AMIRAN®'s outstanding qualities is the innovative techniques SCHOTT has developed to manufacture it. One example is the sol-gel dipping process, in which the glass is dipped in different metal oxide solutions. Once dipped, the coating layers are burned in at 450-500 °C. This results in the layers producing interference, which helps to prevent reflections. These layers are also purer and more chemically and mechanically stable than those processed with conventional techniques such as vapor deposition or sputtering. The result is residual reflection levels as low as 1 %, with up to 98 % light transmission.
Eye-catching esthetics in challenging conditions
When the Financial Center Car Park was completed in 2011, the success of the project from an esthetic point of view was clear to see. This is largely thanks to the unrestricted view in the brightest sunlight or at night when light levels on either side of the glass differ greatly. Since it's easy to clean and highly resistant to scratches or damage from the elements, SCHOTT AMIRAN® also retains its appearance long-term – essential in a demanding environment that can include sandstorms and corrosive mist from the neighboring Gulf coast.
Used materials & similar products
SCHOTT AMIRAN® is not only anti-reflective, it's also highly durable and resilient, making it an ideal choice for facades in state-of-the-art architectural projects around the world. It's also widely used in high-end shop displays, galleries, museums, and VIP seating areas in sports stadia.
A multilayered project with a fantastic result
With over 6,000 m2 of SCHOTT AMIRAN® anti-reflective glass used in the project, this was a highly complex and lengthy challenge that required close collaboration between SCHOTT and the architects. Not only did the glass have to adhere to strict safety standards, it had to provide consistent heat insulation to maintain the air-conditioned environment inside the building.


Glass
SCHOTT
Architects
Gensler
Owner
Mubadala Real Estate & Infrastructure