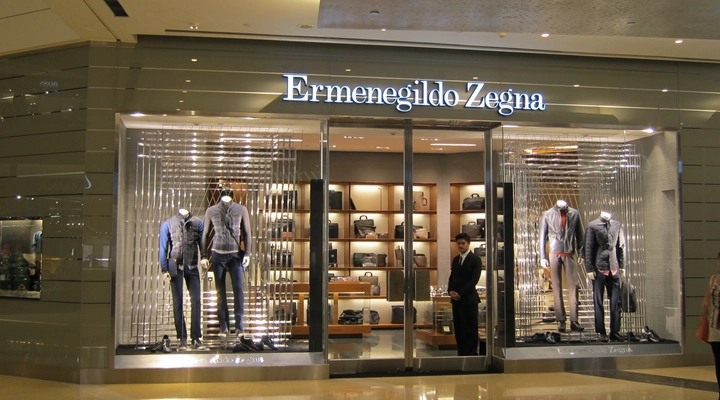 Ermenegildo Zegna
High fashion retail outlets require a high quality sales environment. When leading Italian fashion label Ermenegildo Zegna opened a store in Macau, China, they wanted to turn the heads of potential customers. With help from display windows made with SCHOTT AMIRAN®, they achieved this with style.
15 m²
of tempered AMIRAN® was installed in the store.
10 mm
thick panels offer high security and safety.
100
score for AMIRAN® on the color rendering index.
1 %
reflection with AMIRAN® glass, providing up to 98 % light transmission.
Background
Italian clothing brand Ermenegildo Zegna has been expanding its presence in the Chinese market for several years now, recognizing the enthusiasm for unique and inventive high fashion items among consumers in the Far East. Their retail spaces need to reflect the stylish design of the products inside, but also look different to other brands. So when they built their store in the "One Central" shopping center in Macau, they looked to SCHOTT to give it a high-definition look using glass with enhanced light transmission.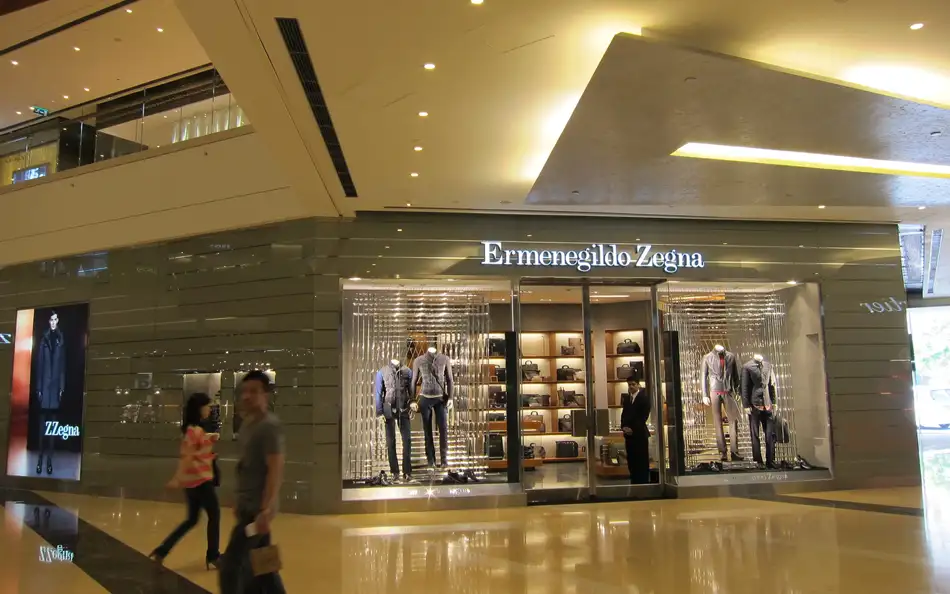 Task
Ermenegildo Zegna understand that first impressions count when it comes to retail, and nowhere is that more true than in the high fashion field, where clothes must catch the eye of shoppers as quickly as they would on the catwalk. Therefore an unobstructed, low-reflection view of the products was imperative for their Macau store, to let nothing get in the way of a customer's gaze. This visibility needed to be maintained at all times of the day, regardless of light conditions, while high security and safety also needed to be considered.
Solution
A total of 15 m2 of SCHOTT AMIRAN® glass was installed in the Zegna storefront in the "One Central" mall, making it one of the most eye-catching spots in the city. The glass is 10 mm thick, adding robust mechanical strength to the qualities of this display, with polished edges offering the feel of a minimalist, seamless display that maximizes the customers' views of the trend-setting fashion items.
Technical innovation for a unique effect
The stand-out qualities of SCHOTT AMIRAN® glass are the result of processing techniques perfected over decades by SCHOTT's glass experts. The extremely high light transmission (98 %) and very low levels of luminous reflectance (around 1%), as well as outstanding color stability, are the result of SCHOTT's unique sol-gel dipping process, in which the glass is immersed in different metal oxide solutions to form coating layers that are burned in at 450-500 °C. These layers produce interference that helps to prevent reflection, and make AMIRAN® mechanically and chemically more stable than conventional glass.
The "invisible glass"
The impact of SCHOTT AMIRAN® can be clearly seen in the bright colors and clean designs it highlights in Zegna's Macau store. While products in other stores can be obscured by unwanted reflections, Zegna products look as though they are not behind glass at all, thanks to the "invisible glass" effect of SCHOTT AMIRAN®. The clarity is maintained regardless of light conditions, whether affected by natural daylight or under the lights of the shopping mall.
Used materials & similar products
The beauty of SCHOTT AMIRAN® is that it's often entirely unnoticeable. Its highly durable coating allows up to 98 % of light through, making it a popular choice for high-end retail spaces, galleries and museums, and facades for stylish architecture projects.
Effective collaboration for an outstanding result
Since high clarity and low reflection were vital for the Ermenegildo Zegna store, the architects chose SCHOTT AMIRAN® for the glazing. Once commissioned, SCHOTT worked closely with the local glass processor for the project to ensure high geometrical accuracy and an exceptional result.

Glass made by
SCHOTT

Local partners
Fortune Island

Glass processed by
Ngai Wah Glass & Mirror Ltd.