HAECO Cabin Solutions: new seating concepts for the rising premium economy class
HAECO is one of the world's leading independent aircraft engineering and maintenance groups. In its Cabin Solutions business unit, the team develops and manufactures interior products such as passenger seats and a full range of galleys, lavatories, and other amenities.

One of the company's goals is to offer state-of-the-art cabin seating solutions for use in the rising premium economy class. In this interview, David Kelly, Vice President, Strategy and Marketing at HAECO Americas, talks about the development of aircraft seating, trends around post-pandemic travel and his personal dedication to the industry.
David Kelly is an expert in Strategy, Marketing and Market Intelligence and has been working in the aviation industry for almost 20 years. His passion for aviation is also reflected in his commercial pilot license. He holds Bachelor's Degrees in Aeronautical Science and Business Administration, and completed his Master of Business Administration.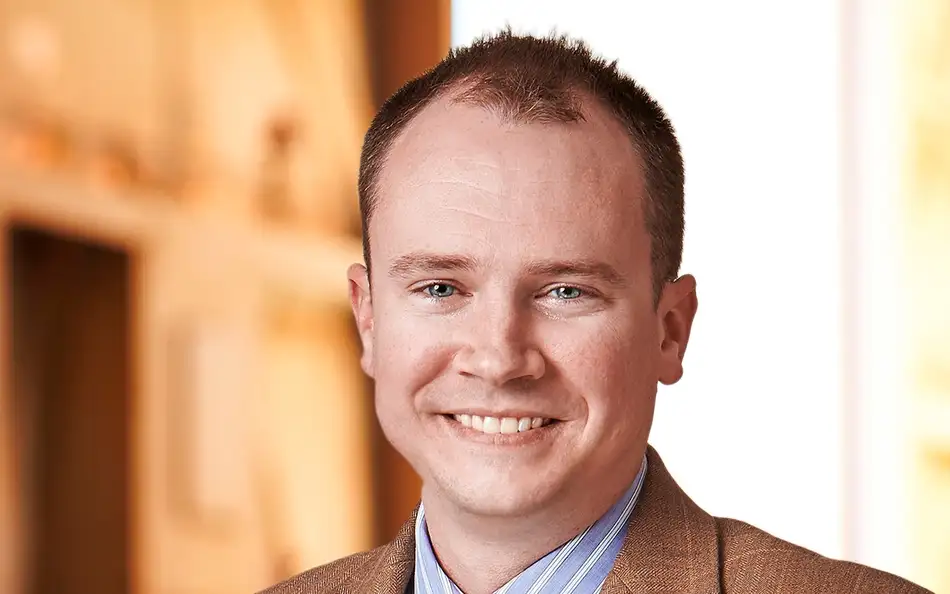 How have travel classes and aircraft seating developed in the last two decades?
First and business class have changed a lot on both single aisle and twin aisle aircraft, whereas economy class has not changed quite as much. 20 years ago, first and business class had a recliner seat that would go partially lie flat or fully lie flat. With the dawn of super first class, the number of classes increased. We saw that eventually, super first class got pushed off the front of the plane as business class grew. At the same time, economy plus grew and became premium economy. So, the old business class is now premium economy and the old super first class is now the current business class. Premium economy is still relatively small, but it is the fastest growing interior market.

Additionally, if you compare a fleet from five years ago including the configurations of the cabin with the situation today, the biggest change is densification: on single-aisle aircraft for short routes from dual class to single class. This means that first or business class are taken out and the cabin is filled with as many economy seats as possibly fit in. The second most common change is on twin-aisle wide-body from dual class to triple class, and that is a result of the rise of premium economy. Interestingly, the third reconfiguration that we see is from twin-aisle dual class to no class because the aircraft are changed into cargo or freighters.
How is the aircraft seating industry currently evolving?
If you take a twin aisle aircraft and look at the ratio of ticket price and the number of seats per square inch, typically premium economy has the highest yield in the cabin. The business class seat is very expensive, but it also takes up a lot of space, whereas economy class doesn't take up much space, but it is typically an inexpensive seat. The goal then becomes to move passengers who would have flown economy forward to premium economy, without pulling travelers who would have flown business back into premium economy.

There are two aspects that are driving this development: pre-pandemic, there were many corporate policies that allowed their employees to book a premium economy seat if their flight was 8 hours or longer. Given that this policy is still valid post-pandemic, it means that this class will continue to be marketed by the airlines to business travelers. New seats such as our HAECO Eclipse model with a fixed back shell and protection, moveable individual lighting and a bigger IFE are much more comfortable than traditional recliner seats of older premium economy set-ups and are expected to be preferred by passengers every time.

Post-pandemic, we also see a trend that people do not feel comfortable sitting physically very close to the passenger next to them and feeling "crammed in." So as the market for premium economy grows, the amenities on that seat will also grow, especially the ones that allow a passenger to control their living space and the environment around then, including, for example, personal electronic device holders and personalized reading lights.
How do passenger and airline requirements influence this development?
They are very much aligned. Let's take this example: in February 2022, FINNAIR announced their new cabin with our seats. They published videos and an entire website devoted to the benefits of the premium economy cabin and how it adds space, comfort and improved features. They have found this to be a very popular message. Shortly, there will be a couple of other airline announcements where the marketing and branding of that seat will be integral to attracting passengers from other booking options on the routes where it makes sense and convincing them that it is a very popular option to pick.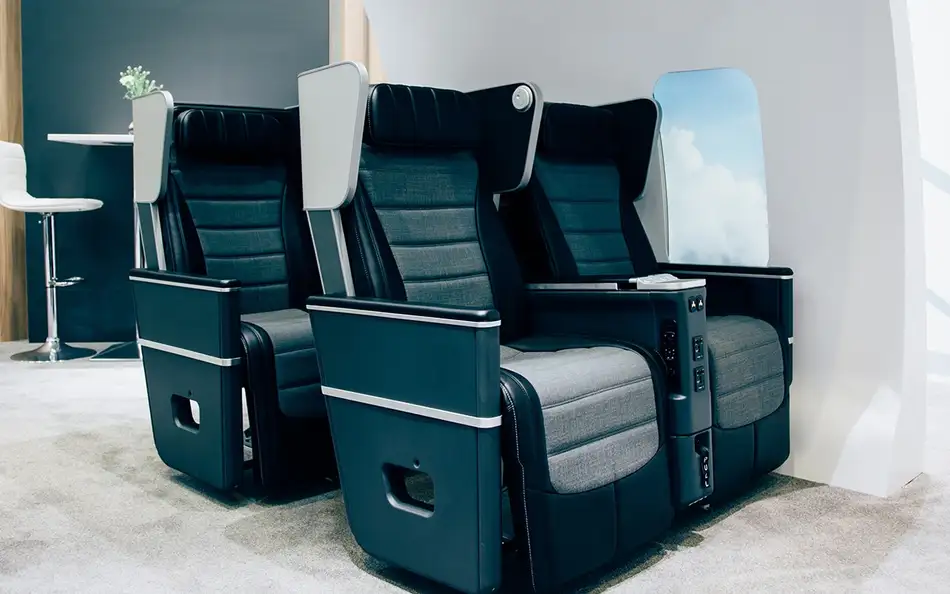 What role does individual lighting play in the new seat designs?
I believe that the importance of light had declined for a while in the past as passengers stopped reading paper books. It has become important again now as we need light to find our electronic devices and accessories without having to turn on the bright overhead lights, disturbing the sleeping passengers next to us. The ability to have more personal light closer to where we are is a lot less intrusive to the people around us.

We also see a trend towards the passengers being able to control their living space. With the HAECO Eclipse seat, if the person in front of you reclines, you won't even notice because it has a fixed shell. The privacy dividers, the individualized lights on the seat, the ability to recline and move the foot rest up, allows you to have your own little bubble. It will be part of the post-pandemic "new normal" that people won't want to be touched or have someone else negatively influence their flying experience.
The Eclipse Cabin marks a hybrid solution in short-haul business class and long-haul premium economy based on an innovative layout and design. The concept offers an improved overall passenger experience: the slightly staggered layout increases passenger privacy and comfort while maximizing passenger places (PAX) for airlines. It also offers unique storage and passenger amenity options. The advantages of the Eclipse seat, together with the integrated cabin, can create up to a 14% increase in PAX within the same cabin space.

"We saw an opportunity to develop a premium product for an emerging new class between premium economy and business class seating that would be appreciated both by passengers and airlines. We harnessed our decades of experience in providing premium seating products and services to take a holistic approach to creating a new standard", Doug Rasmussen, President and Group Director of HAECO Cabin Solutions, said.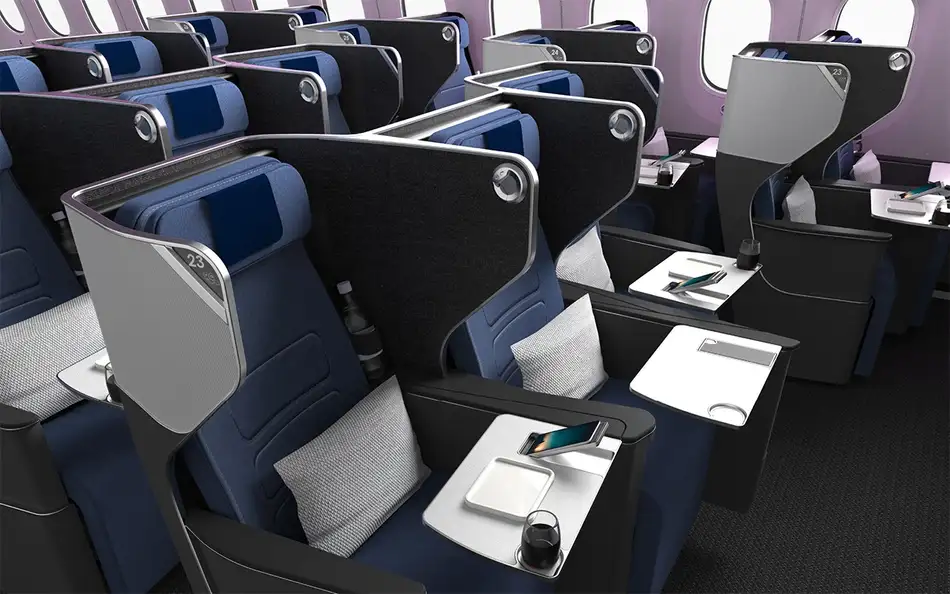 Which seating solutions did HAECO exhibit at Aircraft Interiors Expo AIX 2022?
We showed our range of seats: from our lightest Vector Light seat, to our Vector Economy seat which can be used both on a single or twin aisle, as well as our Vector Premium seat which is a fully-featured recliner. We also showcased our Eclipse seat as our flagship product. Eclipse comes in two iterations. One is what we call "in line" where one seat is directly next to the other as per typical with a fixed shell. The other is the staggered seat where the seats are not placed perfectly next to each other but angled and off-set. You take a little bit of space from the feet, but gain it in the shoulder and eye so you feel that you are in a larger environment.

That allows us to either create a larger space in a typical configuration like a two-two single aisle or a two-three-two twin aisle, but we are also able to offer three-two on single aisles. One wide-bodies, our two-four-two set-up allows us to add an incremental passenger place into that high yield premium economy class. At the same time, we are also giving passengers a better onboard experience with the same amount of living space thanks to a fixed shell and a protected space with an individual light and a large IFE.

Airlines can now offer their passengers a better experience and can have a higher yield cabin, while adding up to three or four passenger places, depending on how many rows cover premium economy. Our seat is the best of both worlds. You can have happy passengers, and more of them!
In the light of your profession, what do you personally appreciate about flying?
I appreciate the great marvels and extent to which airlines go to get a plane in the air. It's pretty amazing! I just believe that people take for granted that everything goes right. However, it is actually not that easy to take a gigantic physical object, make it travel at 600 mph at 35000 feet while you eat a hot meal and watch the latest entertainment and movies – while only being charged a few hundred dollars. That is an incredible feat!
About HAECO Group
The HAECO Group is one of the world's leading aviation product and service providers. The Group provides a comprehensive range of products and services in Airframe, Cabin, Component, and Engine segments. The HAECO Group consists of 16 operating companies, employing around 17,000 staff in Hong Kong, the Chinese mainland, Europe, and the United States. HAECO Cabin Solutions provides cabin interior design, engineering, certification and reconfiguration services, as well as manufactured products including passenger seating, structures, galleys and lavatories.
Text: Dr. Haike Frank, SCHOTT
Photos: HAECO

June 23, 2022