Glass Door Systems for Freezer Cabinets
SCHOTT offers a variety of glass door systems for freezer cabinets in the Termofrost® family, which feature a range of cabinet structures, door designs and energy levels. The large choice of options enables you to configure your door system according to your needs, providing an attractive and robust solution.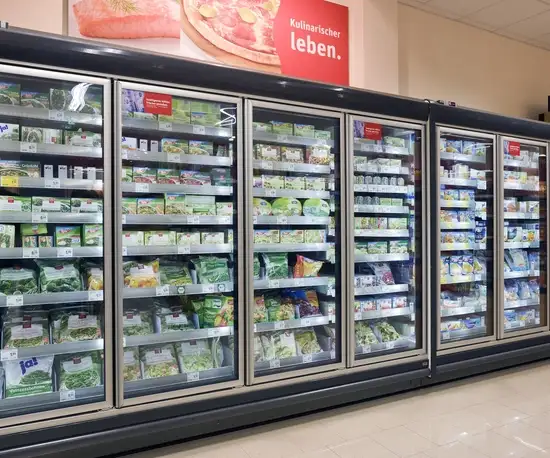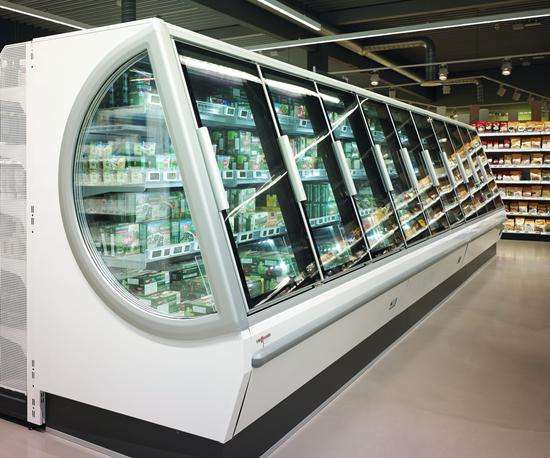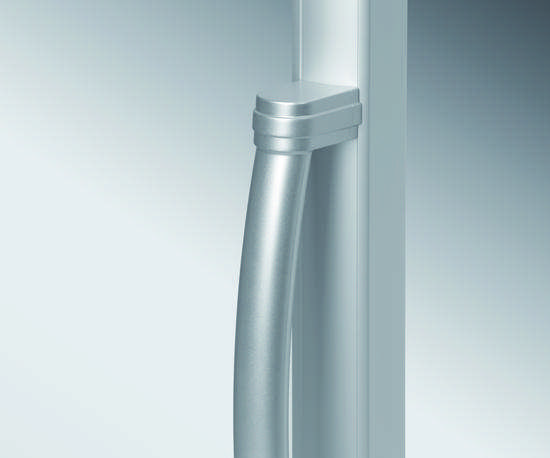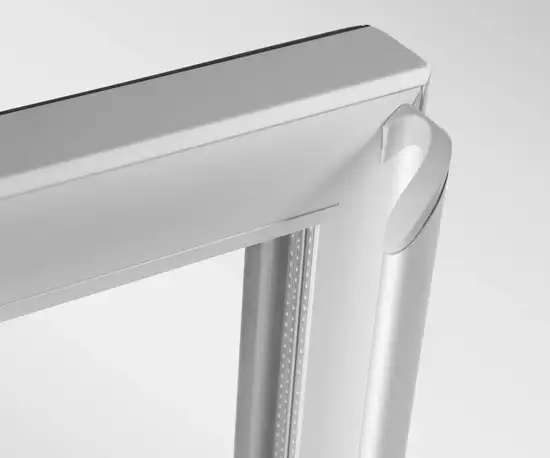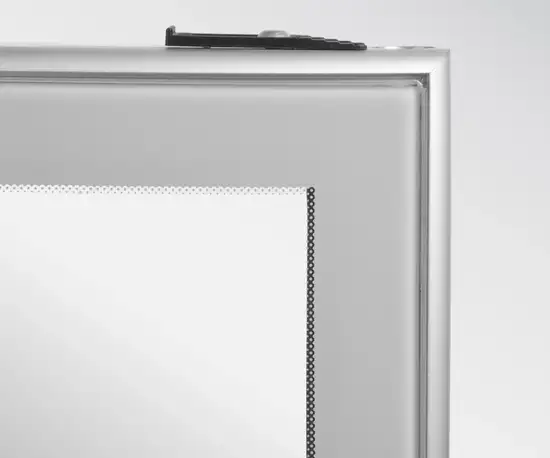 Standard Freezer Systems
For energy-free glass doors tailored to deep freezer applications, SCHOTT Termofrost® AGD and Alu standard systems fit the bill perfectly. They offer the option of 'all-glass' doors for stylish and high-visibility presentation of frozen products, as well as conventional aluminum framed doors. Different colors and handles are also available.
CHARACTERISTICS

A number of unique qualities make SCHOTT products stand out, suiting them to specific customer needs. ECO-Clear, with its energy-free doors, is available in two versions: ECO-Clear X, with a convenient aluminum rail and reversible door, adds lasting durability to cabinets; and ECO-Clear AGD, where the frame is barely visible, allowing for the highest possible product visibility. No additional heat is required to ensure a clear view, and an anti-fog coating ensures consistent clarity. Alternatively, heated door solutions offer robust anti-condensation door systems for more demanding store environments.


YOUR ADVANTAGES
Lower energy costs since less electricity is required to heat the door to prevent condensation.
Highly attractive, widely visible presentation of products inside.
Suitable for new cabinets or retrofitting into existing units.
The ECO-Clear range offers options for aluminum rails or minimal frame appearance.
Highly stable, secure and durable glass.
Triple glazing ensures high thermal insulation.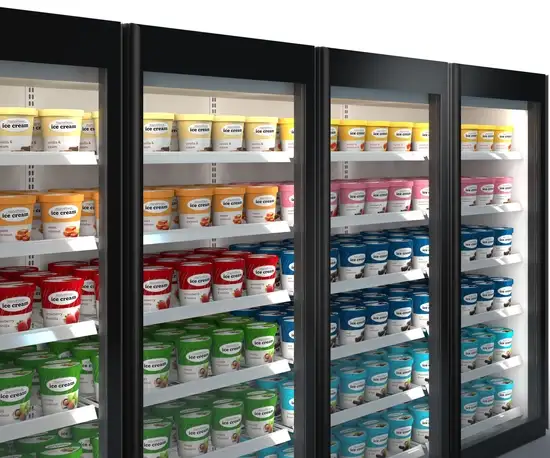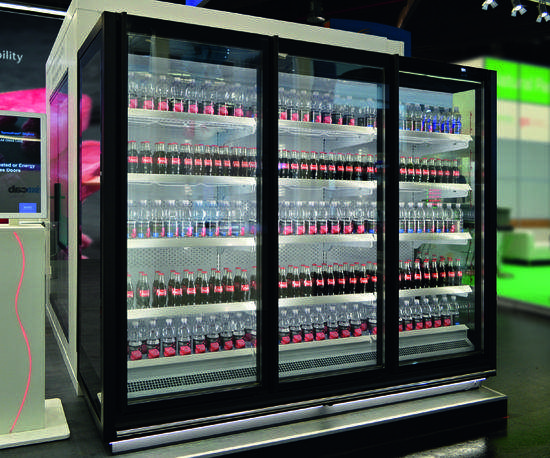 SCHOTT Termofrost® Skyline
SCHOTT Termofrost® Skyline offers high visibility of a freezer cabinet's contents, effectively transforming it into a glass showcase for frozen retail products. The transparent display is optimized for an exceptionally attractive view, no matter where it catches your eye.
CHARACTERISTICS

The spacious glass facade created by SCHOTT Termofrost® Skyline increases the appeal of the frozen products inside, making a significant contribution to the shopping environment. Extended glass doors close flush to the upper edge of the cabinet, with the effect that the space looks larger and less obstructed to the eye. Several adaptation options are possible to suit different spaces and cabinet sizes, and with the option of Termofrost® Skyline Eco offering energy-free doors, their environmental impact can be minimized.
YOUR ADVANTAGES
Supremely stylish all-glass look to suit the esthetics of modern retail outlets.
Extended glass doors optimize the view and add a spacious effect.
Various options are available to adapt to your requirements.
Energy-free doors available with Termofrost® Skyline Eco.
High transparency and visibility deliver positive effects on sales in retail environments.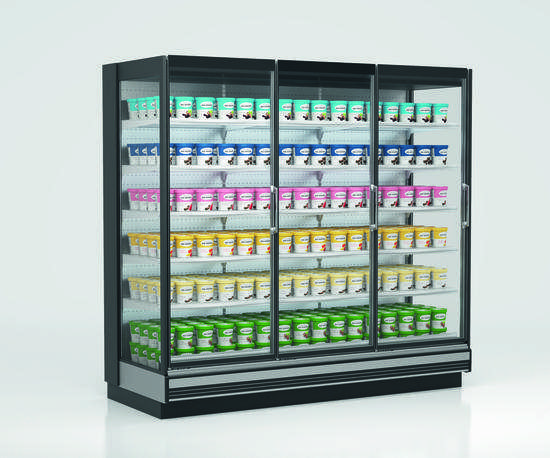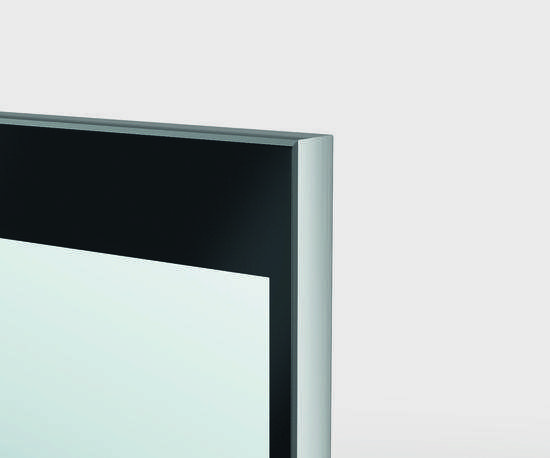 SCHOTT Termofrost® Slimline
The SCHOTT Termofrost® Slimline door system combines a slim design with large, uninterrupted visual displays while maintaining impressive energy efficiency for freezers. This pioneering system provides an uninterrupted view of frozen products, without reflection, condensation or bulky frames and fittings.
CHARACTERISTICS

Since the SCHOTT Termofrost® Slimline door system requires less energy to prevent fogging, it consumes up to 50 % less energy than conventional freezer cabinets, with heat transmission reduced by 25 %. This reduces running costs, as well as the retailer's carbon footprint, offering efficiency as well as effectiveness. Adaptations in terms of color and design can also be made to ensure the unit complements its surroundings.


YOUR ADVANTAGES
Outstanding product visibility for freezer contents.
Consumes up to 50 % less energy than conventional cabinets, reducing your carbon footprint and maximizing savings.
Stylish, attractive and eye-catching look to draw customers in.
A range of color and design options to suit the retail environment.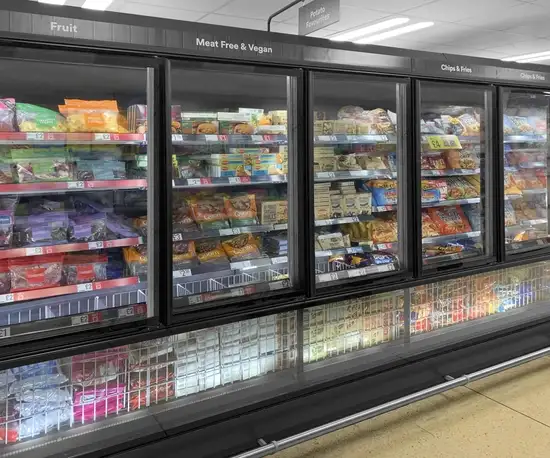 SCHOTT Termofrost® Twinline
Wall freezer cabinets not only need to meet the needs of consumers in a retail environment, they also have to satisfy the requirements of the retailer for combined bulk and shelf storage. With its superior glass swing doors, the SCHOTT Termofrost® Twinline system offers a stylish and attractive look to catch the eye of consumers while providing a substantial amount of storage below.
CHARACTERISTICS

The latest generation of wall freezer cabinets often combine two product categories to serve both retailers and consumers. Showcased products are displayed in the upper section, providing a good view and easy access for consumers, while bulk products are stored in the lower section. Termofrost® Twinline optimizes the benefits of this system with stylish swing doors for customers to view the frozen goods and reach inside, while retailers can open the lower glazing for cleaning and maintenance. Chill leakage is reduced when doors are opened due to reduced size, optimizing energy efficiency, while refilling is fast and convenient.

YOUR ADVANTAGES
Outstanding visibility for consumers, making products look more attractive.
Energy saving due to reduced chill leakage when cabinet doors are open.
Fast and easy refilling for retailers.
Extra storage when space is an issue.
Attractive appearance to blend into modern retail environments.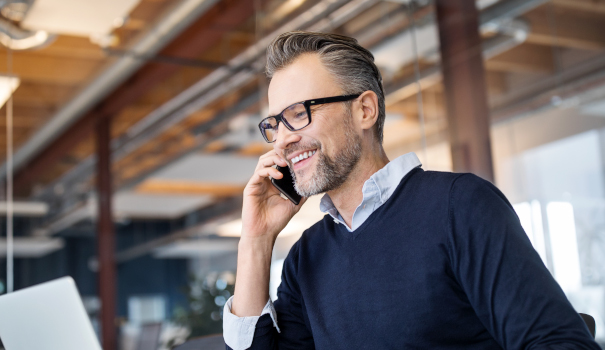 Marek Czapiewski