10 years of PURAVIS® glass fibers
At the beginning of 2022, SCHOTT PURAVIS® glass optical fibers are celebrating a milestone birthday. These high performance fibers are used in medical technology, for instance when surgeons need to examine structures and tissues inside the body very precisely during surgery. Karen Holst, Senior Product Manager Medical at SCHOTT Lighting and Imaging, looks back on the last 10 years.
Karen Holst is a Biomedical Engineer with many years of experience in lighting applications within medical technology. She has worked for SCHOTT since 1988, and in recent years as Senior Product Manager Medical in the Lighting and Imaging business unit.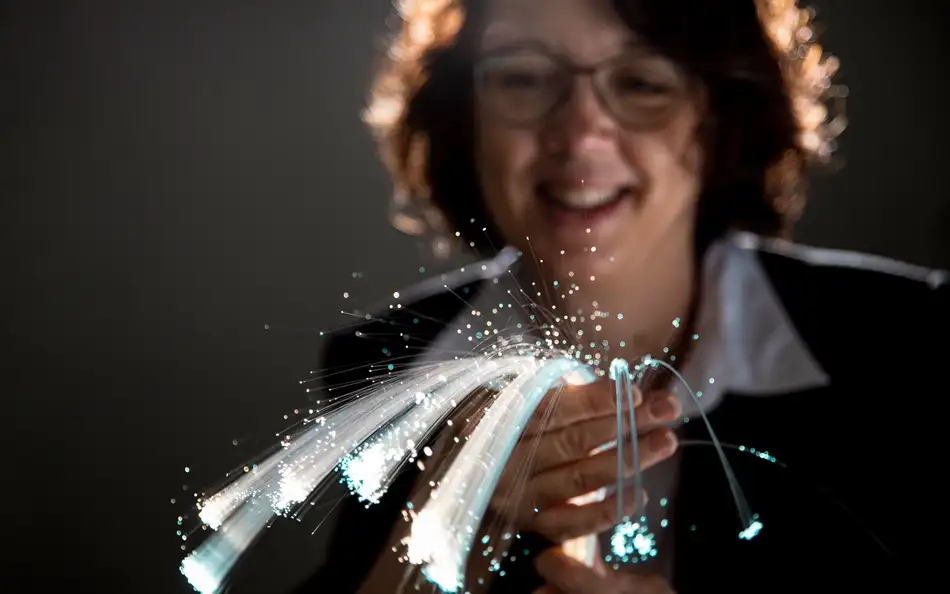 What feedback has SCHOTT received on the introduction of PURAVIS® glass fibers?
We had generated a lot of interest in the market right from the start, especially from customers we had not worked with before, for example in the field of robotic surgery. Here, our superior light performance was the clear benefit as light guides in lengths of up to seven meters are used. It is important that a lot of white light is transported from the light source to the body in very high quality and with as little loss as possible. Our fibers fulfill these requirements and thus provide surgeons with an optimal view of the tissue.
Our existing customers have also switched from our conventional fibers to our PURAVIS® fibers over the years. In particular, we have received a lot of positive feedback on the light performance and longevity – also thanks to the high autoclave resistance – of our fibers. We are very pleased that customers explicitly ask for SCHOTT PURAVIS ® fibers - a great confirmation that we have succeeded in establishing this brand in the market. We can really look back on a successful decade!
What is special about the optical fiber portfolio at SCHOTT?
We are the only manufacturer on the market that offers three glass optical fibers ("GOF") with different light emission angles: 70, 85 and 120 degrees. In 2011, we introduced the GOF70 and GOF85 – the latter now being our flagship fiber. It has become indispensable in endoscopy as it has a very good balance of transmission performance and lightflux per area.
With the introduction of the PURAVIS® GOF120 in 2013, we completed our product portfolio. This fiber variant offers a wide light emission angle, which is used, for example, in rigid endoscopes. Thanks to these three fiber types, we have successfully expanded our business.
What is SCHOTT currently working on?
In recent years, we have been working on specifically changing the surface properties of the fibers. To do this, we use coating processes based on silanes. SCHOTT has developed and optimized this technology over many years as demonstrated in its pharmaceutical packaging business for the production of vials and ampoules. Transferred to SCHOTT PURAVIS® fibers, these coating processes offer optimal preparation for the processing steps involved in installing the fibers into endoscopes. They also enable very good bonding, which in turn contributes to their longevity.
Furthermore, we are working on extending the wavelength spectrum of our fibers. Our goal is to bring solutions to market that can be used to implement the latest endoscope examination methods in the field of augmented visualization - from fluorescence imaging to image recognition using artificial intelligence.
Text: Dr. Haike Frank, SCHOTT
December 15th, 2021
Link