SCHOTT supports people in Ukraine with donation of EUR 250,000
Thursday, May 5, 2022 , Mainz , Germany
Joint fundraising campaign by the company and the workforce
Employees donate EUR 87,000 privately, company increases donation by EUR 163,000
Humanitarian aid in Ukraine and at German sites
Following a worldwide joint fundraising campaign for the people affected by the war in Ukraine, SCHOTT AG is providing EUR 250,000 for humanitarian aid projects. Employees contributed EUR 90,000 in private donations, and the company increased the donation total by EUR 160,000. With the total amount donated, SCHOTT is now helping directly in Ukraine on the one hand and supporting aid projects for people who have fled from Ukraine to Germany because of the war on the other hand.
In the picture: SCHOTT Chairman of the Board of Management Dr. Frank Heinricht (far left) and Wolfgang Heinrich, representing the Works Council (far right), hand over donation checks to (from left to right) Prof. Dr. Thomas Münzel and Dr. Mikhail Shestopal from the Mainz University Medical Center and the Stiftung Mainzer Herz, as well as to Behrouz Asadi, Malteser Mainz, Klaus Spies and Nefret Abu El-Ez, Stiftung Juvente Mainz.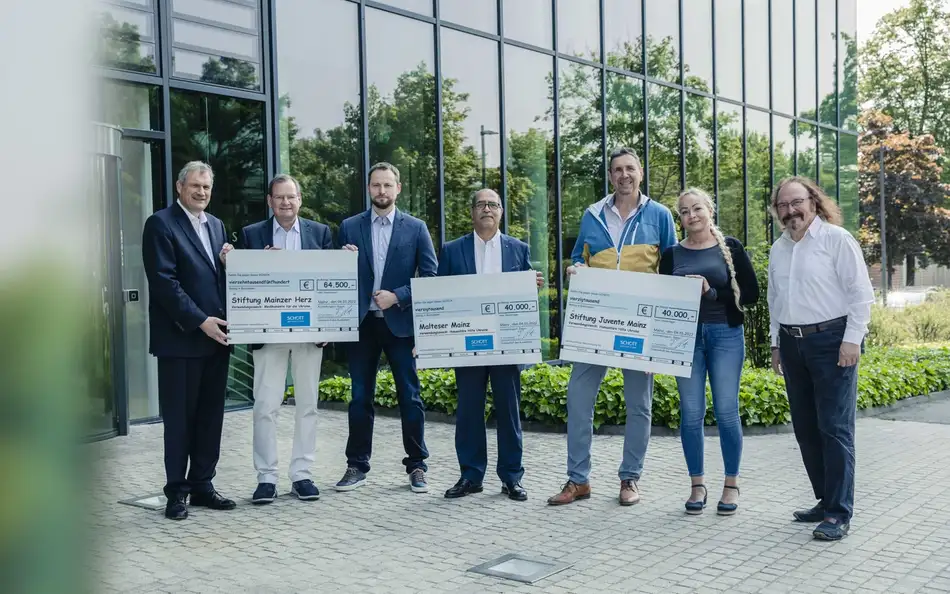 "Our solidarity is with the people in and from Ukraine. With our joint donation, we want to provide targeted humanitarian aid – directly on site in Ukraine and also for refugees who have found refuge in the vicinity of our sites here in Germany," explained Dr. Frank Heinricht, Chairman of the Board of Management of SCHOTT AG.
By donating EUR 64,500, SCHOTT is supporting an aid campaign initiated and organized at the University Medical Center in Mainz to supply clinics in the Ukraine with urgently needed medicines and medical products.
The remaining amount donated will be divided among various local aid projects at the six German SCHOTT sites in Mainz, Grünenplan, Jena, Landshut, Mitterteich and Müllheim. The projects supported range from providing food for refugees, psychosocial care services, supplies for daily life, language courses and equipment for school-age children, to supporting local initiatives that organize aid transports for Ukraine.
Pioneering – responsibly – together
These attributes characterize SCHOTT as a manufacturer of high-tech materials based on specialty glass. Founder Otto Schott is considered its inventor and became the pioneer of an entire industry.Always opening up new markets and applications with a pioneering spirit and passion – this is what has driven the #glasslovers at SCHOTT for more than 130 years. Represented in 34 countries, the company is a highly skilled partner for high-tech industries: Healthcare, Home Appliances & Living, Consumer Electronics, Semiconductors & Datacom, Optics, Industry & Energy, Automotive, Astronomy & Aerospace. In the fiscal year 2021, its 17,300 employees generated sales of 2.5 billion euros. SCHOTT AG is owned by the Carl Zeiss Foundation, one of the oldest foundations in Germany. It uses the Group's dividends to promote science. As a foundation company, SCHOTT has anchored responsibility for employees, society and the environment deeply in its DNA. The goal is to become a climate-neutral company by 2030.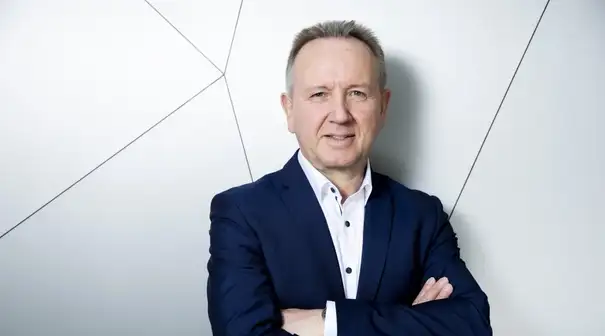 Dr. Jürgen Steiner
Manager Corporate Communication