Monteris Medical: A paradigm shift in minimally invasive neurosurgery
Monteris Medical was founded in Winnipeg, Canada in 2003 with the sole focus to help patients suffering from neurological diseases. The company's goal remains to create a minimally invasive surgical option for use in the brain with a team dedicated to improving the lives of patients affected by epilepsy or brain tumors. Monteris has been headquartered in Minneapolis, Minnesota since 2012. At the heart of the company is its minimally invasive robotically controlled laser thermotherapy device that uses MRI guidance to ablate unwanted tissue in the brain.

Richard Tyc, Vice President, Technology and Advanced Development, is one of the co-founders of the company. In this interview, he speaks about the challenges of intracranial treatment, the importance of clinical evidence, and why, after more than 20 years in the business, he is as committed as on day one.
Richard Tyc helped form Monteris Medical in 2003 and currently serves as the Vice President, Technology and Advanced Development. He is a co-inventor of the AutoLITT® technology – now the NeuroBlate® System concept. Prior to this, Richard held positions at Otto Bock Orthopedic, JCL Associates, and St. Boniface General Hospital Research Center in the fields of pharmaceutical automation, industrial automation, and the prosthetic device industry.

Richard is a professional engineer. He received a Bachelor of Science in Mechanical Engineering and a Master of Science in Mechanical and Industrial Engineering from the University of Manitoba. His co-development of the NeuroBlate® System led to several distinctions, including the Principal Innovation Award from the Ernest C. Manning Foundation, the Governor General of Canada Innovation Award, and the Pioneer in Technology Award from the Society for Brain Mapping & Therapeutics.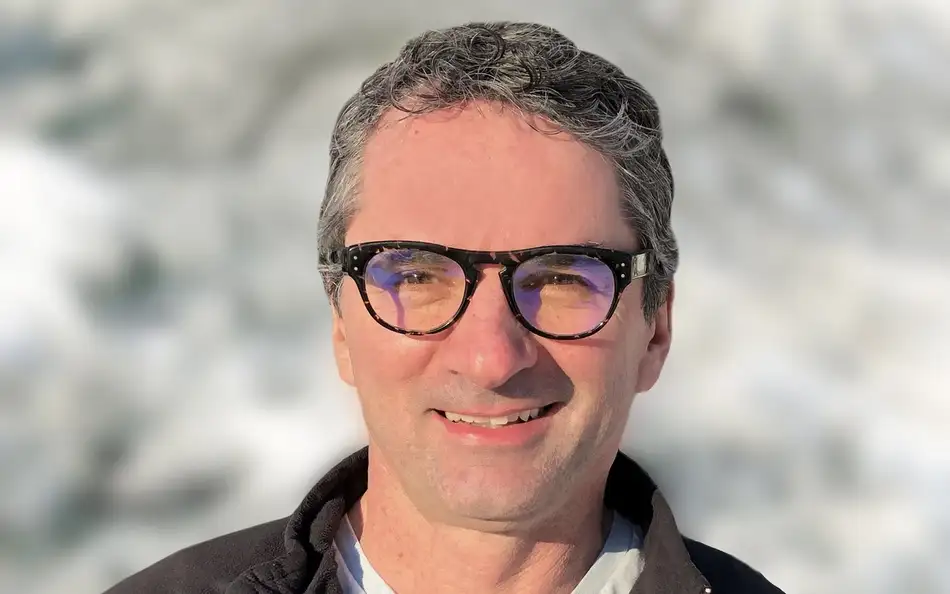 Monteris' foundation is based on the goal to create a minimally invasive surgical option for use in the brain. How do you help advance medical technology?
We were a small group of three when we first began investigating laser interstitial thermal therapy (LITT) in 1999, led by Dr. Mark Torchia, whose laser ablation concept started a decade earlier in his lab. The idea was to provide the surgeon with an option to do minimally invasive treatments when already carrying out a biopsy in the brain. Image-guided thermal ablation, or LITT, quickly became the best method for this, and we were the first to take robotic control of such a concept within the MRI into the intracranial space. This had its challenges as the margin of error in the brain is very small, making precise targeting really central. The most important thing we had to advance from the technology side was giving the surgeons a means to monitor what they were doing by getting direct high-fidelity feedback.
In many ways, in the 1990s, LITT in the brain started off ahead of its time. There was some work available on fibers, energy delivery, and how to miniaturize devices, but advancing the monitoring and feedback process still needed time. So, to bring LITT into the brain required technology advancement, and we at Monteris approached this field from the imaging side.
Since 2009, your neurosurgical technology has been commercially available, first on the US market and later in Canada. Please introduce your solution.
Our NeuroBlate® System is a minimally invasive robotic laser thermotherapy tool that uses MRI-guided surgical ablation technology designed specifically for use in the brain. The system is a combination of permanently installed components that are embedded in the MRI suite, software for treatment planning and monitoring, as well as a robotic probe driver and disposable components, which include the laser delivery probe device itself. At the heart of the system is our NeuroBlate® Optic Laser Probe, which is used for laser light delivery.
What types of laser probes do you offer?
We first introduced our SideFire® Directional Laser Probe, which provided focused, directional ablation to the market. Still today, it is the only commercially available laser probe with controlled internal cooling that delivers directional energy to pathological tissue while preventing tissue in contact with the probe from charring. Probe cooling is central for LITT to both protect the optical fiber and allow for near IR light penetration to push the hot zone deeper into the tissue, making it possible to ablate a bigger lesion without sacrificing probe integrity or safety.
We also developed the FullFire® Diffusing Tip Laser Probe for fast, volumetric ablation, which delivers more energy per unit and time than the side-fire variant. Our system has two probe diameters. The larger 3.3-millimeter diameter probe comes in the side-fire and full-fire variant and is typically used in tumor cases or other oncology applications. The full-fire probe also comes in a 2.2-millimeter diameter. This opened the door for more applications in epilepsy since these surgeons, often stereotactic and functionally trained, were more comfortable using the smaller-diameter probe. Applications include deep epileptic foci within the hippocampus and amygdala, common targets to address mesial temporal lobe epilepsy in the brain.
Since our probe is integrated with MR-compatible robotics, allowing for full remote control of its position within the brain, surgeons can be in the MRI control room to manipulate the probe without the need for entering the MRI room, which would require stopping the scanner. This is a distinct advantage for the SideFire probe, which demands routine manipulation of both rotation and linear position of the laser probe. It also saves a lot of time and helps to speed up procedure time, allowing some surgeons to treat two patients per day instead of just one.
More than 4,000 patients have been treated with the NeuroBlate® system. What's the key to your success?
The successful growth of our technology is based on a combination of technological advancement, clinical evidence, and commercial execution. It might surprise you that I mention clinical evidence for a technology that's been around for 10 years, but it remains a very important pillar. Generating clinical evidence is a time-consuming, but mandatory, aspect of a new technology's success. It comes from both Monteris-sponsored and physician-initiated clinical studies focusing on safe and effective use of the device in various applications. By 2020, publications in peer-reviewed journals have covered more than 4,000 cases of patients with brain tumors and epilepsy who have been treated with LITT.
NeuroBlate® is the only minimally invasive, robotic, laser thermal therapy tool that uses MRI-guided surgical ablation technology designed specifically for use in the brain. NeuroBlate delivers a comprehensive, full solution laser ablation system that includes software, disposables, and hardware. The image shows a view from the MRI control room showing the Monteris workstation for treatment monitoring.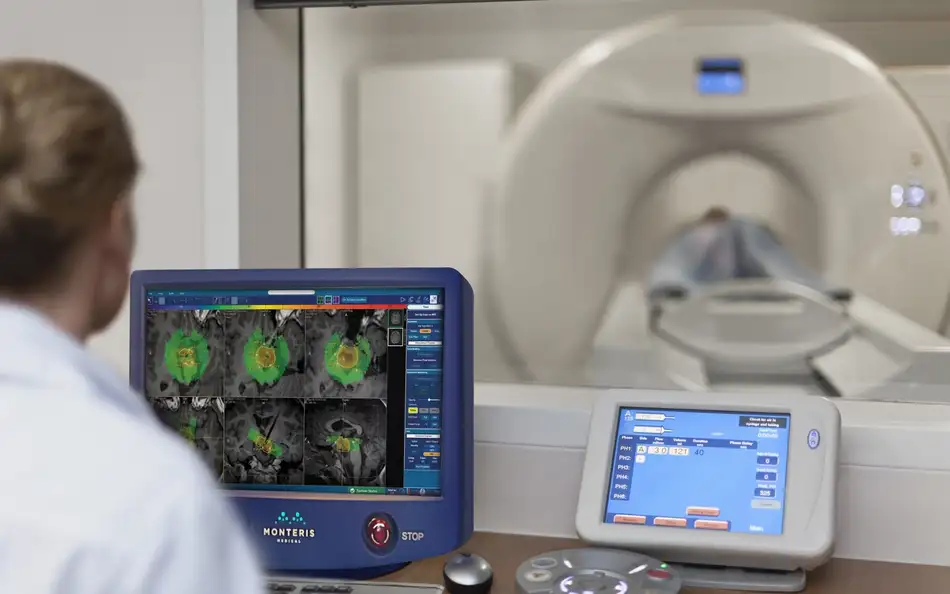 Why are such publications so important for your work?
These peer-reviewed publications describing the clinical evidence demonstrate the clinical utility of LITT and are a pivotal part of the story because they allow us to foster more peer-to-peer discussions and support new users of our NeuroBlate® system. Surgeons want to know how their peers are using the technology, where it's being used, and what the patient outcomes are. We also have a prospective, multi-center post-market registry that tracks the procedural outcomes, including pre-operative and post-operative imaging results of up to 1,000 patients for five years.
Understanding the patient pathway has been really important for us. In the early days, we focused on the neurosurgeon, but we then realized that it is equally important to incorporate other physicians, including the neuro-oncologist, radiation oncologist, and epileptologist, as well as other providers involved in the patient's care. In the USA, for example, many oncology cases are discussed at a "tumor board," a multi-disciplinary team of specialists meeting to decide on a patient's course of treatment. This team approach and joint decision-making demands all members understand the "LITT fit" in order to consider all options. As this knowledge advances to more health care providers and leads to more peer-to-peer engagement, it generates growth on our side.
What market feedback have you received?
NeuroBlate® is talked about in the marketplace as a more sophisticated tool that can do larger thermal ablations with better shape control in some cases, and with a better user interface and better treatment visualization – all of these aspects obviously play in our favor. Improving visualization and simplifying the workflow will become more and more important as we move forward, especially as we extend our user base beyond the "early adopters" in the large academic centers to medical centers with community-based neurosurgeons. Early adopters within a research environment can live with a lot of complexity, but newer users often want a simple, easy-to-use technology with a shorter learning curve and faster procedure times.
What future potential does LITT hold?
As a company focused on intracranial applications, we see exciting things going on in the brain. There is a whole new idea around the potential for laser ablation to create synergies with other forms of therapy. We learned that as we raise the temperature in the brain – both within the lesion and the adjacent tissue – LITT likely has an impact on a protective mechanism of the brain called the blood-brain barrier (BBB). The BBB normally does not allow many drugs to penetrate, for example, many chemotherapies that otherwise are effective outside the brain. Research is underway to better understand this mechanism related to LITT and what it may mean for patients.
More recently, the benefits of combining LITT with immunotherapy – a new method for cancer treatment targeting the body's own immune system – are being explored. Several studies are underway to evaluate LITT's impact as both an ablation tool and as a means to trigger an immune response further enhanced by immune checkpoint inhibition. We are currently supporting research studies and trials to understand for which patients such a fit is optimized and are very excited to see where that will go.
How can AI support the advancement of LITT?
We are also working on advancing a priori planning of LITT procedures to provide the surgeon a tool that predicts what could happen if they do a LITT case in the brain. Real-time monitoring is available today, which was a major step to advance LITT, but before their case begins, surgeons often do not exactly know the shape a thermal ablation may form for a given target site in the brain. How the ablation disseminates from the cooled laser probe due to optical energy conversion to heat within the tissue is not a trivial problem to solve.
In a project, partially funded by the Canadian government, focusing on image-guided therapy and AI, we are working on a planning tool for the surgeon to provide some prediction of LITT in the brain. It will enable surgeons to plan optimal trajectories, decide if one or more probes are needed for the target, and perhaps even help select optimal probe types before the case begins. There is a wealth of data from the many thousands of cases where Monteris has collected temperature evolution data in the brain during LITT. We are looking at new techniques where such data can train an AI algorithm that may help solve the complex problem of estimating the extent of thermal conduction in the brain due to LITT.
After more than 20 years in this business, what keeps you going?
I still in my heart feel that we can continue to advance LITT even more. I oversee these advanced research projects that could be game changing in a few years. Knowing that there may be a new potential synergy with other therapies that can drive LITT adoption and take it to another level for patients excites me today. What really strikes me is the significant role we play for patients suffering from brain cancer or epilepsy. Some of the best things that I get to be part of are meeting physicians and hearing their patient stories of their LITT experience and how it has positively impacted their lives. That is so rewarding. That is ultimately what keeps me going and why I am in engineering!
Text: Dr. Haike Frank, SCHOTT
Photos: Monteris Medical

January 2022