Reduce emissions, improve air quality
Dipl.-Ing. Frank Kienle has been Managing Director of the Industrieverband Haus-, Heiz- und Küchentechnik e. V. (HKI) for more than 20 years. The association represents and advises around 220 companies in the manufacturer groups "Commercial Cooking / Catering" and "Domestic Heating Appliances". Climate and environmental protection regulations pose major challenges, especially for the approximately 100 HKI member companies that market heating appliances for solid fuels.
What are the tasks of the HKI as the representative of the heating appliance manufacturers?
The HKI represents the interest of the industry via political decision-makers in state, federal and European politics. The association informs its members about current industry-relevant topics such as legislative procedures, regulation and standardization topics for fireplaces as well as technical research and development topics. Moreover, it provides clarification as well as valuable tips. Due to a wide range of legal and technical innovations, it is almost impossible for the mainly medium-sized and small companies in the heating appliance sector to maintain an overview of this subject matter. In addition, we are currently preparing a European trade fair for "domestic heating systems", which is to replace the current presence at the ISH in Frankfurt am Main from 2023.
What external factors are currently having a significant influence on the heating appliance industry?
While wood burning stoves were traditionally used for decorative purposes for a long time and still are, from the turn of the millennium manufacturers recorded a huge increase in sales figures from 150,000 to 600,000 appliances per year. The reason for this was the continuous rise in oil and gas prices, after the oil crisis in the 1970s, with the result that wood burning became increasingly attractive. The market declined slightly, partly due to stricter environmental regulations for wood burning appliances under the Federal Emission Control Act (BImSchG) in 2010 and the second stage in 2015. However, sales figures rose sharply, due to the Corona-virus (pandemic) and the cocooning effect. Many people invested in home improvements, and this often included a new wood burning stove or a heating fireplace.
From 2022, the emission limits for stoves and other fireplaces will be supplemented by another standard at European level, the Ecodesign Directive, which was adopted in 2015. This is intended to help improve air quality throughout the EU. In the case of implementing the Ecodesign Directive, new, stricter criteria for efficiency and, among other things, dust emissions were defined, which must also be met starting 2022. In addition, on the recommendation of the WHO, it is expected that the air quality directive will be tightened in the near future.
All of this increases the environmental requirements for products, and challenges heating appliance manufacturers time and time again. The bureaucratic effort required to implement regulations is high. In some cases, there are several parallel regulations with documentation requirements for products – a huge problem, especially for smaller companies that have little "manpower".
What does the current severe shortage of raw materials mean for the industry?
The shortage of raw materials such as steel, in my opinion, are largely artificially created, e.g. through customs duties, taxes and speculative transactions, which the user ultimately pays. However, the effects are also driven by the Corona crisis. The result is supply bottlenecks and high transport costs, which are a major problem for our members. Especially, due to the fact that heating appliance manufacturers have actually profited in recent months because of the cocooning effect and the booming market. In the case of the raw material lithium, which is needed, among other things, for heat resistant glass-ceramic fire-viewing panels, we are facing a different development. Lithium is also a raw material for batteries and the demand has risen sharply to satisfy the increase focused on electro-mobility, causing less supply for other industries like glass manufacturers. This can lead to price increases for lithium. We are currently seeing similar effects for packaging materials such as wood and cardboard.
Could the shortage of wood have a critical impact on the fireplace and stove industry?
Wood as a building material is indeed in short supply, which is partly due to the current construction boom in the USA and China. Only about 50 percent of a tree can be used as construction timber, the rest can be used as logs or for pellet production. I assume that pallet wood, for example, will become more expensive, but that there will be no shortage of firewood. To better understand, annually, about 20 million cubic meters of wood are burned in Germany and little imported. Some wood is also only suitable for burning due to bark beetle infestation, or drying out. The availability of wood as fuel is therefore not a problem.
What do you recommend to manufacturers of wood combustion systems against the background of climate and environmental protection and sustainability?
From a regulatory point of view, we expect that emissions from wood combustion will definitely have to be further reduced and air quality improved. I still see great potential in any energy that uses wood. For example, by using catalytic converters or capture mechanisms that separate certain pollutants, such as harmful soot in the exhaust gases, and thus greatly reduce its emissions. Further optimization can also be achieved in furnace technology for the combustion of solid fuels. Here, for example, the temperature in the combustion chamber must be increased quickly or faster so that the combustion process can run optimally. In this context, it is also better for energy efficiency, and this is where SCHOTT comes into play, if very little radiant heat passes through the fireplace or stove viewing pane.
The EU "Green Deal" focuses on climate protection targets and requirements to further increase the sustainability of products bringing them into closed-loop processes. This is already the case with wood combustion systems. The products are very durable and have a good range of spare parts. Once the systems have reached the end of their life, the individual components – steel, metal, stone, and glass-ceramics – can be recycled very easily. However, the material cycles also entail increased prices for the end customer due to the transport costs for the materials to be recycled.
How can heating equipment manufacturers differentiate themselves from each other? Where is the industry heading?
There are strict uniform regulations for all manufacturers. Differentiation among each other is only possible through individual designs, for example with large panels, which is currently in great demand. Variety is provided by the many craftsmen's workshops and appliance manufacturers, who are able to respond to customer wishes. Now that the stove-building trade is booming, however, it is also becoming clear that there is a lack of young talent and an urgent need for action. In addition, there is the trend towards online trade, which I view with skepticism. In order to offer customers a variety of fireplaces, creativity and individuality is needed, instead of mass-produced goods.
As in previous decades, the ambience factor will play an important role in wood burning stoves and fireplaces, even as legal requirements for new fireplaces and stoves become more demanding. There is no need to worry about the industry. In then years' times, sales of fireplaces and stoves will probably continue to rise – if the pressure to reduce fossil fuels continues to increase, energy prices rise and CO2 taxes take effect even more than they do today.
Complementary heating systems will be able to exploit their niche and become more established over the next few years. There will have to be a compromise, because climate protection must remain affordable. I think we will ultimately have to use a mix of all available fuels – wood, natural gas, hydrogen or even methanation of hydrogen – alongside wind and solar energy, coupled with intelligent technologies, in order to achieve the climate targets for the benefit of our planet.
September 03, 2021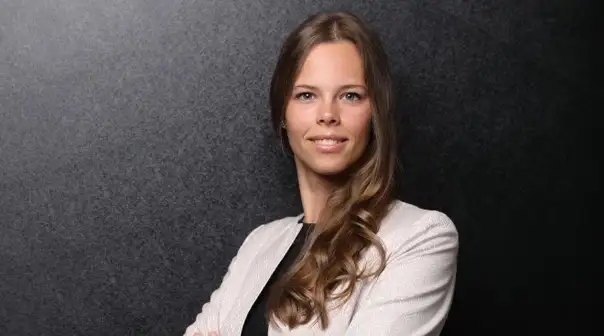 Vanessa Pehnelt
Head of Marketing SCHOTT ROBAX® & SCHOTT NEXTREMA®