Boosting manufacturing – SCHOTT invests in further melting capacities for pharma tubing
Monday, 20 September 2021, Jambusar, India
COVID-19 vaccines produced in India rely on packaging made out of SCHOTT glass tubing
Investment of 70 million euros will increase capacity by 30 % and create 225 new jobs
SCHOTT, a global leader in pharmaceutical glass manufacturing, is investing a total of 70 million euros in the expansion of its Indian tubing site in Jambusar, Gujarat, following several million in investments over the last few years. "Against the backdrop of the growth trend in the Indian pharmaceutical business and the pandemic, we want to commit to secure the supply of pharma glass," explains Dr. Patrick Markschläger, Executive Vice President of SCHOTT's Business Unit Tubing. "The increase of over 30 percent in the facility's overall Indian production capacity is at the same time a commitment to supporting the government's vision of India becoming a global pharmaceutical hub," adds Pawan Shukla, Managing Director SCHOTT Glass India, during the groundbreaking event at the site.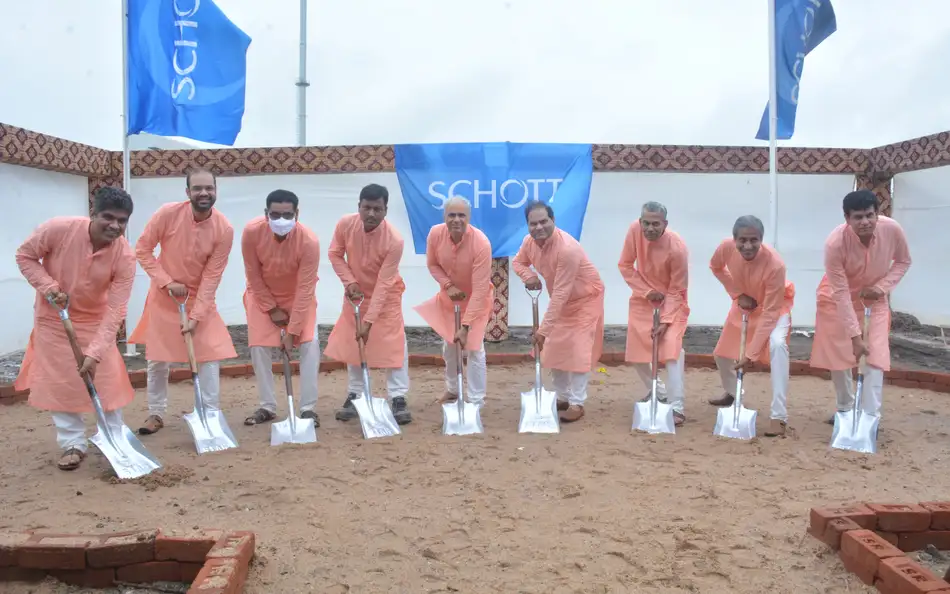 The additional tank is scheduled to go into operation at the beginning of 2023, with the second one following a year later. The expansion in Jambusar will create new jobs for around 225 employees and is part of a more than $ 1 billion strategic investment program of SCHOTT through 2025, leveraging the global pharma tubing and packaging business.

SCHOTT has been a frontrunner in the fight against COVID-19 and provided pharmaceuticall glass for primary packaging to fill billions of COVID-19 vaccines worldwide. In India, almost all approved vaccines are packed in FIOLAX® glass made by SCHOTT. With additional melting tanks and production lines, SCHOTT intends to ensure that this Asian manufacturing hub can adequately supply high-quality pharma glass for the Indian pharma industry and neighboring countries.


FIOLAX® as the gold standard for pharmaceutical packaging
The increase of melting capacities in India – supplemented by a batch house, a driveway, and a canteen for the employees – is part of SCHOTT's commitment to invest over 100 million euros in its Indian tubing facilities and triple production capacity to produce FIOLAX® glass tubing for domestic and export demands.

SCHOTT's glass tubing (FIOLAX®) has been the gold standard for pharmaceutical packaging for more than a century. The material is best suited for vaccines and life-saving medications, as it avoids the interactions between containers and the drug formulation that can limit its effectiveness.

FIOLAX® is a registered trademark from SCHOTT.
Pioneering – responsibly – together
These attributes characterize SCHOTT as a manufacturer of high-tech materials based on specialty glass. Founder Otto Schott is considered its inventor and became the pioneer of an entire industry. Always opening up new markets and applications with a pioneering spirit and passion – this is what has driven the #glasslovers at SCHOTT for more than 130 years. Represented in 34 countries, the company is a highly skilled partner for high-tech industries: Healthcare, Home Appliances & Living, Consumer Electronics, Semiconductors & Datacom, Optics, Industry & Energy, Automotive, Astronomy, and Aerospace. In the fiscal year 2020, its 16,500 employees generated sales of 2.24 billion euros. With the best teams, supported by the best digital tools, the group intends to continue to grow. SCHOTT AG is owned by the Carl Zeiss Foundation, one of the oldest foundations in Germany. It uses the Group's dividends to promote science. As a foundation company, SCHOTT has anchored responsibility for employees, society and the environment deeply in its DNA. The goal is to become a climate-neutral company by 2030.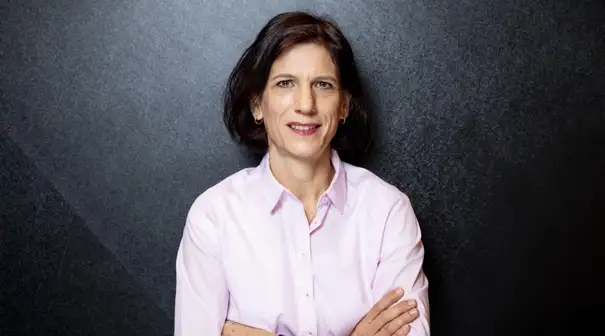 Christine Fuhr
Communications Manager