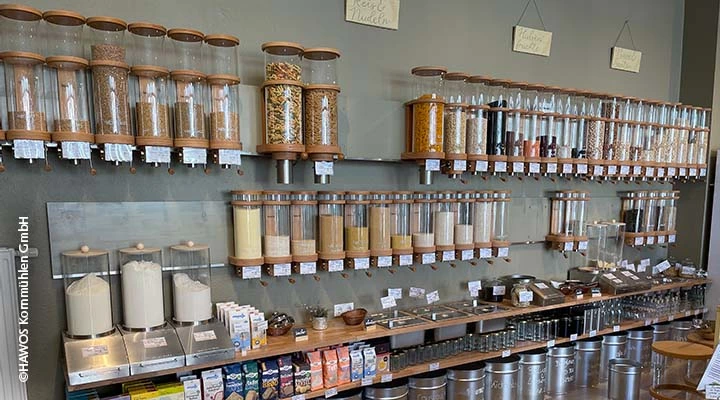 Glass Tubes for Food Dispensers
One of the latest trends in food retail is the "unpacked" store, where packaging is replaced by glass silos filled with everything from flour to coffee. Customers fill their own containers and just pay for what they need. DURAN® glass tubing plays a key role in this highly sustainable solution.
The sustainable food solution
The world has a fundamental problem with plastic food packaging, which is growing at an alarming rate. One way to tackle this problem is the "unpacked" store, a zero-waste solution that's growing in popularity. Selling a wide variety of foods and beauty products, these stores keep most of their products in glass silos – large transparent cylinders that not only provide safe and hygienic storage, but offer the retailer a stylish and attractive presentation device. The use of glass also results in minimal waste during production and surfaces that are easy to keep clean.

hawos Kornmühlen – a European pioneer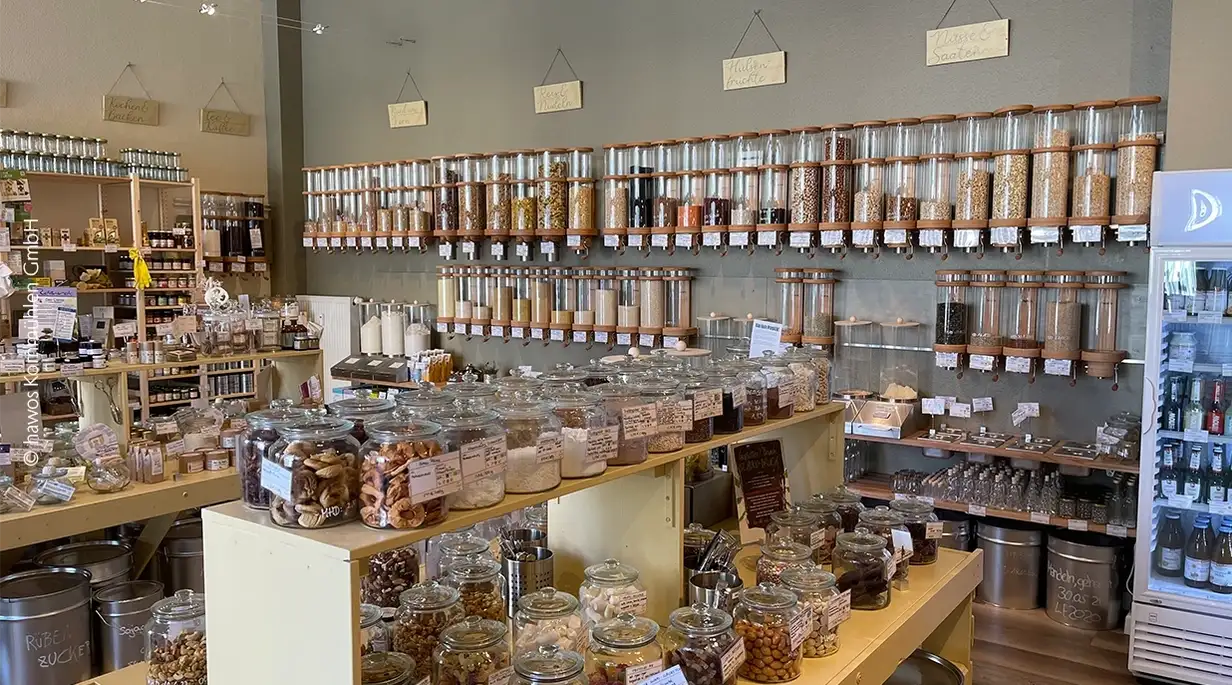 1/5
Elegant craftsmanship
Made of DURAN® glass tubing, the food silos in a hawos Kornmühlen store are fitted into beech wood multiplex frames with stainless steel outlet brackets.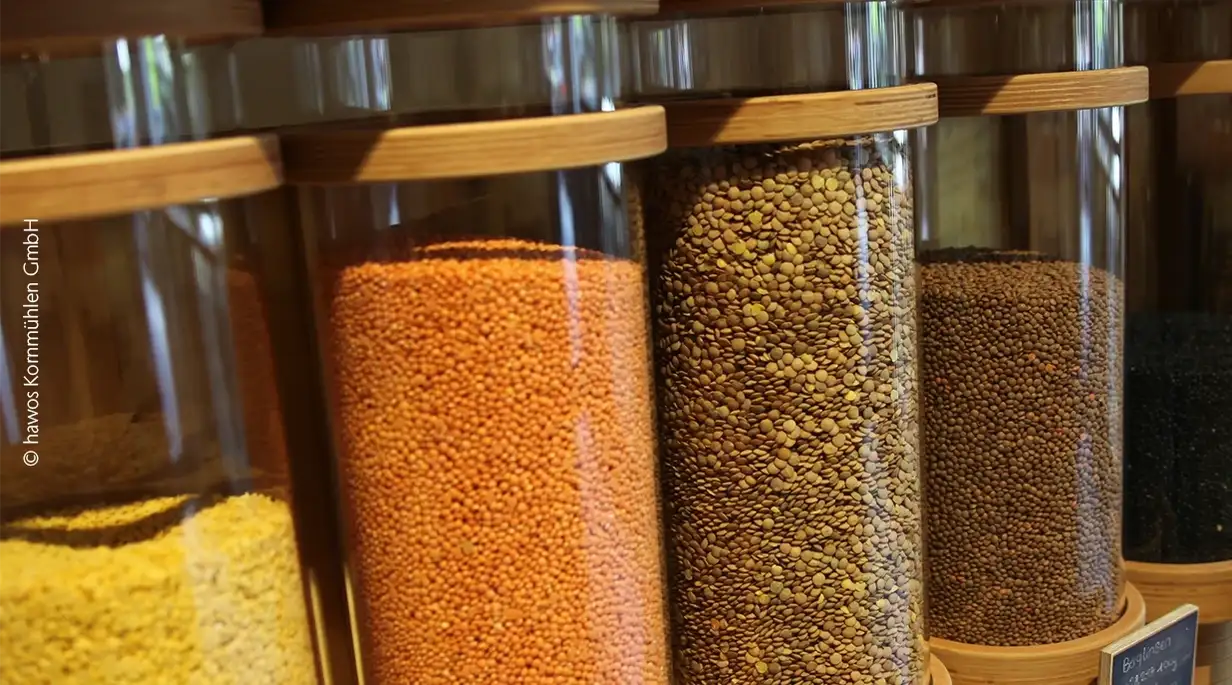 2/5
"Everything that trickles"
The hawos glass silos store and dispense a vast range of dry goods, from cereals, muesli, and coffee, to beans, lentils, and rice.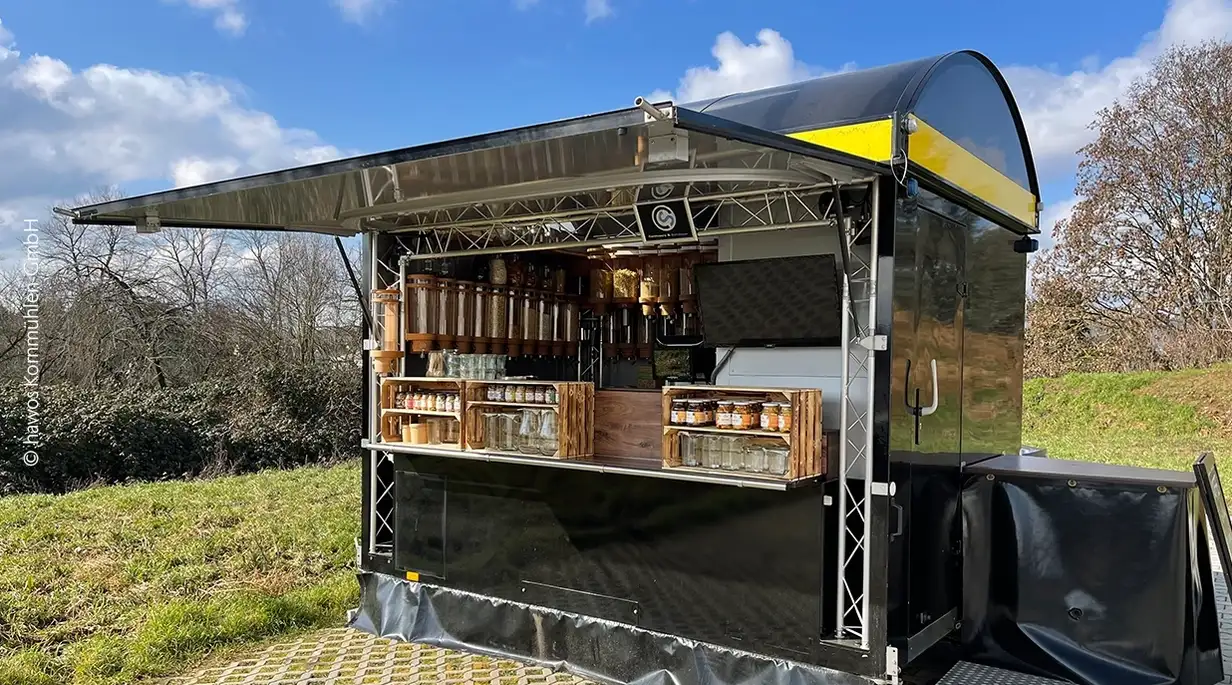 3/5
Sustainability to your door
As well as its stores, hawos also operates small mobile stores and trucks with a selection of products stored in glass containers, bringing sustainability even closer to the customer.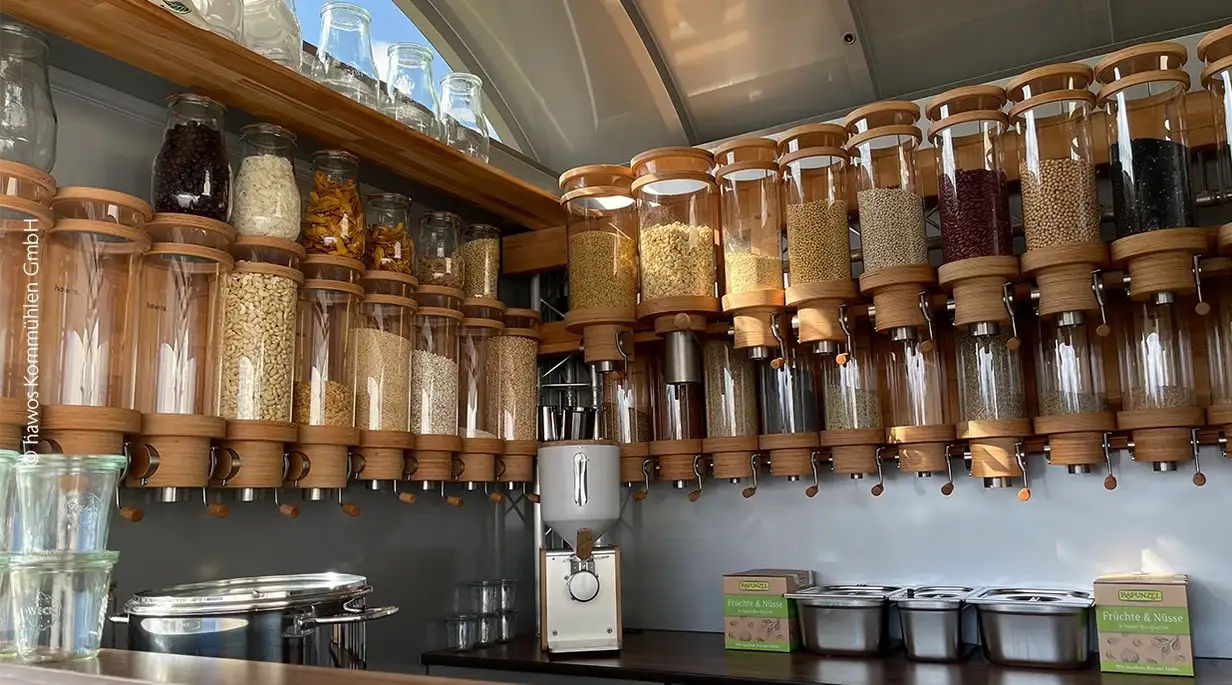 4/5
Small space, big selection
The glass food containers not only provide robust storage during transportation, but ensure that the small space in the food truck is used effectively.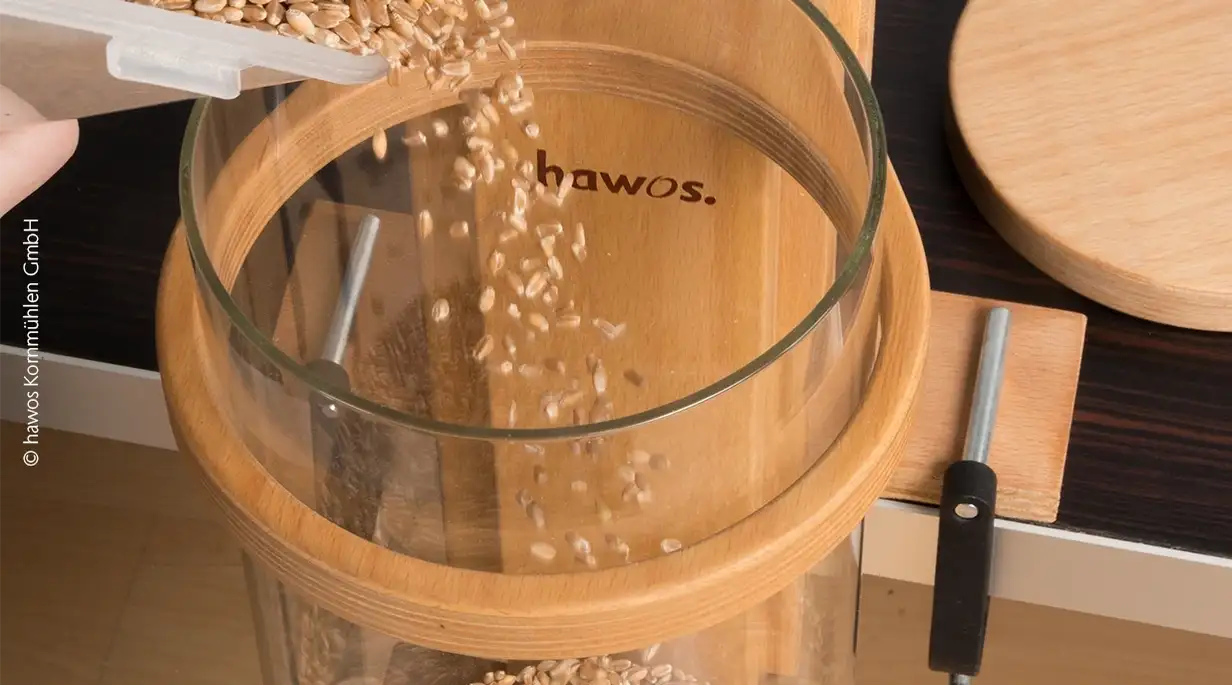 5/5
Refill and reuse
The high mechanical strength and scratch resistance of glass tubing mean the food dispensers can be reused and refilled over and over again for an extremely long shelf life.
A gallery of sustainable flavors
With rows and rows of sparkling glass slimline containers, the overall effect of an unpacked store is of a bright, vibrant art gallery. Without individual packaging, the foods and liquids really stand out, attracting the customer with their unique textures and colors. These colors are allowed to shine thanks to their glass containers, which provide an all-round view of the products within. Shopping in an unpacked store is a real experience, and one not many customers are likely to forget.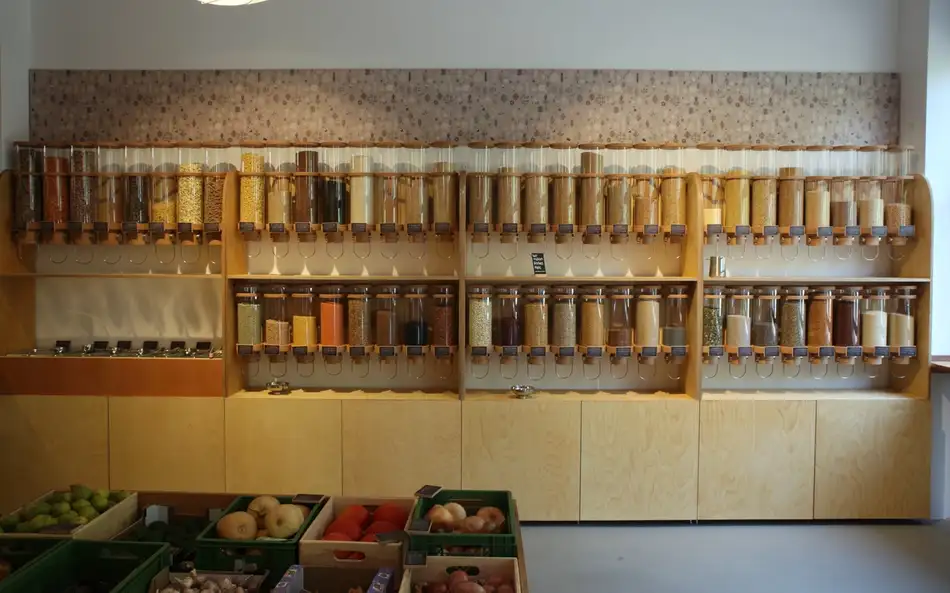 An all-round glass champion
Invented by Otto Schott in 1897, DURAN® borosilicate glass is known for its high temperature resistance and optical brilliance, as well as its tight geometrical tolerances. The glass is highly versatile and found in a wide range of applications from industrial and laboratory glassware to architecture and interior design. Available in a vast range of shapes and dimensions, the glass can also be treated with an anti-reflection and anti-fingerprint coating, resulting in a long-lasting and highly durable material.

Advantages of DURAN® glass tubing
Food grade standard
Since DURAN® is certified as food grade standard, it is entirely safe to store foods and liquids in. Its high chemical resistance and exceptional stability results in no product-container interaction, keeping its contents contamination-free.

Food grade standard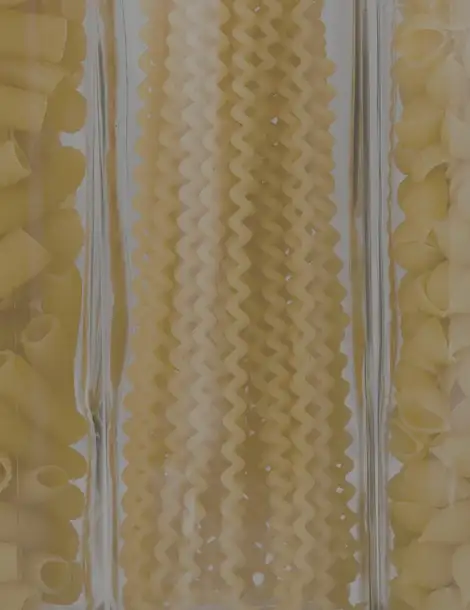 Easy to clean
Thanks to its natural smooth surface, DURAN® is easy to clean using chemicals, while its high scratch resistance means this remarkable glass keeps its sparkling good looks for a long time.
Easy to clean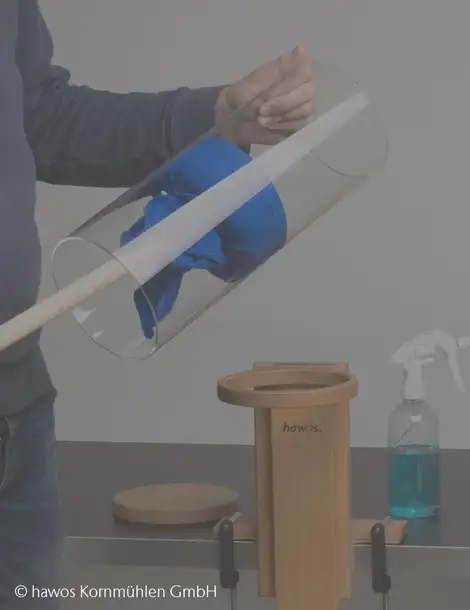 Broad range of dimensions
DURAN® is available in a wide variety of lengths, diameters, and wall thicknesses upon customer request, making it one of the most versatile materials for food storage. The glass tube can even be produced up to a diameter of 465 mm – a world record!
Broad range of dimensions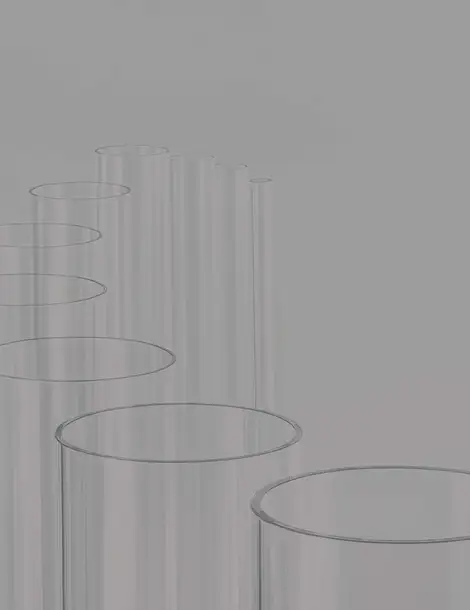 Key features
Additional advantages that make DURAN® glass tubing the ideal material for food dispensers
Tight tolerances
The superior geometrical tolerances of DURAN® makes system assembly simple and quick, creating a tight seal to enable the storage of liquids.
Clear transparency
The outstanding transmission of DURAN® glass tubing makes it ideal for food retail, combining high optical quality and uv-stability for minimal discoloration.
Robust durability
Retail spaces demand tough, long-lasting materials, and DURAN® delivers in terms of high mechanical strength and scratch resistance, making cleaning simple.
High temperature resistance
DURAN® offers the opportunity to store hot liquids safely thanks to its ability to withstand heat and temperature fluctuations without breakage or deformity.
Taste and odor neutrality
Since glass is chemically stable and doesn't hold odors, it's ideal to store food. With effective cleaning, contents can be changed for versatile storage.
Suitable for non-food
Whether it's pellets, powders or liquids, DURAN® glass tubing offers the same high quality for safe, secure, and reliable storage.
Outside coating possible
A coating on the outer surface adds anti-reflection and anti-fingerprint properties to DURAN® glass tubing, helping to maintain maximum visibility of the products.
The glass must be completely transparent and free of striae and inclusions. It must also be manufactured precisely and true to size, robust and chemically resistant to cleaning agents. The glass experts at SCHOTT we contacted immediately had a recommendation: DURAN®.
Ralf Pigge, Managing Director, hawos Kornmühlen GmbH
I have been building grain mills for over 30 years, and from the very beginning I have focused on high-quality materials, precise workmanship, and the highest safety standards. My recipe for success is to be honest and reliable, vigilant and courageous. Work with passion until the result convinces you and makes you proud.
Our grain mills are built to ensure a long service life. The grinder and motor are extremely robust, and the wood used comes from PEFC-certified forests (Programme for the Endorsement of Forest Certification). We grant a ten-year guarantee on these products. With the hawos glass silos, we have another product that will give the user pleasure for a long time thanks to the high-quality materials and solid workmanship. Expert advice helps our customers decide which silos are right for their products.
We have deliberately avoided plastic in our silos and consistently used high-quality materials such as wood and stainless steel. DURAN® glass tubing from SCHOTT is the best complement and makes our silos a distinctive product. The success has nevertheless surprised us somewhat, but shows us that we are on the right track with our philosophy and the selection of the best and most durable materials.