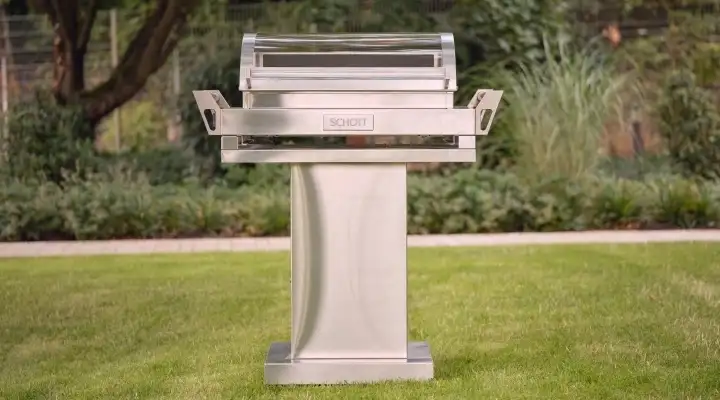 BBQ Technology
When it comes to grill design, SCHOTT offers a number of solutions for the latest BBQ technology to add style and vision to the outdoor cooking experience.
BBQ windows offer visibility without opening the lid and losing heat

Transparent glass-ceramic Burner Shields for gas grills deliver precise heat control and safety

Pizza stones and planchas expand your grilling range
Glass-ceramic meets BBQ technology
SCHOTT NEXTREMA® glass-ceramic offers a unique combination of properties that makes it ideal for harsh, demanding conditions such as a BBQ window. An outstanding ability to withstand high heat or temperature shocks, plus high mechanical strength and corrosion resistance, makes it a perfect BBQ grill material to transform and elaborate barbecue grill design.
Near-zero thermal expansion
This means that NEXTREMA® glass-ceramic can resist large temperature fluctuations without cracking due to its near-zero thermal expansion.
High temperature stability
NEXTREMA® glass-ceramic can withstand rapid temperature changes of up to 820°C*, meaning it won't shutter in the rain.
Chemical resistance
NEXTREMA® resists rusting in humid, wet, or salty environments.
Easy cleaning
NEXTREMA® glass-ceramic offers a smooth non-porous surface for durability and easy cleaning, supporting grill innovation.
*Applies to NEXTREMA® transparent only. Thermal shock resistance may vary for other NEXTREMA® variants.
Modern BBQ grill design with NEXTREMA®
In kitchens, small oven windows and underpowered burners have been a thing of the past for a long time. And the same should apply when grilling outside. A wave of appliances with new features and functions are transforming barbecue grill design, making it the sizzling source of a host of fantastic foods and flavors. Among those features are transparent windows in barbecue lids, and Burner Shields that make flame size in gas grills easy to see and adjust. Add accessories such as pizza stones and planchas, and your BBQ will be the envy of the neighborhood. The still much-loved BBQ tradition is therefore ready for an update.
A grill with see through window
A NEXTREMA® glass-ceramic BBQ window enables the chef to see what's happening inside the barbecue without opening the lid and thereby losing temperature, keeping the heat where it belongs. It also adds a sophisticated design element to outdoor grilling.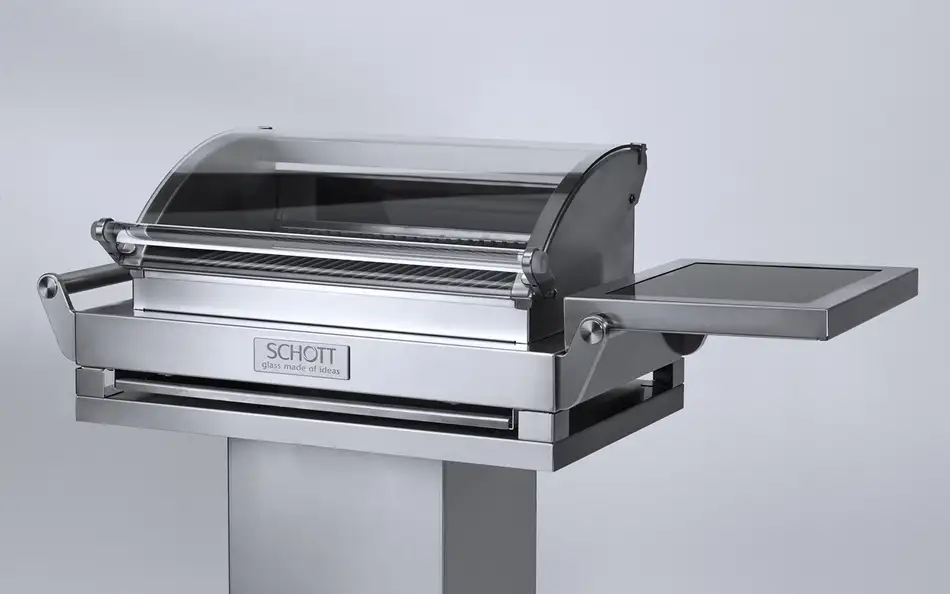 Transparent Burner Shields
NEXTREMA® Burner Shields help users adjust the flame size and check the ignition, improving safety and adding peace of mind. Non-corrosive glass-ceramic Burner Shields for gas provide manufacturers with an almost maintenance-free alternative to metal sheets.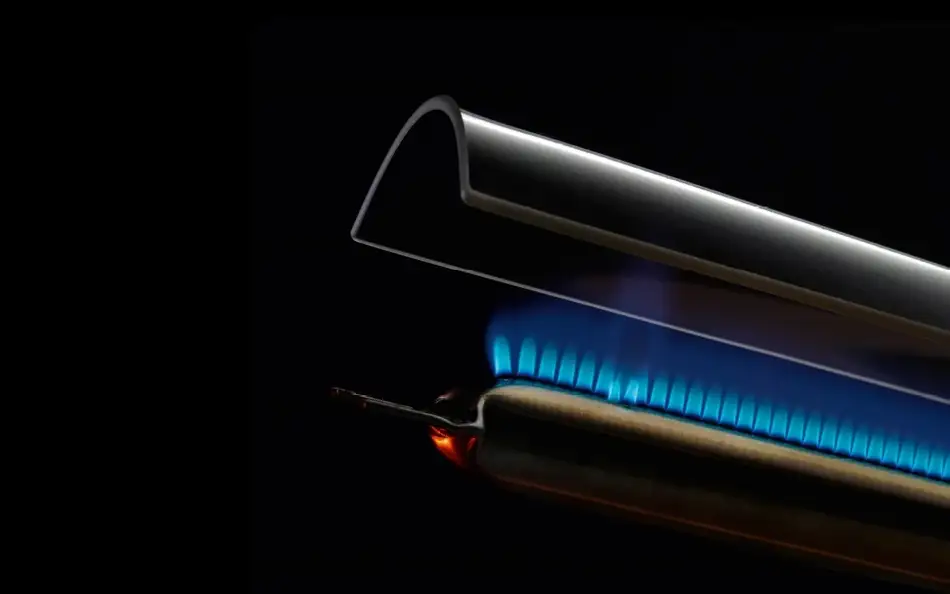 Latest BBQ technology
Ideal for larger food items, the infrared grill rotisserie burner can be transformed with NEXTREMA® tinted glass-ceramic. Not only does the BBQ grill material give a striking look, but offers precise temperature control, efficient IR transmission, heater protection, and easy cleaning due to its smooth non-porous surface.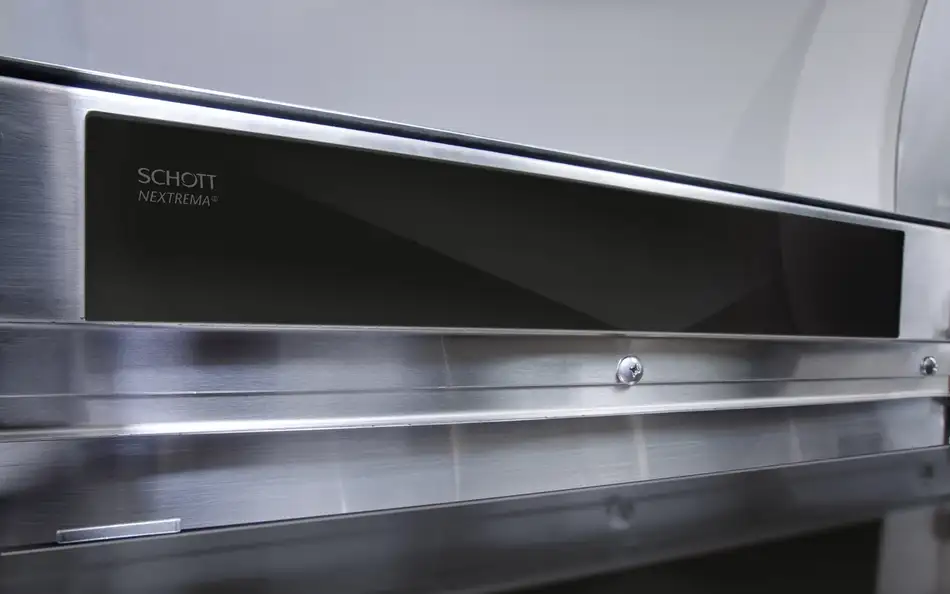 Stylish grill accessories and planchas
NEXTREMA® accessories such as pizza stones and planchas add even more style to the backyard BBQ. Easy to clean with no need for preheating, making pizza, or cooking vegetables on the grill is now quick, safe, and simple.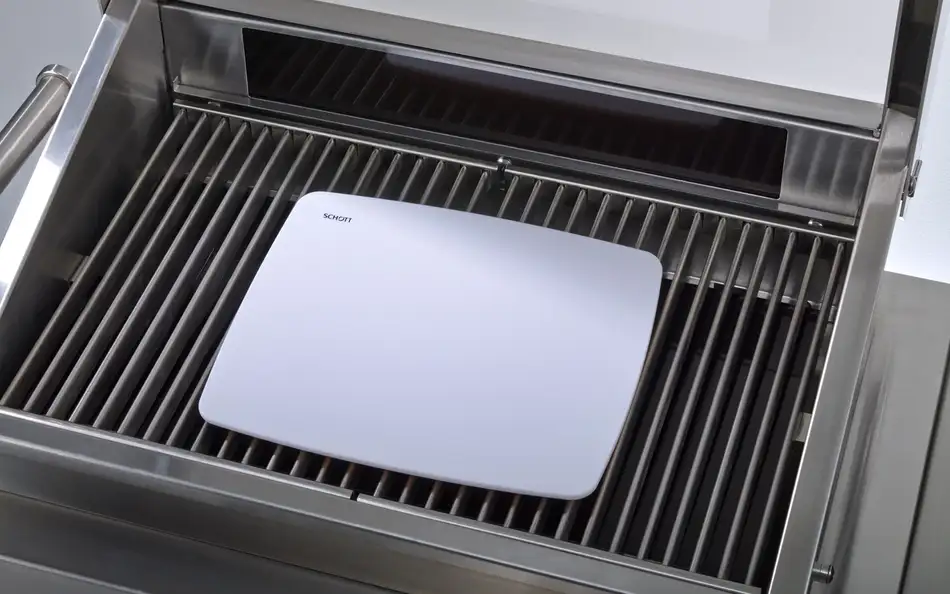 Best BBQ grill material for extreme conditions?
The range of technical properties of NEXTREMA® glass-ceramic makes it an ideal material for BBQ technology and latest grill innovations. Able to remain stable even at the high temperatures generated during grilling and resist temperature differences of up to 820°C*, it combines the latest grill design and safety for users, while providing differentiation options for barbecue manufacturers. High mechanical strength, strong resistance to chemicals, and a range of colors and transmission profiles add to its advantages, making it a great fit for BBQ innovation.
*Applies to NEXTREMA® transparent only. Thermal shock resistance may vary for other NEXTREMA® variants.
Fire Magic® Grills – SCHOTT's solution for RH Peterson Co.
When engineers at RH Peterson Co. wanted to build a new Fire Magic® grill with a window, they approached SCHOTT. They asked to provide a material that could withstand intense heat and extreme temperature changes and look good while doing it.

NEXTREMA® glass-ceramic gave Fire Magic® the option of designing a BBQ window into the lid with a unique contoured surface – a novel grill design that keeps cleaning of the glass-ceramic window to a minimum.

The specially designed curved hood creates an "air-wash" effect that moves smoke and splatter to the back of the unit, so grillers can always see the action without lifting the grill hood. The contoured shape also opens up the lid surface, allowing more visibility into the grill.
Discover the full story with RH Peterson Co.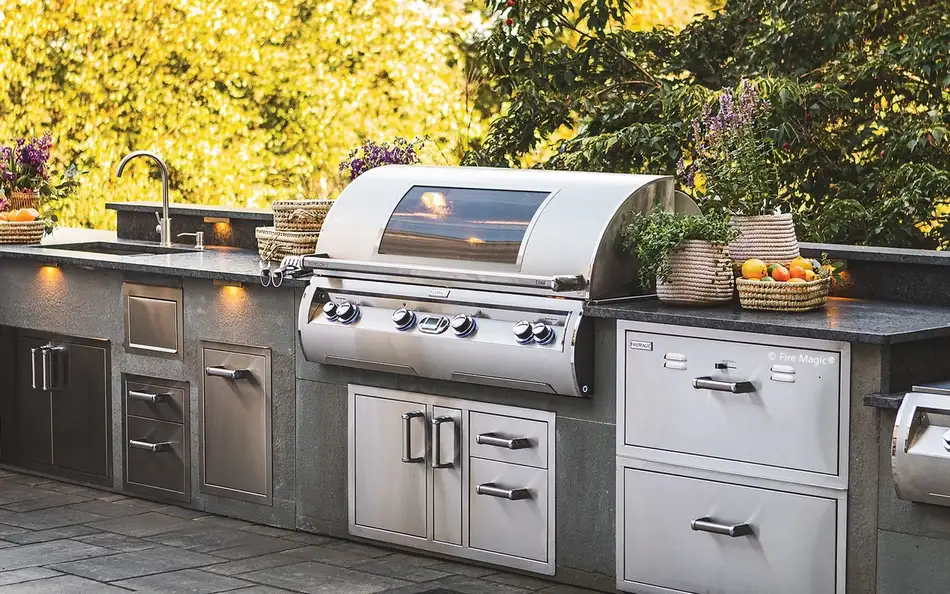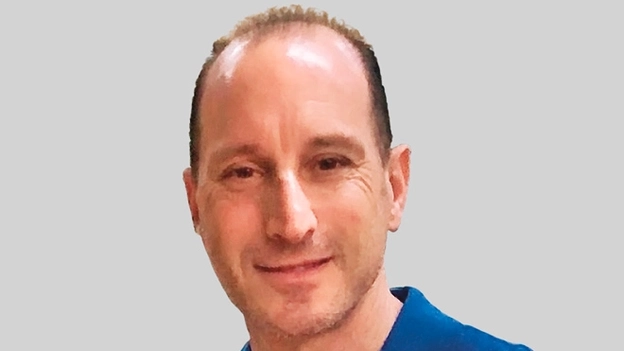 We're looking at putting windows in more models and making new models with bigger windows. It's something that absolutely puts Fire Magic® Grills at an advantage on the showroom floor.
FAQ
The area of luxury grills is constantly developing, with new designs, innovations, and technology making them more personalized and versatile. The increasing popularity of cooking and eating outdoors results in larger grill units, with many an integral part of an entire outdoor kitchen.

Customization is now a large part of BBQ grill design, with customers asking for unique sizes and shapes to fit their exact requirements. Many luxury grills are also digitally connected, with cooks able to control the grill temperature with their smartphones.

Inside the barbecue itself, there's now a wide range of grilling options and accessories available, such as rotisseries, sizzle zones, searing stations, and even a pizza oven. Combining the latest BBQ grill design with modern BBQ technology offers the outdoor chef everything they need for outdoor entertainment.
The ability to see inside the grill offers outdoor chefs more control over their cooking and greater precision with the results. Just as conventional ovens have a viewing window, outdoor grills with a BBQ window allow the cook to monitor the food without having to open the lid and losing heat.

Grills with glass windows offer grill manufacturers a wider range of design possibilities and a key point of difference, while customers benefit from a sleek, stylish barbecue that will be the center of attention in every outdoor space.

SCHOTT NEXTREMA® glass-ceramic provides a safe, durable, and reliable solution for full visibility of the BBQ grill and elaborated grill design.
BBQ technology has come a long way in the past 10 years, and now the outdoor chef has a wide range of grill innovations to choose from. One of the most exciting developments is digitalization, where the grill is connected online to enable the cook to control and monitor the temperature from their smartphone. This offers a precise temperature profile that can be adjusted for different types of food.

The latest barbecues also offer a range of temperature zones that give the cook a choice of cooking modes. Whether it's slow grilling, searing, roasting, or baking, these zones provide the ideal heating option for every type of food, delivering perfect results. And with a NEXTREMA® grilling surface, design meets functionality, supporting new BBQ technology even further.
Because of the high temperatures and outdoor storage, gas grills require a unique material for the BBQ window. Glass-ceramic not only provides high heat resistance over longer periods of time, but also withstands thermal shock when the weather changes or something cold is spilt on it.

As well as being resistant to rust, glass-ceramic has high mechanical strength and durability and does not "de-toughen" over time, as thermally strengthened alternatives might do. The NEXTREMA® BBQ grill material is also easy to clean and offers long-term reliability, giving you peace of mind and enjoyment.
In our opinion, SCHOTT NEXTREMA® glass-ceramic is one of the best materials for BBQ grills thanks to its excellent transparency, impressive heat resistance, and ability to withstand high levels of thermal shock. With near-zero thermal expansion, this unique material offers a lifetime of reliability and strength for your BBQ grill, with its easy-to-clean surface delivering decades of clear visibility and delicious outdoor cooking.
The transparent glass-ceramic Burner Shield for gas is designed to protect BBQ burners from dripping fats and liquids. In addition, it provides chefs with visual feedback on ignition and size of the flame when adjusting the controls. This is a key safety feature as well as helping the chef determine the correct flame size for the food.

NEXTREMA® Burner Shields offer a number of advantages over traditional metal shields. With almost no discoloration or oxidation over time, they retain their stylish looks, and thanks to a pyrolytic effect in the hot areas, the grease can simply burn off when in use. After the Burner Shields have cooled down, the areas that have not become quite as hot can be cleaned easily using a simple soap solution, leaving them looking as good as new.

In our opinion, as one of the best materials for gas grill burners, NEXTREMA® is available in six different standard geometries in lengths from 250-450 mm, which provides BBQ manufacturers with a range of flame design options.
Take your BBQ grill design to the next level
SCHOTT's exclusive whitepaper on BBQ technology describes how NEXTREMA® glass-ceramic opens up new and unique design solutions for high temperature applications. Download now.
An ambition beyond the BBQ grill
As one of the strongest materials in the SCHOTT portfolio, glass-ceramic is used in a number of other applications in areas such as IR heaters and high-temperature industrial furnaces. The same dependable technology that offers protection in these harsh environments also protects the outdoor chef and their family.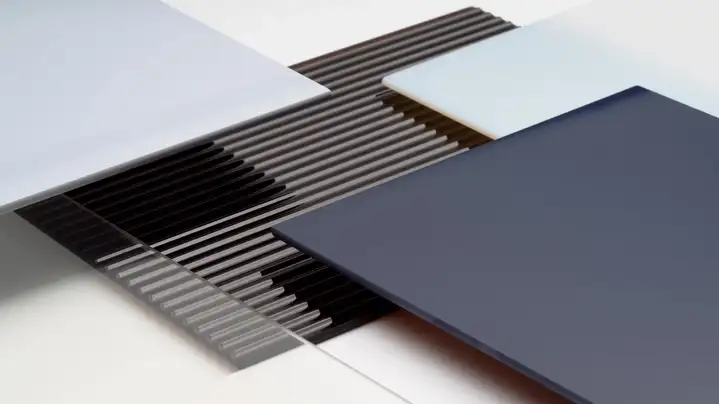 SCHOTT as your partner for latest BBQ technology
10 years of SCHOTT NEXTREMA® - discover the history and why this material platform might be the best solution for you.
Discover more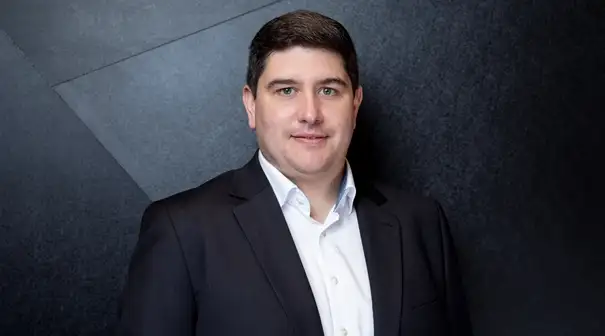 Roberto Perez Castro
Head of NEXTREMA® Product Management