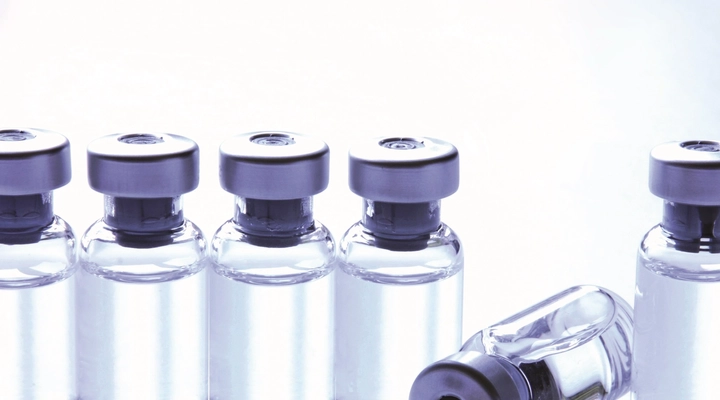 Innovative primary packaging solutions for Bayer
Bayer is taking the notion of strategic buying a decisive step further: Close partnerships with strategically important suppliers enable the global life science company to market biotech medications in a safer and quicker way using innovative primary packaging solutions.
The requirement for SCHOTT products
At first glance, there is nothing special about pharmaceutical vials, cartridges and syringes. Unlike their contents – medications that may be a matter of life or death – these small containers usually go unnoticed. This is hardly surprising, considering that the value and the potency of medications per dose continue to rise while the cost of a single vial is still just a few cents. So why, then, are such products and the collaboration with the companies that produce them still so vitally important for pharmaceutical companies?
"Primary packaging is now an integral component of every parenteral medication. Without it we cannot ensure suitable storage of the medications that we develop, transport them to our patients and guarantee that they receive the exact dose that they need."
Karhöfer is a Category Manager at Bayer and is responsible for the global procurement of glass and glass-like primary packaging systems – and also holds a degree in biotechnology engineering. He specializes in maintaining the balance between the specific unit cost of a product and the total cost of quality for each individual Bayer product.
Not all glass containers are alike. The inner surface of primary packaging interacts with its contents over time. The goal is to minimize this because, in the worst-case scenario, this interaction can impact the effectiveness of the medication or even lead to side effects. Newer biotech products are especially susceptible to this interaction due to their complex molecular structures, and require special packaging. In order to ensure that patients are well protected from potential problems with these products, pharmaceutical companies and their suppliers must change the nature of their cooperation and focus on innovative solutions right from the beginning. Bayer calls this "supplier-enabled innovation" and also uses platform technologies for this purpose.
Close collaboration for shorter time to market
The importance of this new form of collaboration with suppliers early in the production process is clear: For example, to fill and safely store a particular highly active molecule, Bayer decided to use vials with a special coating. This is because products of this nature are often freeze-dried (in order to keep the substance stable during storage) and reconstituted as a liquid before being injected. However, from the moment it is stored there is a risk that the medication will react with the glass. The solution: "A highly pure coating made of silicon oxide, which forms a sort of ion barrier," explains Dr. Bernhard Hladik, Senior Business Development Manager at Schott.
In order to select the appropriate primary packaging, Bayer makes good use of the expertise of packaging manufacturer Schott: "We contribute our expertise in working with glass as a material and selected polymers to the discussion. We already have experience with many active ingredients and buffer systems, and we know which packaging will probably be a good choice for them," says Hladik. "Of course, the legally required stability tests still have to be carried out by the drug developing pharmaceutical company, but if you can limit the options and minimize stability risks, this can save them time and resources." This efficient collaboration between both parties allows medications to be brought to market in a quicker and safer manner.
A century of pharmaceutical excellence
This experience in primary packaging for liquid product dosages did not come about by accident. More than 100 years ago, Otto Schott discovered a type of pharmaceutical glass that is still the standard around the world. The company has been manufacturing packaging for medication since the 1920s, starting with ampoules and subsequently including vials, syringes and cartridges in its portfolio, and the business relationship between Bayer and Schott – two well-established German companies– also dates back around this period.
For Karhöfer, the development of new medications and the related packaging is a good example of how the collaboration between manufacturers and suppliers has advanced over the past few years, and of how it will also continue to evolve in the future. Ultimately, it takes at least eight to twelve years before a medication is fully developed and ready to be used by patients. Having the appropriate packaging in terms of quality, format and composition also plays a key role. "Suppliers are becoming more and more integrated into the development and production of our products. The next step is to ensure timely coordination among suppliers, procurement and drug product developers in the early stages of development. We all want to get there together," says Karhöfer.
Working together for the best solution
For suppliers this also means that it is no longer enough to "only" offer packaging. This is something that Stephan Küpper-Brennberger, Area Sales Manager at Schott, is certainly aware of: "It used to be the case that customers would come to us relatively late in the process and order X number of ampoules or vials. But that doesn't give us enough time to react during the testing phase if it turns out that the packaging is not compatible with the medication. Leading pharmaceutical companies like Bayer understand that we have to work together to find the most suitable packaging for each specific drug." This is why Schott offers a broad portfolio of packaging solutions and quality levels as well as additional lab services.
However, the right chemistry between packaging and content is not the only question that needs to be answered, adds Hladik: "We also have to take into account how a drug product will be filled, stored and dispensed. This allows us to provide vials that have been inspected using cameras, pre-sterilized, and are ready to be filled, or to develop a packaging concept that works with pens and autoinjectors." He adds, "In the end, we have to work together to find a solution that best fits the application."
Reliability in terms of quality and timing of deliveries as well as trust in suppliers are key aspects of collaboration for Bayer because patient safety is always the most important factor in all of its plans and activities. Errors in the supply chain can have far-reaching consequences, which is clear when looking at production. It can take up to six months from the first day of production of a complete batch of, for example, a biopharmaceutical product until it is packaged. In some cases, the annual production volume of a medication may fit in less than the half of a football. "There are some medications with limited shelf-life for which companies have to produce drugs to be made available exactly when patients need them. If we receive defective or dysfunctional packaging components from a supplier during a particular period, either we won't be able to package the batch, or we won't be able to deliver some or all of it when we need to. For some patients, this may potentially result in a life-threatening situation" says Karhöfer.
Long-term consistency vital for primary packaging
Also the product life cycle of a medication underscores the importance of primary packaging. "We have some products that have been successful on the market for decades, often with the same, established packaging system," says Karhöfer. "If a supplier were to leave the market or were no longer able to supply us with packaging for quality reasons, we might not be able to provide our products to our patients and we would have to go through a lot of effort to switch packaging and undergo the stringent and lengthy regulatory approval process again. Bayer committed themselves to avoid this risk for their patients by any means."
Long-term, successful business relationships require mutual trust and realistic future prospects in which suppliers are able to make informed decisions about strategic investments while keeping their customers in mind. For example, Schott significantly expanded the production of vials with coated interiors at its plant in Müllheim. According to Karhöfer: "Such a partnership must be a win-win situation for both parties, and it should enable a joint advancement."