CONTURAN®
SCHOTT's experience and expertise has resulted in the creation of a series of innovative and versatile CONTURAN® glass products. Made almost entirely anti-reflective by SCHOTT's unique sol-gel technique, CONTURAN® can be adapted for a wide variety of roles through special coating and thermal toughening.
Types
CONTURAN® can be made using a variety of base glasses, each of which has their own unique properties.
Soda-lime float glass
Often used in both technical and non-technical applications
Solid optical mechanical and chemical properties
BOROFLOAT® borosilicate glass
Floated borosilicate glass
Highly transparent
Outstanding thermal resistance
High chemical durability
Aluminosilicate Glass
Floated aluminosilicate glass
Unmatched mechanical resistance
Withstand impacts and shocks
Offers highest levels of flexural strength and scratch resistance
CONTURAN® is available in different variants: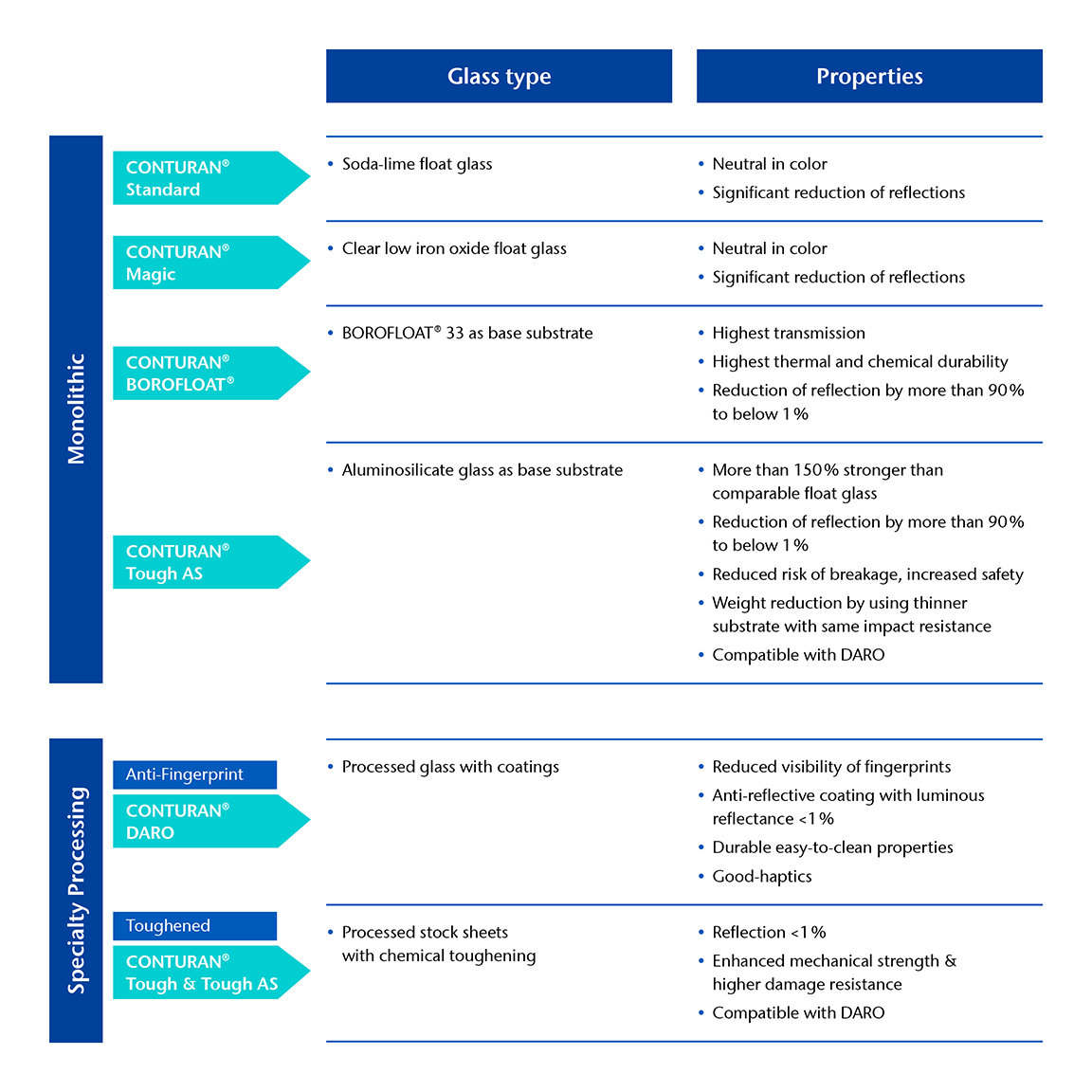 Anti-Reflective Properties
CONTURAN® anti-reflective glass is a float glass with optical interference properties coated on one or both sides to minimize surface reflections. A special immersion procedure is used to apply multiple metal oxide layers just nanometers thick. Reflections are reduced optically by up to 90% and the glass appears invisible. At a transmission of >98%, viewers can then focus on what's important.
Advantages of SCHOTT CONTURAN®
Luminous reflectance of 0.9%
Appears invisible
Neutral in color
High transmission
Color rendering index of Ra = 100
Float vs anti-reflective glass
Conventional float glass has dependable but limited optical properties. At just 91% transmission, a significant amount of light is lost. The smaller share of this (approximately 1%) is absorbed by the glass itself. The other 8% is reflected by the glass surface. This reflection is perceived as highly inconvenient, especially in applications which require clear viewing. Surface finishing can help here.



Disadvantages of float glass
Luminous reflectance of 8%
Undesirable reflections
Lower transmission
Colors appear drab
| | |
| --- | --- |
| Float glass | SCHOTT CONTURAN® |
1% luminous reflectance of SCHOTT CONTURAN® compared to 8% luminous reflectance of regular glass.
Durability
SCHOTT understands the importance of clear and consistent vision for outdoor displays, so produce a series of high-tech, anti-reflective glass of the highest quality with surfaces that are extremely tough, reliable, and easy to clean.
Benefits of SCHOTT dip-coated glass
Burned-in surface coating
Highly resistant to abrasion
Extremely stable
CONTURAN® is also mechanically robust and highly resistant to chemicals, delivering durable performance in every application. Key properties include:
High mechanical durability proven by international standards
Easy handling and processing
Robust surface for daily cleaning cycles
Testing
CONTURAN® undergoes a series of rigorous tests, split into mechanical and chemical:



Mechanical tests
The Tesa Test highlights the durability against the forces of adhesive tape being ripped from the coating.
Taber Abrasion Test, which tests the abrasion resistance of the coating.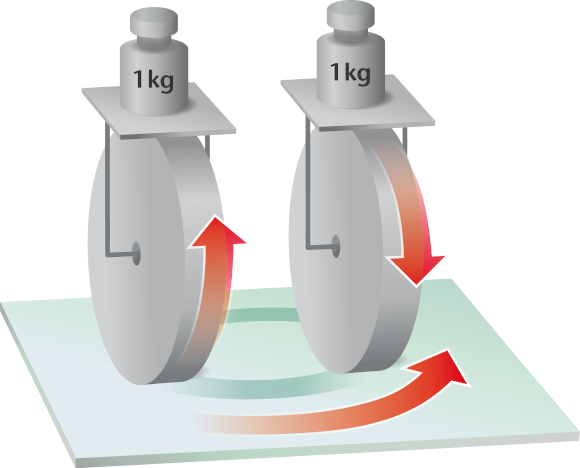 Testing the abrasion resistance of coating with the Taber Abrasion Process
The Pencil Hardness Test

checks scratch resistance

. Here CONTURAN

®

achieved class 9H, a significantly higher score than other anti-reflective surfaces.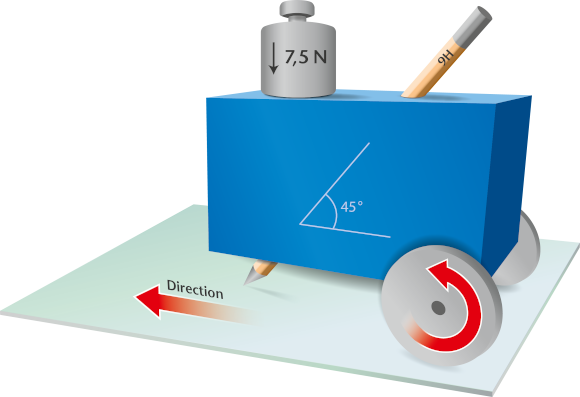 Pencil Hardness Test to check scratch resistance
The Cheesecloth Test is a good indicator of the resistance of the coating. It's based on DIN ISO 9211-4 and simulates moderate abrasion. In this test, a cushion of gauze is pressed onto a coated surface with a certain force and then moved several times. The surface is then checked for damage. Competing products are 95% worse than SCHOTT products in this test.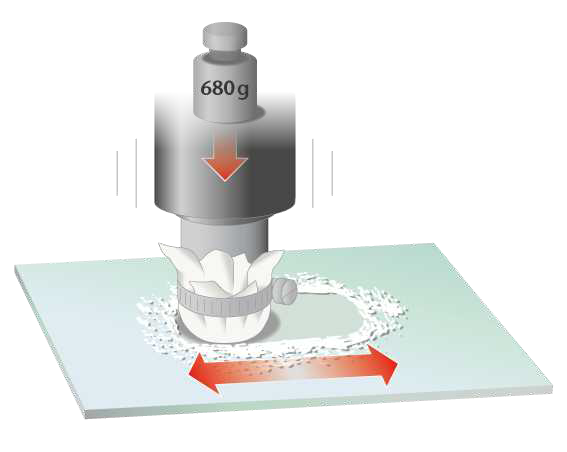 Cheesecloth test shows the good resistance of the coating

Cleaning tests
The test was carried out by the materials testing center in Karlsruhe in accordance with the UB MED guideline MFR 890/009, which subjected CONTURAN® to intensive resistance testing. The test applied standard, medical-sector cleaning agents containing various classes of active ingredients and then examined their impact on CONTURAN® over several hours. The surfaces and their appearance were assessed and evaluated. Based on this, we provide recommendations on the majority of the substances tested:
Class of chemical agent
Specific test medium
Result

Alcohol

Incidur-Spray (undiluted), Ethanol (96 % Vol.), Mykrozid liquid (undiluted),Meliseptol rapid (undiluted), Isopropyl (70 %)

✓

Aldehyde

Melsitt (10 % Vol.), Lysoformin (2 % Vol.), Aldasan 2000 (4 % Vol.),
Kohrsolin (0.5 % Vol.), Dismozon (0.5 %)

✓

Peroxide compounds

Perform (3 %), Hydrogen Peroxide (3 %)

✓

Pyridine derivative

Spray Activ (undiluted)

✓

Benzine

Benzine / Petroleum ether (undiluted)

✓

Dish liquid

Regular dish liquid (1 %)

✓

Organic acids

Bio-AntiBact med

✓

Limewater

–

✓

Alkylamine

Incidin Plus (8.0 % Vol.)

✓

Quaternary compounds

Mykrozid sensitive liquid (undiluted), Morning Mist (1:64 diluted),
Terralin protect (2.0 % Vol.), Microbac®Tissues (direct)

✓

Taski Sprint DS 5001 (0.5 % Vol.), Sulfanios Fraicheur Citron (0.25 % Vol.)

•

Chlorine derivatives

Sodium hypochlorite (bleach; 10 %)

✓

Terralin (0.5 % Vol.)

•

Antiseptic agent

Chlorhexidin (0.5 %) in Isopropyl (70 %)

•

Ammonia

Ammonia hydroxide solution (1.65 % Vol.)

•
✓ = safe to use
• = residues may accumulate on the surface
Chemical and corrosion resistance tests
CASS (Copper-accelerated acid salt spray) test for 21 days at 50°C based on DIN EN ISO 9227.
NSS (neutral salt spray) testing with sodium chloride at 35°C based on DIN EN ISO 9227.
Coating durability against cleaning chemicals proven by a test based on guideline UB MED MFR 890/009.
Climate resistance
Condensation atmosphere with constant humidity – 21 days storage at 40°C and humidity 100% based on DIN EN ISO 6270-2-CH.
CONTURAN® Daro
The difference between anti-reflective glazing and CONTURAN® DARO can be seen immediately. This durable, anti-reflective coating with oleophobic properties is one of the best products on the market for eliminating fingerprints and smudges on display glazing.
Fingerprint-free
Fingerprints have a crucial impact on the optical properties of an anti-reflective coating and are much more visible than on uncoated glass. CONTURAN® DARO eliminates these fingerprints using a combination of oleophobic and hydrophobic properties, reducing their visibility down to 10%.

Easy-to-clean
The DARO coating is a proprietary blend of hydrophobic and oleophobic molecules that are optimized to bond with the nano-features of SCHOTT´s anti-reflective coating. Oleophobic and hydrophobic surfaces (initial water contact angle > 110°) don't allow grease and sweat from fingers to stick to the glass and any remaining residues can be removed very easily by dry wiping.
Equally applied imprint on CONTURAN® DARO and anti-reflective glass (both glasses wiped dry three times)
Long-term durability
In order to use an anti-reflective coating in a touch application, it must have an oleophobic coating that can withstand hundreds of thousands of finger touches and rubs. CONTURAN® DARO fulfills this demand and maintains properties such as reduced visibility of fingerprints, easy-to-clean surface and good haptics, even if subjected to harsh mechanical and chemical stress.
Proof of durability for touch applications
The Tesa Test highlights the durability against the forces of adhesive tape being ripped from the coating.
Taber Abrasion Test, which tests the abrasion resistance of the coating.
The cheesecloth Test is a good indicator of the resistance of the coating. It's based in DIN ISO 9211-4 and simulates moderate abrasion.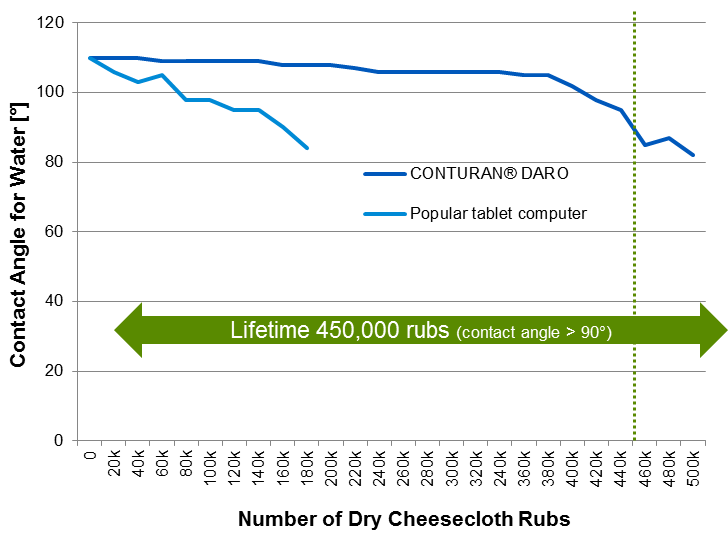 Surface testing
Surfaces of touchscreens need to withstand hundreds of thousands of finger touches. Touching the surface leads to mechanical abrasion and chemical wear because of the salt in finger sweat. In order to prove the durability of CONTURAN® DARO, we perform mechanical abrasive tests (cheesecloth rubs) as well as chemical resistance tests (salt spray).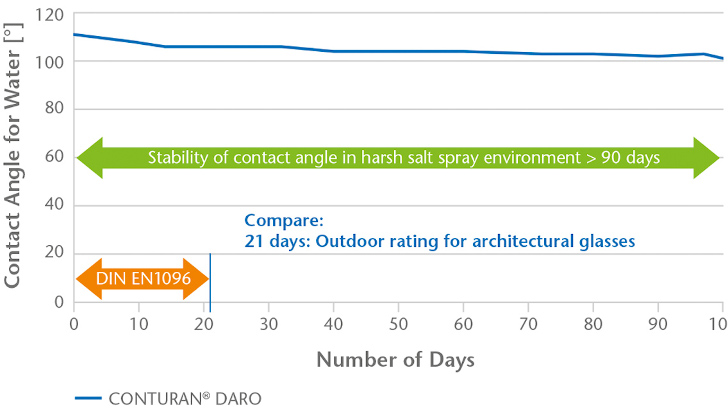 Chemical Toughening
The hardness of a glass is increased by performing a special treatment in a salt bath (chemical tempering). Smaller ions from the glass surface are replaced by larger ones from the salt bath by way of ion exchange. This creates compressive stresses in the surface, which increase the strength of the glass.


Before

After

This process is known as chemical tempering or chemical toughening, and is particularly well suited for thin glasses with a thickness of less than 3.2 mm, which can no longer be easily thermally tempered.
Reduced process complexity in chemical tempering

SCHOTT offers the only anti-reflective coating designed for chemical tempering through the coating layer of CONTURAN® Tough. In a complex process chain, chemical tempering is performed first, before a standard anti-reflective coating is applied.

Until now, toughening took place prior to the application of anti-reflection coating, because conventional sputtered anti-reflective coatings prevent the ion exchange required in the toughening process. However, introducing the coating at a later stage of the process chain requires a one-off production, which is an extremely inefficient procedure.

CONTURAN® Tough and CONTURAN® Tough AS provide a crucial difference. These anti-reflective glasses are the only one of their kind that permit chemical toughening all the way through to their anti-reflective coating thanks to SCHOTT's unique sol-gel coating. This provides notable improvements compared to standard procedures.

CONTURAN® Tough enables ion exchange through the anti-reflective layer, thereby greatly simplifying the process chain. Large format glass can be coated with the anti-reflective layer first then processed further, which results in a much more efficient procedure.