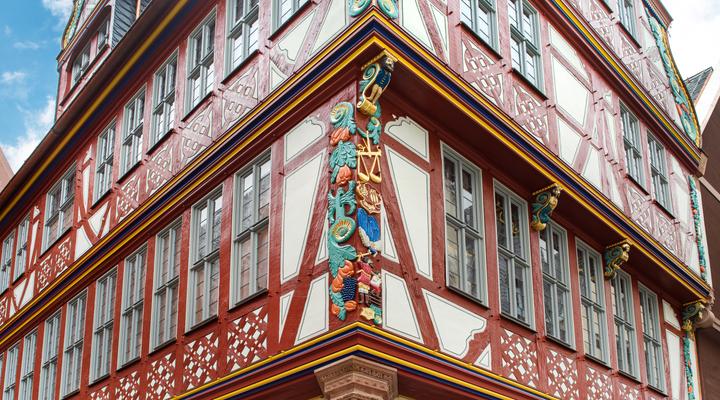 Haus zur Goldenen Waage
The reconstruction of the Haus zur Goldenen Waage was a key project of the 'DomRömer' urban building scheme in the historic center of Frankfurt, which regenerated many of the city's oldest buildings between 2012 and 2018. The Haus's renaissance charm was stunningly restored using SCHOTT restoration glass.
1619
is the year the Haus zur Goldenen Waage was originally constructed.
390
SCHOTT restoration glass panes used on the building.
110 m²
of glass required to complete the project.
7,000 m²
of Frankfurt's historic center restored between 2012-18.
Background
The Haus zur Goldenen Waage, or 'House of the Golden Scales', had once been a timber-framed landmark in the heart of Frankfurt's historic DomRömer quarter, dating back to the middle ages. Destroyed during the Second World War, the structure wasn't rebuilt in its original style until the beginning of the 21st century, when the Haus was one of 15 buildings restored under the DomRömer project. Historical photographs and documents were carefully consulted to bring the original timber-framed, opulently colorful landmark back to life, with SCHOTT's restoration glass expertise playing a valuable role.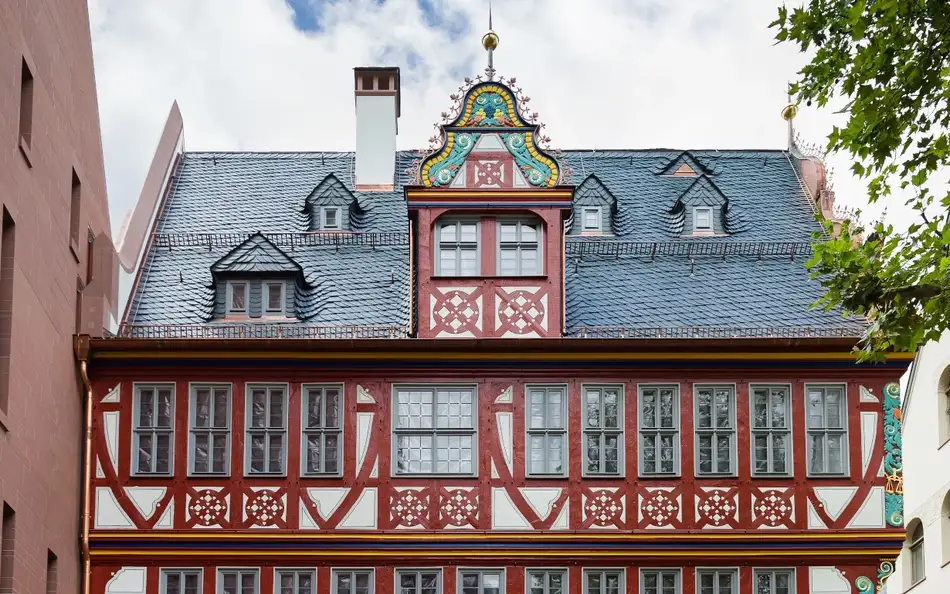 Task
Restoring this architectural jewel for the 21st century while retaining period authenticity required meticulous attention to detail. As well as incorporating historical fittings such as hand-forged angled metal strips, hinges and window knobs, one particular challenge was the French casement window that needed to be used as an escape route. Choosing the right glass required careful consideration of the building's history, as well as an understanding of how it would be used in the future. And of course, modern construction and safety standards had to be included, alongside energy efficiency.
Solution
Kramp & Kramp, the building firm in charge of the project, chose SCHOTT TIKANA® and RESTOVER® light restoration glass for the glazing of the windows. These glasses offer irregular surfaces in keeping with period styles, and across a total area of 110 m2 they gave the building façade a coherent, authentic historic look. The glazing could also be used in combination with modern insulated triple glazing on the interior panes to help meet strict standards of modern energy efficiency.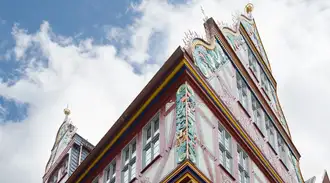 1/3
The Haus zur Goldenen Waage project required 390 panes of SCHOTT TIKANA® and RESTOVER® light glass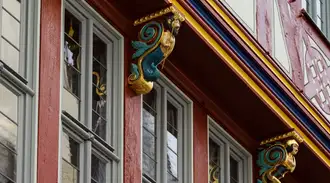 2/3
Restoring the windows of the Haus zur Goldenen Waage required careful consideration of the building's history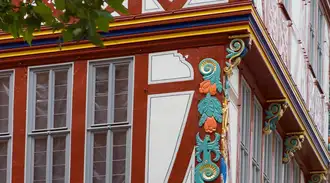 3/3
SCHOTT TIKANA® and RESTOVER® light restoration glasses have an irregular 'wavy' look for period authenticity
Historical detail with modern features
SCHOTT's use of the Fourcault process, a traditional method for drawing glass, results in similar longitudinal undulations and variations in thickness found on the original glazing of period architecture. While RESTOVER® light offers a low thickness that allows effective fitting in historical window frames, the irregular surface of TIKANA® helps it to blend well into period buildings. A special s-form lead coating, Karniesbeil, was also applied to both glasses to enhance their durability and energy efficiency, while helping to meet stringent construction regulations.
Jewel in the crown of a revitalized city
The completed Haus zur Goldenen Waage has become an eye-catching emblem of the DomRömer urban regeneration scheme and a stunning landmark in Frankfurt's revitalized old town quarter. It is now home to a branch of the Historisches Museum Frankfurt and its roof garden offers spectacular views of the city.

A key contributor to its esthetic appeal is the 110 m2 of SCHOTT glass facades that cover its exterior. Color tones applied to wooden surfaces and fittings complement the windows' elegant period look and evoke a strong feeling of history being brought dramatically back to life.
Used materials & similar products
The irregular surface of TIKANA® glass helps it achieve a similar 'wavy' look to period glazing in restored properties. It is also often used to restore buildings in the early 20th century Bauhaus style.

RESTOVER® light is available in low thicknesses and its similarity to mouth-blown glass closely suits the requirements of historical restoration projects.
Three-way partnership for restoration success
SCHOTT worked closely with Lemgo-based construction firm Kramp & Kramp throughout the project, alongside PaX who constructed the windows and doors. While the exterior windows were glazed with single-pane restoration glass, the interior panes were fitted using triple-glazed glass with thermal insulation.

Glass made by
SCHOTT

Building construction
Kramp & Kramp

Window construction
PaX