perfeXion® - a zero defect approach
For glass containers, consistent dimensions, tolerances, and quality are absolutely essential to reliable performance. SCHOTT's award-winning perfeXion® offers 100 % inspection of individual FIOLAX® tubes, linking state-of-the-art inspection technology with integrated data collection and analysis.
High-end quality processing

Traditionally, quality control for glass tubing is based on assessing random samples, but SCHOTT perfeXion® brings the process into the 21st Century. PerfeXion® provides highly accurate monitoring of glass tubing, not just for random samples, but for every single tube.

As the tubing travels down the production line, cameras measure parameters such as the diameters of the tubes, wall thickness, and airlines, as well as imperfections. If a single section of tubing isn't perfect, it's rejected. A data management system also gathers and analyzes data to enable customization. The result is less defects, superior cosmetic quality, and improved performance.

A Zero Defect Approach – The perfeXion® Quality Process
SCHOTT perfeXion® revolutionizes the inspection of glass tubing
The high-precision geometry and superior visual quality of 100 % inspected tubing results in significantly improved container performance.
100 % real-time inspection
Always-on assessment examines every single tube on the drawing line and after the cutting process.
Multiple measurements
SCHOTT perfeXion® inspects a wide range of tubing parameters, including ID & OD, WT, siding, open & closed airlines, contamination and circularity.
Zero defects
Using a seamlessly integrated data network that documents every single FIOLAX® tube, our ultimate aim is zero defects.
Every tube tested
SCHOTT perfeXion® is fully implemented for the production of FIOLAX® clear and amber worldwide.
Intelligent assessment
For geometrically critical container sections, such as the crimp neck of vials or the cones and flanges of syringes, factors such as consistent wall thickness of the initial tube will facilitate a more precise hot-forming process. Tight inner diameter tolerances of the original tube are also crucial as they ensure a constant gliding force and enhance dosing accuracy – in particular for highly concentrated injectable substances in multi-dose devices.

Seamless cosmetic inspection of individual glass tubes over their entire length alongside visual inspection of the filled container at the end of the value chain reduces yield loss in camera-controlled primary packaging production. For cartridges and prefillable syringes, the detection and sorting of inner open airlines within the original tube contribute to improved container closure integrity by preventing bypass effects.

During the tube production process, online process- and product-quality data are collected in real time and transmitted to an industry-standard data management system (PI database). This significantly increased depth of data facilitates the calculation of statistical certification data. For the first time, single tube data are used to control and stabilize the tubing production processes, which enables downstream post-processing steps to be efficiently aligned with tubing quality.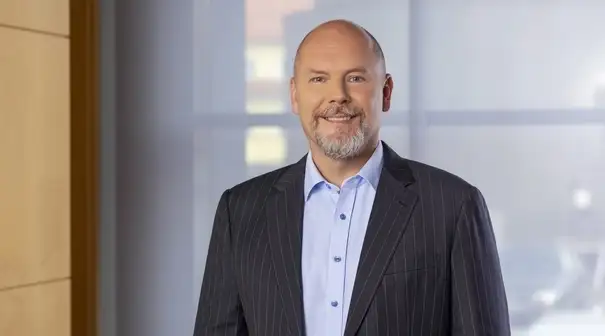 Dr. Folker Steden
Director Product Management & Scientific Services