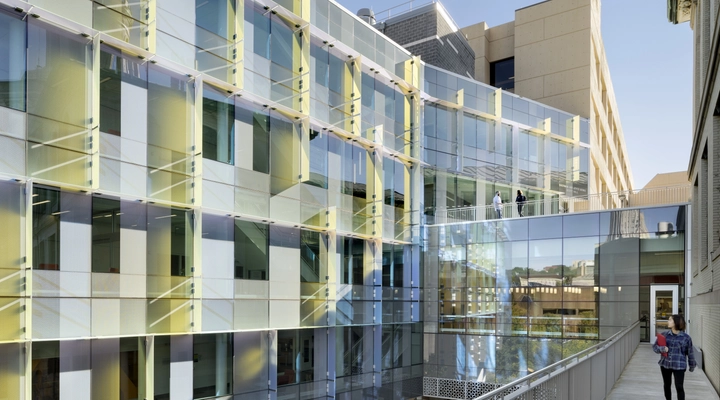 Carnegie Mellon University
University buildings not only need to provide an ideal environment for learning, but architecture that reflects the vital research that goes on inside. The use of SCHOTT NARIMA® at Carnegie Mellon University resulted in a stunning visual experience, as well as an award-winning sustainability solution.
10,000 m²
is the area of Scott Hall at Carnegie Mellon University.
6
global architectural awards won by the project.
3,770 x 1,700 mm
are the dimensions of the largest standard sheet of SCHOTT NARIMA®.
6
different colors that SCHOTT NARIMA® is available in.
Background
Located on the Carnegie Mellon University campus in Pittsburgh, Pennsylvania, Scott Hall was opened in Spring 2016. The University commissioned architects Michelle LaFoe and Isaac Campbell, along with their OFFICE 52 Architecture Design Team, to design the Nanoscience, Bioscience and Energy Technologies Building for the College of Engineering. The architects were briefed to embody Carnegie Mellon's interdisciplinary culture to create a progressive, collaborative research center at the forefront of advanced nanotechnology and complex engineered systems.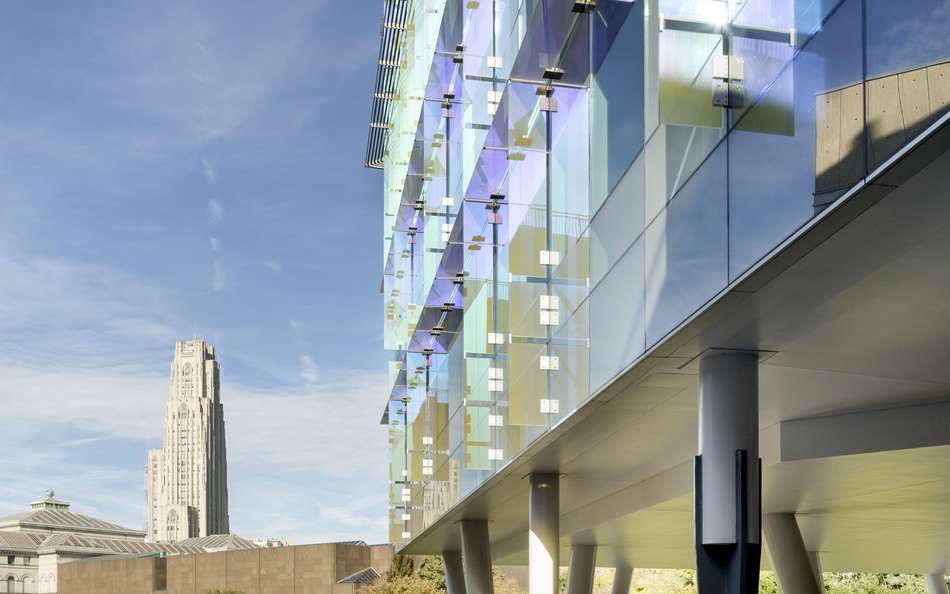 Task
The architects were given a brief to design a low-energy, high-tech landmark building with an external structure and appearance that captures the scientific work carried out inside its laboratories. Particularly important were the university's strict sustainability and energy-saving goals. A series of solar studies, thermal comfort analysis, and energy modelling demanded an optimum arrangement of façade elements.
Solution
Following a series of light and color studies with SCHOTT NARIMA® glass, the architects chose SCHOTT NARIMA® Orange with a silvery-blue reflection for the vertical sun protection slats and SCHOTT NARIMA® Blue-Gold for the horizontal. Using SCHOTT's unique dichroic glass not only gives the building a stunning visual depth and constantly changing color patterns, it's a key element in an architectural solution that exceeds energy performance goals to create one of the most energy-efficient laboratory buildings in the USA.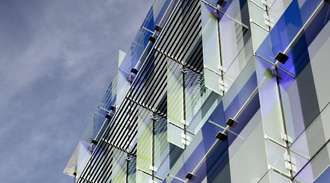 1/3
SCHOTT NARIMA® dichroic glass was used to add visual depth and fascinating color changes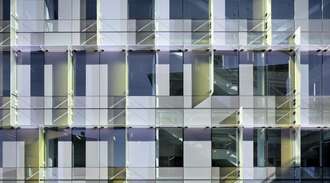 2/3
The color of SCHOTT NARIMA® changes depending on the viewer's position and intensity of sunlight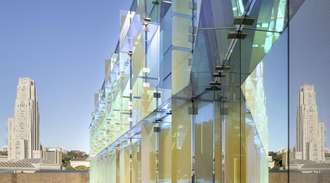 3/3
The architects also chose SCHOTT NARIMA® glass for its strength, UV stability and thermal resistance
Glass with the power to inspire
SCHOTT NARIMA® provides architects and designers with a unique visual effect that reflects some colors while allowing others through. Colors change depending on the viewer's position and the intensity and position of the sunlight to create exteriors that fascinate and delight. An added benefit for many buildings such as Scott Hall is that the dazzling color display prevents birds from accidentally flying into the glass.
One of the things that was really exciting about this project was the prospect of using architecture to weave together elements of what happens inside the building through innovative glass fabrication techniques. We conceived a curtain wall that metaphorically embodies concepts of nanoscience, scale, photons, and light, making the interior and exterior spaces of Scott Hall glow with luminosity.
Linking science and architecture
Alongside the transmittance and reflection of light contributing to the building's energy efficiency, the use of SCHOTT NARIMA® answers the University's original brief to "metaphorically link concepts of nanoscience, scale and photons to the architecture". Using dichroic glass resulted in the building resembling a geometric representation of a photonic quasicrystalline structure – a key optical material used in nanoscience.
Together with the architects, we implemented a unique project in which SCHOTT NARIMA® became an absolute eye-catcher.
Used materials & similar products
The dichroic glass SCHOTT NARIMA® offers a choice of six different colors that each make a memorable visual statement. Dip-coated rather than foil-based, the glass is harder, offers more stability in UV light, is scratch resistant, and less vulnerable to humidity, as well as being thermally and chemically resistant.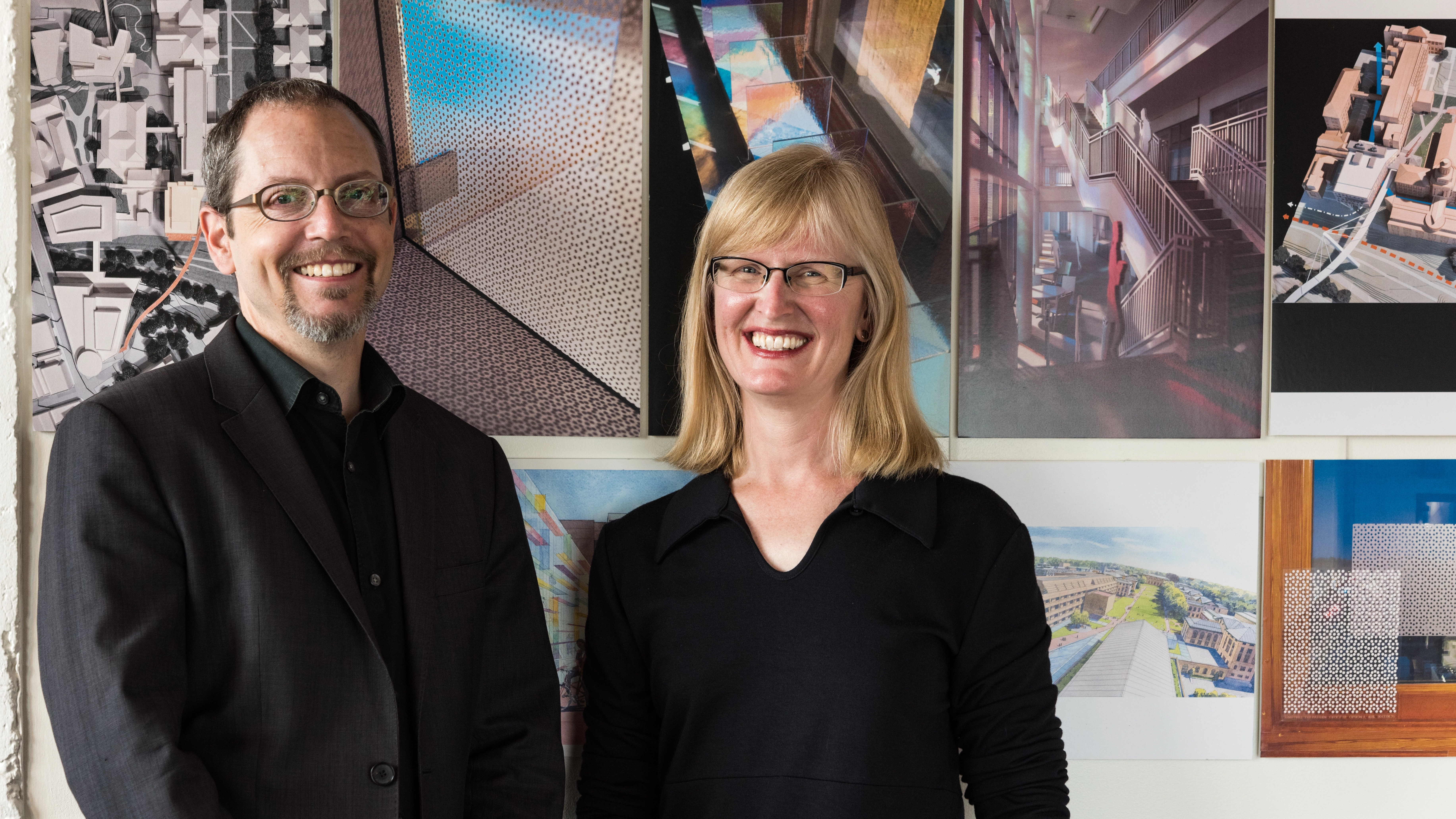 By adding the materials of light and color, reflected and transmitted, we turned the building into a dynamic interplay of nano-inspired color and texture that shifts throughout the day dependent upon the angle of sunlight striking the glass and the observer's position. It is a transformative meeting of material form and scientific innovation with an environmentally conscious mission inseparable from occupant inspiration.
An award-winning team
For the Carnegie Mellon University project, SCHOTT teamed up with architects Michelle LaFoe and Isaac Campbell, and their OFFICE 52 Architecture team based in Portland, Oregon. The resulting structure won a number of awards, including the American Architecture Award and the International Architecture Award.


Glass made by
SCHOTT

Architects
OFFICE 52