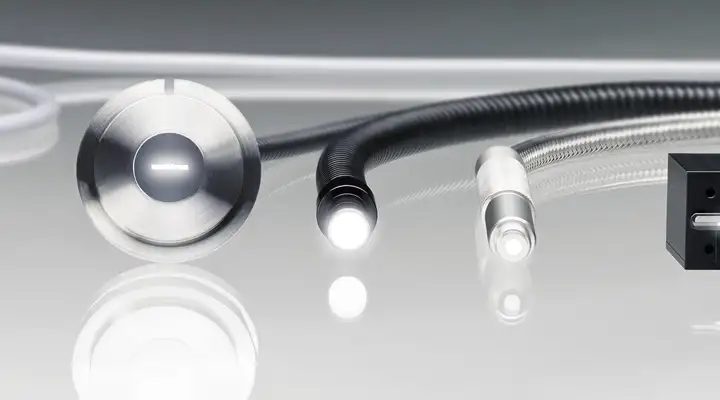 Flexible Light Guides
Flexible light guides perform vital roles in many industries, and SCHOTT has the expertise to understand the key requirements of them all. Our in-house development teams and production facilities produce the latest glass optical fibers, bundles, cables and assemblies for versatile and customized solutions.
Developed for flexibility and reliability
As well as light guides with a high transmission for white light, we also offer solutions for UV and NIR applications. Our flexible light guides benefit from high chemical stability, thermal shock resistance and mechanical resilience.
EXPLORE MATERIAL PROPERTIES IN DETAIL
Outstanding optical performance
Solutions with high transmission for white light as well as for UV and NIR available.
Chemical stability
Glass optical fiber bundles provide high chemical stability, with specific designs for applications in harsh environments such as autoclaving.
Temperature resistance
Hot fused ends for elevated temperatures up to 350°C in combination with different types of sheathing.
Mechanical robustness
Light guide designs include protection against pressure and other mechanical challenges for improved fiber longevity.
Mechanical flexibility
Glass optical fiber bundles possess extremely small bending radii compared to fused silica solutions, as well as high flexural capabilities.
Eco-friendly
In our broad portfolio, we offer lead- and arsenic-free PURAVIS® fibers.
Lighting designs for accurate diagnostics
Lighting designs for accurate diagnostics

Light guides for flexible endoscopy