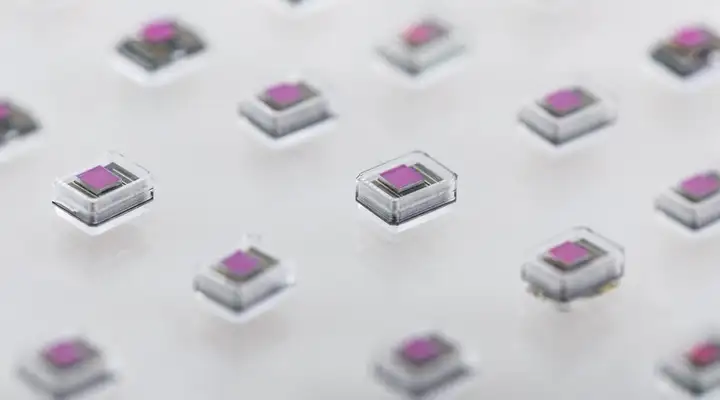 Glass Micro Bonding by SCHOTT Primoceler
Glass Micro Bonding is a revolutionary laser-based process that enables ultra-miniaturized hermetic packaging for highly sensitive electronics in demanding applications. The technology is pushing innovations forward in medical implants, aerospace, MEMS, and micro-optics.
Supporting innovation with next-generation hermetic sealing
Glass Micro Bonding is a revolutionary addition to SCHOTT's portfolio of hermetic sealing methodologies. If reliable encapsulation, biocompatibility, miniaturization, or production efficiency are on your requirements checklist, Glass Micro Bonding could be a fit for your application. SCHOTT offers a collaborative development process to help support the creation of expertly engineered finished customer components.
Fully hermetic
As the leader in hermetic glass-to-metal and glass-to-glass sealing SCHOTT has unmatched expertise in manufacturing truly reliable vacuum-sealed assemblies.
Unmatched miniaturization
Direct glass-to-glass wafer bonding enables highly compact designs with thinner materials and minimal spacing between layers.
No adhesives or additives
Glass Micro Bonding doesn't require additives or adhesives to complete the sealing process, helping reduce bulk and complexity.
No environmental heat
Heat-sensitive electronics can be hermetically encapsulated thanks to an extremely small and precise heat-affected zone of just a few microns.
Biocompatibile options
Glass Micro Bonding can be performed with glass types that offer excellent biocompatibility – a distinct advantage in medical applications.
High yield and replicability
Glass Micro Bonding is a highly efficient wafer-level process. Benefits of this include high yield, many devices per wafer, and no consumables required.
SCHOTT Primoceler all-glass packaging for high-reliability applications