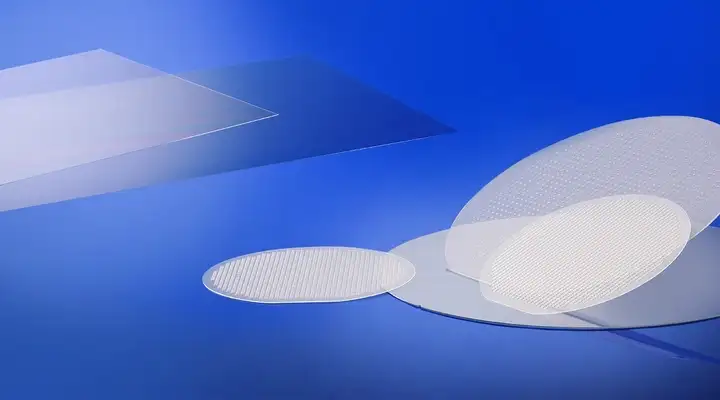 AF 32® eco
With a unique range of properties, as well as semiconductor process compatibility, AF 32® eco offers a flexible option for designers. This alkali-free glass is produced using SCHOTT's unique down-draw process, which results in a broad thickness range, excellent transmittance and a superior surface quality.
Outstanding technical properties
The superior properties of SCHOTT AF 32® eco make it highly versatile. Combining a high level of technical properties such as size, bulk and surface quality with the excellent physical and chemical properties of high optical transmission, high thermal stability, a low dielectric loss factor, and a low CTE, AF 32® eco remains effective even within demanding environments. Alkali-free and manufactured without arsenic and antimony, AF 32® eco is the go-to glass for a large number of industries.
Various thicknesses available
AF 32® eco is available in a wide variety of thicknesses, from an extremely thin 30 µm up to 0.5 mm.
High transmittance
AF 32® eco shows excellent transmittance characteristics in the UV-A, visible and near-infrared ranges.
Low CTE
With a similar coefficiency of thermal expansion (CTE) as silicon, it is suitable as cover and substrate of silicon chips in semiconductor and MEMS industries.
Excellent dielectric properties
Low dielectric loss makes SCHOTT AF 32® eco ideal for RF and HF applications.
High temperature resistance
SCHOTT AF 32® eco has a temperature resistance of up to 650 °C.
Excellent surface quality and flatness
High-level glass quality and a surface with very low roughness values removes the need for further surface refinement.