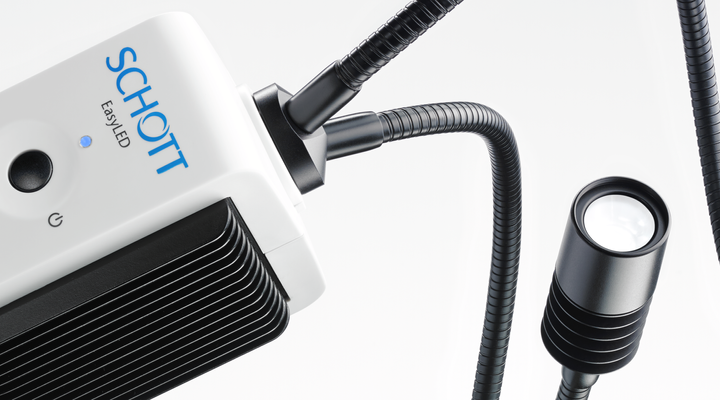 EasyLED Microscopy Illumination
The SCHOTT EasyLED portfolio for stereo microscopy delivers precise LED light for a wide variety of applications. The series offers robust design and easy handling in a compact device, with a range of accessories for your specific requirements.
Designed for easy-to-use, maintenance-free illumination
SCHOTT EasyLED products offer extremely bright, homogeneous and shadow-free illumination with a LED lifetime of 50,000 hours. Taken with low energy consumption plus compatibility with all common set-ups, the EasyLED series is a highly flexible solution for many applications.
Maintenance-free
LED lifetime of 50,000 hours.
Low power consumption
SCHOTT's experience in smart engineering leads to the optimization of energy use.
Compatible with all common OEMs
A mounting adapter is available for all common microscope stands, making the EasyLED suitable for a wide range of systems.
Ergonomic design
An integrated controller enables simple and intuitive switching between illumination modes.
Tubular Diffuser for Incident Illumination
Tubular Diffuser for Incident Illumination

How to choose the right ring light

When to use color filters, diffusers and polarizer sets?

Find out more about the two types of illumination in stereo microscopy.

How to use segment modes on the SCHOTT Ring Light.

Discover the SCHOTT EasyLED Spot Light Plus.

SCHOTT EasyLED Ring Light Plus product demonstration.