SCHOTT RealView®
SCHOTT RealView® glass wafers deliver excellent transmission levels and a high refractive index, as well as outstanding accuracy in terms of surface quality and geometry. These qualities make them ideal for the augmented reality revolution – both now and in the future.
SCHOTT RealView® specifications and customizable properties
The technical properties and range of customized options available for SCHOTT RealView® glass wafers makes it a valuable component in the optical systems of a large number of augmented reality devices. Field of View, image quality, form factor, and a highly dependable mass manufacturing process makes us a strong and innovative partner for technology companies worldwide.

Field of view (FoV)
Refractive index with specification 1.5, 1.6, 1.7, 1.8, 1.9, 2.0
Wafer size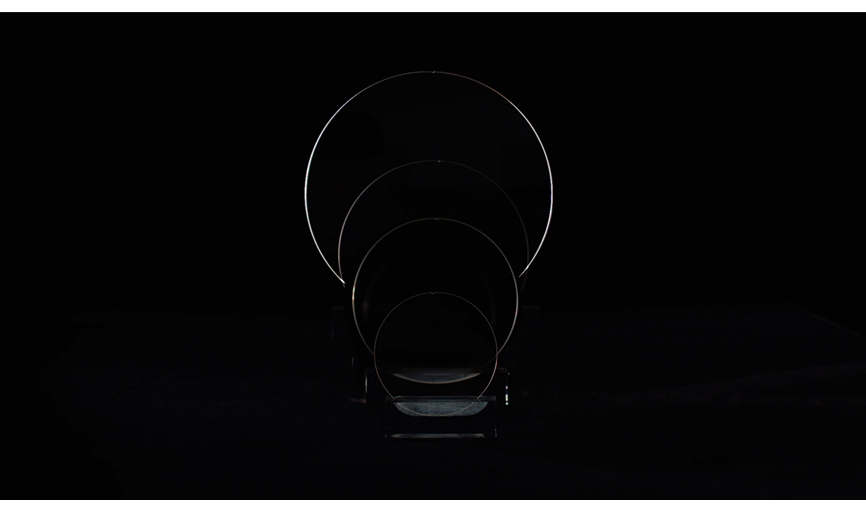 For further specifications please view our 'SCHOTT RealView® Datasheet' in the download section.
How SCHOTT RealView
®

works

The thrilling area of augmented reality is set to transform how we all receive information, whether that's at home, in the office, or simply walking around a town or city. Glasses equipped with SCHOTT RealView® glass wafers are able to insert content into a person's view, giving them an extra layer of vision, one that offers information on anything from vital medical procedures to the latest football results.

This link between the digital and physical world is created by combining images from the real world with computer-generated content. This happens in four key stages:
A projector emits the light waves of the digital image in the direction of the waveguides (SCHOTT RealView

®

).
The projector's light waves are coupled into the waveguide at a defined position with the help of a grating.
After guiding the light waves between the most perfect waveguide surfaces by total internal reflection, the light is outcoupled in another grating area and distributed towards the user.
The mobile, unfixed human eye perceives both the digital overlay and the real image behind the glasses. This creates the impression of augmented reality.