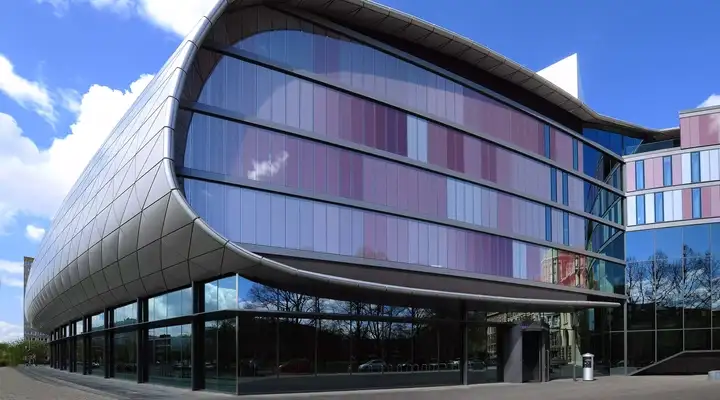 PYRANOVA®
PYRANOVA® is a clear, laminated composite glass that offers outstanding levels of fire resistance thanks to a combination of thin glass panes and internal layers. In the event of a fire, these layers foams up to prevent the passage of heat radiation, smoke and flames, protecting people at evacuation routes.
Outstanding technical properties
Whether it's used for interior or exterior applications, the technical specifications of PYRANOVA® give it a range of advantages in protection and security. Excellent transparency and stability is maintained across a wide range of ambient temperatures, and it offers good sound insulation values and a low weight. In the pendulum impact test, PYRANOVA® achieved a 1B1 classification, showing it has very high resistance to shock and impact, as well as high TRAV-rated protection against falling.
High temperature resistance
Meets EI 15 to EI 120 and EW 30 to EW 60 fire resistance ratings, and T 30 to T 90 for fire barriers.
Strong and stable transparency
Consistent transparency and stability at ambient temperatures between -20 °C and 50 °C due to UV radiation and direct sunlight.
Extraordinary design options
Butt joint system joins glass panes without a frame, enabling the creation of virtually endless light, smooth sheets of glass.
Impact resistant
Rated Class 1B1 for shock and impact (EN 12600 standard), while protection against falling meets TRAV categories A and C.