PYRANOVA®
The versatility and reliability of PYRANOVA® laminated security glass is the result of outstanding technical qualities. These include low weight and strong sound insulation, plus the ability to protect spaces within buildings from fire, smoke and heat radiation while maintaining a strong aesthetic appeal.
Interior
PYRANOVA® for interior applications is ideal for use as fire-resistant glazing in internal areas, with the ability to complement sophisticated architectural design. Manufactured from at least two float glass panes that contain transparent and fire-resistant foaming interlayers, it prevents the spread of horizontal and vertical flames, plus smoke and heat radiation in internal emergency situations.

As well as fire-resistant properties that meet the DIN EN ISO 12543 standard, PYRANOVA® butt joint systems for interior applications can be joined without disturbing the mullions to create virtually endless panes of glass.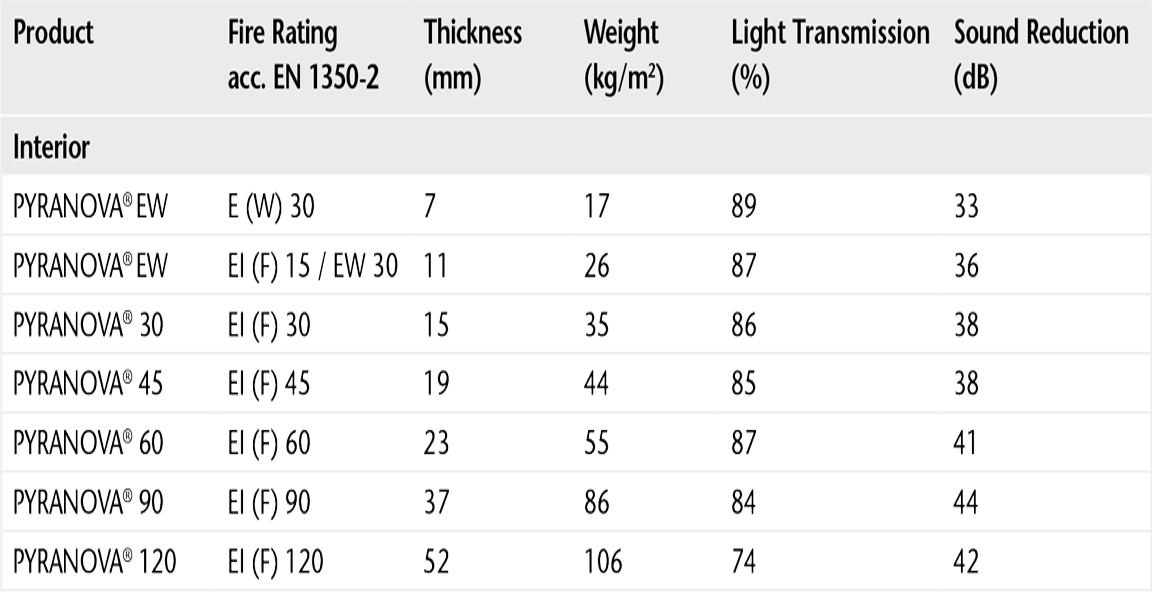 Exterior
PYRANOVA® for exterior applications is a special glass that's used in outdoor or particularly demanding situations. Manufactured from at least two float glass panes with transparent, fire-resistant intumescent interlayers, the glass features an external pane made of laminated safety glass.

With fire resistant properties that meet the DIN EN ISO 12543 standard, PYRANOVA® for exterior applications is also highly stable upon exposure to UV radiation.

ISO PYRANOVA®
ISO PYRANOVA® offers all the outstanding qualities of PYRANOVA® but combines it within a double-glazed unit. Other advantages include strong heat and sound insulation plus anti-glare protection, as well as sun protection.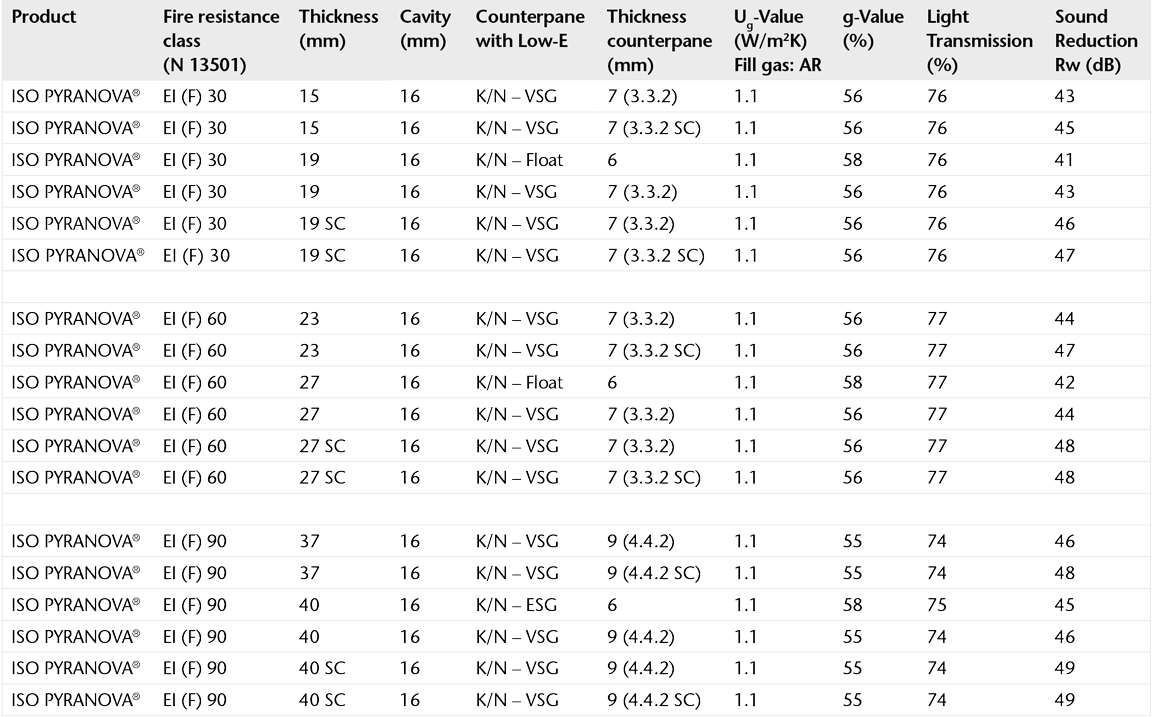 Fire Test
Fire-rated glazing usually requires test certification from an independent and accredited test institute in line with national building codes. Most of these official tests are carried out according to the standard time-temperature curve, but other tests are conducted according to the hydrocarbon curve, external fire exposure curve and slow heating curve.
Along with our component partners, SCHOTT can carry out internal preliminary tests in our own large-scale furnace. This enables us to investigate how the glass and all components behave in test conditions, and provides us with the data required to make any adjustments to the product. These preliminary tests also give us more security before the whole construction is put forward for its official tests. This saves time and money on repeat tests if they fail, and increases the reputation of SCHOTT products and our partner systems at the test centers.