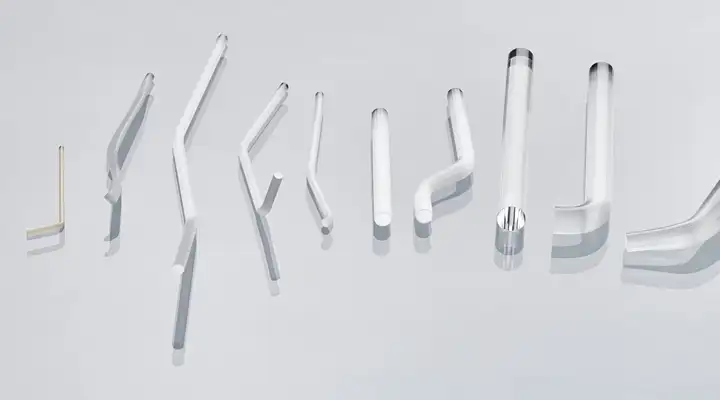 Light Guide Rods
SCHOTT's innovative light guide rods ensure perfect illumination for instruments in dentistry, endoscopy, level sensing and many other fields in industry. Our advanced shaping processes enable a large variety of different shapes, bending angles and cross-sections. We also act as an expert partner when you need to develop challenging designs.
Performance, stability, resilience
SCHOTT components offer outstanding optical performance with excellent white light transmission. They benefit from high chemical stability, thermal shock resistance and mechanical resilience, which are invaluable in challenging environments. We offer lead-, arsenic- and antimony-free PURAVIS® fibers for an environmentally friendly solution.
Explore material properties in detail
Outstanding optical performance
Solutions with high transmission for white light as well as for UV and NIR available.
Chemical stability
Light guide rods provide high chemical stability, with specific designs for applications in harsh environments such as autoclaving.
Temperature resistance
Designed for elevated temperatures up to 350°C.
Mechanical robustness
Light guide rods feature protection against pressure and other mechanical challenges for product longevity.
How the new Shaped Fiber Cones can improve your design flexibility
How the new Shaped Fiber Cones can improve your design flexibility

The importance of effective light guides in dental equipment.

How SCHOTT Light Guide Rods improve the dental curing process.