Light Guide Rods
There are two main product variants of SCHOTT Light Guide Rods – Straight and Shaped. Both have excellent properties for a wide range of applications, and both have a range of customizable options to create an entirely individual product that's tailored to your specific requirements.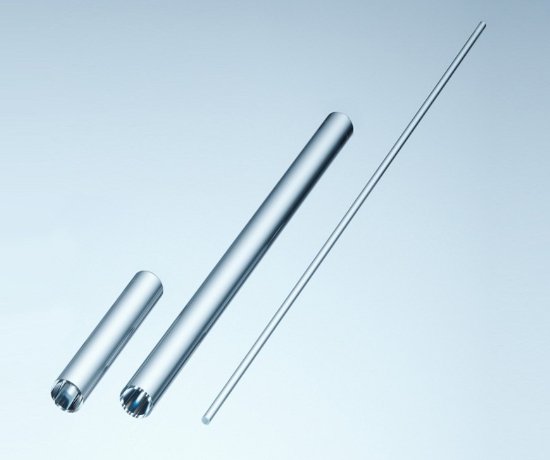 Straight Light Guide Rods
SCHOTT's Straight Light Guide Rods are single-core rods (SCR) which suit applications requiring bulk light transmission as well as optical mixing in straight shapes. They are typically used to isolate or remotely locate photo sensors and light sources.
CHARACTERISTICS
Consisting of a high index core material fused with a lower index cladding glass, they deliver total internal reflection. Custom lengths and cross sections can be manufactured to customer specifications. Straight Light Guide Rods can be tapered and drawn in custom shapes such as a hexagon, which is commonly used in homogenizers.
YOUR ADVANTAGES
Excellent transmission properties due to a single-core rod.
Operational temperatures up to 400°C.
Compatible with common optical coatings.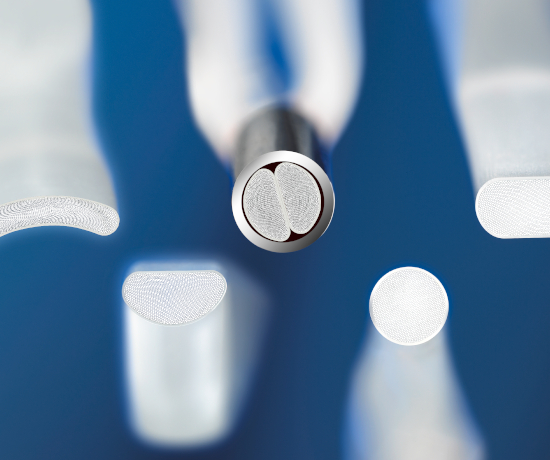 Shaped Light Guide Rods
SCHOTT's Shaped Light Guide Rods are multi-core rods (MCR) consisting of a number of core/clad systems fused together to form a multi-core component. Multi-core rods feature excellent forming properties as the raw rod is heated up to the softening temperature, while maintaining transmission.
CHARACTERISTICS
SCHOTT's Shaped Light Guide Rods have excellent forming properties, allowing for complex 2D and 3D geometries to precisely fit into the instrument they are created for. Forming includes cone shaping as well as bending. The original circular shape of the basic rod can be transformed into flat, half-round or kidney-shaped designs.
YOUR ADVANTAGES
The complete rod or its ends can be covered by blackened cladding glass, ferrules, housings and specific mount formats to block stray light or connect to light sources.
Light Guide Rods are biocompatible and autoclavable.