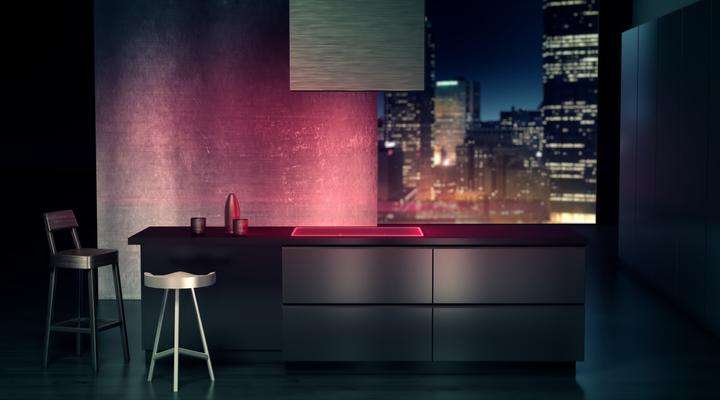 CERAN®
Since its introduction in 1971, SCHOTT CERAN® has led the market in durable and stylish glass-ceramic cooktop. It has retained an iconic appeal for home appliance manufacturers and consumers, with the addition of several outstanding CERAN® features etching the brand deep into the DNA of modern kitchens.
Product variants
SCHOTT CERAN® is available in a number of variants, from the environmentally friendly HIGHTRANS® eco and the transparent CLEARTRANS® to the CERAN EXCITE® light solutions, which add bright, clear light to the cooktop for a more intense, intuitive, and atmospheric cooking experience.
More about variants
Enduring excellence thanks to outstanding technical qualities
For more than 50 years, SCHOTT CERAN® cooktops have remained best-sellers thanks to a range of technical properties that continues to deliver high performance in the kitchen. With over 180 million panels sold, CERAN® cooktops are not only made from sustainable natural materials but also withstand high temperature differences, as well as thermal shocks. Additionally, it is an extremely robust product with high chemical resistance. This is what makes CERAN® the best cooktop solution for modern appliances.
Sustainable and natural
Made chiefly from natural materials such as quartz sand.
Zero thermal expansion
Expansion coefficient practically zero thanks to a crystalline structure.
Thermal shock resistance
Temperatures up to 700 °C are no problem for CERAN® glass-ceramics.
High temperature-time load
650 °C for 10 hours is the maximum permissible temperature on the upper cooktop surface.
High impact resistance
Achieves impressive results from Spring Hammer (EN 60335-1), Pan Drop (EN 60335-2-6) and Spherical Ball tests.
High chemical resistance
Strong resistance against recommended cleaning agents and compatible with nourishments.
Find out how SCHOTT CERAN® revolutionized the area of kitchen cooktops since 50 years by combining sleek style and an ideal mix of technical strengths.