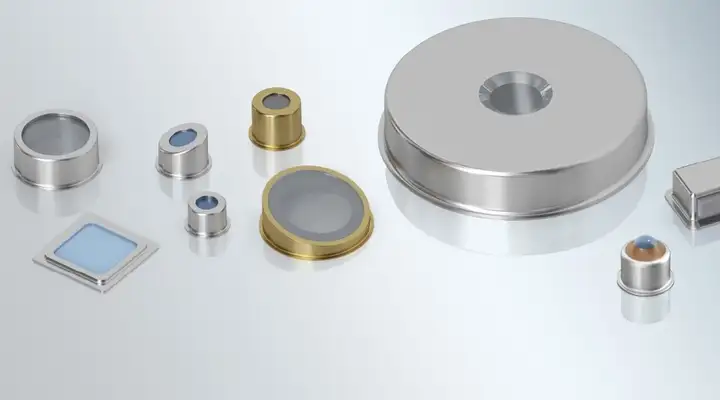 Hermetic Windows and Lens Caps
Thanks to in-house optical glass and sealing expertise, SCHOTT's hermetic windows, lenses and caps are highly effective and precise gas-tight interfaces for the sending and receiving of optical signals. Used in a huge range of applications, they offer high quality for a lifetime of performance.
High quality products from a trusted supplier
Based on more than 75 years of expertise in manufacturing vacuum tight housings with glass-to-metal sealing technology, SCHOTT can offer highly protective hermetic windows and caps with excellent optical performance.
Ultra-high precision
SCHOTT Caps meet the highest precision requirements for light beam input and output.
High transmittance
Our windows and lenses offer high light transmission, and can be further enhanced by AR coatings and optical glass discs.
Gas-tight
Glass windows and lenses are hermetically sealed to protect against moisture or gas intrusion and internal condensation.
Wide range, tailored service
Our windows and lenses are available in a wide range of geometric shapes, with different coatings for specific requirements.
Safe and environmentally friendly
All our caps and lenses comply with international Telcordia specifications, and all products are ROHS-compatible.