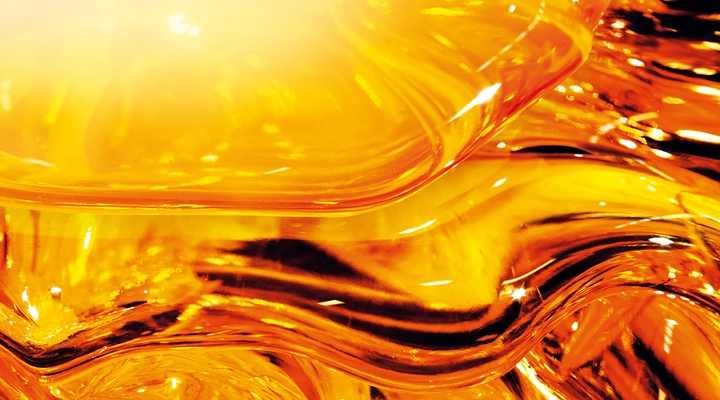 Glass Melting and Hot Forming
With over 130 years of experience in glass and glass-ceramic production, SCHOTT has the expertise and technology to offer an unrivalled variety of production techniques. Our range of advanced melting technologies provides a vast selection of technical glass products that fulfill a wide range of complex challenges.
Glass Manufacture
The manufacture of glass with a precise range of technical properties requires production techniques that demand decades of knowledge, the very latest equipment, and high levels of care and attention. SCHOTT has been manufacturing glass using the continuous tank melting process since 1911, consistently striving to improve and refine its techniques to produce products that are as advanced as the technology they serve.
The glass production process begins with the precise definition of the raw materials, with SCHOTT ensuring these are of the highest quality to minimize impurities in the final product. These ingredients are thoroughly mixed before undergoing either tank melting – the most common method – or pot melting, which is suitable for small volumes or glass with special optical characteristics. The melt is conducted in four phases: batch melting (by heating the materials), refining (to eliminate gas bubbles), homogenization (to ensure uniformity), and conditioning.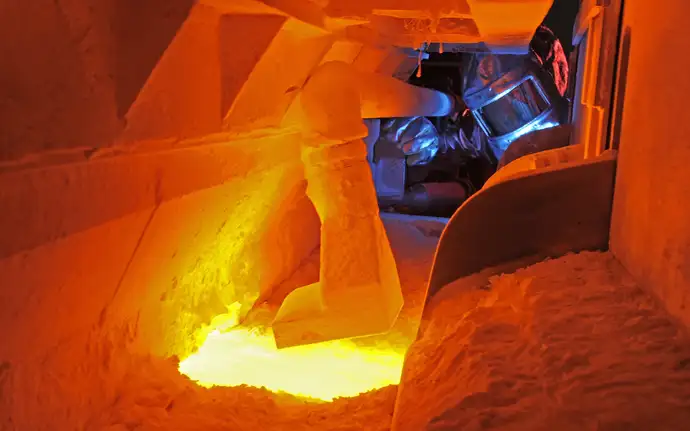 Hot forming out of the melt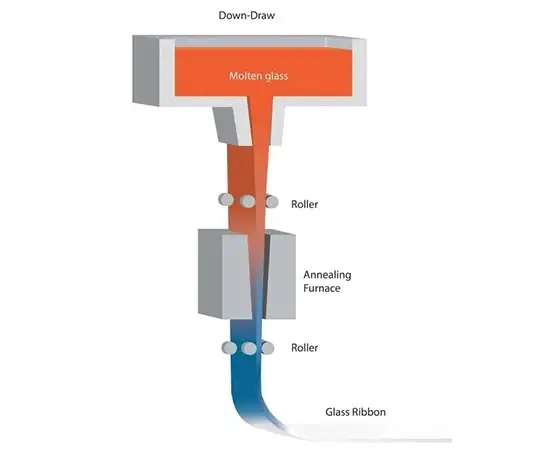 Down-draw
For versatile, thin and ultra-flat glasses

The down-draw process was developed exclusively by SCHOTT as an advanced technique for producing thin and ultra-thin glasses with exceptionally tight tolerances. This state-of-the-art method involves a ribbon of molten glass being fed through a nozzle, then pulled down through rollers and an annealing furnace, before moving across a number of drums and through a cooling track. The thickness of the glass can be controlled by the speed of the process, with the resulting thickness ranging from as low as 30 µm up to 1.1 mm.

A naturally fire-polished thin or ultra-thin sheet is created, removing the need for additional grinding and polishing. The process is also adaptable and can be reconfigured to handle different varieties of glass, as well as the production of bespoke solutions in partnership with the customer.


YOUR ADVANTAGES
Creates flawless surfaces with a roughness of <0.5 nm.
Broad thickness spectrum from 1.1 mm down to 30 µm.
Quick and efficient conversion to various glass types.
Very high TTV (total thickness variation) and flatness specifications.
A broad portfolio of material characteristics can be produced with a low thermal expansion and high-temperature stability at temperatures up to 600 ºC.
Acclaimed optical glasses such as SCHOTT AS 87 eco, AF 32® eco, MEMpax®, B 270® Thin and the D 263® series are among a wide range of glasses made using the down-draw process.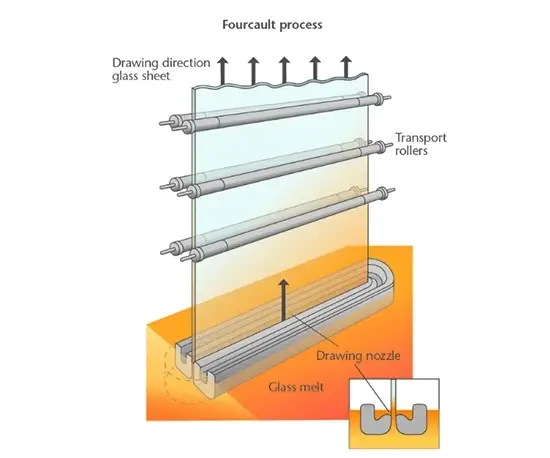 Up-draw
For thin and flat glasses with a low surface roughness

SCHOTT uses the up-draw process based on the Fourcault and Asahi methods to produce a wide range of glasses. The up-draw method involves a ribbon of molten glass pulled up from a tank through a nozzle across various drums before being fed through a cooling track. This stage is precisely controlled to produce the required thickness.

The process results in a fire-polished surface with an outstandingly low level of surface roughness (<0.5 nm) and a broad thickness spectrum of 0.9-12 mm, and is ideally suited to the manufacture of a wide range of glass types, such as high density or exceptionally clear ultra-white glass.


YOUR ADVANTAGES
Achieves pristine fire-polished surfaces with a very low roughness (<0.5 nm).
Broad thickness range of 0.9-12 mm.
Highly versatile in terms of glass type output and dimensions.
Enables the high-quality production of unique glass materials not suited to other processing methods.
Products manufactured using the up-draw process include SCHOTT B 270®, which is widely used in commodity optics and biotech applications.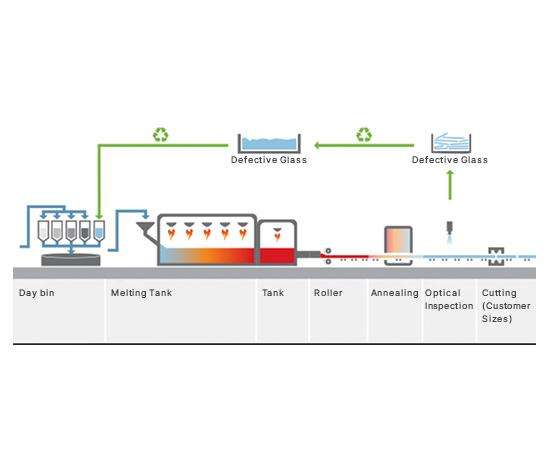 Rolled
A stronger, more durable glass and glass-ceramic

SCHOTT's rolled glass and glass-ceramic products offer robust and durable flat sheets. Rolled glass is made by melting the raw materials – mainly natural quartz sand – at up to 1,700 ºC, before feeding the molten liquid from a tank through forming rolls to define the required thickness. The glass is then fed across support rolls, where it cools while the residual tension is released, resulting in a flat solidifying glass ribbon.

Afterwards, the glass is cut into large stock-size sheets or trimmed down to the required size for the application. At this point, custom processes such as processing, decoration or bending can take place. For glass-ceramics, the second temperature-process – 'ceramization' – is then conducted.

SCHOTT products produced by the rolled process include Supremax® and RD 50®, which is used to protect against radiation in medical x-ray procedures.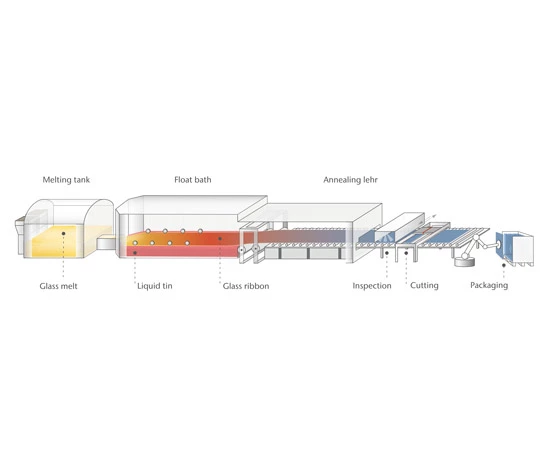 Microfloat
For uniform, flawless, supremely flat glass

SCHOTT uses the microfloat technique to produce highly homogenous glasses with mirror-like surfaces, exceptional flatness and excellent optical properties. Floated glass is created by guiding a continuous strip of molten glass over a bath of molten tin. The lighter liquid (molten glass) floats on top of the heavier liquid (molten tin). A completely flat separating layer between the glass and the tin forms on the bottom side of the glass and a fire-polished surface (due to hot forming gas atmosphere) on the top side of the glass. Drawing speed and top rollers determine glass thickness.

The glass temperature cools down and is maintained at 600 °C, ensuring the glass is mechanically resistant enough to be lifted from the surface of the tin. It then enters a cooling channel, where the glass is cooled, resulting in sheets with very high chemical stability, exceptional transparency, and very strong mechanical and thermal resistance.


YOUR ADVANTAGES
Mirror-like surface.
Excellent flatness.
Outstanding optical qualities.
Highly homogeneous material ensuring reliable performance.
Facilitates manufacturing in a wide range of thicknesses.
Products made using the microfloat process include SCHOTT BOROFLOAT® 33, whose outstanding transparency means it's widely used in science, research, optics and photonics applications, as well as Xensation® for tough applications in the mobile industry and PYRAN® for fire-resistant glazing. SCHOTT is also the only specialty glass company in the world that uses the microfloat process to produce a glass-ceramic – PYRAN® Platinum.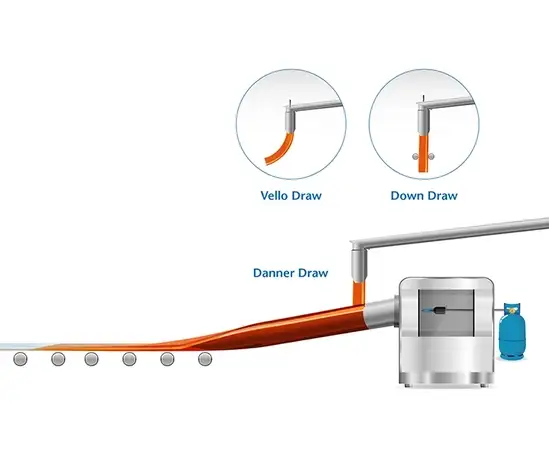 Tube drawing
Advanced processing for high quality glass tubing

As a leading supplier of glass tubing in a variety of diameters, SCHOTT is highly experienced in the tube-drawing processes, using advanced techniques perfected by our experts over many decades.

In the Danner tube-drawing process, molten borosilicate glass is steadily wrapped around a mandrel while filtered air is blown through the pipe. A tube then forms on the tip of the mandrel which is slowly withdrawn, before a drawing mechanism pulls the glass strand over a long drawing line where the glass tubing is drawn straight, stabilized and annealed.

With our range of glasses achieving outstanding technical properties and worldwide acclaim, SCHOTT has set new standards for glass tubing production. We use three main production processes:
Danner Draw
Vello Draw
Down Draw (for large outside diameters)
YOUR ADVANTAGES
A wide product range from 0.9 up to 460 mm in outside diameter and lengths ranging from 0.3 mm to 10 m.
As well as tubes, the product portfolio includes rods, capillary and profiles.
High optical quality and constant narrow tolerances due to high quality manufacturing process with optoelectronic measuring system.
SCHOTT Tubing production sites are certified according to ISO 9001 and ISO 15378 (GMP).
SCHOTT products made using the tube-drawing method include Pharma Type I glass tubing, as well as DURAN® borosilicate glass tubing.
DURAN® is a registered trademark of DWK Life Sciences GmbH.
Dive into the fascinating world of glass
Find out how SCHOTT produces its specialty float glass using the microfloat process.
Find out how SCHOTT produces its specialty float glass using the microfloat process.

See how SCHOTT produces glass tubing for pharmaceutical and technical applications
For more information on our full range of specialty glass and glass-ceramics, download our latest brochure