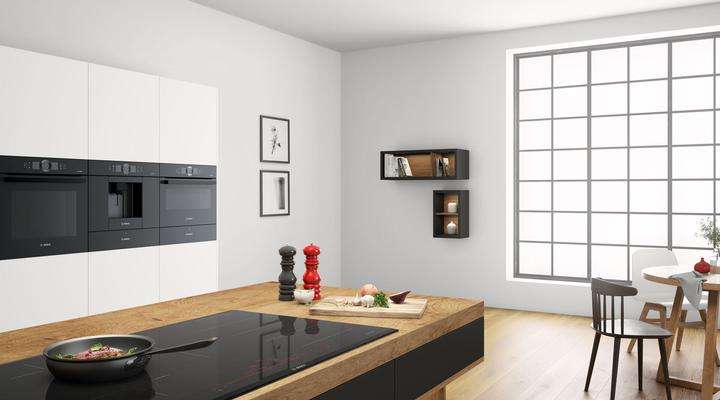 Distinctive Style in Home Appliances
Today's home appliances are no longer judged solely on their functionality, design also plays an ever larger role in the consumer's purchasing decision. With our wide product range of latest flat glass design options, we want to inspire our customers and jointly bring design visions to life.
The heart of the home enhanced with design
The area of home appliances has always attracted great design and futuristic thinking. And for designers, the kitchen is one of the most exciting rooms in the home. With a wide range of design options, such as metallic effects, novel effects with durable double side printing, a wide variety of logo and branding options, or even integration of lighting elements, SCHOTT sets new standards in the market. Based on market and customer requirements, SCHOTT constantly works on new printing and coating options to realize distinctive designs together with our customers. Two of our latest innovations are SCHOTT Metal Look and SCHOTT Duo Design.
SCHOTT Metal Look
As stylish as metal, as carefree as glass: SCHOTT Metal Look brings trendy surfaces into homes and kitchens and combines the virtues of glass with the precious look of stainless steel. This new design option developed by SCHOTT demonstrates the great versatility of glass, easy cleaning included.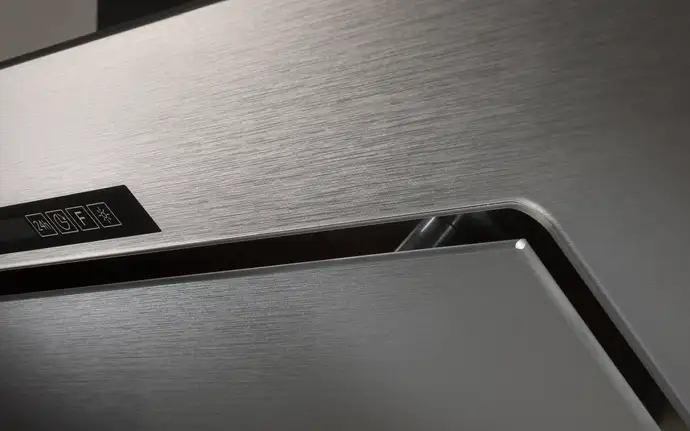 Find out how SCHOTT Metal Look combines the advantages of glass with the luxurious look of stainless steel for home appliances.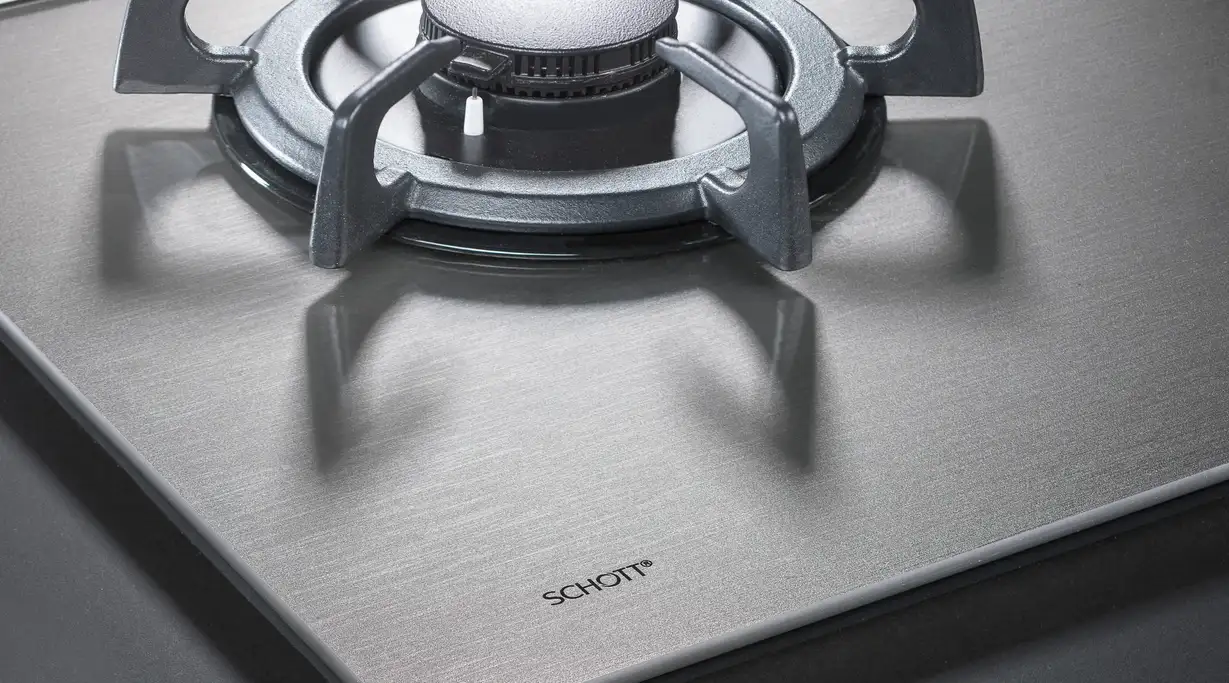 1/4
Stylish like metal
Glass has a firm place in the design world – and in the kitchen as well. With Metal Look, SCHOTT is now going one step further by combining the advantages of the versatile material glass with the high-quality appearance of stainless steel.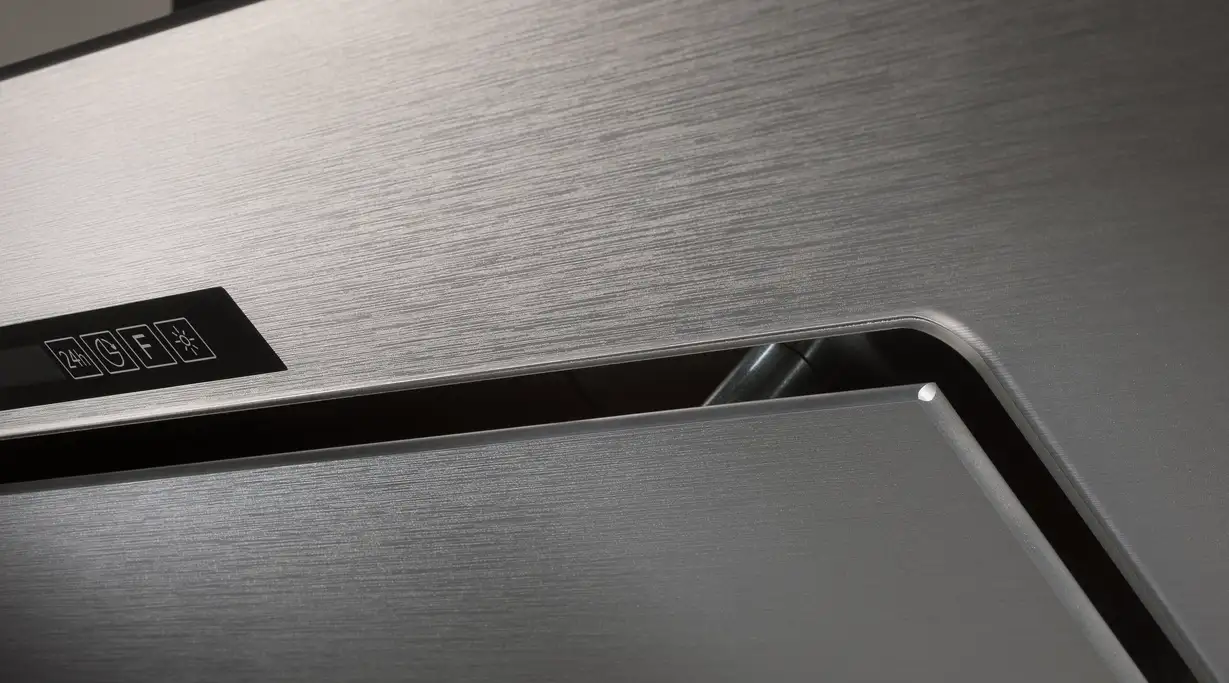 2/4
A smart solution
As elegant as stainless steel, as easy to clean as glass: the surface looks amazingly similar to brushed stainless steel, but it is a pure glass solution through which the metallic look shimmers elegantly.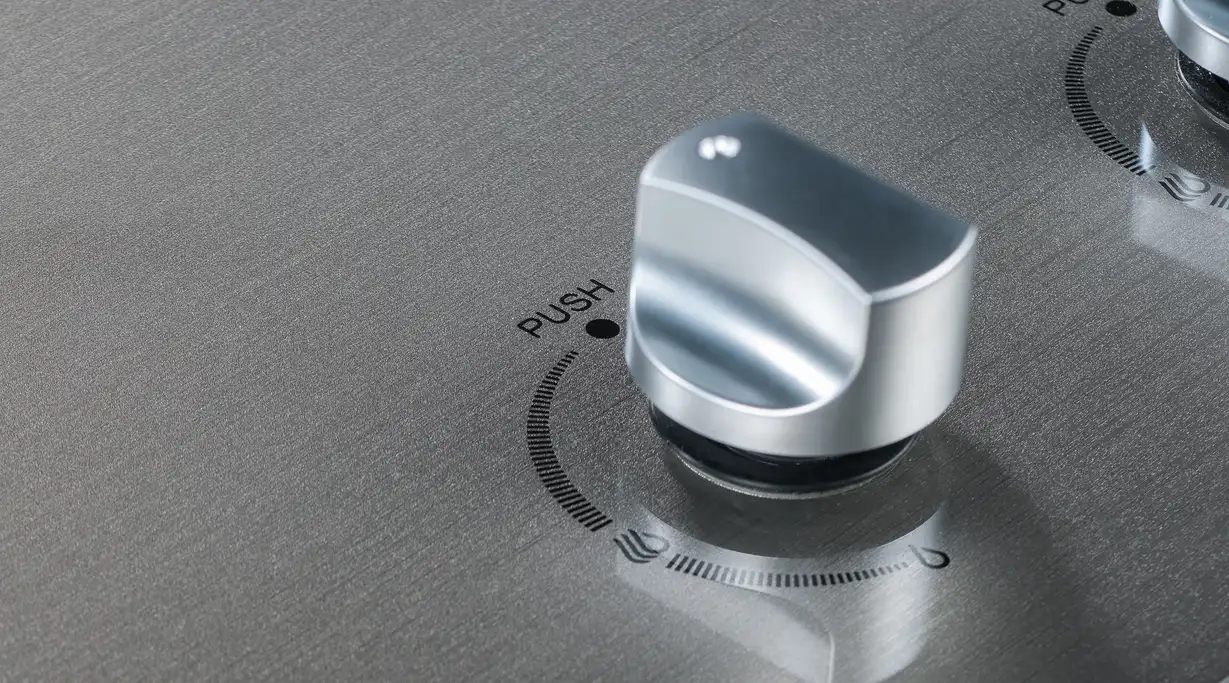 3/4
Perfect integration of displays and graphics
SCHOTT Metal Look supports the integration of displays and operating elements. Also very fine, complex logos and graphics, lines or symbols can be applied to the glass.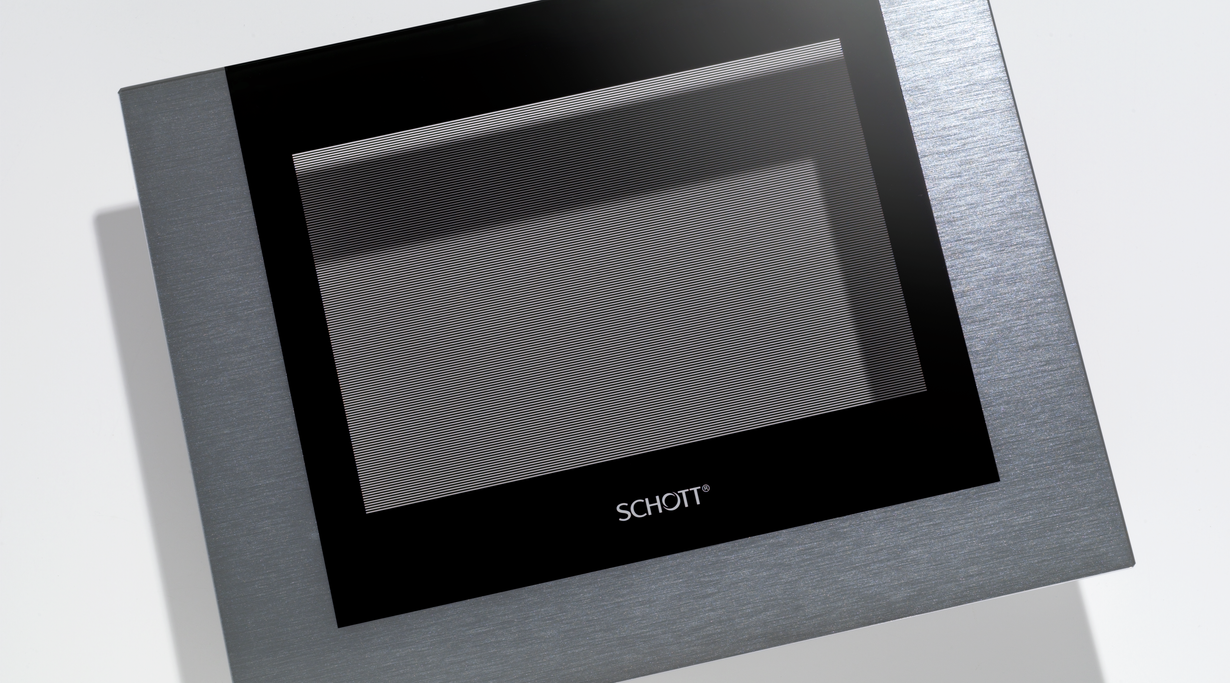 4/4
A wide range of possibilities
The process enables different color variations and effects, and transparent surfaces on the glass can be combined with metallic shimmering areas. Thanks to its high heat and chemical resistance, the special glass is particularly well suited for ovens and gas cooktops.
SCHOTT Duo Design
Durable printing on both sides of a glass panel sounds simple but it isn't. A new color technology developed by SCHOTT masters this challenge and allows ceramic printing on both rear and front of a glass. New color- and haptic effects open up new dimensions for the design of flat glass and for highlighting logos on a front.
Explore new horizons and bring your ideas to life with new possibilities for printing on glass. Get inspired by four design approaches that hold the key for an infinite range of designs on glass.
Discover how SCHOTT Duo Design can realize new design ideas by printing ceramic ink onto both sides of a flat glass panel.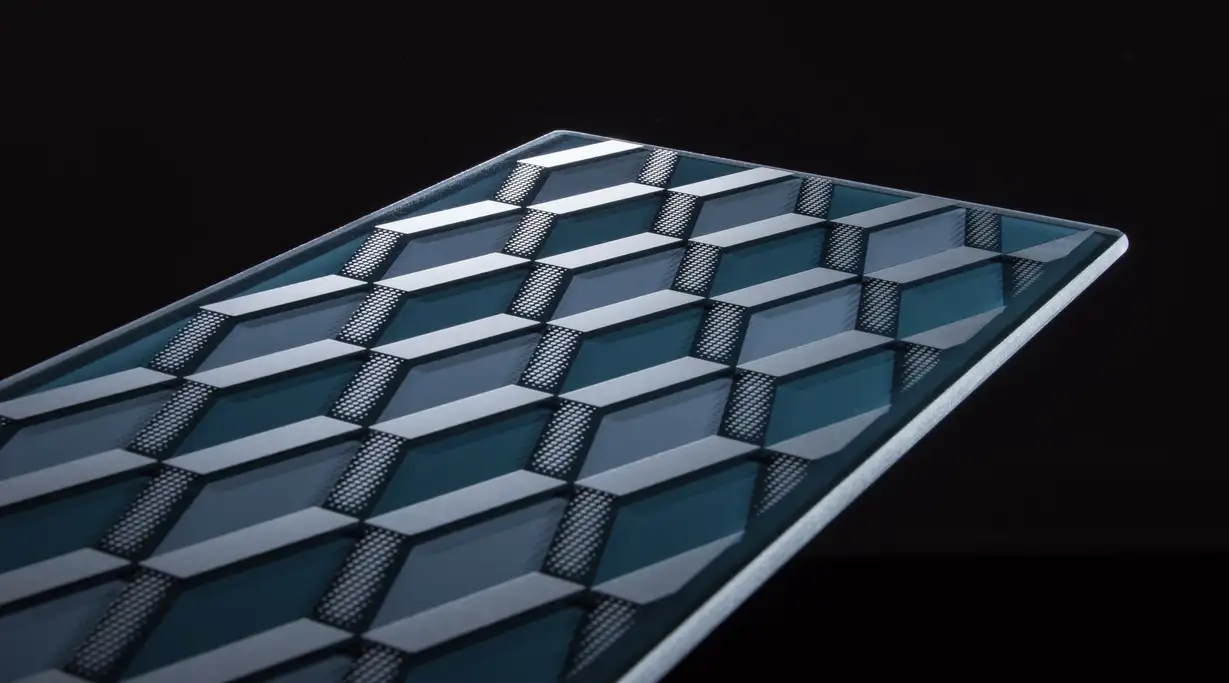 1/4
Expressive: Design effects, more luxurious than ever before.
The lust for luxurious, rich patterns is back! 'Expressive' creates eye-catching glass fronts that perfectly set the stage for appliances: Decorative ornaments and flowing organic shapes meet contrasting backgrounds to create unique designs with vivid depth effects.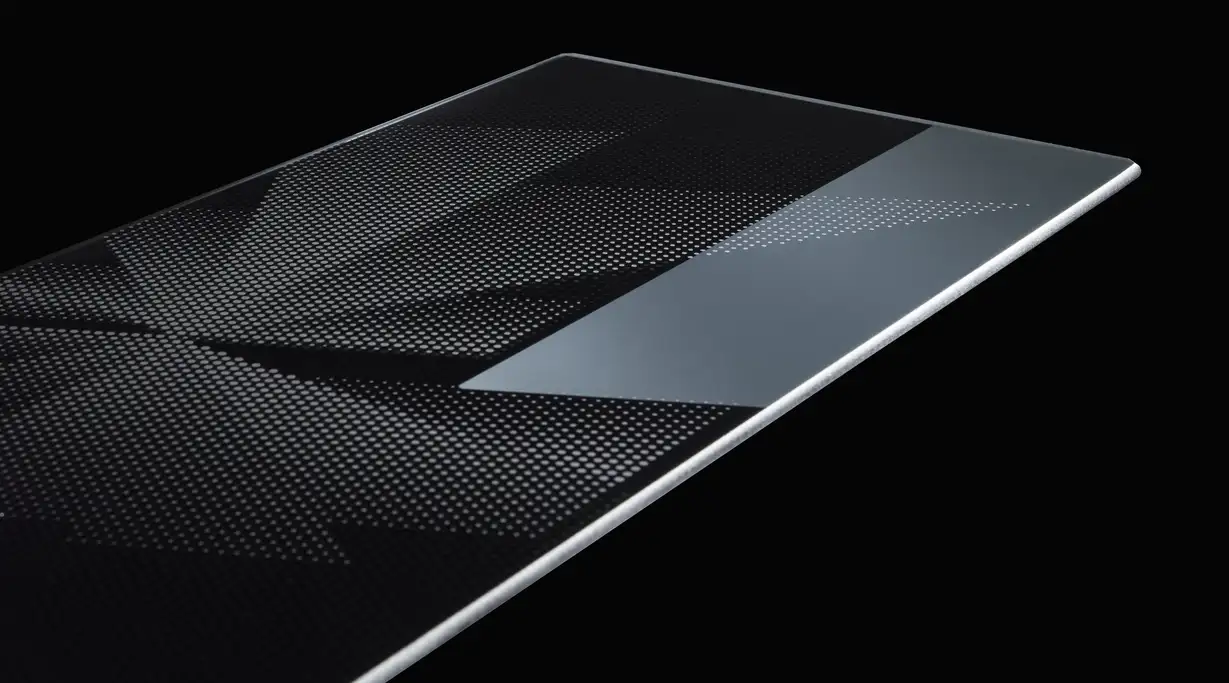 2/4
Highlight: Set the scene skillfully with accents.
With 'Highlight', you can set visual and haptic accents: Play with patterns and colorful accents and explore the effects in different glass types. Experience the visual and haptic effect of single elements that you want to set in scene.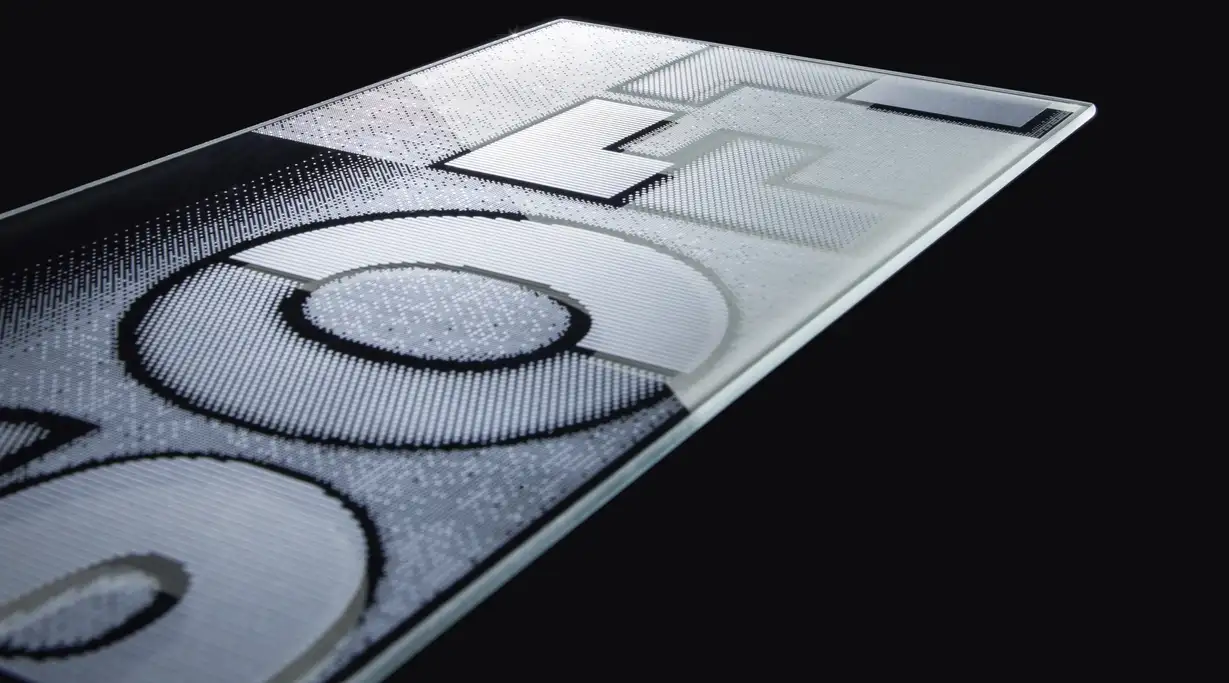 3/4
Soft: Timeless finesse meets new sensuality.
Discover a new visual sensuality. 'Soft' creates looks that are discreetly understated and eye-catching at the same time: Matt surfaces meet glossy details. Soft color gradients create warmth and lightness. Optics and haptics melt with each other.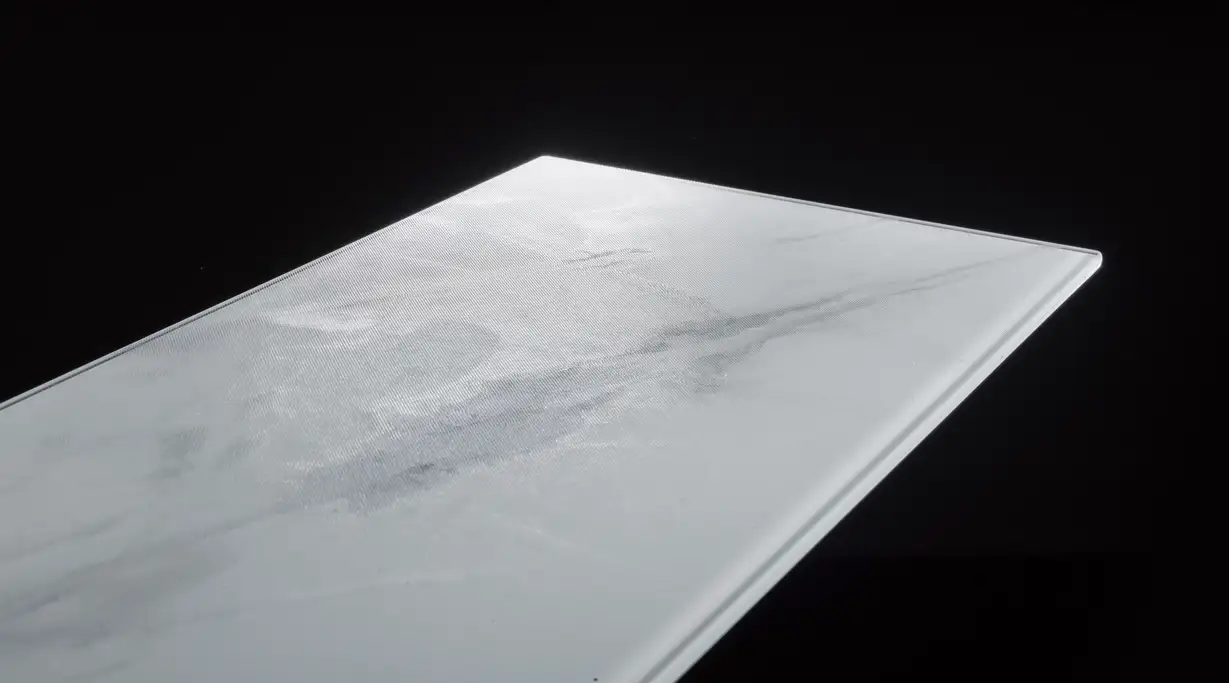 4/4
Natural: The feeling of nature printed on glass.
Let the uniqueness of nature become visible and tangible on glass! 'Natural' transfers the colors and the haptic experience of natural materials such as marble or slate on glass: You cannot only see natural materials… you can feel it!
Leave print restrictions behind.
The unique SCHOTT Duo Design screen printing technology opens up unlimited design possibilities for ceramic double-sided printing on glass. Create sophisticated prints, individual logo prints or haptic symbols for control panels on all types of soda lime glass. There are no limits to your ideas!
3D effects
Stunning effects through a combination of different patterns on front and rear side
Haptic experience
Printed structures on the front create a new haptic experience.
Distinctive branding
Durable logo print on the front side provides new design freedom
Impressive effects
Realize durable multicolor prints, softened mirror effects or gloss gradations
Anti-fingerprint
Satin color makes the glass surface less prone to fingerprints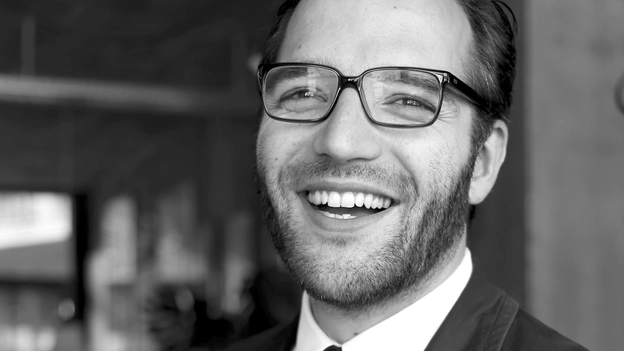 "Glass design gets a new variety. SCHOTT Duo Design allows the most diverse requirements to be met – no matter if they are of functional or aesthetic nature."