Processed Flat Glass
With the outstanding technical versatility of SCHOTT Processed Flat Glass we offer precision processing for reliable products, combining design excellence with advanced functionality and sustainability. With the availability of different thicknesses, shapes, colors, coatings and assembly options, our glasses are fully customizable according to customer requirements.

Glass options and cutting
We process all common float glasses, such as standard float glass (clear, extra white, tinted, or satinated), coated float glass (low-e, mirror, or anti-reflective), and SCHOTT BOROFLOAT®.

We offer the following automated processes for high-precision cutting to your required dimensions:
Automated straight cutting in two axes for rectangular glass panels.
Shape cutting for glass panels with complex forms.
Maximum standard: Width 1,200 mm, length 2,000 mm. Other widths and lengths are available upon request.
| Nominal Thickness (mm) | Tolerance (mm) |
| --- | --- |
| 3 - 3.2 | ± 0.2 |
| 4 | ± 0.2 |
| 5 | ± 0.2 |
| 6 | ± 0.2 |
| 8 | ± 0.3 |
| 10 | ± 0.3 |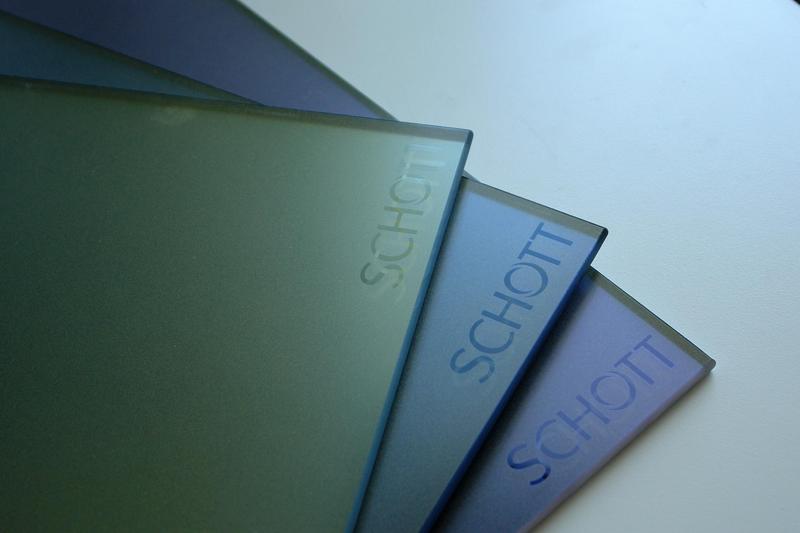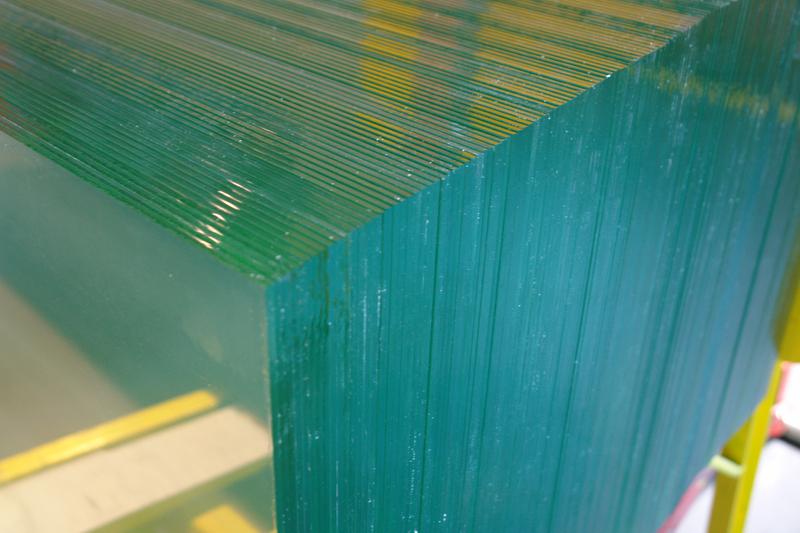 Edges and corners
SCHOTT offers a wide variety of edge and corner solutions.

Corner solutions include:
Dubbed corners: A dubbed corner has a smooth surface and makes the handling and assembly of the panels safer and easier (dub = 0.5 to 2.0 mm of glass).
Radius corners: The smallest possible standard radius is 3 mm. The tolerance is ± 0.5 mm (smaller radii are available on request).
Edge solutions include:
C-shape
Flat edges
Arrised edges
Bevelled edges for up to four sides
Ground or polished
Other versions are available upon request.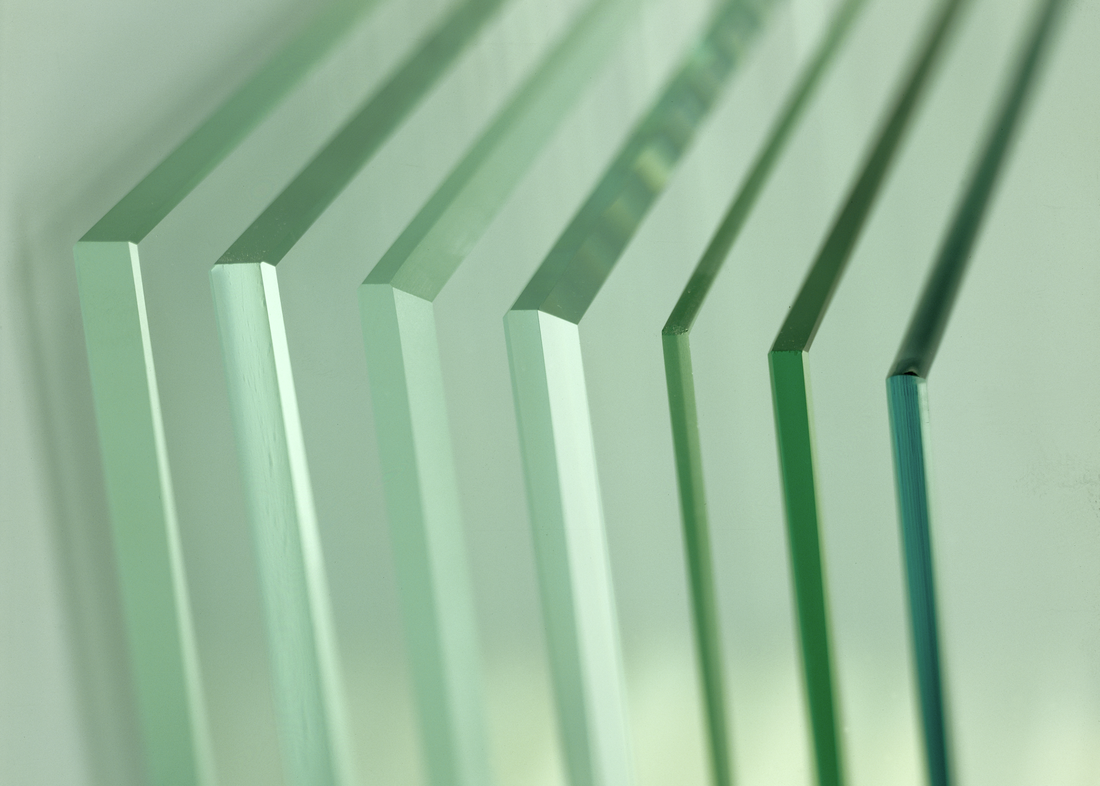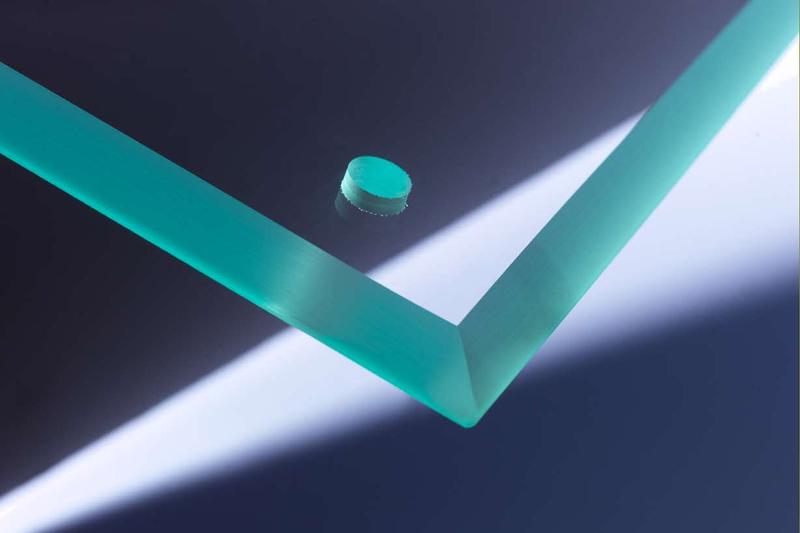 Holes and cut-outs
When precise drilling or complex cut-outs are needed, we have the ideal processes. Whether you require cut-outs on the outer edges or within a panel, we place these exactly at the same position on each piece of glass in a production batch. This is critical for achieving a smooth automated assembly in serial production. Whether it is tiny holes for shower head panels, larger holes for gas burners in cooktops, or complex cut-outs, we guarantee our customers a perfect result.

For the assembly of handles, knobs, hinges or gas burners, we process holes in a variety of shapes and sizes.
Hole diameter: 3.5 to 300 mm. Other dimensions available upon request.
Other types of cut-out such as rectangular and oval are available. Dimensions and tolerances are available upon request.
Special drilling process available for 0.5-40 mm with a tolerance of +/-0.05 mm.
| Hole Diameter (mm) | Diameter Tolerance (mm) | Position Tolerance (mm) |
| --- | --- | --- |
| = 3.5 to 100 | ± 0.5 | ± 0.3 |
| > 100 to 300 | ± 1.0 | ± 0.3 |
| Min. distance | Hole Diameter up to 60 mm | Hole Diameter 60 to 300 mm |
| --- | --- | --- |
| Minimum distance between edge of hole and edge of glass | Double glass thickness or 1.5 times diameter of the hole; the larger value applies up to a maximum of 50 mm | = 50 mm (smaller distance on request) |
| Minimum distance between two holes | Four times glass thickness | = 50 mm (smaller distance on request) |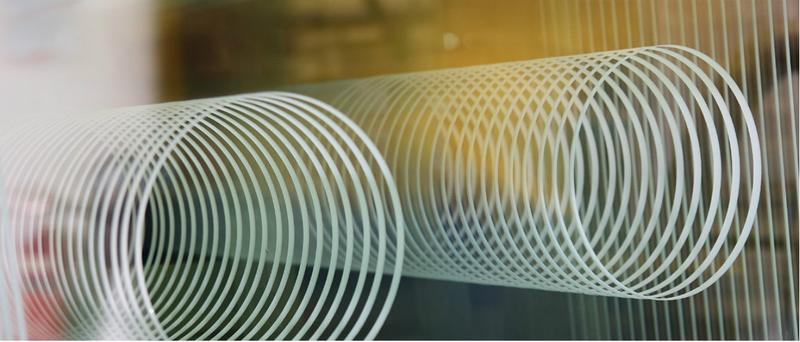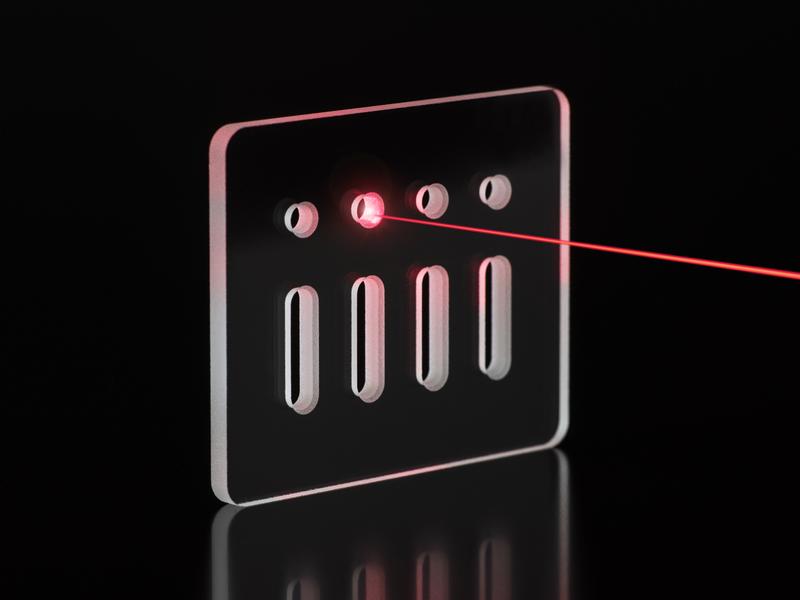 Print options
We print more than 2,000 customer-specific color tones every year, in precise and identical color tones for follow-up orders. Multicolor printing is one of our core competencies. Even when it involves printing ten or more colors on a single piece of flat glass, the finest of lines and symbols are clearly visible. Our effect printing capabilities include metal impressions, matt satin-finished surfaces, mirror elements, semi-transparent colors, front and back side printing on the same glass, and haptic effect printing. QR Code and barcode printing options are also available.

Since almost all our prints on flat glass require high mechanical and temperature resistance, we apply mainly ceramic colors. Organic colors are mainly used as light filters. Both color types can be printed in combination on the same glass panel, and almost all color shades are available by color matching.

We also offer functional prints, such as special colors for infrared sensors and capacitive buttons or black-panel print solutions, so that the operating elements can be perfectly integrated. We use conductive inks for printed circuits on control panels where we print circuits directly onto the glass, making the use of PCB unnecessary. This extends the lifespan and enables a thinner, more flexible construction. With suitable interfaces for the assembly of electronic components or capacitive sensors, the number of design options increases. Similar advantages can be found for printed heating circuits on glass for heating units or warming plates where foils can be eliminated to offer a very long lifespan.


| Print area (%) | Multicolor printing (No. of colors) | Min. thickness printed line (mm) | Minimum diameter printed dot (mm) | Tolerance between two printed operations (mm) |
| --- | --- | --- | --- | --- |
| 0 - 100 | > 10 | 0,5 | 0,5 | ≤ 0.3 |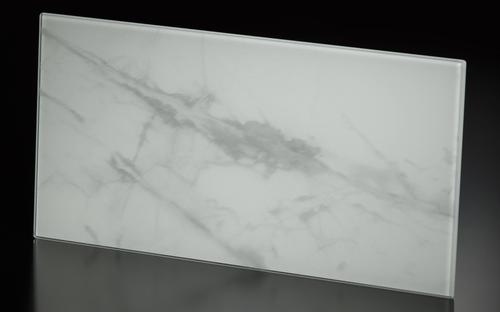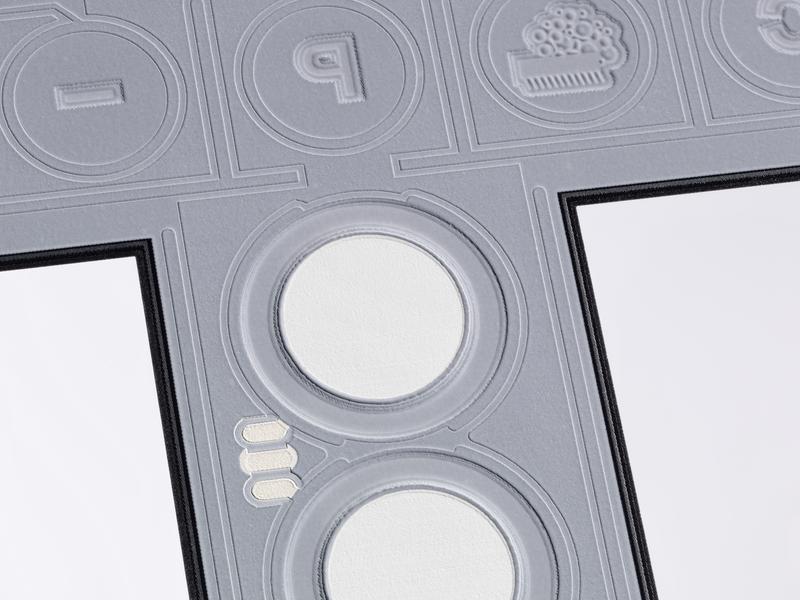 Coatings
Depending on the application, we offer a number of coating options. We develop innovative and functional coatings in-house. All our coatings meet the requirements of the applicable norms and standards, and are fully compliant with Reach and RoHS.

Our coatings are characterized by:
High homogeneity.
Ultra-thin thickness.
Excellent optical properties.
Good mechanical and chemical resistance.
They can be applied on conventional float glass.

Typical coatings include:
Heat-reflecting coatings (Low-e ) – single or double-side coated.
Anti-reflective coating.
We also provide coating developments.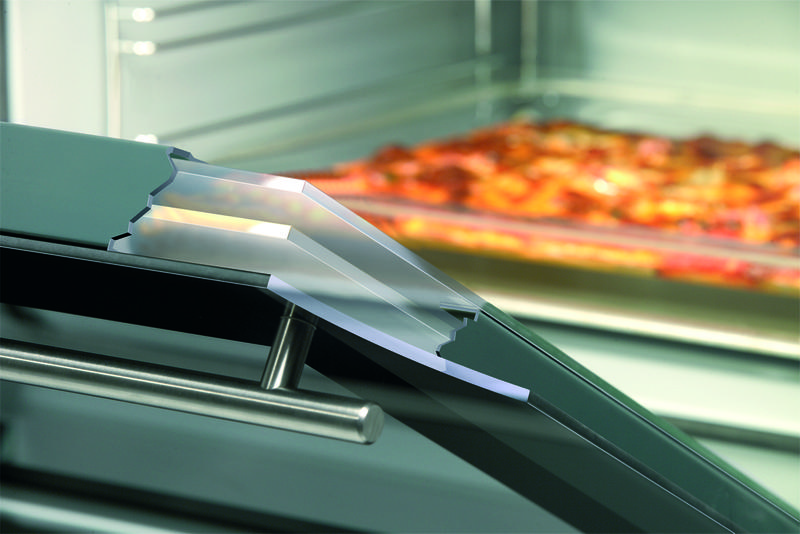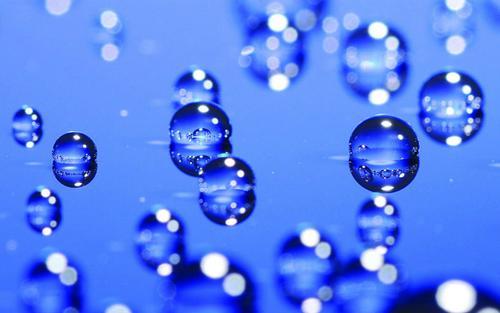 Tempering
Having high mechanical shock resistance as well as thermal resistance is especially important in the day-to-day life of glasses used in kitchens or bathrooms.

Whether uncoated or coated, tinted or untinted, all types of soda-lime glass are thermally tempered and leave our production sites as security glass. The key advantages of this include the glass shattering into small particles if damaged, which increases the safety level.
During the 'thermal tempering' process, the glass is first heated then quickly cooled in the tempering furnace. The tension generated in the material results in an increase in breaking strength under mechanical and thermal stress. Our glass undergoes this process at a constantly high level and complies with the relevant international standards, such as EN, ASTM and UL, with regards to mechanical impact and thermal shock.
Benefits for your products include:
Flat glass with high thermal shock resistance.
High shock and impact resistance.
A perfect look of your product – even after many years.
Meets all required standards.
Fragmentation increases the safety level. In case of damage, the glass shatters into small particles.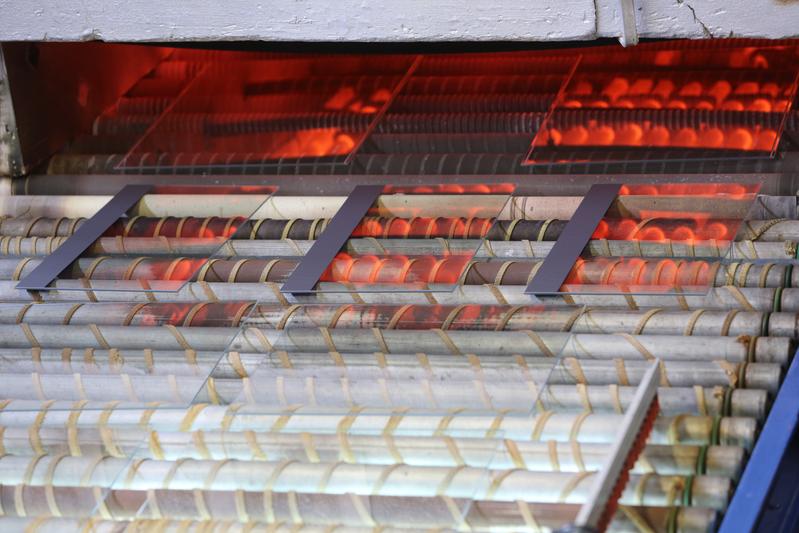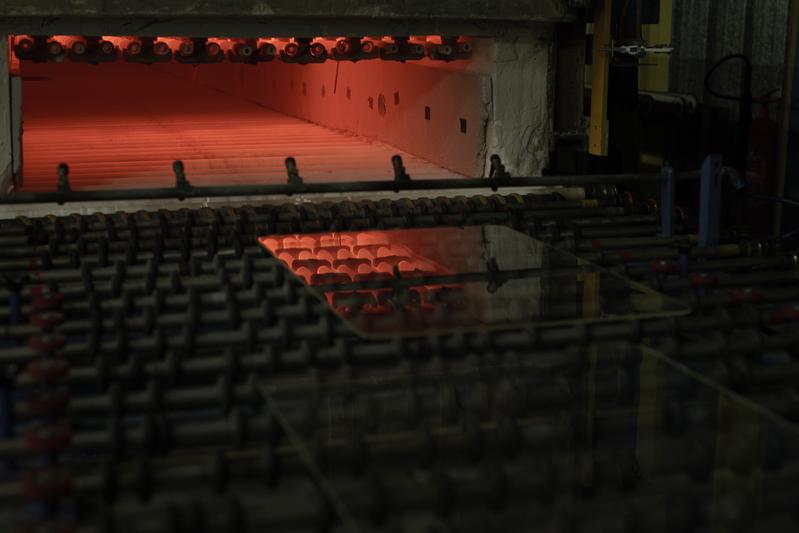 Assembly
We offer additional services in the assembly of glass panels with supplementary components. We can glue components onto glass, mechanically fix elements and laminate glass, as well as manufacture insulating glass units. Bonding other materials to glass can be a tricky process, but thanks to our experience, we can select the appropriate material and test it together with you to find the perfect solution for a range of applications, including refrigerator shelves, baking oven doors, and washing machine lids.

Our assembly competencies include:
Bonding of various materials to glass with special glues.
Application of foils and tapes to improve safety.
Integration of LED lighting.
Soldering connections.
Mechanical assemblies of trims and profiles, handles and hinges, and oven doors.
Other assembly options are available upon request.