ColdVision Fiber Optic Light Guides
The range of machine vision equipment and configurations is vast, so SCHOTT has a portfolio of modular illumination products able to combine to fit all common inspection applications. Our ColdVision Light Guides offer flexibility, versatility and reliability, with the option of customized solutions.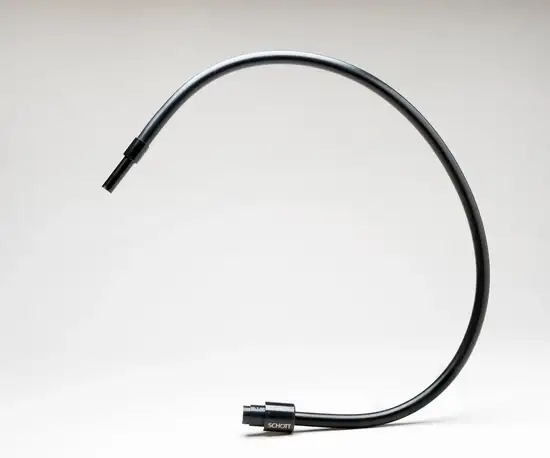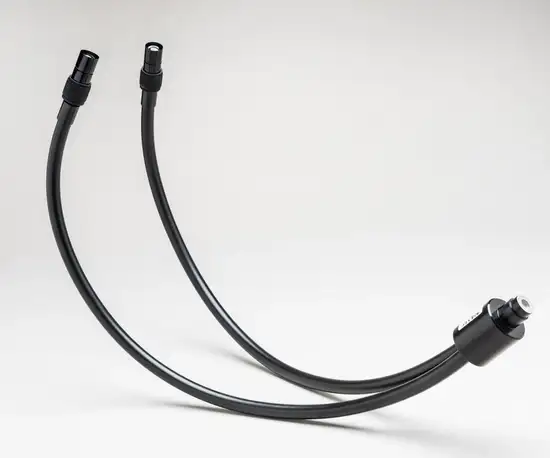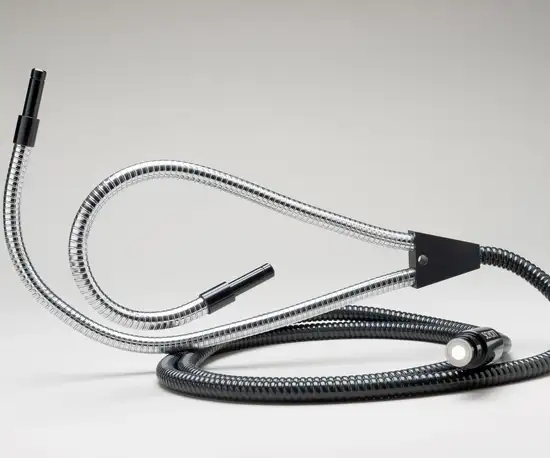 Gooseneck Light Guides - ColdVision Series
Gooseneck light guides deliver incident illumination that remains in place after positioning. Generally used to highlight structures through shadows in space-constrained applications, these trusted light guides offer both flexibility and mechanical stability.
CHARACTERISTICS

These highly versatile flex-and-stay light guides are available in a range of options, including one or two branches, and chrome-plated semi-obedient metal or black dekabon. Gooseneck light guides are also available as a combination of a 2-branch gooseneck plus flexible bundle (Combination Light Guide), and a dual-focusing light guide with permanently attached spot lenses. A range of focusing optics and filter accessories are also available.


YOUR ADVANTAGES
Mechanical stability enables long-term usability.

Flexibility enables precise positioning for complete control of light placement.

The combination light guide can be stationary, fixed at the microscope post.

Dual models illuminate a workspace with a single light source.

Gooseneck legs placed in opposing positions create shadow-free illumination.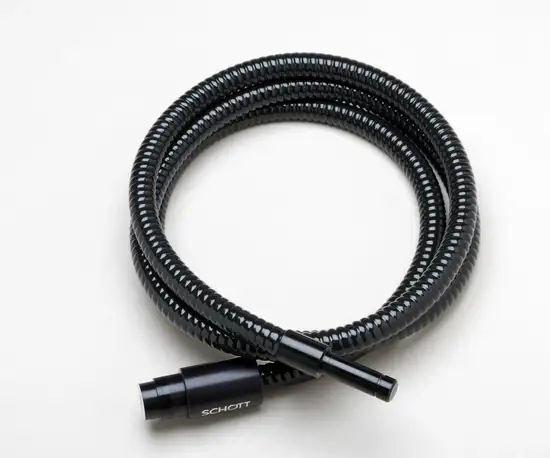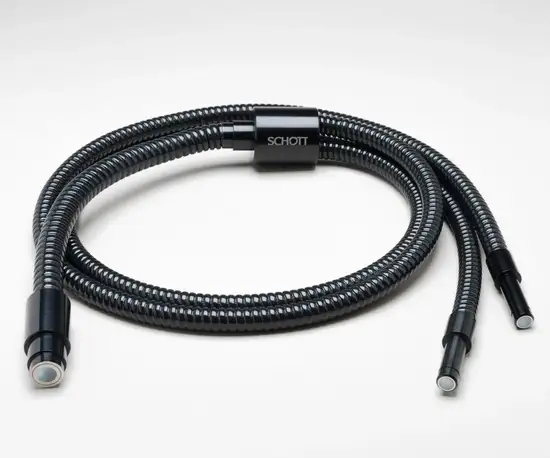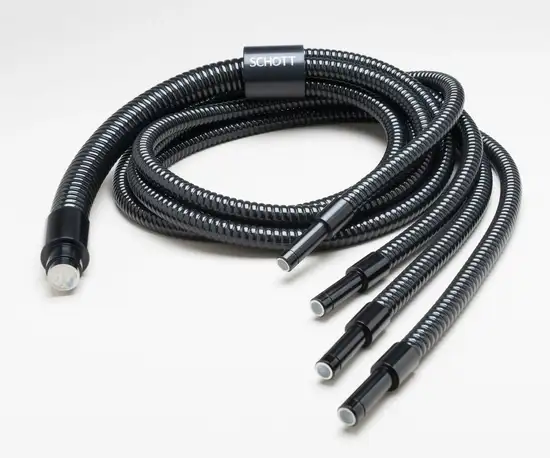 Flexible Bundles - ColdVision Series
As the name suggests, flexible bundles are highly flexible and generally used to highlight structures through shadows. In contrast to gooseneck light guides, they offer a higher flexibility and need to be held.
CHARACTERISTICS

Available with one, two or four branches, flexible bundles come in a variety of standard sizes, all with a tight bending radius for easy routing. With a range of compatible focusing optics, filters and mechanical accessories, they are also available as randomized versions to improve spot uniformity.

YOUR ADVANTAGES
High flexibility for different light requirements, as well as remote illumination.
Randomized bundles with multiple outputs can be calibrated to deliver a matching output within ~5 % bundle-to-bundle.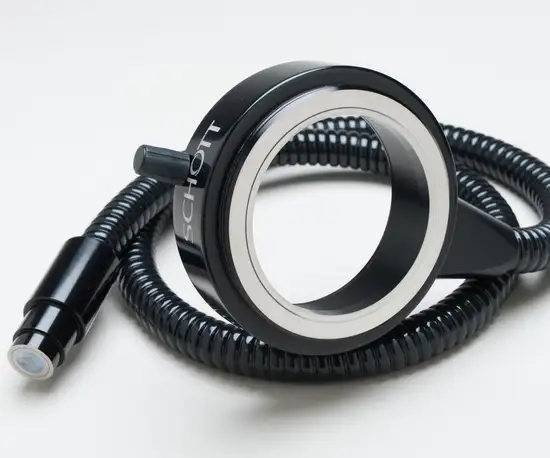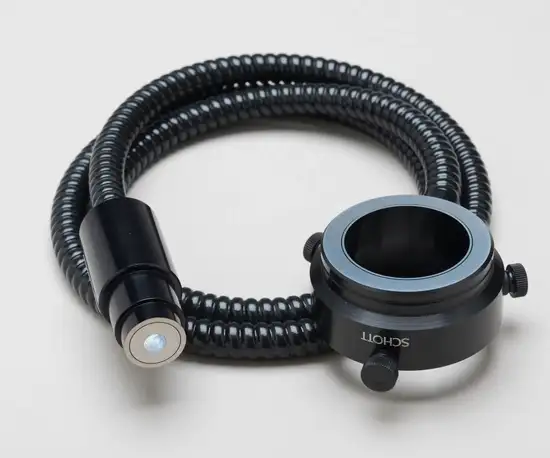 Ring Lights - ColdVision Series
Ring Lights offer absolute shadow-free illumination. Using a range of diameters and mechanical adapters, the ring lights can be configured to fit many different objective sizes.
CHARACTERISTICS

The universal SCHOTT Ring Light – ColdVision Series fits microscope and camera objectives from 47-62 mm with appropriate clamps. A four-inch ring light is available with randomized fiber bundle for optimum uniformity. With housing made of rugged, black anodized aluminum, and the fiber bundle protected by flexible metal PVC sheathing, SCHOTT Ring Lights are tough, dependable and long-lasting.


YOUR ADVANTAGES
Annular ring lights offer absolute shadow-free illumination.
Vertical exit bundle option increases work space and prevents the bundle from interfering with surrounding objects.
ESD (Electro Static Discharge) option is available.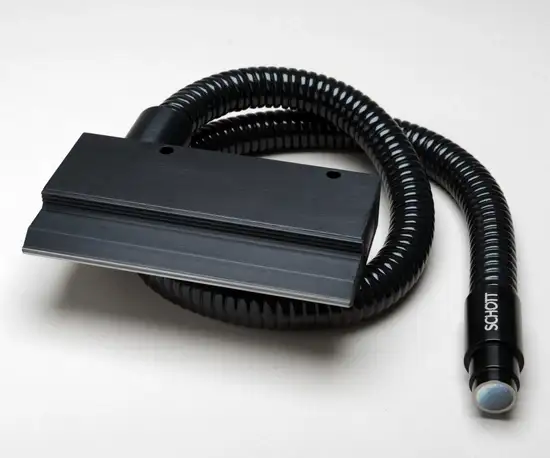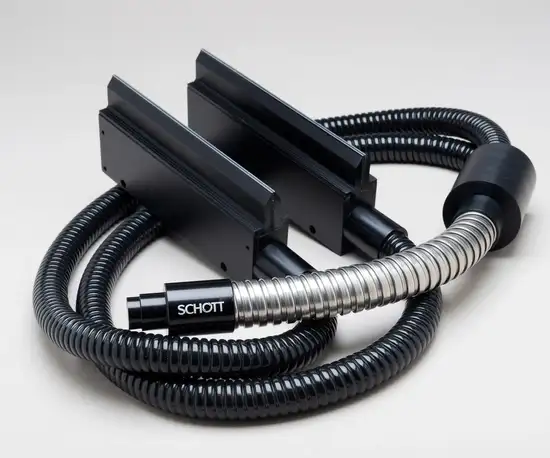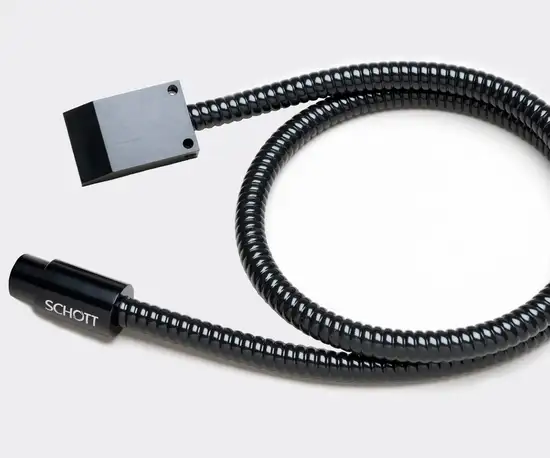 Line Lights - ColdVision Series
Suitable for narrow and elongated illumination in microscopy and machine vision inspection, line lights offer high uniformity thanks to randomization. With a range of accessories and customized options, we can develop a bespoke line light solution for your application.
CHARACTERISTICS
Ideal for line scan cameras, SCHOTT Line Lights – ColdVision Series offer intense calibrated homogeneous illumination, with the availability of randomized line light for maximized uniformity and redundancy. A rugged aluminum body, light source ferrule with black anodized finish, and PVC-covered metal tubing that protects the fiber bundle, results in a tough lighting solution with exceptional strength and versatility.


YOUR ADVANTAGES
Our line light accessory range includes cylindrical, apertured lenses and mechanical holders.
Accurately positioned fiber line within the body on all three planes assures that the fiber axis will be parallel with the mounting surface of the body.
Custom lengths, bundle exits, multiple combinations (dual, quad, etc.) and line widths can be designed for your unique requirements.

The 1", 2", and 3" sizes of line light all offer a narrow, elongated body design.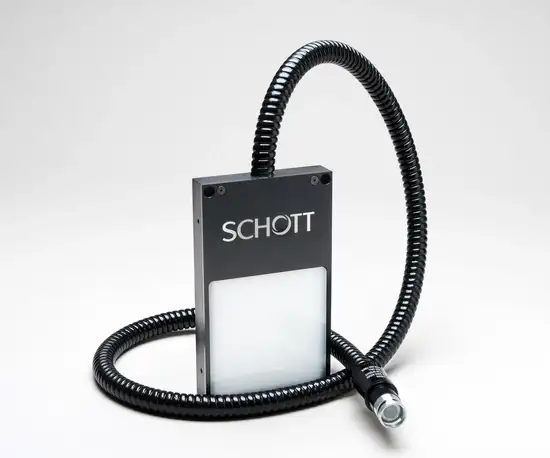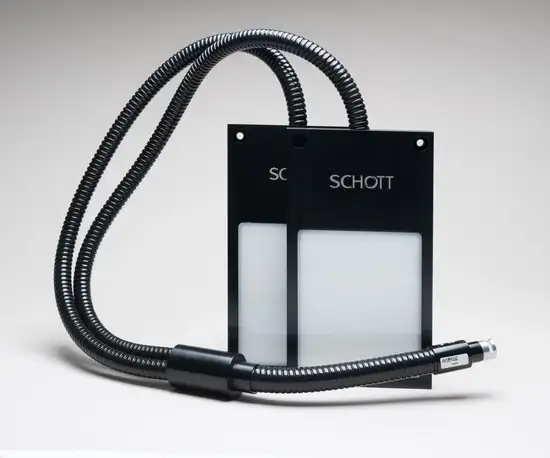 Back Lights - ColdVision Series
Back lights can be used to create a crisp edge definition or soft, diffuse incident light for a range of applications with limited space. Those applications include glass inspection, edge detection, photography and instrumentation display.
CHARACTERISTICS
SCHOTT Back Lights – ColdVision Series are available in a number of formats, including dual and quad back lights, which increases their range of applications. All units come with a protective IR filter included and the back light housing is made of rugged, black anodized aluminum. As the fiber bundle is also protected by flexible PVC-covered metal tubing, this results in a exceptionally robust and long-lasting source of illumination.


YOUR ADVANTAGES
Compact, low-profile housing that fits into small spaces.
White acrylic diffuser plate and calibration process that provides the optimum combination of uniformity and intensity.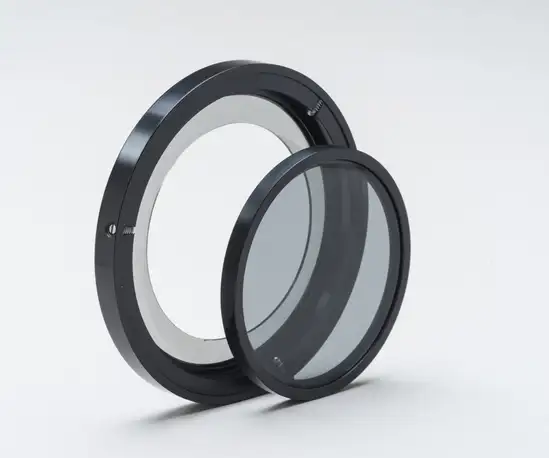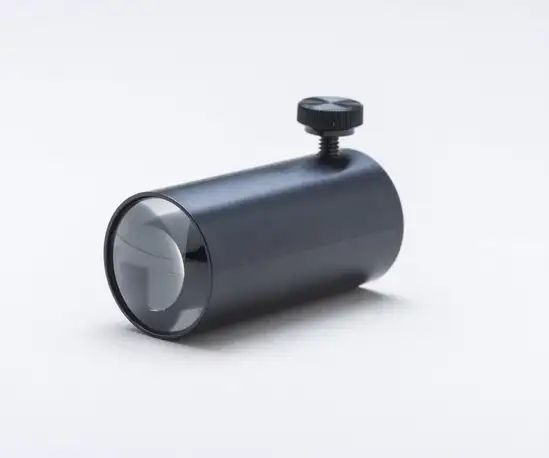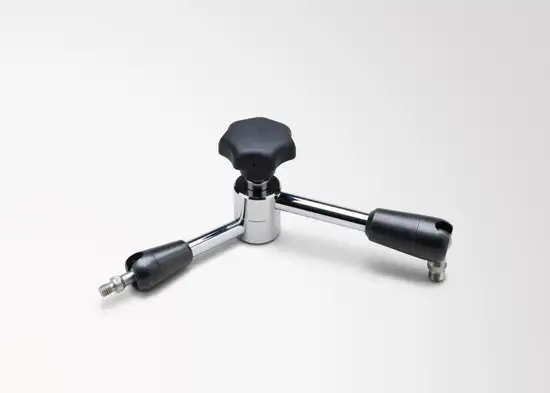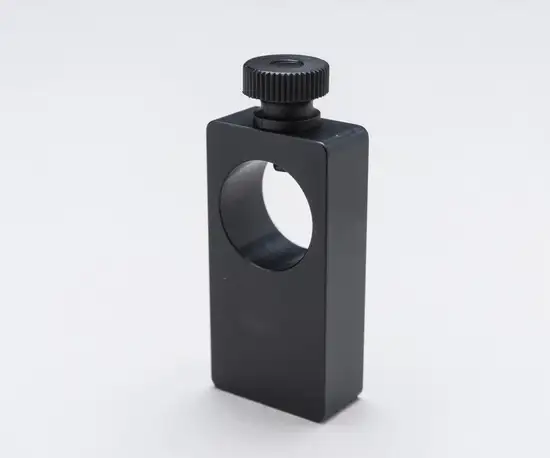 Accessories - ColdVision Series
SCHOTT Light Guides – ColdVision Series come with an extensive range of accessories, which offers even more options for contrast enhancement in all applications. Our optical accessories include focusing lenses, cylindrical lenses for line lights, and a wide variety of filters, while mechanical accessories include an articulated arm and base, as well as holders for different size light guides, focusing lenses and adapters for ring lights.
CHARACTERISTICS

All ColdVision accessories are designed for stability, easy handling and optimum performance of the light guide range. While focusing lenses can increase light intensity at the spot center, additional contrast can be achieved with a range of optical filters. Adapters are also available for different lens sizes.


YOUR ADVANTAGES

Polarization filters have a perfect extinction ratio.
Color filters demonstrate high transmission and remain unaffected by light-entrance angle.
Mechanical accessories offer precise positioning of light guides.