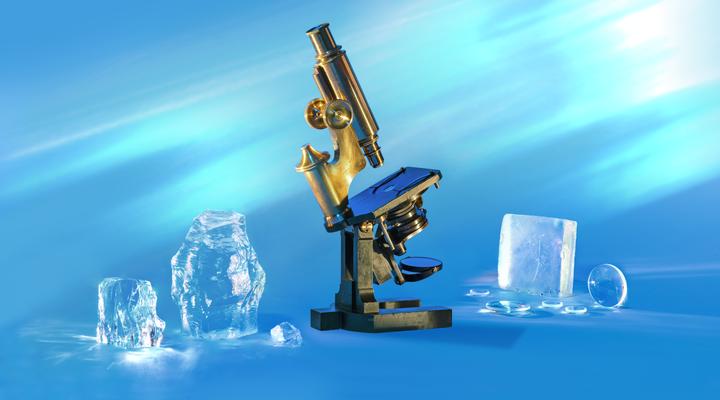 Innovation History
The founder of SCHOTT, Otto Schott, is considered to be the inventor of specialty glass and the trailblazer of the specialty glass industry. With his groundbreaking glass developments, he embedded a pioneering spirit deep in the SCHOTT DNA more than 130 years ago. Since then, SCHOTT #glasslovers have been constantly opening up new markets and applications with increasingly exciting innovations.
1884
Optical glasses for premium microscopes
In the early days of the company, Otto Schott focused on developing optical glasses, and is the first person to develop glasses with precisely defined optical properties such as light refraction and color dispersion. These new glasses enabled Carl Zeiss and Ernst Abbe to build the best microscopes in the world in their optical workshop.

Otto Schott also enabled further exploration of the universe. In 1894, he began producing optical disks with diameters up to 140 cm for refracting telescopes.
1887
Borosilicate glass for technical applications
Otto Schott soon began to develop glasses for other technical applications. Using boric acid, he invented borosilicate glass, which had three very special properties: extraordinary resistance to heat, strong resistance to chemicals, and exceptional resistance to abrupt changes in temperature.

The first application of borosilicate glass was in technical thermometers (from 1891), which enabled temperature measurements up to 500 ºC for the first time. From 1893, laboratory glassware made using borosilicate glass catalyzed enormous progress in global science, while, from 1895, borosilicate glass lamp cylinders helped gas incandescent lighting technology to achieve a breakthrough. And from 1911, FIOLAX® borosilicate glass tubes became the standard for glass packaging in the pharmaceutical industry.
1939
Glass-to-metal seals for electronics
Developed in 1939, hermetic glass-to-metal seals provided reliable, long-term protection for the emerging electronics industry. The first area of application was capacitors for aircraft radios, while the vacuum-tight fusion of glass with metal is now used for the insulated feedthroughs of electrical conductors in hermetically sealed housings. Since 2001, ceramic-to-metal seals have been a key part of SCHOTT's Electronic Packaging portfolio for electronics and high-speed data transmission.
1968
ZERODUR® glass-ceramics for the world's largest telescopes
In the 1960s, researchers at SCHOTT began the development of glass-ceramic as a new glass family. With its extremely low thermal expansion, in 1968, ZERODUR® ushered in a new era of telescope mirror substrates and quickly became the quality standard. The largest mirror substrate of the first order series was used in the 3.5-meter telescope in the Calar Alto Observatory in Spain.

In 1991, SCHOTT began manufacturing mirror substrates in the eight-meter class using a newly developed centrifugal casting process. Four of them are used in the Very Large Telescope (VLT) of the European Southern Observatory (ESO) in Chile.

The ESO also relies on ZERODUR® for its Extremely Large Telescope (ELT). With a diameter of 39 meters, the main mirror will be assembled from around 800 hexagonal ZERODUR® elements. When the ELT goes into operation in 2025, it will be mankind's largest and most powerful tool for looking at the universe.
1971
CERAN®glass-ceramics - revolution in the kitchen
In 1971, the household appliance manufacturer Imperial presented a stove with a SCHOTT CERAN® glass-ceramic cooktop surface for the first time. In 1973, SCHOTT started series production of this innovative cooktop.
With CERAN®, SCHOTT brought about a revolution in the kitchen. Cooking on conventional iron plates was now out; the cooking experience on a flat glass-ceramic surface became now state of the art. It combined much easier handling and care with energy savings and attractive design. CERAN® quickly became the global standard for glass-ceramic cooktop panels.
To date, 50 years after its market launch, SCHOTT has sold 200 million units.
2002
Expansion of materials competence with polymer
Starting in 2002, SCHOTT expanded its material competence with a plastics innovation. SCHOTT was the first company in the world to manufacture prefillable syringes from the high-tech polymer COC (cyclo-olefin copolymer).
The SCHOTT TopPac® polymer syringes are break-resistant and lightweight, yet as transparent as glass, and also have good barrier properties.
They are used for the administration of sensitive biotech drugs or highly-viscous pharmaceuticals, as well as in applications where glass syringes are less advantageous due to their fragility, for example in emergency medicine.
With a broad portfolio of glass syringes and polymer syringes, SCHOTT now covers all requirements from a single source.
2013
Ultra-thin glass - the thinnest glass in the world
As early as the late 1980s, SCHOTT succeeded in manufacturing thin glasses with thicknesses of 0.035 to 0.055 millimeters for applications in electronics and medicine.
Then, in 2013, the company launched an ultra-thin glass with a thickness of just 0.025 millimeters. It is the thinnest glass in the world, thinner than a human hair, yet extremely stable and flexible. With these properties, it offers completely new application possibilities, for example for smartphones and tablets with foldable displays.