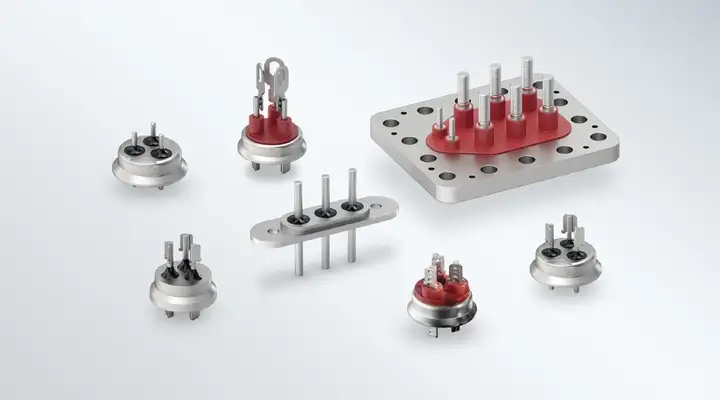 CompRite™ Compressor Terminals
Compressor terminals supply electricity to compressors in applications such as refrigeration, chilling, and air conditioning. Compressor terminals prevent refrigerant leakage and maintain hermeticity under adverse operating conditions to support efficient and reliable functionality of compressors.
Superior insulation and long-term durability
SCHOTT's compressor terminals use extremely reliable compression glass-to-metal sealing technology to maintain long-term compressor functionality – even under extreme environmental conditions. SCHOTT develops and manufactures compressor terminals to meet customer requirements, including high pressure resistance, high voltage, and high current. SCHOTT also offers standard products as well as custom-made compressor terminals.
Explore material properties in detail
Pressure resistance
Available designs to support CO2 refrigerants, which require high pressure resistance.
Electrical insulation
Glass, rubber, and/or ceramics all available to be used as insulation materials, depending on customer requirements.
High current capacity
Pin material optimized to support high current.
Broad product line
Broad range of designs available, from standard products to custom-made terminals.
Discover why compressor terminals are so important for automotive air conditioning systems.