Attractive even when turned off: SCHOTT glass-ceramic turns wood-burning fireplaces into eye-catchers
Wednesday 4 May 2022 , Mainz , Germany
The new ROBAX® NightFlame fire-viewing panel enables elegant fireplace design at any time of day or year
The semi-transparent black glass-ceramic provides an incomparable fireside experience and reduces the view into the combustion chamber when flames are extinguished
ROBAX® NightFlame can be seen at the Progetto Fuoco 2022 in Verona
In order to create a cozy atmosphere around a crackling wood fire, fireplace manufacturers are constantly developing new product designs. A fire-viewing panel sets the scene for a fascinating play on flames. This is also the case for the new semi-transparent black glass-ceramic ROBAX® NightFlame from SCHOTT. When the fireplace is on, it provides a view of an impressive wood fire and when the fireplace is turned off, its dead-front effect reduces the visibility of combustion residue and dirt. Glass-ceramic expert SCHOTT will be showing this new material innovation for wood-burning stoves at the Progetto Fuoco trade show in Verona, Italy (May 4 to 7, Hall 8, Booth B74).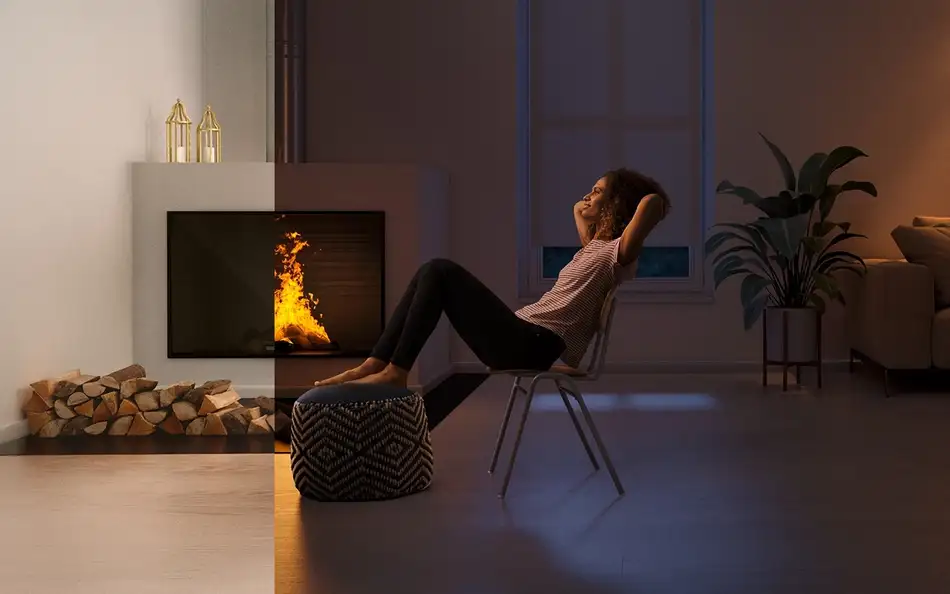 Particularly on cold winter evenings, there is nothing cozier than a crackling fireplace. But even on bright summer days, a fireplace stove is an integral part of the interior – even without a fire burning. "The challenge for fireplace manufacturers is to create design objects that give people an optimal view of the flames while simultaneously blending elegantly into their room concept," explains Martin Endres, Vice President Marketing & Sales at SCHOTT ROBAX®. "That's why we have developed a premium product in a small series with strong advantages for end users," Endres adds. Due to its special material composition, the new ROBAX® NightFlame glass-ceramic creates a natural dead-front effect. When no flames shining through the glass-ceramic fire-viewing panel from behind, it appears black. The combustion chamber of the fireplace, combustion residues, soot, and other dirt thus remain hidden behind an elegant front. However, when a cozy wood fire is blazing in the fire box, the glass-ceramic allows a view of the flames that is similar to a transparent ROBAX® fire-viewing panel. This innovation can be seen live for the first time at Progetto Fuoco 2022 (Hall 8, Booth B74).
Transparent fire-viewing panels for more aesthetics and sustainability
Under the motto "SCHOTT ROBAX®. Life. In front." SCHOTT is bringing other solutions for spectacular fireplace designs along in its trade show luggage in addition to its innovation for wood fireplaces. The ROBAX® NightView glass-ceramic, which recently won the German Design Award 2022, also transforms pellet stoves into design objects, for example. The tinted black fire-viewing panel creates new visual effects and provides an attractive alternative to double glazing. It can already be seen in fireplace manufacturer MORETTI DESIGN's "DREAM" pellet stove (Hall 6, Stand C40). "Thanks to ROBAX® NightView, we were able to realize an innovative design in our DREAM: a pellet stove that elegantly blends into any living room thanks to its tinted viewing panel. No matter whether the stove is on or off," emphasizes Stefano Moretti of MORETTI DESIGN.
The coated glass-ceramic ROBAX® IR SuperMax ensures more sustainable heating. It reflects significantly more heat radiation back into the combustion chamber than an uncoated ROBAX® fire-viewing panel – and does so without any loss of performance when used as intended over the entire combustion period of the fireplace. More efficient combustion can thus take place in the combustion chamber, which can also help to reduce emissions and soot deposits. ROBAX® IR SuperMax was awarded the German Innovation Award in 2021.


Links:
More about SCHOTT ROBAX®
Trademarks:
ROBAX® is a registered trademark of SCHOTT AG.
Pioneering – responsibly – together
These attributes characterize SCHOTT as a manufacturer of high-tech materials based on specialty glass. Founder Otto Schott is considered its inventor and became the pioneer of an entire industry.Always opening up new markets and applications with a pioneering spirit and passion – this is what has driven the #glasslovers at SCHOTT for more than 130 years. Represented in 34 countries, the company is a highly skilled partner for high-tech industries: Healthcare, Home Appliances & Living, Consumer Electronics, Semiconductors & Datacom, Optics, Industry & Energy, Automotive, Astronomy & Aerospace. In the fiscal year 2021, its 17,300 employees generated sales of 2.5 billion euros. SCHOTT AG is owned by the Carl Zeiss Foundation, one of the oldest foundations in Germany. It uses the Group's dividends to promote science. As a foundation company, SCHOTT has anchored responsibility for employees, society and the environment deeply in its DNA. The goal is to become a climate-neutral company by 2030.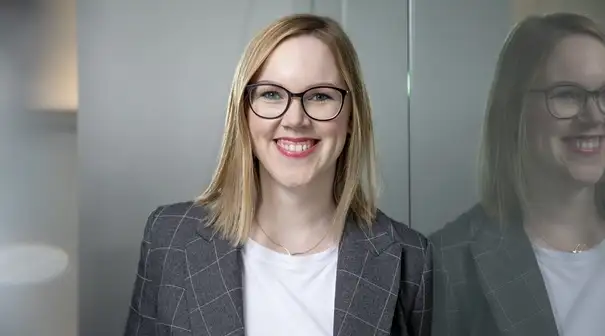 Lea Kaiser
PR & Communications Manager