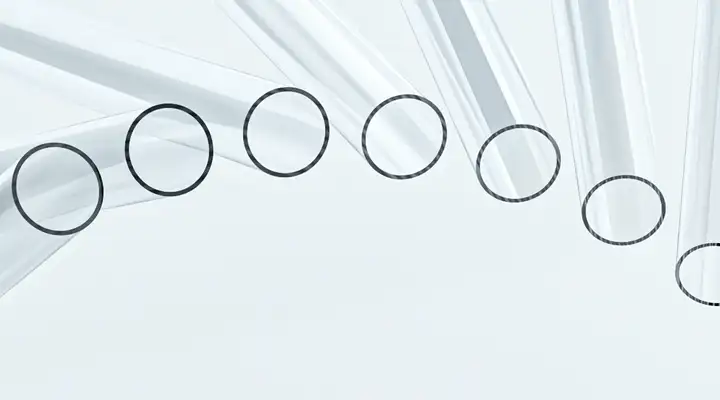 Glass Tubing with High UV Transmission
SCHOTT sets the standard for glass tubing with high UV transmission, demonstrated by SCHOTT 8337B,

RayVolution® D 99

and 8347 glasses. Robust and heat-resistant, they are especially suitable for sealing with tungsten or the alloy Kovar, which makes them a major asset in UV lighting and sensing applications.
Technical quality for cost-effective processing
SCHOTT RayVolution® D 99, 8347 and 8337B glasses have a wide range of impressive technical properties. As well as high transparency and matched sealing options, they offer low temperature processing, which together with precise dimensions and tight tolerances enable our customers to achieve high yields from cost-effective automatic processing.
EXPLORE MATERIAL PROPERTIES IN DETAIL
High UV transmission
SCHOTT UV transmitting glass tubing offers transmission comparable to quartz materials in the deep UV range.
Low working temperature
SCHOTT 8337B and RayVolution® D 99 glass tubing offer especially low working temperatures for further processing.
Matched thermal expansion
SCHOTT 8337B forms a strong and direct bond with Tungsten and the iron-nickel-cobalt alloy Kovar. 

Impressive impermeability
High geometrical accuracy and unique properties provided by Tungsten- and Kovar sealable 8337B and Rayvolution® D 99 glass lead to long lifetime of devices.