Technical Details of the SCHOTT TOPPAC® Syringe
SCHOTT TOPPAC® is delivered ready for the filling process. The COC containers are packed in a nest which is placed into a tub. The tub is covered by a Tyvek® inlay, placed in the tub and sealed with a Tyvek® seal. After being packed in double polyethylene bags, the tubs are sterilized. This allows fast and efficient integration in existing filling lines.
SCHOTT TOPPAC® Material Properties
The SCHOTT production process ensures that SCHOTT TOPPAC® is made of 100% uniform material. The material offers optimal barrier properties for water vapor and oxygen permeability, as well as light protection for the long-term storage of a broad range of parenteral products such as protein-based drugs or products with extreme pH values.
The production of SCHOTT TOPPAC® is a continuous, fully integrated process that takes place in a class B clean room. It starts by transferring TOPAS®1 granulate from silos directly to the injection moulding machines.
TOPAS® 6013 – the raw material for SCHOTT TOPPAC®
The basic material for SCHOTT TOPPAC® containers is TOPAS® 6013, an advanced Cyclic Olefin Copolymer (COC) which is manufactured in accordance with EP, JP, and USP class VI (DMF 12132) standards. It's based on metallocene technology and used as the standard raw material for all available formats.
The benefits of TOPAS® are:
Transparent (glass-like appearance)
No ion or heavy metal release due to its biologically inert COC material
Non-polar syringe contact surface
Excellent moisture barrier properties
Physical Properties of COC Polymer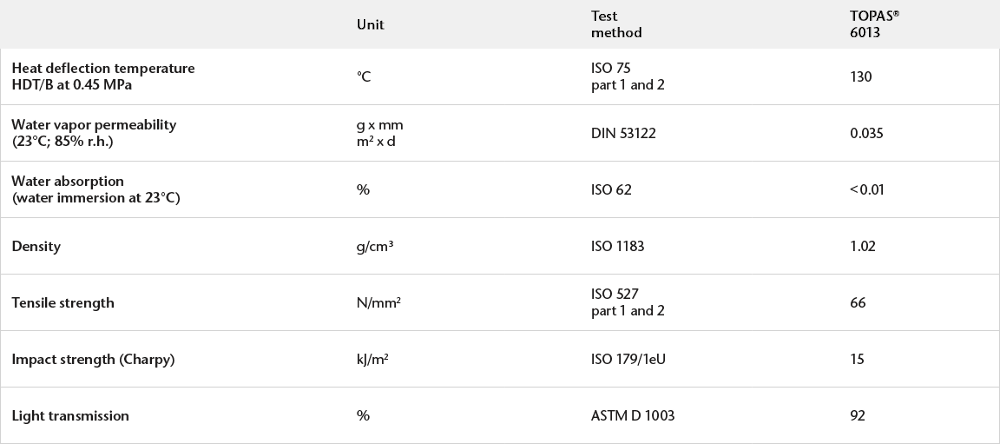 Water vapor permeability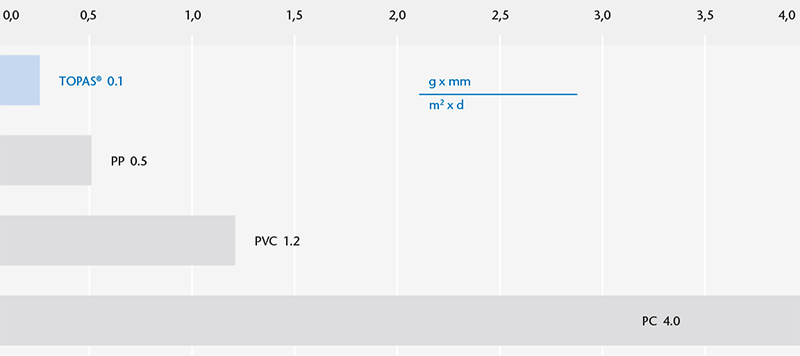 1 TOPAS® is a registered trademark of TOPAS Advanced Polymers GmbH (www.topas.com)

System Offering
Barrel
Injection molding allows for small tolerances and little dead space.
Material has inherently great breakage properties.
Light weight and glass-like appearance.
High design flexibility allows easy customization.
Higher precision forming.
Reactive silicone cocktail that's cross-linked in the process to reduce the free silicone quantity, which keeps break loose and gliding forces constant over time and reduces the risk of drug interaction with silicone (precise and smooth drug application through distinctive barrel wall thickness and crosslinked siliconization).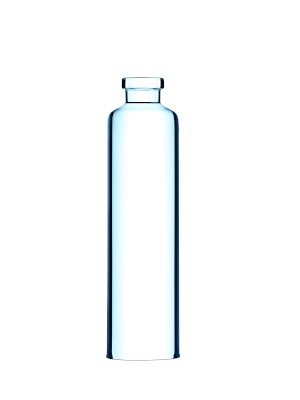 Ready-to-use
RTU packaging: industry standard tub and nest configuration for high speed and easy filling.
Easy integration into existing filling lines.
Wide range of sterilization options: Gamma, X-ray, Eto, steam and no steam.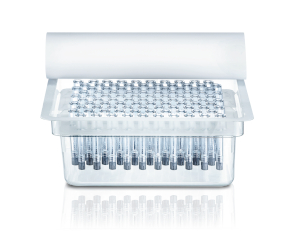 Components
Wide range of components to make the drug injection process easier and more comfortable for HCP and patient.
Components are available in different designs and materials for different applications, e.g. Dätwyler FM 257 for tip cap and rigid cap and Dätwyler FM 257 and FM 457 for plungers.


Documentation
System development
Regulatory support
DHF
DMF
Leverage existing SCHOTT TOPPAC® documentation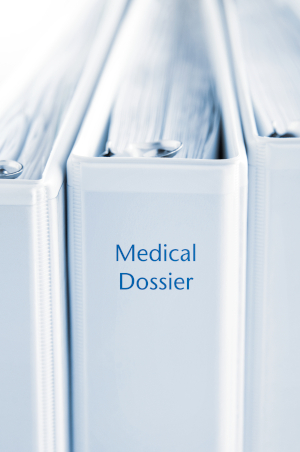 SCHOTT TOPPAC® syringes are available as complete systems, including components such as plungers and plunger rods, as well as integrated Luer Lock adapters where a tip cap or a rigid cap is assembled.
The Luer Lock minimizes leakage and needle pop-off, and enables compatibility with needleless IV connectors, syringe pumps and other devices such as NLADs.
SCHOTT TOPPAC® syringes are available in the following dimensions: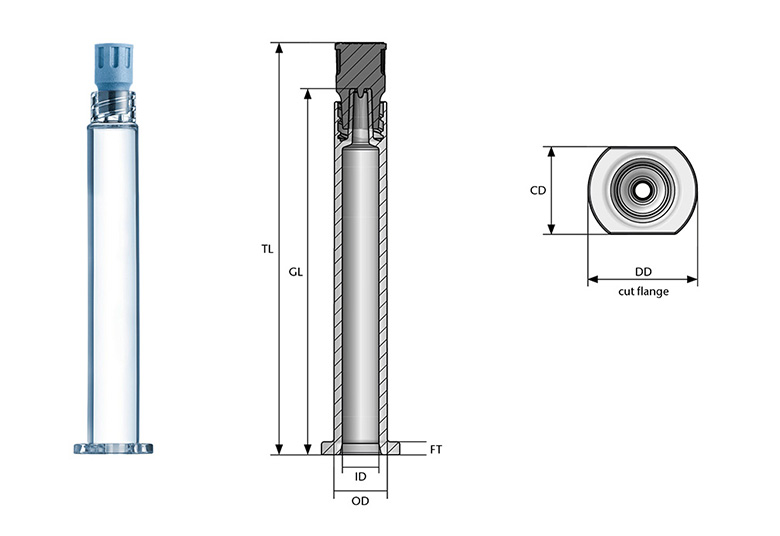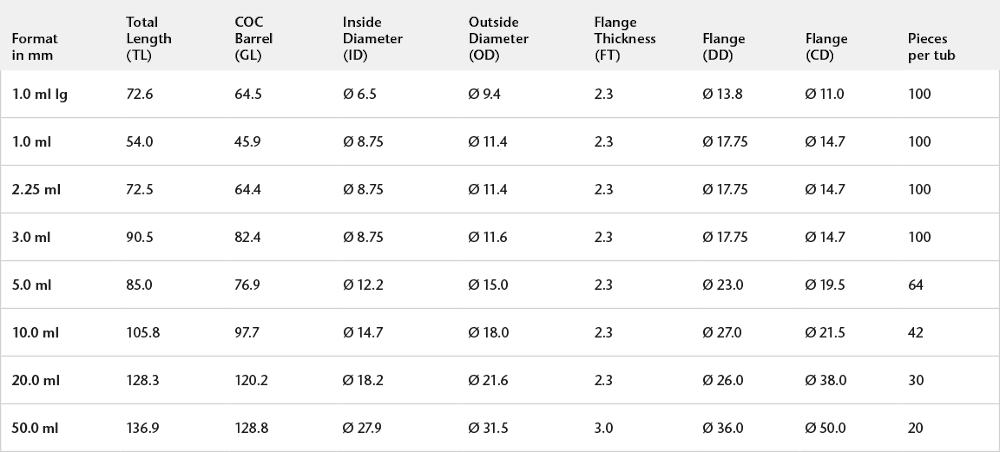 Dimensional freedom of your cylindrical RTU container is key to individualizing the container according to your needs. With this, we support you to bring your drug faster to the market.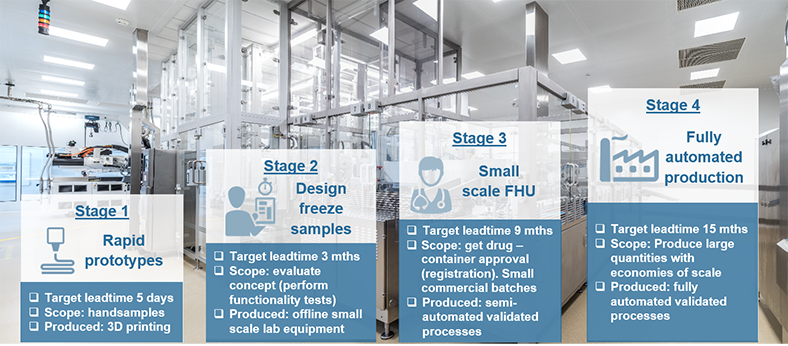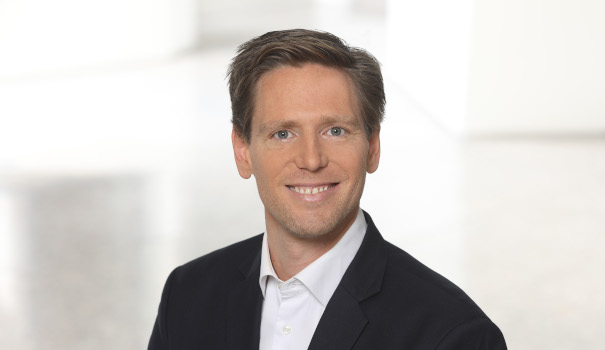 Tom van Ginneken
Head of Global Product Management for SCHOTT TOPPAC®